Four Important Things That Happened on Last Night's BET Awards
Why am I writing about the BET Awards? Because I love Televised Entertainment by Blacks (TEB), that's why. Also, they were awesome last night. Perfect, no. (The censor was drunk, I'm sure of it.) A few embarrassing moments, yes. (Someone needs to spank this kid. Oh, Beyoncé, you're on it? Cool.) But overall, awesome. Still super-proud to be black, 25 years and counting.
By my count, there were four main highlights. Let's talk about them right now.
4. The Knowles-Thrones (Now With More Members!)
At the end of 2011, I noted that the Knowles-Throne holy triumvirate (Bey, Jay, 'Ye) that dominated 2011 were to be treated as a unit and no longer as individuals. At the 2012 BET Awards, the threesome was present, but with an expanded roster that included Solange Knowles and Kim Kardashian. While our two temporary members had interesting roles in the evening's festivities (Beyoncé and Solange were definitely having girls' night out, Kanye was putting Kim on trial in the court of public opinion), the core members were having a big night that extended beyond their front-row seats.
First, there was the opening:
The show opened with the G.O.O.D. Music posse's "Mercy," which began with verses by Big Sean and Pusha T. When 2 Chainz's fourth verse came third, it became clear we were ending with Kanye and potentially something special. That something special was his "Mercy" verse segueing into "Way Too Cold," and then into the debut of his song "New God Flow." While it wasn't off the top of Kanye's head, "New God Flow" had a freestyle-ish feel because he was abiding by his own tempo rules, stumbling at times, and it was a cappella (until he used his right foot as the beat). The imperfections in the performance made it even better, culminating with his final lyric and a triumphant Gervin-esque finger-roll drop of the mic.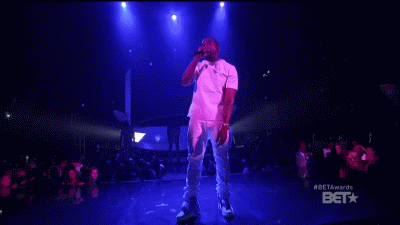 After this, the night belonged to celebrations. You know, like this one.
And play fights.
And the "Kim just kissed me on BET let me wipe off my mouth before my people start thinking this thing is real" move.
Can't forget about Maybach head bobbing.
And, of course, Wale, almost on cue, knocking over Jay-Z's drink because he's Wale and has no intention of learning the secret handshake or accruing wealth.
Throughout the show, whenever the camera would pan in on a performance or do audience shots, you would often see a yellow-and-pink blob standing up while everyone else was sitting down. Those neon blobs? Solange and Beyoncé, having GIRLS' NIGHT OUT like I've never seen before.
And then there was Jay-Z, keeping the Kanye–Taylor Swift joke alive another year with a well-timed interruption, followed by applause and a clapping Beyoncé, obviously impressed and pleased that her man pulled off that joke that they've been practicing since May.
The Knowles-Thrones aren't going anywhere. I think they're actually getting stronger. The Obamas better hope Barack wins this year or they are losing that no. 1 spot with the quickness.
Kim was there, too.
3. D'Angelo Lives
With its distinctive opening, "(Untitled) How Does It Feel?" began and D'Angelo took a televised stage for the first time in 12 years. Was he shirtless? Not even close. He was, in fact, very clothed, showing off the slightest of guts under his all-black, monochromatic post-prison-esque outfit. I can't imagine that those people who fell in love with his physical presence were happy about this, but I couldn't have been more pleased. Since the visual distraction of lust (or emasculation, depending on who you are) was nowhere to be found, we were forced to simply listen to his voice, which is still exceptional.
After almost two minutes of his most famous song, he left the microphone stand, sat down at the piano, and started into his five-minute jam session. Beyoncé, you approve?
Of course you do. How about you, Django?
Focused. I back it.
At his piano, between his fingers and his voice, he reminded us why he's new age funk royalty. The Prince comparisons are unavoidable, especially since they both combine playing instruments and singing in that high register so flawlessly.
After a little time, that piano bench couldn't contain the stank any longer, and he made his way back to the microphone stand to continue his jam session. He's a rare breed, in the sense that he could be singing about absolutely nothing and it would be more enjoyable than most things you'll ever hear. This was increasingly true when he did two fake-out endings (highly James Brownian — he even said "hit me five times") and launched back into his song for an extra two minutes.
It was amazing, and in case you were wondering, Beyoncé and Solange were standing up for the full set. Why? BECAUSE IT'S GIRLS' NIGHT OUT.
2. World, Meet Maze Featuring Frankie Beverly
I love a good tribute if an artist has passed away or is incapable of singing his/her own songs, but in the case of the 2012 BET Lifetime Achievement Award recipients, Maze featuring Frankie Beverly, nothing else is acceptable as long as Maze featuring Frankie Beverly are alive and performing. Don't get me wrong — Joe, Tyrese, and Faith Evans didn't perform subpar tributes, but some things should be left for the king.
Thankfully, after accepting their award, they hit the stage and reminded us why they are timeless (fast-forward to 10:00, immediately).
They started with "We Are One," causing the crowd to get to their feet. It wasn't "Oh, everyone else is standing, let me stand." Rather, it was a collective "Oh my God, Frankie Beverly and Maze are onstage" rise to the feet. It was a beautiful thing, because the gleeful, honored nature of the crowd transcended age. They are one of those rare groups that have two large fan bases, people who were alive during their rise to fame, and then those of us whose parents played it when we were growing up.
Everyone was feeling it. Especially 2 Chainz.
Speaking of 2 Chainz, the next time he got on-camera, still dancing like he was 12 in his living room, he waved to the camera and said, "Hi, Mama."
It was almost as if he knew she was at home, watching the awards, doing the dance she taught young Tauheed some 30 years ago.
As they launched into the second song, "Before I Let Go," this crowd got even more joyful and participatory. Over the years, he's been losing his voice a bit, making some of those legendary high notes harder to hit, but it's completely fine because when he approaches those notes, all he has to do is point the microphone out and let Taraji P. Henson, Meagan Good, Bobby Valentino, Soulja Boy, Terrence J, Free, Common, Cedric the Entertainer, Swizz Beatz, Nicki Minaj, Al Sharpton, Big Tigger, 2 Chainz, Angela Bassett, Tatyana Ali, Tyga, Spike Lee, and everyone else singing and dancing in the building fill in the gaps. It's a beautiful sign of respect and support for the legend who could (but never would) argue his strong case as the least talked-about legend in the history of the genre.
This was Maze featuring Frankie Beverly's first nationally televised performance, ever. To some, that will make sense because you've never heard of them until just now, but to many that will come as a shock, because they were (and still are) one of the most popular black acts ever. I often hesitate to throw around the possessive pronouns "we" and "our" as recklessly as BET does, but using those terms to describe this act seems pretty appropriate, seeing as they have widely been this black hidden treasure for more than 40 years. If you need proof of this, go to a concert, or just watch this performance.
Black people in the crowd have their Inauguration Smiles on during this performance. It's a beautiful thing to watch. I'm ranking this up there with the only other clip whose crowd participation with regard to old R&B makes me unable to sit down.
1. The Whitney Houston Tribute
So it was finally BET's turn to honor Whitney. Last night's tribute proved that responding to something first (see: CNN, and then CNN again) isn't the same thing as responding to it best. This was the case last night, as BET compiled a surprise-filled selection of performances that created the ultimate tribute to the fallen star.
It started with Mariah, who was once thought to be Whitney's rival and is now known as a friend, speaking candidly about her relationship with Whitney. When Mariah wrapped up, the camera panned over to another stage, and my two immediate thoughts were Is that Monica?, and Is this "I Love the Lord"?
"Uh-oh," said my tear ducts. I was now on cry watch. Monica, backed by a choir, sang this song in a way that would have made Whitney very proud, often removing the microphone from her mouth to look up and say, "Thank you, Jesus." Monica was up there, going through things, leg kicking, pointing, jumping, and just becoming completely overcome by the moment. I was so pleased, because not only was this tribute beautiful, but she was doing wonders to prove my longtime belief that Monica > Brandy.
And then Monica ended her song, almost rushed herself offstage as if she was too emotional, and the band started into "I'm Your Baby Tonight." The performer:
Brandy.
I wanted to be mad, but I couldn't be. Yes, she was dressed like an extra in Grease, but she sounded too good to hate. The crowd was up, jamming with her, which seemed like an appropriate way to end, by way of a happier, more up-tempo song. And just as this was turning into a Whitney party, Brandy got a second song, "I Just Wanna Dance With Somebody." Again, the beauty school dropout held her own vocally, but now all I could think about was what Monica's second song would be. They can't possibly give Brandy two and Monica just one, right? That'd be BET showing favor to one over the other, which would knock the planets off their axes, causing Ray J to be president.
But they did. Can't lie, I was kinda peeved, but got over it. Brandy was followed by an unidentified man. He referred to Whitney as "Nippy," hinting that he might have been a part of the family, but I hadn't the slightest clue who he was. After singing little-known "Where You Are" from Whitney's second album, Whitney, he gestured to the side of the stage and said:
My mother, our mother, Cissy Houston.
Whitney's brother, Gary, had just sung to his now-deceased sister, and now Cissy was about to come out here and either say something or sing. As soon as she made her way onstage, the entire crowd rose to their feet, beginning six of the most emotional live minutes I've ever witnessed, as well as the most important thing BET has ever captured on their network.
Seventy-eight-year-old Cissy came out with the help of someone, and when he left, she looked up, said, "This is for you, Nip," started into "Bridge Over Troubled Water," and launched into her tribute to her daughter.
That's Soulja Boy.
That's Kanye West.
That's Beyoncé.
That's Tyrese, Ginuwine, and Tank.
That's French Montana with his hand on Wale's shoulder.
There are more examples of this, but the point is that Cissy completely stripped away every semblance of cool in that place and performed something that no one should be forced to do, that being outliving her child and singing about it.
But it's bigger than simply the act of getting onstage and performing. She's not simply singing about Whitney, she's singing to Whitney, made excruciatingly clear by the amount of time she spends looking up as she belts those beautiful, old church-lady runs with such power and pride. And the lyrics.
I'm on your side, oh, when times get rough
And friends just can't be found
Like a bridge over troubled water
I will lay me down
I'm on your side, oh, when times get rough
And friends just can't be found
Like a bridge over troubled water
I will lay me down
Every lyric to this song can be related to Cissy's relationship with her daughter, and you could see it in her rocking back and forth and hear it in the howl that she projected to the sky.
Sail on silver girl
Sail on by
Your time has come to shine
All your dreams are on their way
No mother should have to sing these lyrics, and mean them, about her daughter. Not a one. But Cissy did. She let us in on how hard it was toward the end of her life and presently, now that Whitney has passed.
The tribute wasn't over after Cissy belted that final note (nor were the awards), but for me it was. Whitney's co-stars in Waiting to Exhale came out and spoke, and then a phenomenal Chaka Khan hit the stage and sang, but the night rightfully belonged to Cissy. It hurt to watch, but things that honest and beautiful and personal are rarely captured for all eyes to see. Thank you, Cissy. Watching you push through that song was therapeutic for us; I sincerely hope it was for you.
Filed Under: Awards Shows, Beyonce, D'Angelo, Kim Kardashian, Whitney Houston