Wimbledon Shoppe Talk
Note: Technically it's just "Wimbledon Shop," but technically Sherlock Holmes never said "Elementary, my dear Watson," either, and technically he never said it in a sweet checkered twill deerstalker cap that he picked up at the Wimbledon Shoppe for like £445 including VAT. This place just hauntingly cries out for the extra -pe, and I'm going with feel on this one. Here's some of the loot you can pillage at the 2012 Lawn Tennis Championships.

Full Wimbledon Umpire's Uniform (Gentlemen's)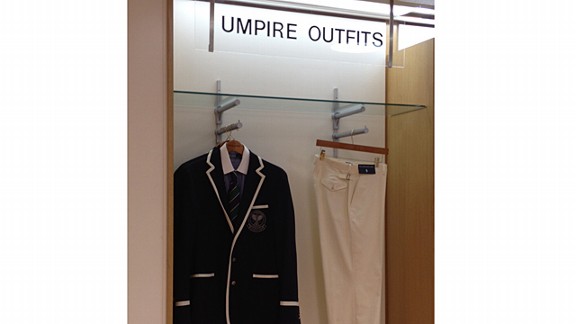 Price: Doeskin Flannel Navy Umpire's Blazer by Ralph Lauren (£865); Ultimate Chino™ Stretch Concord Cream Umpire's Chinos by Ralph Lauren (£225); Broadcloth Stripe Shirt by Ralph Lauren (£105); Wimbledon Club Tie by Ralph Lauren (£100).
Notes: Tie pin optional.
Fashion Verdict: OK, north of $2,000 may seem like a lot to pay for a job-specific ensemble exclusively associated with sexless sports officials who sit on high chairs and intone "Quiet, please" in the uncompromising accents of Monégasque math tutors now living unhappily in Belgium. On the other hand, if you have a reason to own this, you probably have a really good reason to own it. So do it, buddy! Knock yourself out.
Stripey Ralph Lauren Blazer (Ladies')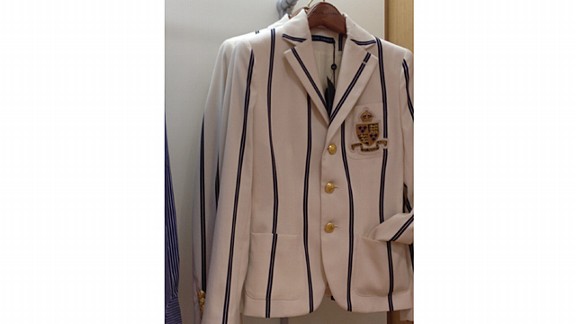 Price: £530
Notes: I'm guessing this one has a full name along the lines of "Kentish Duchess-Stripe Naval Lawn-Weave Chrism Jacket," but I couldn't get close enough to find out because the Shoppe staff was getting edgy about me creeping around taking photographs in the women's department. So let's just call it the "Royalty Mom Ultimate School Board™ Stretch Homeowner's Association Catered Pool Party Tunic."
Fashion Verdict: Ladies! Are you about to star as "Jordan Baker" in the Baz Lurhmann production of The Great Gatsby? Are you looking for the perfect complement to your wide-ankled 1920s golfing pants? Have you kitted out the Rover with a bumper sticker reading "My Other Car Is a Huge Fucking Thermos of Pimm's Cup"? Do you need something simple, but not too simple to wear to Bryce's charter school's charity auction? Are you choking a little? Are you choking on the feeling of not owning this garment right now?
Toddler's Giant-Logo "England" Polo by Ralph Lauren Shirt (Gentleboys')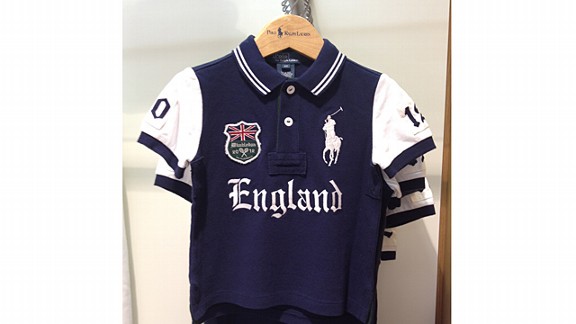 Price: £75
Notes: Manages to fit the British flag, the Wimbledon logo, the word "England," a giant Polo by Ralph Lauren logo, and the year into the space of one 2-year-old's upper torso. Information-dense.
Fashion Verdict: Again, $120 might seem a tad steep for one flimsy toddler's top. But look. Your kid is instantly going to be the most rugged-looking 20-month-old at Farthington Husbandry Day Care. Do not overlook this advantage. He'll be ready for the Jeep you cave in and buy him three months after his 16th birthday for sure.
The Original Rules of Tennis, Foreword by Tim Henman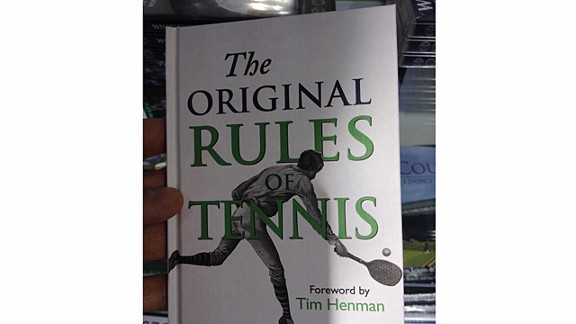 Price: I don't know, probably £300 or something.
Notes: Too easy.
Fashion Vedict: Hundreds of thousands of Englishmen turned out to watch Henman's foreword go head-to-head with the other top forewords at the Historic Sports Rulebook Foreword Awards, eventually congregating in the park outside the awards venue in an area that became known as "Henman-Foreword Knoll." Sadly, Henman's workmanlike but easily rattled prose style was defeated in the semis by the hard-hitting preface to the 1831 "Rules of Garden Bowling" by a Croatian called Gorlo Florancic. A nation wept.
Wimbledon Adult Apron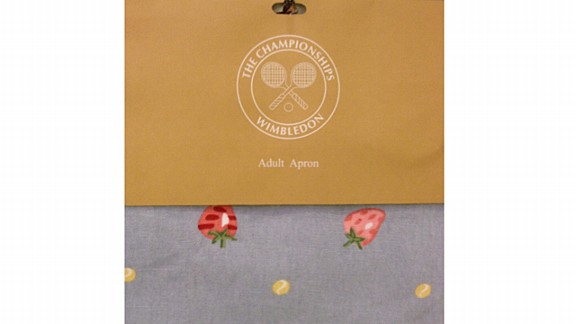 Price: £14
Notes: Actually better designed than some of the Ralph Lauren stuff.
Fashion Verdict: N/A, but based on close field research among middle-aged English ladies, guessing Wimbledon could cover its 2013 operating costs by selling a calendar of Andy Murray wearing this thing suggestively around the house.
Wimbledon Child's Apron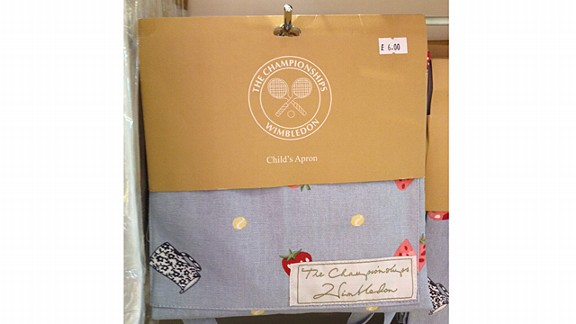 Price: £6
Fashion Verdict: … or put a colony on Mars with a calendar of him wearing this one.
Strawberry & Cream Flavour Sweets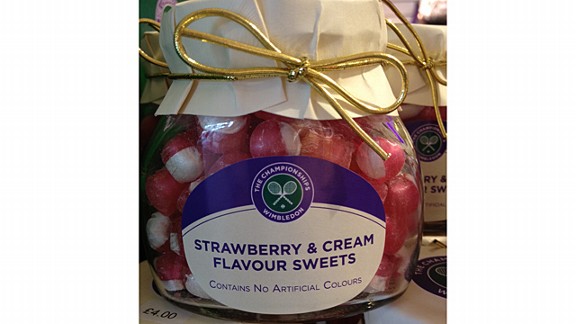 Price: £4
Notes: Actual Wimbledon strawberries and cream are only £2.50!
Ingredients List: Sugar, Glucose Syrup, Palm Oil, Citric Acid, Emulsifier: SOYA Lecithin, Flavouring, Concentrates: Apple, Carrot, Hibiscus, Radish, Sweet Potato
Fashion Verdict: YUMZ RADISH CONCENTRATE
2012 Dated Tennis Balls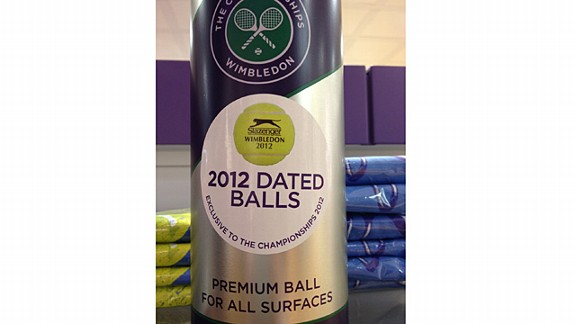 Price: £9
Notes: Clearly and legibly dated.
Fashion Verdict: The Wimbledon Shoppe: Never again forget what year your balls were licensed.
Filed Under: Brian Phillips, Wimbledon