Michael Jordan Is Trolling America
Mark your calendars, everyone, because it's October 1, 2012, and Michael Jordan is officially on to us. By "us" I mean everyone. "Earthlings," if you will. Anyone who has ever made a snide comment about the way Jordan has dressed or carried himself since he stopped playing basketball in 2003.
He knows that his passion for ripped jeans and Heath Bar–colored suits are easy targets for the more fashionable, poorer segment of America. He knows his dislike for getting things altered could not be more mockable for those of us who enjoy looking nice and (again) are poorer than him. He's read the WTF Is Mike Wearing Tumblr on numerous occasions, and might even have Google Alerts set for new postings. At this point, it is clear he knows all of this and he couldn't have a single care in the world. Because he's Michael Jeffrey Jordan and he doesn't even know that any of us exist.

I'll be honest: I was a skeptic, one who assumed he simply needed a headstrong, tough-love stylist. That was until this weekend, when he made his presence very much felt in the Greater Chicago area. Bulls tribute? Absolutely not. Try:
Michael Jordan — Ryder Cup "Official Adviser and Motivator"
So that's a thing. And, in classic Michael Jordan fashion, he came prepared for the cameras and the sartorialists to weigh in. And that was the moment it became clear Michael Jordan was trolling all of America.
Ripped jeans? YES, PLEASE.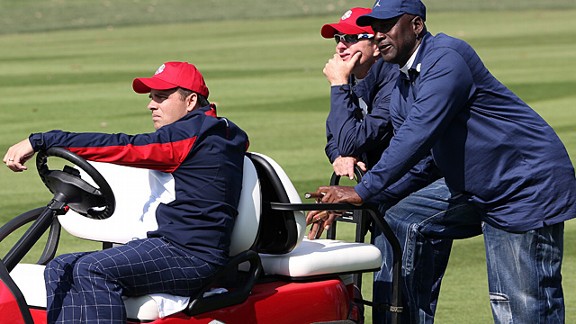 Blue-on-Blue Bubble Tebow? GUILTY AS CHARGED.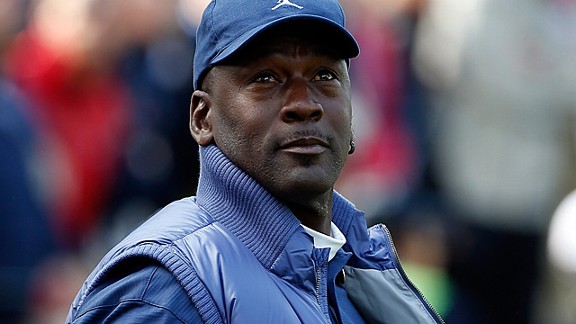 Stogies and fart contests with G-Dub Bush? CALL ME, MAYBE.
And then there's this (h/t to Tanner Tananbaum for the DVR pause of the year):
"Oh nothing, it's just me, Michael Jordan, saving my seat for the Beach House set at Lollapalooza 2013. No really, go on with your golf tournament thing. I promise you aren't in my way."
He's on to us, everyone. And he's behaving perfectly. Let us not mock this man. Instead, let's honor the gifts that he bestows upon us every time he leaves his house. I exalt you on high, Your Airness. Always and forever.
Filed Under: Michael Jordan, Rembert Browne