Who Is the NHL's Biggest Dirtbag (of All Time)?
Bruce Bennett/Getty Images
Sabres forward Patrick Kaleta remains suspended this week, ineligible to return to action until next Sunday after his dangerous hit from behind on Brad Richards. The incident led to renewed debate over whether Kaleta now deserves the title of the NHL's most despicable player.
There's not exactly a shortage of competition. Whether it's Matt Cooke, Raffi Torres, or Daniel Carcillo, there are plenty of players these days who can leave fans tearing their hair out. Whether you'd prefer to call them agitators, pests, flat-out dirty, or just stains on the game, chances are you're not alone in screaming at your TV whenever their smirking faces appear.
But this post isn't about them. After all, each of today's NHL villains is simply following in the footsteps of those who came before them. So today, let's pay tribute to the previous generation. These 10 players may no longer be in the NHL, but their legacies helped lay the groundwork for players like Patrick Kaleta, who make the game what it is today.

Ken Linseman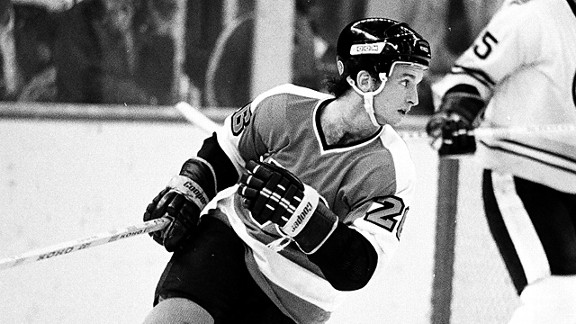 Crimes against humanity: His nickname was "The Rat," which pretty much tells you all you need to know. Faced court charges for kicking an opponent in the head during his junior career. Gouged eyes. Speared groins. Spit on guys. Every hockey fan who's ever tried to write his name has originally typed "Linesman" and then had to go back and change it.
Redeeming qualities: Was actually a pretty decent player when he wasn't being a rat. Was kind enough to play during the '80s, when being a pest would occasionally have consequences.
Legacy: Is often credited with being the NHL's first true agitator, so you can go ahead and blame him for everything you've hated about hockey over the last 30 years.
Esa Tikkanen
Crimes against humanity: Was arguably the best "shadow" in hockey history, meaning he specialized in following the other team's best players around and annoying them instead of playing actual hockey. Constantly spoke some sort of indecipherable language that made other players want to murder him. If that didn't work, would also occasionally try to kiss them.
Redeeming qualities: Won five Stanley Cups, proving that the hockey gods hate us.
Legacy: Scientists hope to someday develop a supercomputer powerful enough to figure out what it is he was saying all those years.
Bryan Marchment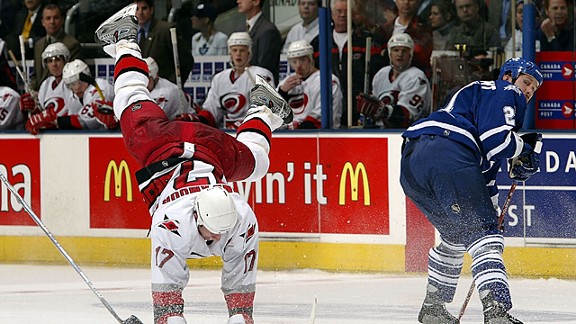 Crimes against humanity: Was the master of the knee-on-knee hit. Cheap-shotted Mike Gartner, who was pretty much the only player in history that everyone liked. Speared Ron Sutter so hard it broke this guy's VCR. Spent most of one season injuring guys while wearing a full-on face shield, which is borderline WWE villain stuff. Made Teemu Selanne sad.
Redeeming qualities: Once got Wendel Clark angry, which went about as well for him as you would expect, and which led to a classic Stu Grimson meltdown.
Legacy: Is probably best remembered as the guy who managed to knock himself out executing a simple dump-in.
Darcy Tucker
Crimes against humanity: Would occasionally start a brawl by diving into an opponent's bench for no good reason. Blew out Michael Peca's knee with a low hit in the 2002 playoffs. Had a habit of making over-the-top crazy eyes at anyone he got mad at. Gave Ottawa Senator fans their only positive playoff memory ever, which they still won't shut up about. Murdered Sami Kapanen. Played for the Pat Quinn–era Leafs, which — if we're being honest — was really half the problem.
Redeeming qualities: His hit on Peca was technically clean, though it did force the NHL to change the rules. The bench-dive thing was pretty funny.
In hindsight: Has been out of the NHL for three years, which is why it's always fun to remind Leaf fans that he's still on their salary cap until 2014.
Pat Verbeek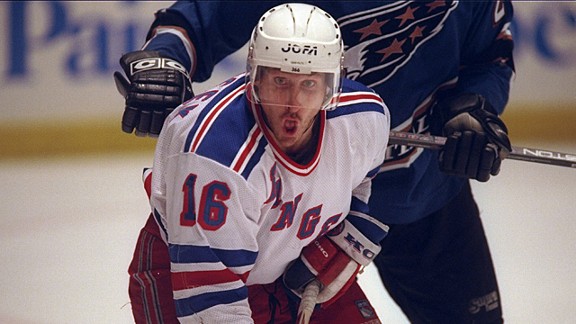 Crimes against humanity: He was a ridiculously tiny pest who was in the middle of every scrum ever, even if his team wasn't playing that night. Was the sort of player who'd cause announcers to casually say things like "Somebody's going to get Verbeek before this thing is over" during brawls. Never let a little thing like the fact that a game was a meaningless preseason contest keep him from slashing someone in the head. May or may not have intentionally sliced Rod Langway with his skate.
Redeeming qualities: Managed 1,000 career points. Was nicknamed "The Little Ball of Hate," which is fantastic.
Legacy: Brad Marchand is inexcusably trying to steal his nickname. I'm not letting this go.
Matthew Barnaby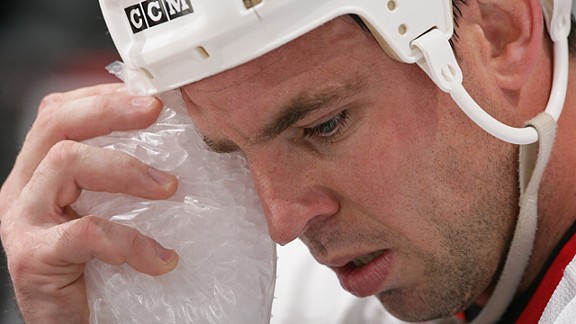 Crimes against humanity: Quite possibly the worst trash-talker in league history. Would play dead during a brawl before jumping the goalie. Played for Buffalo for years before going to Pittsburgh, at which point his ex-teammates couldn't wait for a chance to fight him. Could get his opponents so mad that even if they got ejected, they'd just track him down and attack him outside the locker room. Fought with a 55-year-old fan. Once made this face.
Redeeming qualities: Actually fought pretty often and was terrible at it, so if you wanted to see him get beat up you probably didn't have to wait long.
Legacy: Gave Sabre fans valuable practice at defending the indefensible, which they are using now.
Dale Hunter
Crimes against humanity: Threw one of the most famous cheap shots in NHL history, which got him suspended for 21 games. Also threw this elbow, which — if it happened today — would have gotten him suspended for 31 games. And he delivered this hit, which — if it happened today — would have gotten him suspended for a billionty games.
Redeeming qualities: Had the second most PIM in league history, but still managed 1,000 career points.
Legacy: Recently had to coach the Washington Capitals for almost an entire season, so at this point, we can probably say he's suffered enough.
Claude Lemieux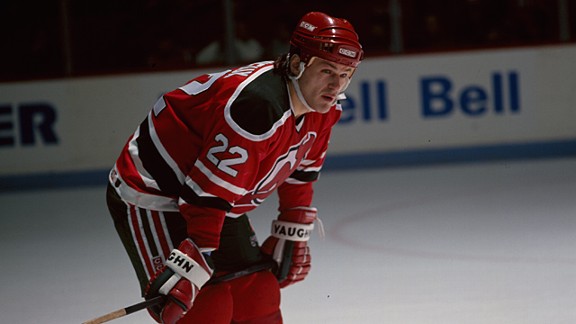 Crimes against humanity: Is best known for his infamous hit from behind on Kris Draper, which is unfair because he actually had a long history of being a dirtbag before that. Was so easy to hate he could touch off a brawl during pregame warm-up. Clawed Jim Peplinski's eyes before biting him. Drank from the other goalie's water bottle. Did whatever it is this was. Was so notorious for diving and faking injuries that Pat Burns wouldn't let the trainer go out to check on him.
Redeeming qualities: The Draper hit led the Red Wings–Avalanche feud, which led to stuff like this and this, which was awesome.
Legacy: That story about Pat Burns is the greatest thing ever, and exactly the sort of thing that made him a unanimous first-ballot Hall of Famer. Oh, wait.
Ulf Samuelsson
Crimes against humanity: Essentially ruined Cam Neely's career. Turtled. Kneed Brian Bellows. Hurt Brendan Shanahan. Knocked out Wayne Gretzky's wife. Viciously head-butted Tie Domi's fist.
Redeeming qualities: Almost single-handedly gave us some of the best Coach's Corner moments in history.
Legacy: Is responsible for the only known time in your life that you liked Mike Milbury.
Sean Avery
Crimes against humanity: Forced the NHL to enact a new rule that was basically "don't be a dink." Celebrated goals like this. Had an irrational dislike for both French Canadians and patriotic Americans. Was the sort of guy who thought "sloppy seconds" jokes were clever. Dove. Hacked. Speared. Turtled. Dove more. I'd keep going but my editors gave me a 10,000-word limit.
Redeeming qualities: Had opinions on important topics and actually expressed them, making him one of the few players in NHL history with a discernible personality.
Legacy: The standard to which Patrick Kaleta and friends will forever aspire.