The Weekend in Hockey: What's Wrong With the New York Rangers?
A. J. Phillips/NHLI via Getty Images
A look at three of the biggest stories from the NHL weekend and how they'll play into the coming days.
The New York Rangers: Still Marginally Better Than the Giants
On Saturday, the Rangers gave up five goals and lost, and it was considered a massive improvement.
That's how bad things have gotten in New York, where the Rangers have started the season 1-4-0. And that record may even be flattering, since their -16 goal differential is the worst in the league by a large margin (the -11 Panthers are next worst), and their back-to-back blowout losses earlier in the week were as bad a two-game stretch as any team has had in more than a decade.
New York did manage to hang tough with the undefeated Blues for a period Saturday, but gave up three goals on five shots in the second period, despite largely dominating the play. Ryan Callahan's second goal of the night made it 4-3 in the third and marked the first time all season that the Blues have given up three in a game, but it wasn't enough. Vladimir Tarasenko restored the two-goal lead midway through the third, and the 5-3 score would hold up as the final.

So what's wrong with the Rangers? There's no shortage of theories, most of which can summarized as "just about everything."
New coach Alain Vigneault hasn't made radical changes to John Tortorella's defensive system. But he has introduced some tweaks, and so far, the Rangers have looked lost. This was expected to be one of the league's better bluelines, but normally dependable players like Ryan McDonagh and Dan Girardi have struggled badly. Up front, Derek Stepan, who missed most of training camp while waiting for a new contract, has five assists but has yet to score and owns an ugly -7 rating.
And while you can't exactly blame this mess on goalie Henrik Lundqvist, he certainly hasn't been able to bail his teammates out often enough. His 4.21 goals against and .887 save percentage aren't the sort of numbers we've come to expect, and certainly not what he was hoping for as he seeks a record-setting contract extension.
Throw in that their best player, winger Rick Nash, is out indefinitely with a concussion, and that renovations to Madison Square Garden have forced them to start the season with a brutal nine-game road trip, and things start looking exceedingly bleak.
There's still hope. Although it seems like a lifetime ago, the Rangers did beat a very good Kings team on the road on Monday. And while that game resulted in their only two points of the season, it's not like the rest of the Metropolitan Division is running away from them. The Caps and Flyers are also stuck at just one win apiece, and the Devils don't have one at all.
That may not add up to much in the way of optimism, but it's just about all the Rangers have right now.
You Can't Stop a Flame When It's Red-Hot
Let's list all the good things about the Calgary Flames season so far:
• At 3-0-2, they're one of just four teams in the NHL to record a point in every game they've played.
• Their eight points are good enough for a share of second place in the Pacific.
• Nineteen-year-old center Sean Monahan has scored in four straight games, leading to a spirited debate over whether he still has "rookie sensation" status or has skipped straight to "rookie phenom."
• New captain Mark Giordano has been the team's best player, anchoring the blueline while chipping in six points.
• Journeyman goaltender Joey MacDonald has looked adequate in the starter's role. Not great, not even all that good, but solid enough to keep the Flames competitive, which is more than most expected.
• Although the roster lacks star power, or even many recognizable names, the effort level has been excellent and there's every indication that they're going to be one of those prototypical "tough to play against" teams.
And now, here are all the bad things:
• They're proving to be really bad at this whole "tanking" thing.
No, really, that's pretty much it. Before the season, all the experts had agreed that the Flames' goal for the 2013-14 season should be to bottom out, finish as close to dead last as possible, and draft a franchise player to rebuild around. And if at some point along the way Brian Burke stepped in to replace Jay Feaster and upped the entertainment quotient for everyone, all the better.
The Flames looking downright competent wasn't supposed to be part of the game plan, but the team's young roster appears to have missed the memo. On Friday, they beat New Jersey 3-2 on a Monahan goal with three minutes remaining, which came on the heels of a stretch of Devils domination that featured several Flames sprawling out to block shots. That sequence felt like a summary of the season so far: hard work to keep the game close, then a timely contribution from a young player. All five Flames games so far have been decided by one goal.
It might not last (the fancy stats indicate that the success of the Flames in general and Monahan in particular are likely unsustainable), but for now, Calgary has become one of the league's early surprise stories.
The Flames are enjoying an extended break before kicking off a five-game road trip in Anaheim on Wednesday. By the time they return home on October 26, we should have a good idea of whether this early hot streak was a mirage.
Sabre-Metrics (I.e., the Statistical Analysis of Terrible Hockey Teams)
If we're going to suggest that the Flames are tanking wrong, then we have to give some credit to a team that's doing it right. The Buffalo Sabres are dead last in the NHL with just a single point through six games. You may want to just go ahead and start shopping for parkas now, Sam Reinhart.
In fairness, the Sabres probably played their best game of the season on Saturday. Facing the Blackhawks in Chicago, they fell behind 2-0 after two and could have been forgiven for packing it in. Instead, they outplayed the defending champs in the third period, outshooting them 13-3 and getting a Drew Stafford goal to close to within one. That's as close as they'd come, but the 2-1 final could still serve as something for the struggling Sabres to build on.
Another source of optimism: the play of Ryan Miller, who — despite an 0-4-0 record — has been excellent in three of his four starts. His 2.29 GAA and .941 save percentage have put him back in the conversation for the Team USA starter's job in Sochi. More important for Sabres fans, he's boosting his value for the eventual trade that seems inevitable at some point this season.
That's about as far as the good news stretches, though, and Sabres fans have to be especially concerned with the way the team's top young players are developing. The team's two first-round picks from the 2012 draft, centers Mikhail Grigorenko (12th overall) and Zemgus Girgensons (14th), have combined for just one point in 11 games. Girgensons has looked OK, but Grigorenko was a healthy scratch last week after being criticized by coach Ron Rolston. That follows a disappointing 2012-13 season in which he was sent back to junior after scoring only once in 25 games.
Perhaps even more concerning, defenseman Tyler Myers continues to look awful. After winning the Calder Trophy as the NHL's rookie of the year in 2009-10, Myers's game has taken a step back in each subsequent season. He was an occasional healthy scratch by former coach Lindy Ruff, but there was some optimism around him coming into this year after a strong preseason. Instead, he has struggled badly at both ends, with no points and a -7 rating.
You can cut Grigorenko and Girgensons some slack because both are still teenagers (maybe), but Myers is 23 and should be entering his prime. He's also in year two of a seven-year, $38.5 million extension he signed in 2011. If the regression in his game is permanent, that deal is going to be an albatross that the rebuilding Sabres don't need.
Quick Shifts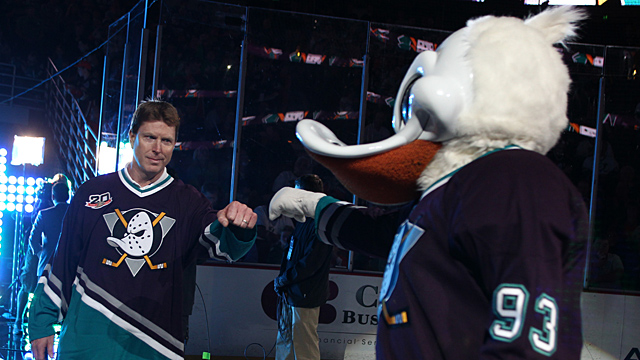 • The San Jose Sharks remain the league's most terrifying team, moving to 5-0-0 on Saturday with a 3-2 win over the Senators. The game marked the first time all season that San Jose hadn't won by at least three, but that was largely due to Ottawa goalie Robin Lehner's 47-save performance. The Sharks outshot the Sens 50-23, including a 24-5 margin in the third period. Given how good a possession team Ottawa usually is, that's borderline absurd.
• Speaking of Ottawa, they met the Ducks in a Sunday throwback-night contest that featured Anaheim reviving their old Mighty Ducks look. It also featured the return of Bobby Ryan, who scored the Sens' only goal in a 4-1 Anaheim win. Ottawa allowed another 56 shots in the loss, making for a stunning total of 106 allowed in two weekend games.
• The Leafs and Oilers provided the weekend's most exciting game, a back-and-forth contest that Toronto won 6-5 in overtime. You can always judge the entertainment value of an NHL game by how much the two coaches hate it, and Dallas Eakins and Randy Carlyle will probably be bag-skating everyone for days after this one.
• Los Angeles backup goalie and unexpected three stars of comedy mainstay Ben Scrivens made a strong impression in his first Kings start, shutting out the Panthers on Sunday. He made 20 saves over the course of the game. Or, as he used to call that sort of effort when he was a Maple Leaf, "a typical period."
• True story: In last week's wrap-up, I wrote a few hundred words about Colorado's 2-0-0 start, because I figured "Hey, when will I ever get to write about the undefeated Avalanche again?" Oops. They're now 5-0-0, after going into Washington and smacking the struggling Capitals 5-1.
• At 4-0-0, the Blues are also perfect, but all four wins came at home and they were against teams with a combined 8-12-1 record. It's not that they haven't beaten anybody — they did edge the Blackhawks — but it's hard to get too excited about St. Louis quite yet. That could change this week, as they host the Sharks on Tuesday and then travel to Chicago on Thursday.
• Sunday's action featured four games that pitted Eastern Conference teams against Western Conference opponents. The West swept the day, winning the four games by a combined score of 15-4. That continues an early season trend of Western dominance.
• The good news is that, in the strictest technical sense, the Vancouver Canucks power play clicked for the eventual game-winning goal on Saturday. Now, about the bad news …
Filed Under: Hockey, New York Rangers, NHL