The Team USA Dinner Photograph and the Anthony Davis Problem
This is a picture of the USA men's basketball team at dinner. It's from Deron Williams's Instagram feed. The photographer may or may not be Tyson Chandler.
While there are many questions that can be raised from this photo (why is Tyson the photographer? Why is Tyson such a bad photographer? Why isn't Tyson using his own phone? Does Tyson not have a phone?), there's really only one issue that stands out.
Anthony Davis, teenage dresser.

I distinctly remember being a freshman in high school and attending my first basketball sleep-away summer camp at the University of South Carolina. Because it was my first time and I assumed camp was only about basketball, all I packed were athletic clothes. Little did I know that often we would be out and about, be it dining or evening activities. Upon our first evening excursion, I remember throwing on shorts and a T-shirt, both bearing my high school logo, and then looking up and seeing the upperclassmen (and coaching staff) in cool, non-athletic, très hip gear. You know, baggy jeans, T-shirts with funny sayings on them, cool trucker hats, Sauconys, etc. I was embarrassed, because I felt like such a child.
This scene is all I can think about while staring at Anthony Davis in his USA warm-ups, surrounded by these grown men in their adult threads.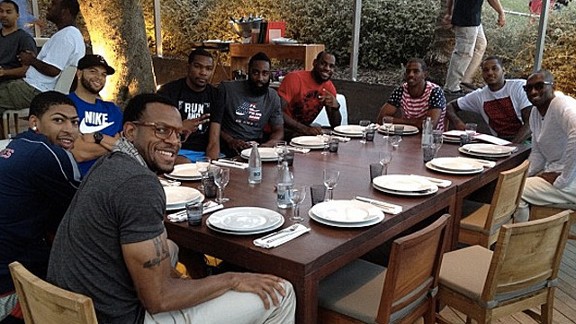 Just look at Andre Iguodala next to Davis. They look like they're on a father-son outing. Even though I know it's not true, I see this and assume Andre is finally letting his son, Ant, hang out with the big boys and maybe (just maybe) will let him have a sip of his beer. The sporty side of the table (Williams, Durant, Harden) isn't exactly wowing the fashion police with the T-shirts, but at least they look as if they went home, showered, and then chose their shirts among a selection of packed items.
And then there's the four horsemen, the 112/Jagged Edge/Jodeci/B2K of team USA: LeBron, CP3, Melo, and Kobe. When they all met in the hotel lobby, I can't imagine any of them were impressed with Davis's wardrobe choice. You aren't going to the dining hall, Anthony, you're headed to a NICE OUTDOOR PATIO DINNER EVENT WITH TEAM USA WHERE CALAMARI AND THE GREAT WINES OF THE WORLD WILL PROBABLY BE SERVED. I understand, Anthony, that you want to rep America in your gear, but take a hint from Mr. Paul, seated directly across the table. That well-fitted American flag shirt is how you do it, not the warm-ups. Also, feel free to take an apparel break from America and just wear normal street clothes, like Melo and Bron, who are doing their adult graphic T-shirt thing.
And then there's Father Time.
Kobe's really embracing this old-man role he has on the team. Between the khakis, the shades, and the breezy white linen-resembling shirt, he looks like he's en route to see the Neville Brothers at the New Orleans Jazz Fest.
I bring up all of this not to make fun of Anthony, but because I want him to do better. I want him to be "not Laettner" on and off the court. I'm not suggesting that he act and dress older than he is, because there is something quite endearing and amazing about his 19-year-old-ness, but every now and then I need we need America needs him to step it up a bit with a button-up, some Girbaud jeans, and a clean pair of Air Force Ones. That's all we need. Go USA.
Filed Under: Anthony Davis, Carmelo Anthony, Chris Paul, Kobe Bryant, LeBron James, Olympics, Rembert Browne, Team Usa