The Revenge of the Ryan Brothers
Chris Graythen/Getty Images
About a year ago, the Jets and Cowboys were playing on Thanksgiving, and that meant a day full of Ryan brothers on national TV. Ordinarily this would be a good thing, but not last Thanksgiving. That day, Rob's Cowboys defense got torched by RG3 and the Redskins for 38 points and 437 yards of offense. The Redskins were up 28-3 by halftime. Whatever Rob Ryan was doing to coach that defense, it wasn't working.
A few hours later it was time for the Patriots-Jets in prime time, and a miserable Jets season officially hit rock bottom. The butt fumble will live forever, obviously, but the Jets were a disaster on every front. They gave up 475 yards of offense. The Patriots were up 35-3 by halftime. And the game basically turned into a nationally televised reminder that the Jets were the most ridiculous franchise in football.
This was all so depressing at the time. Earlier that week, I'd been assigned to write a quick tribute to the Ryans as part of a series on families in football, and by the end of Thanksgiving, both brothers were a total punch line.
A few months later, Rex somehow avoided getting fired, but that was its own curse. Instead of freedom, he got stuck with a rebuilding Jets team as the lamest lame-duck coach in the league.
Around that same time, another shitty Cowboys season full of injuries ended with Rob as the scapegoat in Dallas, as Jerry Jones got rid of him and his 3-4 defense and brought in Monte Kiffin to fix things. Meanwhile, the other brothers coaching in the NFL, the yin to the Ryan yang — the Harbaughs — led both of their teams to the Super Bowl.
Everything was horrible.
All of that makes this year even sweeter. I didn't totally appreciate it until this past Sunday night, when we had Rob Ryan embarrassing the Cowboys and making Jerry Jones look like a fool. The new Cowboys defense gave up 625 yards — correct, SIX HUNDRED — while Rob's Saints defense pretty much shut down the Cowboys offense from the second quarter on, holding them to 193 yards on the night. Afterward, Jerry was candid.
"[Firing Ryan] doesn't look good right now," he told ESPN's Tim McMahon. "Hopefully we can make it look good, but I have all the feelings that you have when you want to look back at a decision, and I realize when some of them work you have to have a few things go along with it. Frankly, to be fair to Rob, he lost a lot of guys on defense."
About the time Jerry was giving that interview, as you've probably seen a hundred different places on the Internet, Rob was out buying rounds for fans in New Orleans and drinking Rolling Rocks.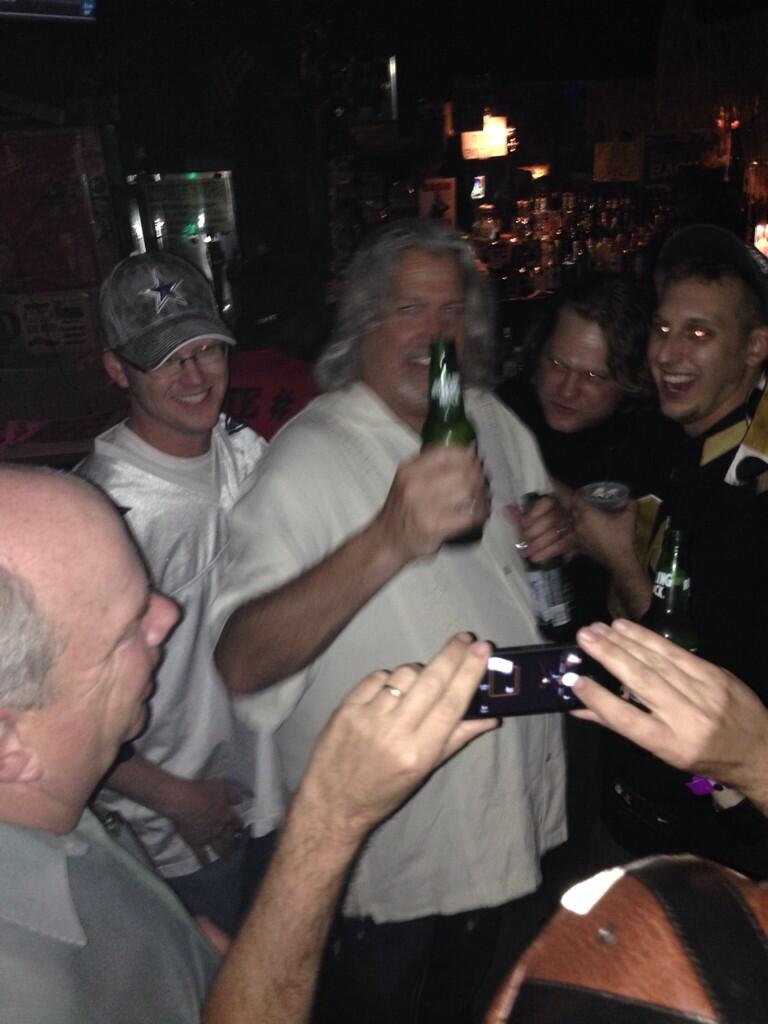 For the record, Rolling Rock is really the greatest horrible beer for him to be drinking there. Anything cheaper would've been a little too perfect and self-aware, but I have no doubt that Rob Ryan actually drinks Rolling Rock on a regular basis, and would defend its honor if ever questioned.
The man who drives this van does not need to see the microbrew list:
And Rex. What was supposed to be a season-long carnival of stupidity starring Mark Sanchez and Geno Smith has instead turned into one of the biggest surprises in the NFL this year. The Jets are … good? They're definitely not as horrible as we expected.
They lost Darrelle Revis this summer, but they've still got a top-10 defense, and they're no. 1 against the run. Marty Morningwheg and Geno Smith's offense brings a new adventure every week, but for the most part Rex and the defense have kept the Jets competitive regardless. Whatever you think of where they're going from here, the Jets have no business being where they are right now.
If they can somehow sneak into the playoffs, the season that was supposed to cement Rex's downfall could end up being his most impressive coaching job yet.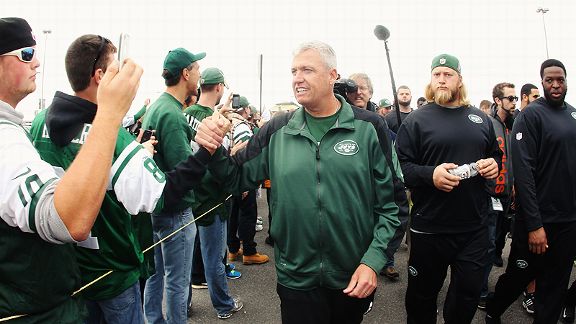 Even now, it's enough to make us step back and appreciate everything he's done the past few years. Since taking over the Jets in 2009, he's never had a season that didn't end in the top 10 overall for total defense. That streak continues back to 2005, actually — the Ravens were never outside the top five in total defense with Rex running the schemes. What other coach has had a top-10 defense for eight years straight? What he's done in New York this year is surprising, but maybe it shouldn't be.
And even if he has toned down some of the public ridiculousness that made him so much fun a few years ago, I'll love him forever. Because of the way he handled Wes Welker here, and because I refuse to believe Rex is any different in the locker room than he was in this clip:
"We know we're better than you, we don't give a fuck if you know it or not, we don't give a shit if you give us your best game, we're gonna give you our best game, and we're gonna beat the fuck out of ya."
Ahhhhhhhhhhhhhhhhh. So awesome.
Let's all go play defense for the Jets.
Really — between that speech, Rob's van, and his Rolling Rock — I don't know how anyone can root against the Ryan brothers to beat the crap out of everyone.
And this season's adding an important piece to the legend. As much fun as they both are, they're also better at their jobs than most people have ever realized.
Go back and reread Mays making the case for Rob as honorary coach of the year. After spending the past few years with snakebitten franchises like the Browns, Raiders, and Cowboys, Rob Ryan finally wound up with a good team, and he has made the Saints much, much better. In New York, Rex is making his own play for actual coach of the year, doing what he's always done, putting together one of the better defenses in the league, somehow keeping the Jets in the hunt for a playoff spot. The Ryans are great regardless, but watching them succeed is even better.
It sometimes feels like football's dominated by coaches who refuse to crack a joke and almost never crack a smile, because there's always more work to do and film to study and whatever else genius coaches are supposed to say. But look at the Saints this year. Look at the Jets. The two coaches who still make this fun are as brilliant as anyone.
Filed Under: Andrew Sharp, NFL, Rex Ryan