The NFLPA vs. Jay-Z, Dez Bryant and MJ, and Other Bad Decisions From the NFL Offseason
James Devaney/WireImage
May and June are just about the only months when there's nothing to talk about regarding the NFL. Mays is doing the heavy lifting with his Warning series, but we wanted to make sure you were fully aware of some of the truly stupid NFL news stories floating around this week.
So let's take a look at some of the headlines from the past week or so that have made life more fun.
The NFLPA Goes to War With Jay-Z
This is so, so stupid. From NFL.com: "The union is planning to send a letter of inquiry to Roc Nation Sports agent Kim Miale to gather more information about Jay-Z's involvement in courting [Geno] Smith. The recently instituted 'runner rule' prohibits agents from having colleagues or friends who aren't NFLPA certified agents present for recruiting meetings."
It's the second time this year the players association has investigated Jay's involvement in recruiting a player. And … Jay-Z was at that meeting. You know he was. Everyone knows he was. Geno Smith's adviser said he was (before backtracking), and Geno Smith posted a picture of himself on Instagram. With Jay-Z. At that meeting.
But here's the thing: Jay-Z is not really a "runner," is he? He's a business, mannnnn. (Literally; he owns part of the agency.) So, maybe there's a point to this investigation that I'm missing, but it sure seems like this is a way for the NFLPA to harp on technicalities and appease rival agents who are upset that Jay-Z is suddenly a threat to steal their clients. In that case, there are two responses. First of all, having Jay-Z looming as a threat only ensures that agents will take better care of their stars for fear of losing them, so the NFLPA's doing everyone a disservice by trying to chase him out of football. Second and more importantly, the NFLPA needs to see the forest for the trees in all this.

In the ongoing cold war between the NFLPA and Roger Goodell, does DeMaurice Smith want Jay-Z on his side or not?
That's the biggest reason Roc Nation Sports could be so much fun. It's all building to a public beef with Roger Goodell, or Bud Selig, or David Stern. We need this to happen, and it would twice as fun if it involved a public feud between Goodell and Jay-Z (ultimately ending when Kanye West takes it too far and calls Goodell the devil on an album).
But a Jay-Z war with the NFLPA? Come on, everyone, let's remember who the players' real enemy is.
Keyshawn Johnson Goes to War With Justin Bieber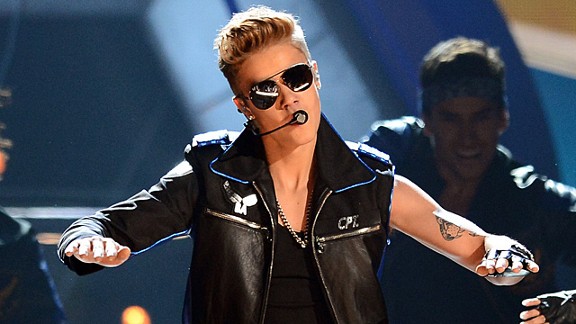 As the Associated Press reports: "At about 8 p.m. Monday, Bieber allegedly drove his white Ferrari at freeway speeds in what is a 25 mph zone, Sheriff's spokesman Steve Whitmore said. Johnson was outside with his 3-year-old daughter who was preparing to get into a small electric car when Bieber zoomed by. Johnson was upset and got into his Prius, following Bieber to his nearby home. As the garage door was closing, Johnson put out his arm and stopped it, telling Bieber he wanted to talk about his reckless driving. Whitmore said Bieber scurried into his home without speaking."
Reasons this is amazing:
1. Biebs drives a white Ferrari, in case you forgot that he's turned into a complete shithead these days.
2. KEYSHAWN DRIVES A PRIUS.
3. KEYSHAWN WAS CHASING A WHITE FERARRI IN HIS PRIUS.
4. FAST & FURIOUS IN REAL LIFE, STARRING KEYSHAWN JOHNSON.
5. It's all fun and games being the Biebs until a 6-foot-4 NFL player is ready to whup your ass. We can only hope that Keyshawn broke the garage door.
6. The lives of rich people are AMAZING.
7. We all need to move to Calabasas.
8. This was all officially reported by the Associated Press.
2013 is great.
DeMarco Murray Says He's Playing 16 Games This Year
As a Cowboys fan, I can promise you, this is a lie.
Michael Jordan and the Most Condescending Endorsement Deal of All Time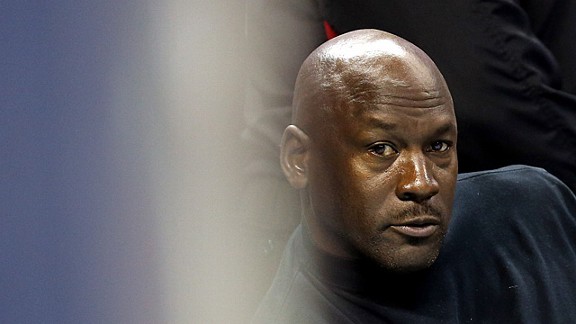 … Speaking of Dallas! Did you hear Dez Bryant signed a deal with Jordan Brand? Well, there's a twist. From ESPN Dallas: "According to a source, as a sign of good faith, Bryant won't receive payment from the Jordan Brand for the first year of the deal. Bryant, according to the source, wants to prove to Jordan that he won't get into any trouble. If he can do that, he'll receive the salary in the second year of the deal."
First: Who is Dez Bryant's agent? Because he should be fired.
Even if you believe in Dez's sincere desire to stay out of trouble — which I do — he's still a young black millionaire in Texas. Who knows what could happen? A few years ago he got in trouble because his pants hung too low. Crazy things happen in Texas. Never forfeit a salary for anything, but especially if you are Dez Bryant.
Second: Are we sure we want Michael Jordan as a life coach for young athletes? "The only thing he told me was 'stay out of trouble,' Bryant said after Tuesday's practice at Valley Ranch. 'Hearing it come from him … He is a strong voice. His opinion matters.'" Yes, because his influence worked so well for Charles Barkley, Tiger Woods, and Antoine Walker.
"Come with me to Vegas," MJ says with a wink. "We'll have fun."
Two weeks later, we wake up to a Darren Rovell story about Dez Bryant blowing $10 million on a Tuesday afternoon. This is horrible.
There's still time to fix this, Dez.
You're not even getting paid this year. Please. Go sign with Reebok and never speak to MJ again.
Maurice Jones-Drew Is at War With Hillbilly
From NFL.com: "According to the police report, a friend of Jones-Drew's put his hands on a security guard after being warned to stop touching a young woman. An alleged scuffle ensued wherein the security guard — who goes by the nickname 'Hillbilly' in the police report — put the friend in a headlock. At that point, Jones-Drew allegedly knocked out the security guard with a closed fist to the cheek."
Just an outstanding offseason news brief right there.
For the record, MJD has not been charged, and his agent maintains his innocence: "While Maurice was present when the events in question began, he quickly departed the premises immediately thereafter. Maurice was not involved in any physical altercation, whatsoever." Cool.
But just to be safe, it's probably best never to get into a fistfight with Maurice Jones-Drew.
Could LeBron James Play Quarterback?
Oh boy. It's not often that Joe Theismann's opinion is taken seriously, but it's May, so here we are. Theismann said recently that LeBron James could play quarterback, which led to a whole debate about whether he was right. The truth: Of course LeBron could play quarterback. Because here's the thing: LeBron could probably play any position in sports. Especially football. Safety, linebacker, offensive tackle, corner … ANYWHERE ON THE FIELD. "There's never been a 6-foot-8 running back," you say? If LeBron demanded to play running back, football coaches would make it work. He'd be Brandon Jacobs from outer space.
Beyond the NFL: He can already play all five positions in basketball. If you taught LeBron to skate and trained him for a few years, he could play any position in hockey except goalie (too big). No matter what snobby soccer fans try to tell you about the skill required, LeBron could 1,000 percent play any position in soccer if he'd played his entire life. He could be an MMA fighter, the greatest tennis player of all time, whatever. LeBron is a freak of nature. A hybrid of unfair size, strength, vision, coordination, AND speed. In an alternate universe where he trained all his life for any of these sports, I swear he could dominate in any of them.
Keep that in mind next time someone brings up a hypothetical LeBron scenario on a sports talk show. He could do it ALL.
The only exceptions are probably baseball and golf. Michael Jordan already proved basketball players playing baseball or golf is a horrible idea. But that's cool. We've accepted it. LeBron's better off playing hockey anyway.
CHINA!
From the Associated Press: "Flying high above Europe's economic crisis, a local lightning-fast pigeon called Bolt became the world's most expensive racing bird when his Belgian breeder sold it for 310,000 euros ($400,000) to a Chinese businessman. One-year-old Bolt, named after the Jamaican Olympic superstar sprinter Usain Bolt, and with an outstanding pedigree of proven champions to match, was the latest Belgian-bred pigeon to claim record prices. Yet the sums paid surprised anyone involved in the sport, auction house Pipa said. The previous record for a sale of a single bird stood at 250,000 euros ($322,000) from January 2012."
This story has nothing to do with football, but it's just important that everyone knows a Chinese businessman spent $400,000 on a racing pigeon named after Usain Bolt. You never know what'll happen next in the world of high-stakes Chinese pigeon racing.
Life is great.
Enjoy the rest of the offseason!
Filed Under: Andrew Sharp, Dallas Cowboys, Jay Z, Justin Bieber, NFL