The Epicenter of NYC's Linsanity Party Scene Speaks Out
Eddie Huang is the Owner-Chef at Baohaus, Host of Cheap Bites on the Cooking Channel, and Author of the forthcoming memoir with Random House: Spiegel & Grau, Fresh Off the Boat. Here is the story of how a Jeremy Lin started an unforgettable party.
---
Growing up in D.C., I was a Hoyas and 'Skins fan before anything else. When Patrick went to NY, we rode for the Knicks. In between, I cheated on Ewing with the '93 Suns, the '00 Jail Blazers, and the '01 Iversons. What can I say? Predicates over championships. In '05 I moved to New York and I've consistently watched every Knick game with a pack of Gummi Bears and my Roor. All was quiet, and honestly a bit depressing on the East Side until a few weeks ago. Once Linsanity dropped a deuce on D-Will, all the Peoples of the MSG were looking for a place to watch … Enter the Red Panda. Yes, I be exotic like Red Pandas and Mulan; fuck with the kid.
Time Warner had it so that only people with Verizon, DirecTV, or RCN got the Knicks games. For those that don't live in New York, it might seem like we have a lot of options, but we don't. Each company has a monopoly on certain buildings so DirecTV and Verizon simply aren't available in most places. As an RCN customer that not only owned a Taiwanese Fast-Food Joint (Baohaus) but also held the largest collection of Coconut Ciroc, I was nominated to host.
Quickly, I realized why there's a one-child policy in China; we multiply like Bebe's Kids. By the time the now-infamous Lakers game rolled around, I was convinced it would have been easier to tape Pimps Up, Hos Down in my apartment than host all these bao-eating gremlins. I had six people on one couch, my agent on the corner of my bed, Grantland's Hua Hsu standing over the television with a bowl of minced pork on rice, and Sena lounging on a pack of bamboo chopsticks. We had to upgrade. ASAP.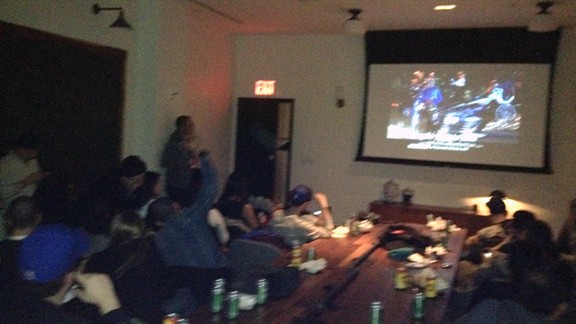 So I hit up Jou-Yie at the Ace and he lent us the Board Room for Monday night's game against the Nets. As the people poured into the room, news was circulating that Melo was back. I was excited. It had to happen. And coming off the Mavs game, playing the lowly Nets, who start DJ Soul at point guard, I figured it was a good time. If we stuck to the Lin-Chandler pick-n-roll to initiate, Melo would get a head start against the weakside D when the ball swung. Two minutes into the game, Lin went coast to coast with the ball and tumbled to the ground. After a missed layup. I said to my boy, Dom, "If he was black, he woulda dunked that shit." Laughter on Dom's side, crickets from the Asian gallery.
Chillin in the Ace Hotel Board Room with 50 of my best friends, I thought to myself: Was it really a good idea to get all these people together? Black Apple Max, The Kid Mero, Sena Yang, It's the Real Rosenthals, and random Chinese people I've met through Yu-Gi Oh Tournaments? There were Heinekens, baos, NBA China Vitamins, and no A/C. There was even a bottle of NBA Eau de Toilette, which I discovered is the love child of Michael Jordan Cologne and No Limit Turkeys. Forget Melo, I didn't think our viewing party was going to make it to the second quarter.
That's how it went for the first quarter. Lin fans in full Asian Pride-mode, everyone else nervous for Melo. Chris Jackson mentioned to me that "Carmelo was setting back Black-Asian relations to their L.A. riots nadir." As Deron Williams started raining on our party, people started to get aggy.
"What the fuck! Close out!"
"You know Williams is mad from the last time Jeremy schooled him!"
"Why is no one boxing out Mr. Kardashian?"
"Carmelo is ruining every thing!"
At which point, my homegirl, Ms. Elena Bergeron, empathized with Public Enemy no. 1 Deron Williams and claimed him for the Tragic Mariah Carey, Robert Smith, Tiger Woods set. After that, we were off … Knicks fans cheering along racial lines eating Taiwanese Baos and Dutch beer.
There were people claiming Tyson Chandler for the light skinned delegation. Minutes later those same people tried passing Jared Jeffries (aka Charles Smith Pt. Deux) onto any other delegation but theirs. The Rosenthals loved every moment their hero from the Lost Tribe (Amar'e) grabbed a rebound. It was ill. When portly Boom Dizzle walked into the game, we all had jokes.
"Ayo, 85 looks like a toll free call B!"
"This motherfucker so fat right now."
"I know man, he should be wearing single digits!"
Despite the Knicks getting bombarded by Deron Williams 3 after Deron Williams 3, we remained confident. Why? Because the one guy we all knew could save our shit was about to check into the game. No, not Jeremy Lin … Not Carmelo Anthony … Get your minds right! I'm talkin 'bout STEVE "DISCOUNT DOUBLE CHECK" NOVAK. With Epcot in the building, it wasn't Lin that every one rallied around, but Novak, at which point I declared:
"Every successful business needs a white man! I RIDE FOR NOVAK! He on that Mitt Romney shit: BUSINESS MAN."
Hawaii Mike then asked to "See my taxes" and I told him straight up, "My taxes is beautiful!"
The room was shaking at this point, bubbling with Novak Fever. Every one foaming at the mouth to see him bury the Nets and then show off the strap. In his excitement, Khuong Phan tried to give his seat up to our friend, Rose Anna. My brother was too eager. We live in a post-Linsanity world! Ack like you know god. Enjoy the view, Khuong. Thank you, Jeremy Lin.
Filed Under: Carmelo Anthony, Jeremy Lin, Linsanity, New York Knicks