The End of Year 2 for RG3
Jonathan Newton / The Washington Post/Getty Images
This week Robert Griffin III was officially benched for the final three games of the Redskins' miserable dumpster fire of a season. Mike Shanahan claims it was to protect Griffin's health. On Thursday night, NFL.com's Michael Silver reported that Shanahan benched Griffin because he'd played so poorly that the locker room wouldn't trust Shanahan if he didn't make a change. And just last week, Redskins offensive coordinator Kyle Shanahan told the Washington Post's Mike Jones, "I've never heard a player say he's fine, doctor say he's fine, and then the coach say he's not, unless [he] doesn't want to play the guy … because he really has another agenda."
So who knows why exactly Griffin was benched. It could've been performance-based or for the sake of his health, but either way it was definitely the right call.
His confidence was ruined and he was taking a beating every single week. RG3 should've been benched weeks ago. Sure, the way his benching has been handled is the 12,000th example that the Redskins franchise under Dan Snyder is a complete disaster, but that doesn't even matter here. What's important is that we no longer have to watch RG3 wobble around and get destroyed every week. Thank you, God.
There was nothing in the NFL more exciting than watching RG3 at his peak last year, and this year there was nothing more depressing than watching him get throttled every week. I'm so glad it's officially over.
But before we close the book on this horrendous season, let's get some closure. Back in August, I wrote a quick column about the inevitable RG3 backlash that would come this year, and hoo boy! The backlash did not disappoint. Here's how those predictions compared to what played out in real life.
In August: RG3 can't possibly live up to the hype, because we grade rookies on a curve, but in year two he'll be graded against guys like Tom Brady, and judged against rookie stats that were pretty much flawless.
In December: Not only was RG3 a hundred times worse than he was last year, but it came after a summer when he starred in a documentary called The Will to Win, was part of a magazine cover story comparing him to Obama, and had an Adidas campaign guaranteeing he'd be back for Week 1, something that looked extra stupid when he played in Week 1 and still looked very injured. Not living up to unrealistic expectations is one thing, but looking back at all this, RG3 was a pretty active participant in feeding the ridiculous hype, and then played worse than anyone could have imagined.
In August: The Redskins will disappoint everyone because they're the Redskins, and that's what the Redskins do. And people will blame RG3 for this.
In December: Well hey, the Redskins definitely disappointed everyone. But a lot of the issues on offense were just as much about RG3. As much as we'd all like to blame Dan Snyder's shit pile of a roster for making RG3 look bad, it's not like the Redskins were losing in spite of their great quarterback. He was as much a problem as Kyle Shanahan or their XFL receivers or their horrendous offensive line. It was a group effort.
In August: RG3 will talk too much. He's eager to reach out to the media to tell his side of the story, and this will end up working against him and feeding stupid media stories.
In December: The one prediction that was completely dead-on. His comments after throwing a horrendous interception on the final drive of a loss to the Eagles:
You have to give credit where credit is due to Philly. They did a good job of scheming us up. Obviously, we were able to run the ball effectively, but in the passing game they kind of had us. They kind of knew what was coming before it was coming and like I said, that is disheartening. But we still have to find ways and that's what I told the guys — no matter what's going on out there, we're the players, we have to make the plays work. We just weren't able to do that during that first half.
This is where it would've helped for RG3 just to spout some standard athlete clichés like, "It's all on me, I'm the leader of this football team." Or something. We don't always need candor. Just keep it simple. Anything would've been better than cryptically throwing his coach under the bus after an awful throw to nowhere that lost the game.
In August: RG3 may have issues with Shanahan, and especially after the way last season ended, things could get ugly if the Skins start losing.
In December: I don't think we'll ever know the full extent of just how dysfunctional things got with Shanahan this year, but it's pretty clear that both coach and player pretty openly distrusted each other. After last week's loss to the Chiefs, RG3 said of the Skins organization, "Some things are allowed to happen. We can cut a lot of it out and it's not being cut out. It's very unfortunate. That's all I can say and all I will say." God only knows what that means. But yeah, probably not a sign of a healthy working relationship.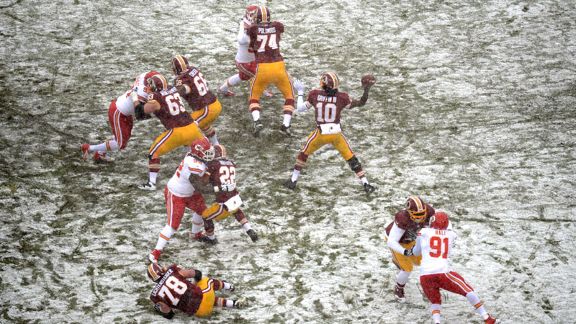 The common denominator here is that RG3 played an active role in what went wrong. I was right about the backlash coming, but I figured the Redskins would struggle and the media would exaggerate his failures and invent controversies that made it seem that much worse. But the controversies were real, and so were RG3's failures. If there's backlash against RG3, it's because not enough people admit the second part. This situation has been discussed to death without most people pointing out the one indisputable fact in all this: RG3 has been horrible this year.
The Shanahan play calling did RG3 no favors and he's not all of the problem in D.C. or even half the problem, but he definitely wasn't part of the solution.
On the other hand, part of this has gotten ridiculous. "RG3 isn't teachable." "RG3 isn't a team player." "RG3 was a victim of his own swagger and needs to be humbled." This is nonsense.
RG3 was still hurt this year. We don't have to make this complicated.
He said repeatedly he was healthy — again, RG3 plays a role in everything here — but anyone who watched him play could see just how that wasn't the case. As 49ers linebacker Ahmad Brooks said after playing against him a few weeks ago, "I don't think he should be playing. You can see it. Everybody can see it, everybody can see it."
We saw this every time RG3 ran, and a lot of times when he passed. And suddenly all the self-confidence that made him so impressive last year looked like hubris from a guy who just doesn't get it and needs to be humbled.
Some of the criticism has been fair. But looking at the last 24 months, it's hard to pin this on Griffin. The Skins squeezed as much as they could from him that first year, putting him in a simplified offense that exposed him to a ton of contact, playing him even after he was injured, forfeiting caution for short-term success. It was the most Redskins move possible after lucking into their best player in a decade, and after a few glorious months, it ended in disaster. This season, despite red flags every week, the disaster continued. He struggled on the field, he became insecure with the media, he probably didn't take as much responsibility as he should have, and it all went to hell by about Week 6.
If there's a lesson from the past two years, it has nothing to do with the read-option or RG3's ACL or Mike Shanahan. It's that when athletes do incredible things, we like to project virtues onto them that don't always make sense. They can't just be amazing athletes. They are Winners who do things The Right Way and Want It More. Then we do the same thing when athletes disappoint us, except the virtues we project become character flaws. I'll remember the first two years of RG3 as an insane case study in both directions.
RG3 was treated like football Jesus in Washington last year. The worship was universal. He was poised, and candid, and wise beyond his years.
Now he's cocky, talks too much, and is too clever for his own good. The truth's probably somewhere in between, but I'm not sure RG3 actually changed.
If you're listening to people debate all this in the coming weeks while talking about the future of RG3, remember that. He may have things to learn about handling the media, taking responsibility, and whatever else, but none of it would matter if he'd been healthy and played well this year. Think about the way people talked about Cam Newton's body language last year, and how stupid all that looks 12 months later.
Imagine how different that Eagles press conference would've been if instead of a horrendous, game-losing interception, Griffin had scrambled through five people and found an open receiver in the end zone. The sort of thing he did constantly as a rookie.
There's a chance he'll never be that kind of player again, definitely. But it's still early, so I'm not giving up hope. In the meantime, if everyone in the sports universe is going to discuss the Redskins and RG3 this week, it's probably best to just be honest about what exactly went wrong this year. RG3 doesn't need to grow up, or settle down, or do anything else. He was hurt. If he can get healthy, poise and wisdom won't be that far behind.
Filed Under: Andrew Sharp, NFL, Robert Griffin III, Washington Redskins