The All-22 All-Star Team: The Rebirth of Cameron Wake
Robert Duyos/Sun-Sentinel/MCT
The All-22 All-Star Team is an attempt to provide some insight on the NFL's 22 most underappreciated players. Some will be All-Pros who haven't fully gotten their due; some will be names few casual fans have ever heard. All will, for one reason or another, have been overlooked.
At first, nothing seemed amiss about the empty field. I'm just early, Derek Wake thought. It was the spring of 2007, and Wake had been invited to a D.C.-area tryout for the Canadian Football League's BC Lions. As he waited for others to arrive, Wake threw on his cleats and started warming up on the turf at Howard University's Greene Stadium. Fifteen or so minutes passed before Wake made a call. "Everyone's here," said the voice on the other end of the phone. "Here" was Hampton University, another historically black college, three hours south of Howard. "I'm going to drive three hours, get out of the car, and run the 40?" Wake says, recalling that embarrassing moment six years later. "That's not going to happen."
Some people have a knack for being in the right place at the right time. Derek Wake was not one of these people. Undrafted out of Penn State in 2005, Wake was cut by the Giants before training camp. He worked out for a handful of teams but couldn't catch on anywhere. Wake spent part of the next year working at a mortgage brokerage before leaving for a job at Bally Total Fitness in an effort to stay in shape. The next spring, he was invited to Ravens minicamp. He left without a job. At 25, the chance with BC was possibly his last. "It started to cross my mind," Wake says. "What am I going to do? I've got to start making a move, as far as my life is concerned. How long am I going to sit by this phone?"

He didn't have to sit long. Even without a tryout, the call from the Lions came, and Wake was invited to the team's training camp, sight unseen. In the next three years everything about Derek Wake's life, even his name, would change. Derek Wake would become Cameron Wake, and a former NFL castoff would become the best player in the CFL and, eventually, a two-time Pro Bowler. Wake had 15 sacks last season for the Miami Dolphins, but whether it's his path to the league or the Dolphins' lack of success since he got there, his name is rarely mentioned among football's premier sack artists. The truth is he might just be the world's purest pass-rusher, and he was just one phone call away from never being one at all.
---
Wally Buono figured he didn't have much to lose. As the BC Lions head coach surveyed his roster prior to the team's training camp in 2007, he didn't see a single name capable of replacing departed star Chris Wilson, who'd left for the Washington Redskins that offseason. Buono had hoped that player might be Derek Wake, whose gifts were ideally suited for his defense. When Wake didn't show to the team's tryout in Virginia, he figured this was just another apathetic talent whose failures now had an explanation. When the time came to make a call, Buono decided it was worth the risk. "What's the worst that can happen?" Buono says. "You bring him in, he doesn't do well, you send him home. All you waste is a ticket."
Wake played outside linebacker in Penn State's 4-3, and when he got to the Giants, the team tried using him in the same role. But Wake had trouble dropping into coverage, and he soon became another undrafted free agent dropped without a second thought. At the few workouts that followed, Wake was asked to play outside linebacker, and he struggled in that role.
By the time his second consecutive fruitless offseason was finished, he'd taken a full-time job at Bally in Greenbelt, Maryland, near his childhood home.
"Having a degree, being a college athlete, they actually told me, 'You're overqualified. You're more qualified than the managers I have. Why do you want to work here?'" Wake says. "I kind of gave him a line about fitness, but at the end of the day, I just wanted to have some type of income and be able to be around the weights, so if that call ever did come in, I'd be ready."
It was at Bally where the fairly mundane story of Wake's name change began. Considering his story, one could reasonably expect a transformational method in the change; an act meant to signal a new beginning. But it was nothing more than a clerical mishap. On his first day, Wake was given a name tag that read "Cameron" — his middle name. As Cameron, Wake spent his days selling gym memberships and working as a personal trainer. But at every spare moment, he worked out. His constant presence at the gym came with questions, people wondering what exactly he was working out for. "I'd say, 'I'm trying to make it in the league.' They'd look at me and laugh. This guy's working at Bally's, and he's going to be an NFL player?"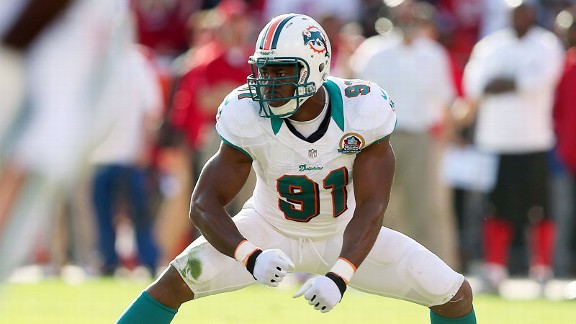 Wake met his agent during his time at Bally, and although Buono called about Derek Wake, it was Cameron who arrived in Vancouver later that spring. "When he didn't show [at the first tryout], it kind of gives you the idea that this guy doesn't care, or he's a goof," Buono says. "He's the furthest thing from that."
It took one day for Buono to see the results of his gamble. The first time the Lions lined up for one-on-one pass-rush drills, Wake took the team's starting left tackle, dumped him on his back, and quickly slapped the dummy on his way back toward the line. "They pulled me aside and said 'We've decided. You're going to make this team,'" Wake says. "I thought they were saying that to everybody."
They weren't.
Before BC's first game that season, Buono and Wake's father, Alvin, were standing on the field at the SkyDome in Toronto when Buono made it clear what he thought of Cameron's future. "I told him that Cameron would be here for two years before going to the NFL," Buono says. "Two years would be all he needed, just to hone some of his skills. After that, he'd be gone." Wake had three sacks in that first start. In two years, he'd tally 39. By the time that second season was over, he'd gotten calls from 17 NFL teams. It was both the team's coaching staff and its history, Wake says, that made him choose the Dolphins.
---
In talking about his choice to move Wake to defensive end, Buono uses some variation of "explosion" four times. "He just explodes out of his stance," Buono says. "It was just so evident. I think his vertical [was measured at] like 46 inches." That's not an exaggeration. At the NFL combine, Wake's standing vertical was 45.5 inches. As an outside linebacker in a 4-3, a player forced to move both backward and laterally, the advantages of that explosion are lost. "The instincts of a linebacker and the instincts of a defensive end are completely different," Buono says. "If you take a fish out of water, he can't swim." The analogy is a cliché, but it's apt. As a rusher, Wake resembles a shark gliding through the shallows. It looks like what he was born to do.
In his first two seasons, Wake was nominally an outside linebacker in Miami's 3-4 scheme. Although his positioning wasn't always as it was with the Lions, his role was virtually identical. According to Pro Football Focus, Wake rushed on 88.2 and 90.7 percent of Miami's passing snaps in 2010 and 2011, respectively. According to Football Outsiders, Wake was tied for the league lead in quarterback knockdowns (combined hits and sacks) in 2010, and although Wake only had 8.5 sacks the next year, he finished second in the NFL in both hits and hurries. Wake's 14 sacks in 2010 were enough for an invite to the Pro Bowl, but his best season came last year, when he converted to defensive end in Miami's new 4-3 and collected 15 sacks.
Much of the league feasted on Cardinals right tackle Bobby Massie last year, but Wake's four-sack performance in Week 4 was domination of an entirely different sort. Above is Wake's second sack, which came on third down early in the second quarter. The first thing to notice about Wake is his stance. As a defensive end in a 4-3, Wake is back, in football terminology, to playing with his "hand on the ground." With Wake, "hand" turns plural in passing situations. In a four-point stance, Wake's entire body becomes a coiled spring, and from that position, "explode" really is the only word for what happens next.
Most of the league's best pass-rushers have a variety of moves they can implement to keep offensive linemen off-balance. Clay Matthews often interchanges speed and power, and Dwight Freeney's spin is legendary in NFL circles. Wake has a changeup to his speed rush, but against Massie, and several other tackles, he doesn't much need it. From the snap, his acceleration off the line already means Massie is beat. Wake moves five yards in about one second. The image of him bursting toward Kevin Kolb has the suddenness and violence of a lion attacking a gazelle in a nature documentary. It's predatory. The effectiveness of Wake's speed rush, in a way, makes him the Mariano Rivera of pass-rushers. There isn't much variety, but watch someone try to hit him.
Wake's natural fit as a rusher is about more than pure explosion, though. There's a subtlety that adds to the purity of his movements, and it's one that creates a hidden but significant advantage. Above is a play from the Dolphins' Week 15 game against Jacksonville. It's third-and-15, and Wake is at his most dangerous, as a mindless quarterback hunter. It's Kevin Burnett who drags down Chad Henne for the sack, but what's also on display is something Wake causes more than any player in football — holding penalties. Last season, Wake was fifth in the NFL in holding flags drawn, with seven. The year before, he had 13 — almost twice as many as any other player.
The tendency for opposing right tackles (that's another aspect of Wake's game — he plays almost exclusively on the left side of the Dolphins defense) to hold is due in part to Wake's speed, but it's also a product of his natural bend as a pass-rusher. In one fluid motion, Wake both shoots off the ball and dips his shoulder back toward the quarterback, thus shortening his path. The dip leads to plenty of long offensive-tackle arms wrapped around Wake's neck, a sight that leads to more holding flags than any other. Stats like Wake's 13 drawn holding calls in 2011 are a perfect example that even without a gaudy sack figure, he's constantly affecting the game.
---
Earlier this week, Dolphins defensive coordinator Kevin Coyle said that he wouldn't trade Wake for any player in the league. That may be overstating things, but it's not hard to understand his point — few players matter more to their defense than Cameron Wake.
The NFL Network's player-voted countdown of the league's 100 best players is inherently flawed, but it still says something that Wake landed at 89, despite being first-team All-Pro a year ago. "That's not how I validate myself," Wake says. "At the end of the day, that's an opinion. Facts are facts. Fifteen sacks, All-Pro, Pro Bowl. I don't put much weight on [the list]. To me, it doesn't make that much sense to be All-Pro but 89. I don't know how those two go together."
Our knowledge of NFL stars begins early. Fans of pro football will be keeping tabs on South Carolina defensive end and likely no. 1 overall pick Jadeveon Clowney all season. First-round draft picks are significant investments whose failures and successes are constantly monitored. Most NFL fans — and, likely, players — know little about how Wake came into the league, and it leads to knowing less about his achievements now that he's here.
What Wake represents is the forgotten man, saved by the tiniest detail. Any team in the league could have had Cameron Wake. A few teams did before letting him walk away. It took one coach, a country away, to find Wake and his perfect role. It's not more than a couple feet from the tips of Wake's fingers to the ground, but that handful of inches made all the difference.
Filed Under: Miami Dolphins, NFL, Robert Mays