The All-22 All-Star Team: Muhammad Wilkerson and the New Versatility
Jim McIsaac/Getty Images
The All-22 All-Star Team is an attempt to provide some insight on the NFL's 22 most underappreciated players. Some will be All-Pros who haven't fully gotten their due; some will be names few casual fans have ever heard. All will, for one reason or another, have been overlooked.
After just two seasons, the 2011 defensive draft class already looks historic. Some are already sending Aldon Smith, Von Miller, and J.J. Watt to Canton, and somehow, it doesn't feel all that ridiculous. That trio leads the group, but it's rounded out by players who are, if not era-defining mega-talents, at least stars in their own right. The Lions' Nick Fairley figures to ride a strong finish to last season into a monster 2013, the Redskins' Ryan Kerrigan deservedly went to the Pro Bowl a season ago, and the Cardinals' Patrick Peterson has already been to two. None of them, though, deserves to have his name mentioned as the best player of that second tier. That's a distinction that belongs to Jets defensive end Muhammad Wilkerson. Taken 30th overall two years ago, the Temple product has gone largely unnoticed playing a position devoid of stats on a bad team. The most impressive of Wilkerson's numbers is probably nine. That's the amount of alignments, on either side of the ball, Wilkerson is asked to play in the Jets' defense. Success in the NFL can often be as simple as being very good at one thing. Wilkerson is very good at about a dozen, and it could soon make him one of the league's most indispensable defenders. He isn't there yet. But after this season, Wilkerson's name may belong right alongside Miller, Smith, and Watt.

---
Wilkerson arrived at Temple the way most players do, as a marginal recruit with question marks. Academically ineligible coming out of Linden High School in New Jersey, Wilkerson spent a year at Hargrave Military Academy in Virginia. Even after raising his grades, he was still just a two-star recruit, eventually landing with the Owls' modest program.
In the years before Wilkerson's arrival in 2008, Temple had been among the most futile programs in college football. The Owls won a combined eight games from 2003 to 2007, including a winless 2005 season marked by four losses of at least 47 points. But there were signs of improvement. Wilkerson says the roster had its share of talent, and that watching teammate Terrance Knighton get selected by Jacksonville in the third round redefined how he saw his future. The Owls' ascension mirrored Wilkerson's. Temple won eight games in 2010, a season that saw him rack up 70 tackles and 9.5 sacks.
In the lead-up to the following spring's draft, Wilkerson's college production and NFL frame (6-foot-4, 315 pounds) combined to make him a likely late first-round pick. Jets defensive coordinator Dennis Thurman says when the team came on the clock at pick 30, there was just one major factor: versatility. That's the first word out of Thurman's mouth when discussing Wilkerson. Having played in both 4-3 and 3-4 formations in college, Wilkerson was a player the Jets envisioned filling multiple spots in head coach Rex Ryan's myriad defensive fronts. Terms like "scheme versatility" aren't new to draft day. But with Wilkerson, it's more than just some desired ideal. On any given play, Wilkerson lines up at any point along the defensive line. He's asked to do more in his defense than almost any down player in football.
Wilkerson is typically classified as a 3-4 defensive end, which is nominally correct. It's the position he plays most, and that makes sense. Playing the defensive end in a 3-4 probably requires the widest range of talents for any defensive lineman. In a 4-3 defense, players are typically responsible for one gap — most often the one in which they line up before a given play. On most plays, Wilkerson is responsible for two gaps — the ones to either side of his tackle.
He's the ideal two-gap player. Consider his length. Rather than blowing by blockers with quickness, 3-4 defensive ends are required to control the man in front of them before reading the play and ditching the offensive tackle to either side. Having Wilkerson's 6-foot-4 frame and massive wingspan makes this much easier. By getting some separation with those long arms and using that height to peer into the backfield, he can diagnose plays much faster than most players. It's that build (and his talent) that inspires Jets defensive line coach Karl Dunbar to call Wilkerson "a young Richard Seymour."
What defines Wilkerson's work in the run game is the sudden shift between raw strength and actual power. One of the more difficult tasks for a defensive lineman is actually staying put. When Wilkerson comes off the ball and holds his ground as head-up tackle, it's a display of strength that occasionally gets lost in such a static moment. It's when he makes his choice, and has to discard a 300-something-pound man in an instant, that the power is obvious — an explosion of force from a standstill.
We see that in the play above. In the fourth quarter in a game against the Chargers, Wilkerson is lined up head-up over the left tackle. He comes off the ball, initiates and maintains contact, and then spills outside to make the tackle. Watch Wilkerson enough, and this sight becomes familiar.
This is a play from Week 11 against St. Louis, maybe Wilkerson's best game of the year. On third down, he bumps inside while playing what is actually a 3 technique (down lineman lined up on the outside eye of a guard) in a 4-3. His task in this role is different. Now, he's in attack mode. Rather than control his man and the line of scrimmage, Wilkerson is looking to make just one move and get to the quarterback. Any player can be asked to alter his approach in this way, but the result is typically akin to an NBA player shooting a free throw with his off hand. It comes with rigidity, and often awkwardness. But Wilkerson's rip move is closer to the work of a full-time pass-rusher. It's smooth, instant, and natural. The guard is as overmatched as he'd be against a typical 4-3 defensive end, and Sam Bradford is victimized by a sack fumble.
Plenty of players can shift between these two spots, but few have the strength to hold up in the 3-4 and the quickness to be truly effective in the 4-3. Fewer still can make that sack and then hold up as a nose guard just a few plays later. Outside of Justin Smith, it's hard to think of a player who's as useful in as many different roles. "There's a saying that we have, 'The more you can do,'" Thurman says. "The more you can do, the more you increase your value. And he has tremendous value."
The Jets' motivation for using their players in such a variety of ways is twofold. First, it's about maximizing talent. By implementing various fronts and looks, the Jets present a considerable challenge to offenses trying to prepare, but they also increase the opportunities for their players to find uncommon success. Thurman says the Jets aren't interested in squeezing their players into a box. "You can't say, 'I have a scheme, I have a system, but the players don't fit it,'" Thurman says. "Then why are you going to make them fit? You need to have a flexible enough scheme and system that says, 'Let's do more of this, and less of this.'" There are teams (the early 2000s Bucs, for instance) that have found success by plugging players into a strict system, but the Jets prefer to survey their personnel landscape before each season and use that information to build the new elements of their defense. In doing so, they present as varied a package of fronts as any team in football.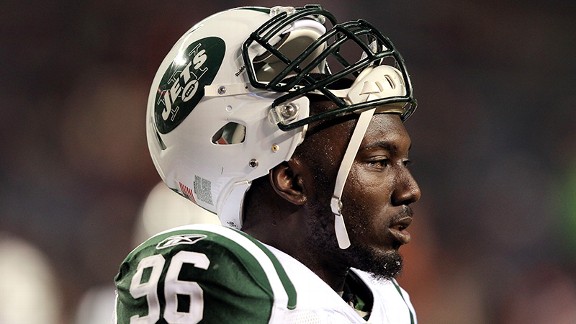 The second reason is more unique. Thurman admits that a queen-on-the-chessboard like Wilkerson makes his job more fun. But "it makes [Wilkerson's] job more fun too." Differing alignments and responsibilities mean more, ever-changing work for players. It prevents their tasks from becoming tedious. "Not only is he learning different positions, but he's doing different jobs," Thurman says. "It keeps your interest as a player. If you know how to do more than one thing, you're always learning."
---
There are some players for whom a breakout season means turning into a different type of player, one who's now capable of making a new level of standout play. For Wilkerson, that means being the same type of player more often. "It wasn't, 'Wow, look at that play,' and then he's not visible for another 15 or 20 plays," Thurman says. "It was like, 'Oh, you see that play by Muhammad?' 'Whoa, you see that play by Big Mo?' It became more frequent, and that's when you noticed he was playing at a high level." Wilkerson says his biggest jump wasn't between his first season and his second, but in the middle of last season. In Year 2, his fluency in the team's playbook increased, and it led to far less thinking and far more reacting. Both Thurman and Dunbar have said that Wilkerson's knowledge has become as vast as his physical gifts. As last season went on, his ability to identify plays based on formations, personnel packages, and the stances of given linemen slowed the game even more.
When the Jets drafted Sheldon Richardson with the 13th overall pick in April, there was some confusion among fans and experts who viewed New York as a strictly 3-4 defense. Richardson is a prototypical 3 technique tackle in a 4-3, a penetrating playmaker. The selection is only further proof that the Jets aren't bound by a particular approach defensively. It's this willingness to defy convention that's turned Wilkerson into one of the league's premier young defenders. Last December, he had hoped his strong second half would be enough to get him to the Pro Bowl as an alternate. It wasn't to be. "I felt like I kind of made a little name for myself last year," he says. "I've just got to keep playing how I've been playing." Wilkerson says he isn't concerned with being mentioned alongside Watt or Smith or Miller. Still, he knows this year can be special.
Any success in Ryan's tenure with the Jets has been defined by defense. But by and large, the players who defined that core unit are gone. Darrelle Revis and Bart Scott are no more. The front office has been remodeled. What remains is Ryan and his staff, an indication that maybe new general manager John Idzik has at least some faith that a young and unproven team is worth rebuilding in Ryan's image. No player is better suited to dictate that identity than Wilkerson. Because when Muhammad Wilkerson is the foundation, a defense can be whatever it wants to be.
Filed Under: J.J. Watt, New York Jets, Rex Ryan, Robert Mays