The 10 Greatest One-Team NHL Players (Ranked!)
Dave Reginek/NHLI via Getty Images
We're now a few weeks removed from Mariano Rivera's final game at Yankee Stadium, which means most sports fans who watched it have had enough time to stop crying while awkwardly insisting that they're not crying.
As a hockey fan, I watched Rivera's exit while thinking How can I take that wonderful baseball moment and translate it into a hockey post? And that's how I came up with the idea of listing 10 legendary NHL players who, like Rivera, played their entire career with one team.
And then I thought How can I take this idea for a feel-good walk through the pages of hockey history and turn it into an excuse for people to yell at each other? And that's when I decided that instead of just listing 10 guys, I'd also rank them.
So here we go: the 10 best players in NHL history, in order, among those who spent their entire career with one franchise.
10. Denis Potvin, New York Islanders (1973-1988)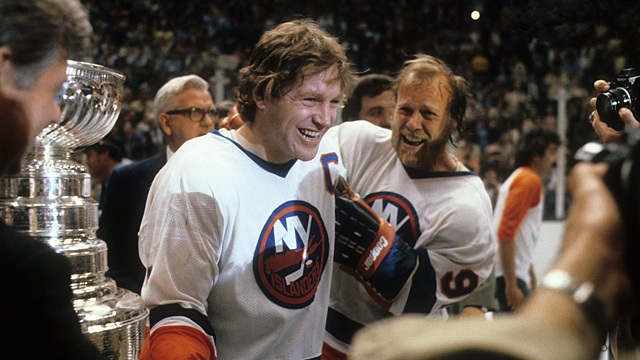 Potvin won three Norris Trophies and four Stanley Cups during a 15-year career in which he established himself as one of the most respected …
Hold on, I need to pause for a minute while all the Ranger fans chant "Potvin Sucks" for a while.
Still waiting.
Still waiting …
OK, you know what, there are only so many hours in the day so let's just agree that Potvin was one of the most-respected players in the league as long as you weren't in Madison Square Garden. He captained the Islanders' early '80s dynasty that captured four straight championships and won 19 consecutive postseason series, a record that likely stands as completely unbreakable in the salary-cap era. He averaged just less than a point per game over his career, and retired as the league's all-time leading scorer among defensemen.
As for you still-chanting Rangers fans, here's a fun fact: Potvin claimed that Mike Keenan asked him to make a comeback and join the 1993-94 Rangers team that eventually won the Stanley Cup. Potvin, who by then was 41 years old and had been out of hockey for six years, considered the offer but eventually declined.
9. Stan Mikita, Chicago Blackhawks (1958-1980)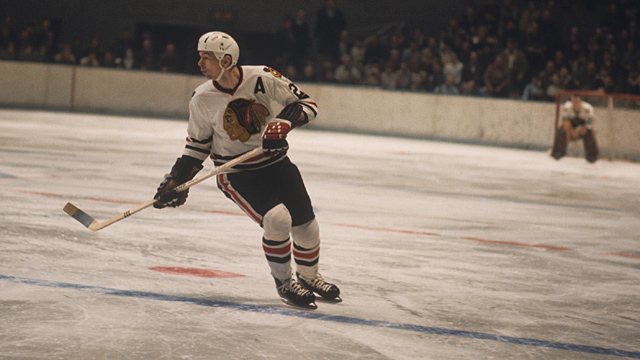 Mikita was a gifted scorer who combined with Bobby Hull to give the Blackhawks the most feared offensive duo of the 1960s. He led the league in points four times in a five-year stretch, won two MVPs, and helped the Blackhawks win a Stanley Cup in 1961 that would be the franchise's last for 49 years.
But beyond the stats, Mikita had a fascinating career. He was one of the first European-born players to star in the NHL. He was among the first of what we now consider the prototypical two-way center, dominating at both ends of the ice and becoming an excellent faceoff man. He and Hull helped pioneered the use of curved blades. Over the years he transformed from one of the league's most penalized players to an eventual Lady Byng winner. And he even designed and marketed his own style of helmet. A horrible, ugly helmet.
8. Mike Bossy, New York Islanders (1977-1987)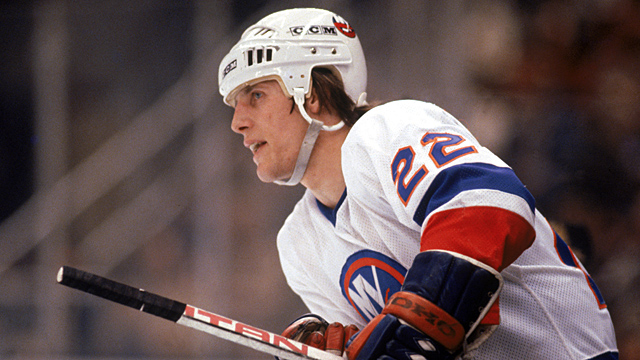 Quick: Who's the NHL's all-time leader in goals per game? OK, it's obviously Mike Bossy since the question is appearing in his section. But if it weren't for that giveaway, wouldn't you have guessed someone like Mario Lemieux or Pavel Bure or Brett Hull first? It shouldn't be possible to own the record for most consecutive 50-goal seasons and still be criminally underrated, but Bossy comes close to pulling it off.
This is because of injury problems that cut his career short. Bossy had only turned 30 during the 1986-87 season, but his back was already a mess. He took the next season off in hopes of mounting a comeback, but it wasn't to be, and he retired after playing just 10 seasons.
Even by the insane standards of the 1980s, Bossy's numbers were eye-popping. Nine consecutive 50-goal seasons. Five 60-goal years. A 50-in-50 season in 1981. A career shooting percentage of 21.2 percent.
In what's becoming a bit of a running theme among players on this list, Bossy almost didn't qualify. While pondering a comeback, he was rumored to be offered to his hometown Canadiens (who had famously passed on him in the 1977 draft, taking Mark Napier instead). But the deal never happened, and Bossy officially retired in the summer of 1988.
7. Joe Sakic, Quebec Nordiques/Colorado Avalanche (1988-2009)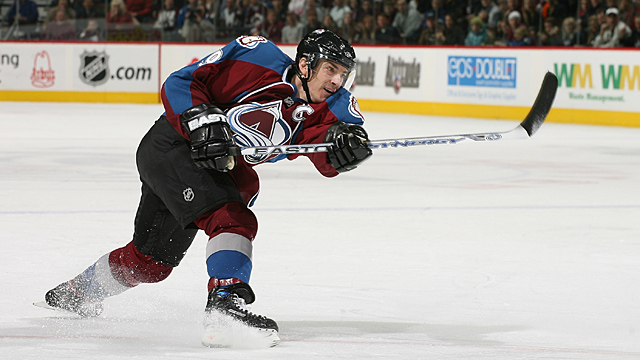 Sakic counts, right? We said we were ranking guys who played for one franchise, so we can't use the fact that the Nordiques became the Avalanche against him. He's in.
As a Nordique, Sakic was a very good player who made five All-Star teams and recorded three 100-point seasons. But it was when the team moved to Colorado in 1995 that he really ascended to the NHL's elite. He led the team to a Stanley Cup in its first year in Denver, taking home the Conn Smythe as playoff MVP. He won his second Cup in 2001, along with his only Hart Trophy and the first of three first-team All-Star selections. His 1,641 career points are the ninth-most in NHL history. He was essentially unstoppable, assuming you were an NHL goalie or defenseman and not a snowblower.
While most Avalanche fans have forgotten and/or blacked the memory out, Sakic actually signed a three-year, $21 million free-agent deal with the New York Rangers in 1997. But the Avalanche had the right to match, and despite concerns about the long-term financial impact, they eventually did.
6. Martin Brodeur, New Jersey Devils (1991-present)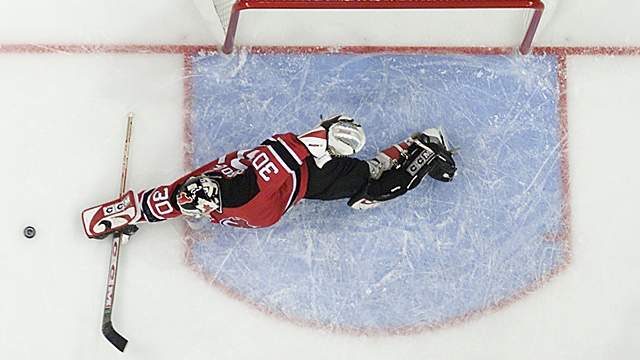 Brodeur's still active, but his résumé is already more than enough to earn a spot on the list. He's the NHL's all-time leader in wins and shutouts, has four Vezinas and three Stanley Cups, and was so good at handling the puck that the NHL had to change its rules to neutralize him. He's quite possibly the greatest goaltender of all time. He even chipped in with the occasional goal.
So he's definitely on the list. The more interesting question is whether he stays there. His contract is up, and with 27-year-old Cory Schneider more than ready to assume the full-time starter's job, you have to think this is Brodeur's last season in New Jersey. But unlike Teemu Selanne, Brodeur hasn't said anything about this being his final year. Which means it's at least possible that Brodeur could return for a 22nd season next year while wearing a new uniform.
After all, it wouldn't be the first time Brodeur had to contemplate leaving New Jersey. After protracted extension talks with the Devils dragged into the 2012 offseason, he became a free agent and reportedly had serious negotations with the Maple Leafs. Everyone assumes those talks were a bluff to get Lou Lamoriello to cough up an extra year, but then-Leafs GM Brian Burke isn't exactly one to waste time playing charades.
Either way, Brodeur's in for now. As great as his career has been, here's hoping it stays that way.
5. Jean Beliveau, Montreal Canadiens (1950-1971)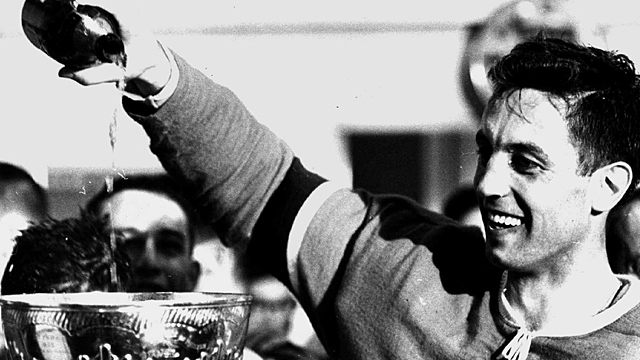 The story of how the Canadiens brought Beliveau to the NHL is one of the greatest in sports history. Like most Quebec prospects, he became Canadiens property as a teenager, and he'd go on to make a handful of appearances for the team in the early '50s. But the young Beliveau was reluctant to permanently turn pro, and the terms of his deal with Montreal didn't give them full control of his rights until he was playing professionally.
When Beliveau won the amateur Quebec Senior Hockey League scoring title in 1953, Canadiens GM Frank Selke came up with a brilliant loophole — he bought the QSHL and converted the entire organization into a professional league. That forced Beliveau to finally join the Canadiens on a full-time basis for the 1953-54 season.
It was worth it. Beliveau went on to star on the great Canadiens teams of the '50s and '60s, winning a pair of Hart Trophies to go with an Art Ross and a Conn Smythe, as well as leading the league in goals twice. He also won 10 Stanley Cups, because you saw the part where he played for the Canadiens in the '50s and '60s. Factoring in his post-retirement career in the Canadiens front office, his name appears on the Stanley Cup a record 17 times.
4. Steve Yzerman, Detroit Red Wings (1983-2006)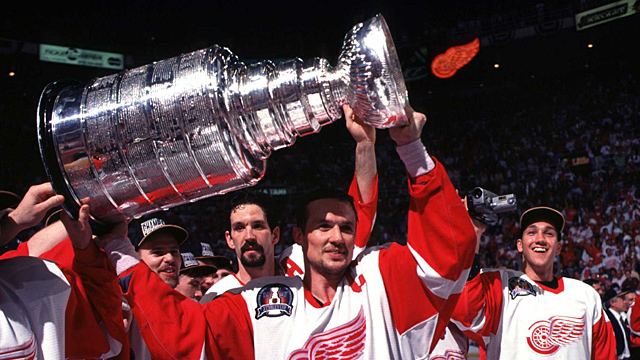 Yzerman was the fourth overall pick in the 1983 draft and had an immediate impact as an 18-year-old (he finished second in Calder voting to Tom Barrasso). By 21 he had been named captain, a position he'd hold for an NHL-record 20 years. Over those years, he evolved from a one-dimensional player into a Selke-winning defensive forward.
Despite never winning a Hart Trophy, thanks to being stuck in an era with Wayne Gretzky and Mario Lemieux, he did win three Stanley Cups, was a first-ballot Hall of Famer, and was unanimously named captain of the all-time Gary Bettman Awkwardness All-Stars. So yeah, it was a pretty good career.
All of which makes it easy to forget that the Red Wings actually came very close to trading Yzerman in the mid-'90s. He had turned 30, and despite a string of regular-season success had failed to lead Detroit to a Stanley Cup, leading some to conclude that he wasn't a winner and the Red Wings would have to move on if they ever wanted to earn a championship. Several rumors had him linked to Ottawa (his hometown), and in some versions of the story a trade involving Alexei Yashin was actually agreed to before Red Wings GM Jimmy Devellano backed out.
3. Nicklas Lidstrom, Detroit Red Wings (1991-2012)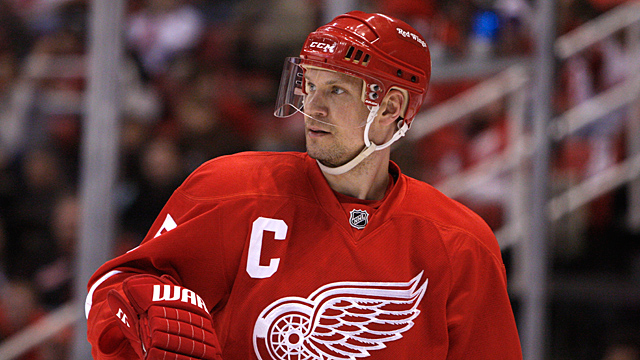 Lidstrom was always good (he was named to the all-rookie team in 1992), but it wasn't until his late 20s that he really established himself as one of the league's best defensemen. In 1998 he was named to the All-Star first team, a spot he'd hold for 10 of the next 11 years. He won the Norris seven times, one short of Bobby Orr's record. In fact, by the time Lidstrom finally retired, he'd nudged aside Doug Harvey and Ray Bourque as the consensus pick for "all-time greatest NHL defenseman who wasn't Bobby Orr."
Many fans think he could still play at a high level now, an opinion we'll hear even more often after he scores 45 goals on Felix Potvin during this year's Winter Classic alumni game despite Darcy Tucker spending every shift trying desperately to take his knees out.
You could make a solid case for Lidstrom in the no. 1 spot — he played more games than anyone else on the list — but after some back-and-forth, that honor came down to two names.
2. Maurice Richard, Montreal Canadiens (1942-1960)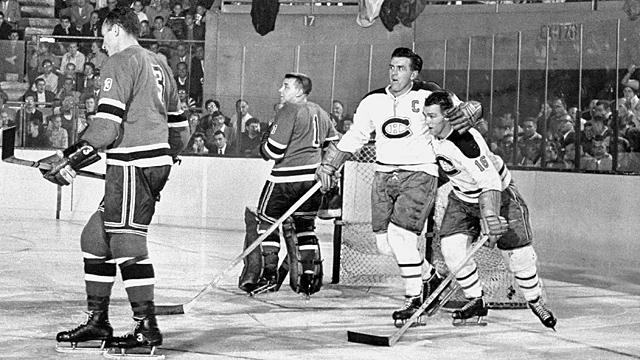 In 1999, the NHL introduced a trophy for the league's top goal scorer, and they named it after Maurice "The Rocket" Richard. That's pretty much all you need to know about the legacy of the legendary Canadiens winger.
But just in case, here are a few more considerations to chew on: He was the first 50-goal scorer in league history; he recorded the first 50-in-50 season, a feat that wouldn't be duplicated for 36 years; he was named to the league's first or second All-Star team 14 consecutive years; he won eight Stanley Cups; he retired as the league's all-time leading scorer.
He inspired ovations. He caused riots. And he was the most photogenic hockey player of all time (No really, look at this. Maurice Richard will eat your dreams.)
1. Mario Lemieux, Pittsburgh Penguins (1984-1997; 2000-2006)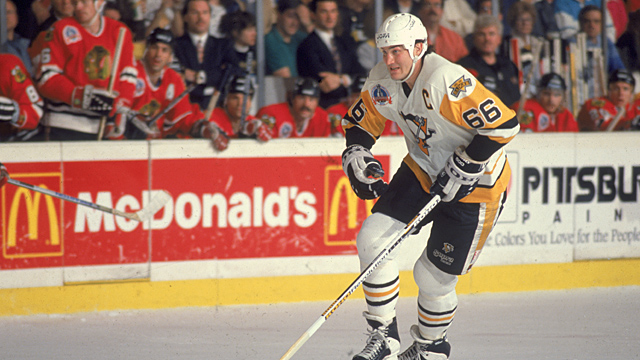 Here's my all-time favorite Mario Lemieux stat: He had 133 goals and 149 assists as a junior with Laval. That's not his career total. That was for just one year, the 1983-84 season. That's right, the year he became draft eligible, Mario Lemieux scored 282 points in a 70-game season.
So it's not especially surprising that the Penguins tanked so hard to draft him that by March 1984 they were practically shooting the puck into their own net. It ended up being a smart move, as Lemieux dominated immediately. He won the Calder in 1985, the Ted Lindsay Award (best player, as voted by his peers) in 1986, and finally ended Wayne Gretzky's ridiculous eight-year MVP streak in 1988.
Lemieux also battled health issues, including a bad back and hip and a bout with cancer, that wiped out chunks of several seasons and forced his first retirement when he was just 31 years old. Despite retiring 22 years after he was drafted, he never even reached the 1,000-game mark. If you want to base a ranking on career numbers, there's your opening to argue for Lemieux to slide down a few spots and let somebody like Lidstrom or Yzerman take no. 1.
But that would be a bad argument, because Lemieux was just stupidly good, not to mention infinitely more fun to watch than any player of his era including Gretzky. Have you ever seen a fully grown adult go easy during a game against a group of small children, then suddenly decide to start trying? That's what Lemieux looked like all the time. I mean, he did this to Bourque. Imagine what he could do to mere mortals. (The answer: This. And this. And this.)
By the time he retired for good in 2006, Lemieux owned Pittsburgh — literally. He rescued the franchise from bankruptcy in 1999 and kept the team from relocating, paving the way for the team's Sidney Crosby–led renaissance.
Honorable Mentions
Several players who almost made the cut:
Bobby Clarke (Flyers, 1969-84) — The toughest omission. He feels like he should in the top 10, but who would you remove? In an unrelated note, if you notice me limping around with a broken ankle later this week, you'll know why.
Alex Delvecchio (Red Wings, 1950-1974) — Held the all-time mark for most games played with only one team until Lidstrom broke it in 2012.
Daniel Alfredsson (Senators, 1995-present) — Oops, sorry Sens fans … how'd that get in there? My bad. Hey, did you know you all have a knife handle sticking out of your backs? Oh, you did know that. OK then, moving on …
Gilbert Perreault (Sabres, 1970-1987) — Holds pretty much every career mark in the Buffalo record book.
George Armstrong (Maple Leafs, 1949-1971) — The only Maple Leaf to even be in the discussion, which seems kind of odd.
Henri Richard (Canadiens, 1955-1975) — The Rocket's little brother holds the all-time record for most Cups won as a player, with 11.
Several players who did not almost make the cut, but I'll list them here anyway so fans of their teams don't have temper tantrums in the comments section.
Thomas Steen (Jets, 1981-1995) — Arguably the greatest player in Winnipeg Jets history. Do with that information what you will.
Dave Taylor (Kings, 1977-1994) — So many terrible uniforms …
Rod Gilbert (Rangers, 1960-1978) — Eight-time All-Star and Hall of Famer. Not bad for a guy who went through multiple spinal fusion surgeries.
Wayne Cashman (Bruins, 1964-1983) — It's disturbingly difficult to work a Bruin onto this list.
Patrik Elias (Devils, 1995-present) — Still playing for the Devils at the age of 37. On that team, his nickname is probably "junior."
Ken Daneyko (Devils, 1983-2003) — Yes, he was a defensive defenseman who only scored 36 goals in a 20-year career. You want to tell him he's off the list?
Bob Gainey (Canadiens, 1973-1989) — The good: four Selkes, five Cups, four-time All-Star, Hall of Famer, arguably the greatest defensive forward of all time. The bad: made the Scott Gomez trade. Pretty much a wash if you ask me.