The 10 Greatest Anti-Riveras of the NHL (Ranked!) (Again!)
Bruce Kluckhohn/Getty Images
Last week, I looked at the NHL's Mariano Riveras, the 10 best in hockey history who spent their entire career with one franchise. Then I tried to rank them. Then everyone yelled at me. So, fun times all around.
A reader suggested a natural follow-up: the anti-Riveras, superstars who spent their career bouncing around multiple teams. So this week we're going to take a look at the 10 greatest players in NHL history who played for at least five franchises. And yes, it goes without saying, we'll be ranking them.
Fair warning: This list is almost by definition going to be heavily slanted to the last two or three decades, since it was almost impossible to play for five or more teams in the Original Six era. So any octogenarians who are still furious that Milt Schmidt didn't make the cut last week may want to just skip this one altogether.
One other caveat: We're looking at the total number of franchises played for, meaning multiple stints with the same team do not count. That technicality ends up disqualifying a surprising number of decent candidates, like Luc Robitaille, Alexander Mogilny, and Teemu Selanne.
I'll pause here while everyone assembles their own, vastly superior lists.
OK, here we go …

10. Eddie Belfour (1988-2007; Five Teams)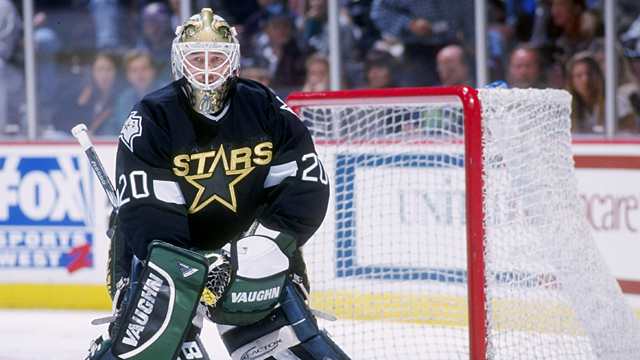 Belfour is third all time in career wins, which is pretty impressive for a guy who didn't establish himself as a starter until he was 25. That was during the 1990-91 season with Chicago, when he led the league in wins, goals-against average, and save percentage — and won the first of his two Vezinas.
He'd spend six more years in Chicago (during which he made it possible for the Hawks to trade away an unorthodox backup named Dominik Hasek) before being dealt to San Jose for a 13-game stint with a horrible Sharks team. He signed with Dallas and spent five years there, winning his only Stanley Cup in 1999 before closing out his career in Toronto and Florida.
In addition to his impressive numbers, Belfour was flat-out one of the most entertaining players of the 1990s. He combined rare talent with a legendary temper, so you never knew when you'd get to see him have one of his epic meltdowns. I don't think I can properly express how much I miss the Eddie Belfour era.
9. Doug Gilmour (1983-2003; Seven Teams)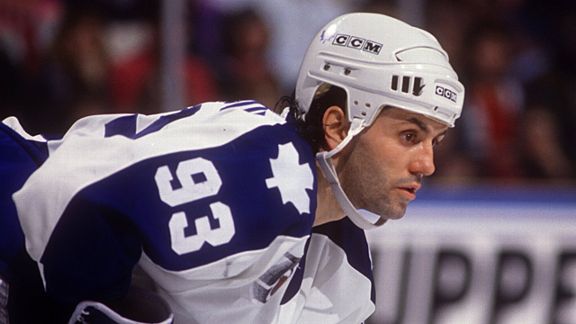 Gilmour's 20-year NHL career was an odd mix of shifting narratives. In St. Louis, he was a pesky agitator who unexpectedly developed into a 100-point player. In Calgary, he was an underrated contributor who scored the Cup-winning goal in 1989. In Toronto, he smashed franchise records and was briefly part of the "best player in the world" conversation (as captured in this almost painfully early '90s video clip).
And then came a long series of roughly two-year stretches as the veteran presence on teams like the Devils, Hawks, Sabres, and Canadiens, none of which were especially memorable (though the latter at least gave us this highlight).
Despite playing in only two All-Star Games, Gilmour developed a reputation as one of the game's better two-way centers and won the Selke as best defensive forward in 1993. He captained both the Leafs and Blackhawks, and was inducted into the Hockey Hall of Fame as part of a 2011 class that also included Belfour.
His eventual return to Toronto for one last Cup run in 2003, which ended when he suffered a career-ending knee injury five shifts into his first game, was pretty much the most Maple Leafs moment of all time.
8. Adam Oates (1985-2004; Seven Teams)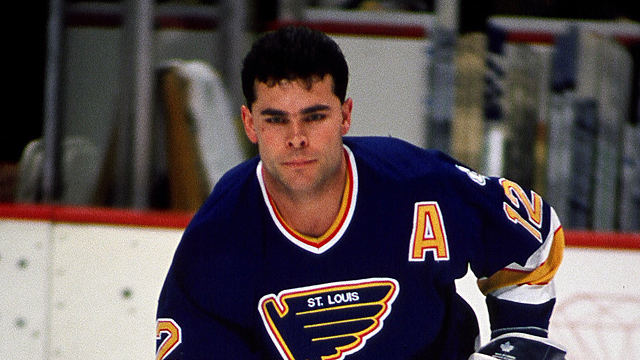 Oates began his career as a solid player with the Wings, but became an All-Star after being traded to the Blues and put on a line with Brett Hull. They became one of the most dangerous offensive duos of all time, with Hull scoring 228 goals in a three-season stretch. Oates's next stop was Boston, where he centered Cam Neely during his 50-in-50 season. Oates was dealt to the Capitals in 1997, and would eventually be named captain (and later, head coach).
His playing career in Washington ended with a trade in March 2002. He'd go on to play for three more teams before retiring in 2004. Literally nobody remembers which ones.
Oates is sometimes remembered as a guy who put up great numbers with Hull and Neely in the early '90s and then just kind of hung around through the latter half of his career, but he actually led the league in assists in back-to-back years in 2000-01 and 2001-02, when he was 38 and 39 years old. He's one of only 10 forwards in the NHL's 1,000-assist club.
7. Brendan Shanahan (1987-2009; Five Teams)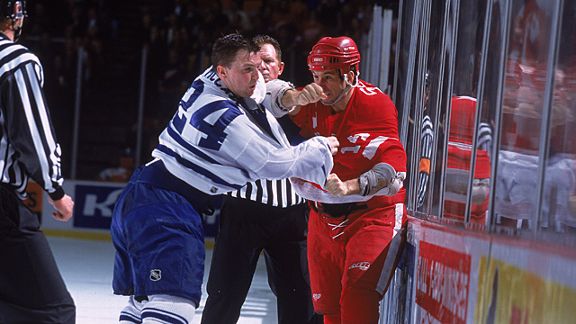 If you look up "prototypical NHL power forward" in your dictionary, you'll see a picture of Neely. But if you look up "prototypical NHL power forward with two functional knees" in your dictionary, you'll see a picture of Shanahan. What I'm trying to say is that you should get a new dictionary. That one you have sounds awful.
Shanahan spent the first four years of his career with the Devils, who made him the second overall pick in the 1987 draft. He signed with the Blues as a restricted free agent in 1991, resulting in the controversial compensation ruling that sent Scott Stevens to New Jersey. After a one-year stop in Hartford, it was on to Detroit for nine seasons that included three Cup wins. That was followed by two years with the Rangers before a return for a final season back in New Jersey.
Shanahan is considered the unofficial leader in career Gordie Howe hat tricks, and his 656 career goals is more than 100 ahead of any other player in the 2,000 PIM club. He was traded twice in his career, and oddly, both times it was for a player ranked ahead of him on this list.
I kind of hope Shanahan reads this and thinks I screwed up and gave him the wrong number, just so he can understand how the rest of us feel after every one of his suspension decisions.
6. Chris Pronger (1993-Present … Technically; Five Teams)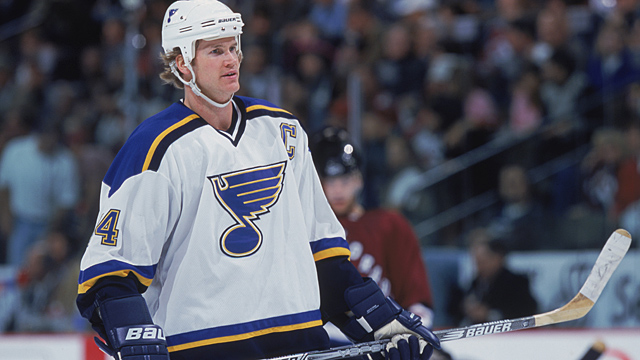 Bobby Orr won three consecutive MVPs from 1970 to 1972. In the four decades since, despite the presence of all-time greats like Paul Coffey, Ray Bourque, and Nicklas Lidstrom, only one other blueliner has managed to win one.
That would be Pronger, who earned the Hart Trophy in 2000 to go with that year's Norris. It was the best year of an 18-season career that established him as one of the meanest (and, let's be honest, dirtiest) players to ever patrol an NHL blue line.
Pronger's rap sheet is impressive — he was suspended for on-ice violence eight times, for offenses ranging from fighting to stickwork to kicking and even stomping. But he also played in five All-Star games, and since NHL players began participating in the Olympics in 1998, he was the only skater selected for all four editions of Team Canada.
Pronger was drafted second overall by the Whalers in 1993 (the year that first overall pick Alexandre Daigle infamously remarked that "no one remembers number two") and became a star during nine years in St. Louis. But maybe his most impressive feats came late in his career, when he became a sort of mercenary for hire who could almost single-handedly make a team a title contender. After the 2005 lockout, he played for the Oilers, Ducks, and Flyers, and took each team to the Stanley Cup finals in his first year.
Pronger is technically still an active player, in the sense that despite suffering a career-ending concussion in 2011, he never retired. That's due to his long-term contract, which runs until 2017, and the way it's treated under the salary cap.
5. Jari Kurri (1980-1998; Five Teams)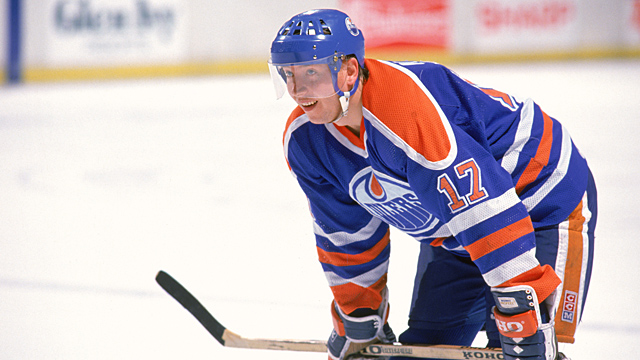 "Wait, Jari Kurri?" said every hockey fan reading this just now. "He played for the Oilers and Kings and that was about it, wasn't it?" Well, sorry to break it to you, amorphous group of fans that I just attributed a fake quote to in order to awkwardly set up a point, but you're wrong.
While Kurri spent the first 15 seasons of his career with those two franchises, he split his last two seasons and change making quick stops around the league. He was a 1996 trade-deadline rental by the Rangers, spent the 1996-97 season with the Mighty Ducks, and then closed out his career with a forgettable 1997-98 season in Colorado. (He was also technically a Philadelphia Flyer for a few hours in 1991, but never played for them.)
In addition to eight All-Star appearances and five Cup rings, Kurri retired as the NHL's all-time scoring leader among European-trained players. Along with players like Borje Salming and the Stastny brothers, Kurri was instrumental in paving the way for the wave of European stars who appeared in the late '80s and early '90s.
4. Terry Sawchuk (1949-1970; Five Teams)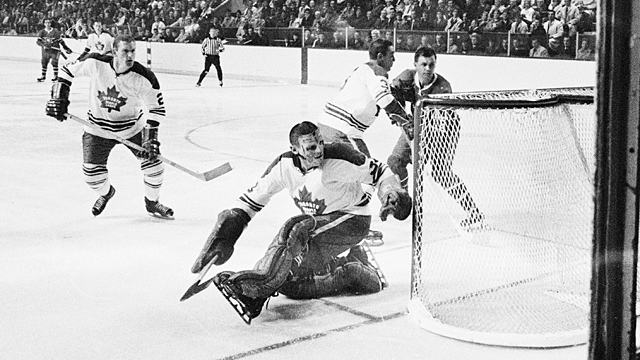 Remember that part about how it was almost impossible for an Original Six–era player to qualify for the list? Sawchuk is the reason I said "almost" there.
Despite debuting during the 1949-50 season, Sawchuk makes the list by virtue of playing for four Original Six teams (Wings, Bruins, Leafs, and Rangers) and hanging around long enough to also get in some time with the expansion Kings.
While it's always tough to compare players across eras, Sawchuk's name still comes up fairly often in arguments about who was the league's all-time greatest goaltender. He was named to seven postseason All-Star teams and won four Vezinas back when the trophy went to the team that gave up the fewest goals. Maybe most impressively, he ranks fifth all time in career wins, despite playing most of his career in an era when the season was significantly shorter (it helped that he played every one of his team's games three times).
He also won three Cups with the Red Wings in the '50s, then added a fourth with the 1967 Maple Leafs when he memorably teamed with Johnny Bower to form a platoon that was a combined 79 years old.
3. Paul Coffey (1980-2001; Eight Teams)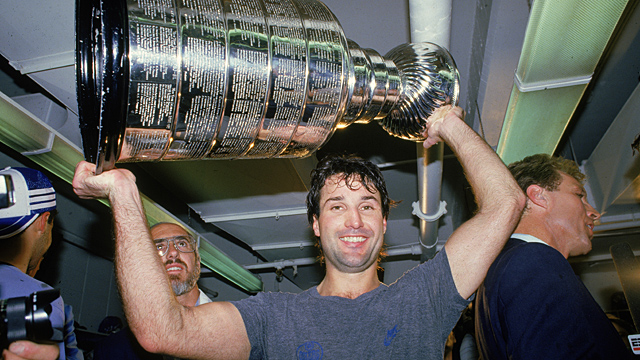 Coffey was his generation's Bobby Orr — a defenseman who was so offensively gifted that his designated position never really seemed to matter. His 48 goals in 1985-86 is a record for defensemen that will likely never be broken. He was a gifted passer and arguably the best skater of his generation.
He also had a knack for finding himself on the same roster as the era's best offensive players. After seven years playing for Wayne Gretzky's Oilers, he moved on to Pittsburgh to join Mario Lemieux's Penguins. Then it was on to L.A. for a reunion with Gretzky, followed by stops in Detroit and later Philadelphia.
The last few years of his career also featured several forgettable stints for teams like the Whalers and Hurricanes, as well as short stops in Boston and Chicago that nobody outside of those cities even remembers. His career ended when he was released outright by the Bruins, proving that he probably held on too long.
But while all that team-hopping may have diminished his legacy somewhat, it did make Coffey the subject of one of my favorite NHL trivia questions (with full credit to TSN Radio's Ian Mendes): Name every NHL player who both won the Hart Trophy as NHL MVP and had Coffey as a teammate (not necessarily in the same year). Go ahead, see how many you can get.
2. Brett Hull (1986-2006; Five Teams)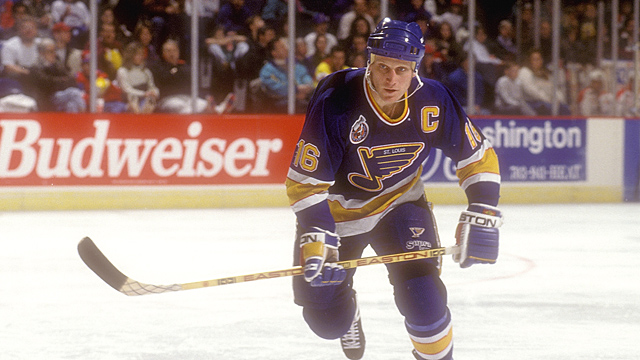 Hull just barely sneaks under the wire thanks to a five-game stint as a member of the Phoenix Coyotes after the 2005 lockout. He didn't even manage a goal during that forgettable few weeks, meaning he'll have to make do with the 741 he scored for his other four teams.
That's still enough to rank him third in NHL history, trailing only Gretzky and Howe. Not bad for a kid who was once considered too lazy and out of shape to be a legitimate NHL prospect. He was drafted by Calgary, but it shipped him to the Blues a season before he developed into one of the league's top offensive threats. He spent 11 years in St. Louis, leading the league in goals three times and winning an MVP, before a pair of three-year tours in Dallas and Detroit that each included a Stanley Cup.
Some of you may not agree with where I've ranked him, but don't worry — as any Sabres fan can tell you, Hull can blatantly be in the wrong spot and nobody will seem to care.
1. Jaromir Jagr (1990-Present; Seven Teams and Counting)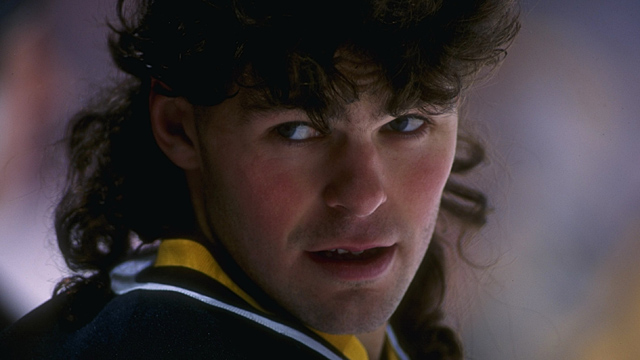 It's hard to look at Jagr's career totals and not wonder what they'd look like if he hadn't gone back to the KHL for three seasons. If he'd stayed in the NHL and averaged just 20 goals and 50 points during each of these seasons, he'd currently rank third in goals scored and fourth in points.
As it stands, he's still in the top 10 in both categories. He's also collected two Cup rings, five Art Ross trophies and a Hart, all with the Penguins, and he won the Ted Lindsay Award (best player as voted by the NHLPA) during a 123-point season with the 2005-06 Rangers. He's rumored to have played for the Capitals in between, but every time I call Ted Leonsis to confirm he smashes the phone with a sledgehammer.
In the three years since his KHL return, Jagr has already played for four teams. That list could grow again this year if the Devils can't turn their season around and he once again becomes trade deadline bait.
Honorable Mentions
Mike Gartner (1979-1998; five teams) — One of just six members of the 700-goal club, but he can't crack the top 10 on a gimmick list? That doesn't seem right. Yet Gartner just never seems to get included in any "all-time great" discussions, despite his crazy numbers. Maybe it's because his career was so perfectly timed with the offensive explosion of the 1980s. Maybe it's the lack of a Cup. Maybe it's the absence of a dominant season (he only finished in the top 10 in scoring once in 18 seasons). Your guess is as good as mine, but I can't find anyone to take off the list to make room for him.
Mark Recchi (1988-2011; seven teams) — Recchi has more points than everyone who made my list except Jagr. And yet, like Gartner, I just can't find a spot for him. He was a very good (and occasionally great) player who stuck around forever, yet I don't remember him ever being considered a superstar. Flyers fans who hated me for leaving Bobby Clarke off last week's list are going to pelt me with batteries when I take out the garbage tonight.
Harry Lumley (1943-1960; five teams) — Lumley backstopped the Red Wings to a Stanley Cup in 1950 (before losing his job to Sawchuk) and was named the league's first-team All-Star goalie in both 1954 and 1955 as a Maple Leaf. He played for all the Original Six teams except for Montreal.
Pierre Turgeon (1987-2007; six teams) — First overall pick in the Shanahan/Joe Sakic year. Victim of the play that led to one of the most famous suspensions in NHL history. Captain of the Habs for the last game at The Forum. Turgeon was the Forrest Gump of professional hockey.
Joe Nieuwendyk (1986-2007; five teams) — Won a Stanley Cup with each of his first three teams, then apparently got tired of that because he spent the rest of his career with the Leafs and Panthers.
Phil Housley (1982-2003; eight teams) — Yes, eight teams, including a few that I have no recollection of him playing for. The New Jersey Devils? I think someone hacked his Wikipedia page.
Wendel Clark (1985-2000; six teams) — This is actually a common misconception. Clark played his entire career with the Toronto Maple Leafs. Any pictures you may find of him wearing a Nordiques, Islanders, Red Wings, Blackhawks, or (especially) Lightning uniform should be considered obvious Photoshops.
Gaye Stewart (1942-1953; five teams) — Stewart was a multi-time All-Star who might best be known today as the last Toronto Maple Leaf to lead the NHL in goals, way back in 1946. He played for all the Original Six except Boston.
Jeremy Roenick (1988-2009; five teams) — We interrupt this paragraph to bring you live footage of Roenick realizing he didn't make the list.
Larry Murphy (1980-2001; six teams) — BOOOOOO! (Sorry, Leaf fan here, force of habit.)
Dave Andreychuk (1982-2006; six teams) — He had 640 career goals, captained a Cup winner, and is the all-time leading scorer among eligible players who aren't in the Hall of Fame. Is it weird that his name never comes up as a serious candidate? It's weird, right?
Grant Fuhr (1981-2000; six teams) — Probably the Edmonton Oilers' best goaltender. I don't mean of all time, I mean right now.
Oh, and As for the Answer to That Paul Coffey Question …
Everyone gets Gretzky and Lemieux. Most also get Jagr and Mark Messier. The next guess is usually Steve Yzerman, which is wrong — he never won an MVP. But teammate Sergei Fedorov did. And so did Eric Lindros.
That brings us to six, which is a pretty astounding total considering only nine players won the Hart during Coffey's entire two-decade career. But there are still two more names to go, and they won their MVPs 26 years apart. Congratulations to anyone who managed to come up with Joe Thornton and Bryan Trottier.