Six Degrees of Summer League
Jack Arent/NBAE via Getty Images
"We call it the Sundance of basketball. People from top to bottom in the industry will be in Las Vegas. It's one of the few times besides the All-Star Game when lots of people and decision-makers are looking to make an impression or move relationships further along."
— An NBA agent describing Las Vegas summer league
"It's Quincy Acy's world, we're all just livin' in it. And it's 110 degrees outside and I've been at UNLV for three days, and oh God what time is it even?"
— From my notebook on Saturday afternoon
NBA summer league in Las Vegas wasn't this big of a deal a few years ago. When it started, it drew six teams with mismatched uniforms and overmatched players, and nobody really noticed it was happening. Somehow that event has transformed over the past decade into Basketball Sundance, where basically everyone — from coaches to scouts to bloggers to agents to players — gathers for a weeklong hoops summit on the UNLV campus. This is where everyone binges on basketball for one last time before taking a break for a few months. Summer league even has its own groupies. It's great.
It's also pretty horrible compared to regular basketball, let's be honest. But it feels like a good way to end the NBA year. As the quote above suggests, summer league is kind of like baseball's winter meetings, full of insider gossip, networking, and everything else you'd expect from a giant industry convention. Except in between, there are endless amounts of basketball. And for fans, this is a healthy purge.
Once you spend a few days worshiping guys like Dwight Buycks and Kent Bazemore, you inevitably snap out of it and realize, "Okayyyyyy, this basketball addiction has gone too far. Time to detox for a few months."
Or at least that was me.
But before we go into NBA detox, let's look back at who we saw in Vegas. At any summer league, you can separate the memorable performances into the following categories.
The Breakout Star: Jonas Valanciunas
Every year, there are one or two players who stand out and leave you gushing about them to anyone who asks. This year it was Toronto's Jonas Valanciunas. Not his numbers or any particular highlights, just … when you watched the summer Raptors, Jonas looked one or two levels above anyone else on the court. Stronger than anyone, in great shape, and still quick enough to create for himself in the post. People have been talking about his potential for the past two years, but after a year in Europe and then a decent rookie season last year, it finally makes sense.
Sports Illustrated called him the MVP of the week, and with 22 teams playing 61 games in Vegas, he was the one guy who looked like a future superstar. One day soon, we will all have to learn how to spell "Valanciunas."
Related: The Raptors should find a way to get rid of Rudy Gay, fake an injury to Kyle Lowry so they can tank properly next year, then luck into hometown hero Andrew Wiggins and take over the world from 2015-20.
Right? Maybe?
You know Masai Ujiri is tempted.
Beyond Jonas Christ Superstar, there was also …
The Rookie Mystery: Ben McLemore
McLemore sorta personifies summer league for all rookies. When I got to Vegas he'd apparently been struggling for most of his games, with various writers already calling him one of the bigger disappointments of the week. Then I saw him against the Hawks, and after living up to all the negative buzz in the first half (2-9, four points), he exploded for 23 after the break and looked like a star.
Otto Porter apparently looked awful in Vegas and was done playing by the time I got there, but he probably thrives next to better players in a more stable setting.* Cody Zeller looked great as the week unfolded, but he could still struggle a ton against bigger, tougher centers during the regular season. And McLemore is probably going to have a lot of up-and-down stretches over the next few years before we know whether he's the guy from the first half of the Hawks game or the guy from the second. Nobody at summer league gets scrutinized quite like the handful of lottery picks on hand, and nobody's summer league performance is as misleading as those lottery picks.
Look back at this all–summer league rookie team from 2009. Austin Daye! Jonny Flynn! Behold the future! And then at the bottom of the rookie list there's Steph Curry, who hit fewer than one-third of his shots and had people "at least a little bit concerned" about his NBA future.
So yeah, at least as far as the big-name rookies, let's agree to wait and see.**
[*I'm a Wizards fan, and you're damn right I'm pretending Otto Porter's terrible summer league never happened. If I never look at a box score from the first five days of Vegas, the Wizards are still destined to dominate by 2016.]
[**One exception is the summer Hawks. Dennis Schroeder and Lucas Nogueira are perfect already. We should all become Hawks fans while there's still time.]
The Bust: Kendall Marshall
The flip side to the benefit of the doubt we give rookies is what happens to second-year players. If you're a former lottery pick who's already spent a year in the NBA, you should be one of the best players at summer league. And Kendall Marshall isn't there yet. I'm a UNC fan and nobody's more in love with Kendall than I am, but he got abused on defense by guys like Dwight Buycks (pronounced "Bikes") and didn't fare much better on offense, where he averaged six points and four assists.
Sometimes there are guys who just aren't quite as good as they should be, and it's painfully obvious. I'm not giving up on Kendall Marshall, but it's not looking great. It was doubly painful because his former UNC teammates were dominating all week.
The Superstar Role Players: John Henson and Reggie Bullock
In a field full of players who probably won't end up in the NBA, you're not going to find more than one or two future superstars. Instead, the stars in summer league are generally guys who could turn into killer role players on a good team one day. John Henson and Reggie Bullock fit that description. Henson is an athletic big man who can pop off the bench, block shots, and run the floor, and Bullock is an athletic perimeter guy who can play defense and hit open jumpers. Both were great in Vegas. Henson is one of like six different Bucks big men, so maybe we'll never hear from him after summer league, sure. But I swear, Reggie Bullock could end up being a difference-maker in the NBA playoffs next year. Don't say you weren't warned.
The Familiar Faces You'll Never See Again: D.J. Kennedy! Josh Heytvelt! Deron Washington!
One of the best parts of attending summer league is the endless parade of former college stars who show up to remind you they exist. Most of it happens like this:
Me: "Hey, is that D.J. Kennedy? From St. John's? I remember him!"
[D.J. Kennedy pulls up for an 8-foot jumper in the lane.]
[D.J. Kennedy air-balls said jumper.]
Me: "D.J. Kennedy, all right!"
There were also guys like Brian Butch, Jerome Randle, Robbie Hummel, Abdul Gaddy, Mike Bruesewitz, Dionte Christmas, and probably a thousand other names you kinda remember from the past five years of college basketball. All of these guys are (I hope) making good money playing professionally somewhere other than the NBA, and hopefully that'll continue. At summer league, though, getting irrationally invested in these guys makes the whole thing more fun than it should be. Which reminds me: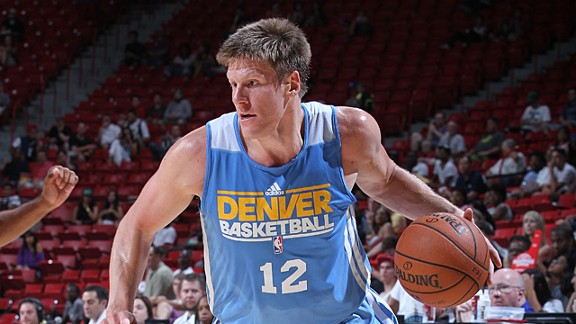 LUKE HARANGODY. FOREVER.
The Summer League Superstars: Kent Bazemore and Quincy Acy
I think I was the only person in Vegas who didn't see the Kent Bazemore Experience in person, but everywhere I went I heard about Bazemore, and the highlights seem to confirm that he was summer league Kobe this year. Bazemore has averaged almost 20 points per game in Vegas, and after this week, he's a first-ballot summer league Hall of Famer, right next to Anthony Morrow, Nate Robinson, Donte Greene from a few years ago, and Chris Webber's amazing interview with David Kahn.
Speaking of legends … Quincy Acy!
The dunk is good, the snarl afterward is great.
On the strength of his beard alone, we're all rooting for Quincy Acy to succeed. And hey! On Saturday he finished 9-for-15 from the field for 28 points, spent most of the game draining jumpers from the perimeter, and then bullied people inside when it was convenient. If you're not familiar with Acy's game, just imagine Reggie Evans doing all this.
You haven't truly lived as a basketball fan until you've seen a bruising power forward calling for the ball, pump-faking at the 3-point line, then draining a 20-foot jumper. It was awesome. Like a basketball acid trip.
Of course, it's all fun and games until Acy somehow becomes summer league's LeBron James. That's when you realize you've been watching sloppy basketball for three days straight, subsisting mostly on UNLV stadium food, and possibly going insane. The Quincy Acy takeover was my cue to leave.
I will remember Acy unleashing his full arsenal of perimeter moves, I will remember Jonas Valanciunas, I will remember all the groupies who made the pilgrimage to the Thomas & Mack Center at 4 p.m. every day. Beyond that, most of what happens in Vegas summer league stays in Vegas summer league, and that's probably for the best.
Spotted at #NBASummerLeague: @nate_robinson, attending @bobcats vs. @Bucks, signs a baby during halftime. pic.twitter.com/rZDFA3INsU

— NBASummerLeague (@NBASummerLeague) July 18, 2013
Basketball Sundance is a weird place, man.
Filed Under: Andrew Sharp, NBA