Red Wings vs. Maple Leafs: What to Watch for in the Winter Classic
Dave Sandford/NHLI via Getty Images
Neither the Detroit Red Wings nor the Toronto Maple Leafs can be all too pleased with their long-awaited star turns as this year's Winter Classic participants. The weeks leading up to the NHL's annual showcase game, held this year at the University of Michigan football cathedral the Big House, have been trying ones for both Original Six franchises.
The Red Wings, beset by injuries, muddled through six straight losses (four of them to Florida teams) before finally righting the ship with a pair of overtime and shootout wins against the Flames and … the Maple Leafs, who played 14 games in December and were able to win only two of them squarely in regulation.
The fog of malaise and disillusionment that has clouded Toronto of late has been up front and center in HBO's 24/7 documentary series. (Both teams, contra the supposed "all access" agreement between the network and the league, hit such low points that they threw the cameras out of the locker room.) "We're getting outworked, out-executed, out-passioned, out-every-fuckin'-thing" is how embattled coach Randy Carlyle screamsplained it at his guys once the cameras had fallen back, and you can't say he was wrong.
Still, all is not lost; both teams would make the playoffs as wild cards if the regular season ended today. Here are a few things to watch for when the two once-mighty franchises face off against one another in front of an anticipated six-figure crowd Wednesday at 1 p.m. ET. Supposedly, there will be snow.

1. The Goalies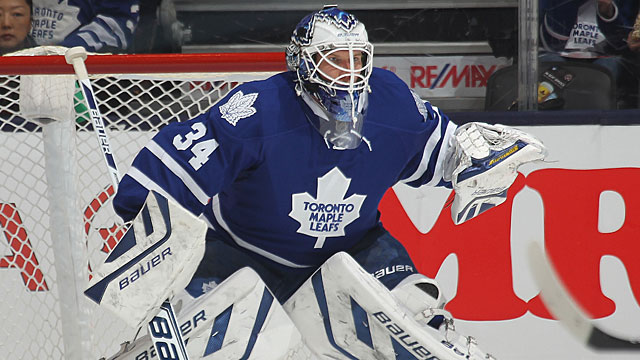 In the days leading up to the Winter Classic it has been unclear who either team would be starting in the net. When the Red Wings and Leafs played one another on December 21, cameras caught Toronto goalie James Reimer giving an icy stare to his coach Randy Carlyle. It was more than just an impression of his wife.
Carlyle had pulled Reimer in favor of Jonathan Bernier at the end of the first period, and the normally affable Leafs goalie let his frustration show. As he admitted to the 24/7 cameras last week, Reimer has had to adjust to a season that began with news that his backup, Ben Scrivens, and forward Matt Frattin were being shipped to the Los Angeles Kings for highly touted Bernier. This season, the two players have mostly split time, with Bernier getting the edge, and it has not yet been decided who will get the start Wednesday afternoon. (The Toronto Sun's Rob Longley suggested Monday that Bernier would be getting the nod.)
As for the Red Wings, Jimmy Howard was in the lineup Monday night against Nashville, returning from a sprained MCL that has sidelined him since December 11. (His body was just one more thrown onto the ailing heap of injured Detroit players; Johan Franzen, Henrik Zetterberg, and Stephen Weiss, among others, have also been in and out of the lineup over the past few weeks, and Darren Helm remains questionable to play Wednesday.) But with Howard's backup, Jonas Gustavsson, also day-to-day with an injured groin, there's a small (and, sadly, ever-lessening) chance that the Red Wings could take the Big House stage with third option Petr Mrazek, a 21-year-old Czech net minder with snowmen on his pads.
2. The Americans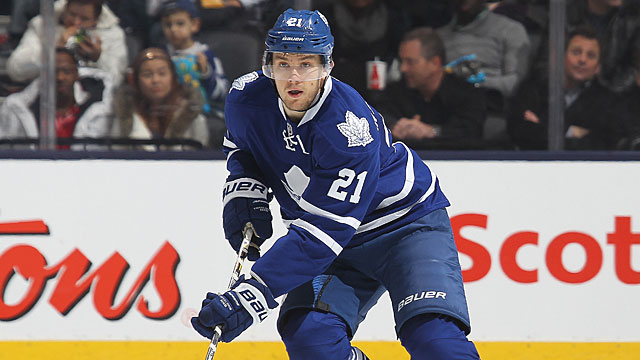 For Howard and his teammate Justin Abdelkader, as well as for Maple Leafs forward James van Riemsdyk, the game clock might be ticking more slowly than usual. That's because USA Hockey will be announcing its men's Olympic team roster at the conclusion of the Winter Classic, with local children on hand to make the reveal. (The women's team will be named after the second period, though its roster is pretty much already known.)
Of the Leafs and Red Wings players in contention for the national team, Phil Kessel is a basic lock. While Howard and van Riemsdyk will probably make the cut, Abdelkader, who returned Saturday from a concussion, will most likely wind up watching the Olympics from home. All four of the players participated in USA Hockey's Olympic Training Camp in Washington, D.C., this summer.
Howard's recent injury, and his mediocre month of November, cast his Sochi candidacy in doubt. But reports early this week from the Detroit Free Press suggested that his longer-term body of work had been deemed strong enough to give him the edge over more fashionable picks like Ben Bishop or Cory Schneider, and that when the team is announced he'll join Ryan Miller (whose brother, Drew, is a Red Wing) and presumptive starter Jonathan Quick on the squad.
Official announcement to come Wednesday, but expect USA Hockey goalies to be Jonathan Quick, Ryan Miller and #RedWings Jimmy Howard.

— Helene St. James (@HeleneStJames) December 29, 2013
As for van Riemsdyk, the former second-overall pick (behind Patrick Kane) is not a firm bet for Sochi, although the odds appear ever in his favor. The 24-year-old is having the best season of his career, and besides: It would be pretty cruel of USA Hockey to feature him in a recent article titled "Burgeoning Forward van Riemsdyk Eyes U.S. Olympic Roster Spot" on their website if he weren't getting the nod.
3. The Weather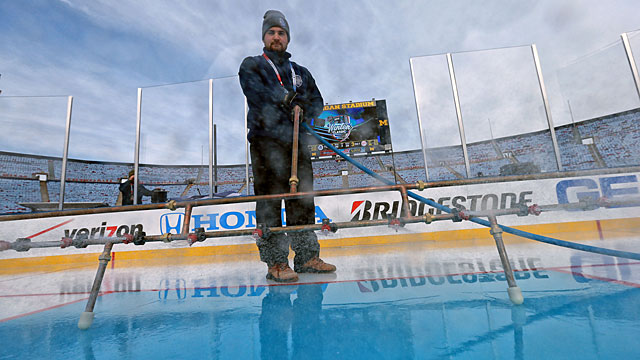 WILL IT SNOW DURING THE WINTER CLASSIC? IT MIGHT SNOW DURING THE WINTER CLASSIC. TUNE IN TO FIND OUT!
4. The Coaches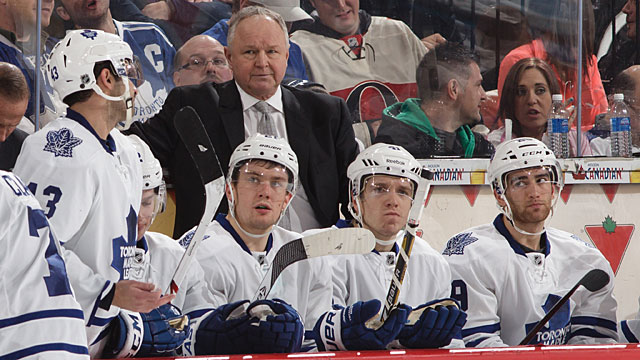 I kind of feel bad for Randy Carlyle every time I watch 24/7; at one point over the holidays, my mom walked into the room, glanced at the screen, and declared, "They sure don't seem to like their coach." The body language is brutal! When you fail to get laughs making a joke at Nazem Kadri's expense, you know you've lost your players. Meanwhile, Mike Babcock (who will coach Team Canada in Sochi) was shaking hands with players and calling them "son" with the folksy solemnity of a presidential candidate. There have been severe head coach juxtapositions on 24/7 before — Bruce Boudreau's gabbing vs. Dan Blysma's economy — but this is the first one that has made me shift uncomfortably in my seat.
5. The Captains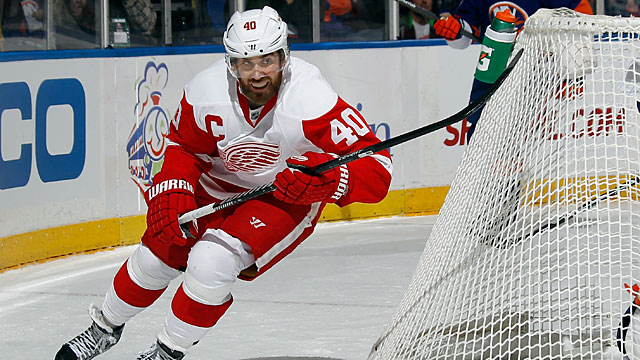 Henrik Zetterberg returned to the Red Wings on Saturday night after missing 11 games with a herniated disk, and his presence was an instant boost to Detroit. The captain, who leads the team with 33 points despite all the time spent on the sideline, scored a first-period goal in the Wings' 4-3 victory over the Florida Panthers, and it was a pick-your-spot beauty — worthy of the Pavel Datsyuk pass that preceded it.
In Toronto, captain and top defenseman Dion Phaneuf has just signed a seven-year contract extension. HBO cameras captured assistant GM Claude Loiselle updating Leafs GM Dave Nonis on negotiations with Phaneuf, who signed today. Presumably, when it was done, the esteemed leader reacted in the only way he knows how: with a satisfied chomp.
6. The Ratings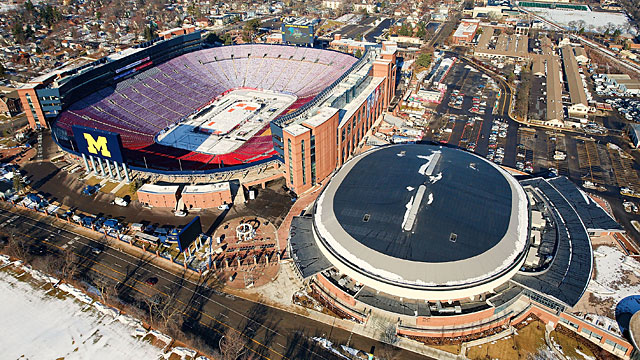 For all the NHL's talk about establishing a cherished annual tradition with an afternoon outdoor game each New Year's Day, this Wednesday will (knock on wood) be the first time since 2010 the Winter Classic will actually be held at its originally designated time of 1 p.m. on January 1. Penguins-Capitals in 2011 was pushed to nighttime for weather reasons; Rangers-Flyers wisely sidestepped going head-to-head with a late-season NFL Sunday in 2012; and this time a year ago? We were stalking mediators through hotel lobbies and bandying about phrases like "disclaimer of interest." I've tried to repress those memories.
As a result, it's hard to predict how many people will truly be conditioned to tune in. The easy trip from Toronto to Michigan ought to make for a vocal, local crowd, but broader interest remains hard to gauge. That one of the two teams is from a Canadian market, no matter how rabid, only adds to the uncertainty. This year's chilly matchup is unlikely to set ratings records, but by now that's almost beside the point.
For the league, the Winter Classic (and the upcoming glut of hastily conceived, undersold Stadium Series games that trail it annoyingly like unkempt children) has become a hospitality hotbed and a merchandising gold mine, and eyeballs at the screen probably matter less in the grand scheme of things than butts in the seats. Either way, let's hope that the coffers are stuffed: Revenues going up means that the David Clarkson cap hit will hurt just a little bit less.
Filed Under: Detroit Red Wings, Hockey, Katie Baker, NHL, Olympics, Toronto Maple Leafs