#HotSportsTakes: When Do the Bears Fire Jay Cutler?
David Dermer/Diamond Images/Getty Images
Every now and then, we will attempt to write the worst sports column on earth. Today: Let's talk about the Bears' failures and the one guy who never gets blamed.
LAKE FOREST, ILLINOIS — Two classic teams, battling it out on an icy field, with only the pressure to keep them warm. That's what pro football is all about.
Like the new movie Grudge Match, there's something wildly entertaining about watching two rivals you just know will battle it out until the end of time. There was no Sly Stallone or Bob De Niro in Chicago on Sunday afternoon, but the Bears and Packers gave us a matinee for the ages, with an ending that would've made Hollywood jealous.
But when it was over, when Aaron Rodgers turned Chicago's dream ending into one big nightmare, I couldn't help but look toward the other sideline. There was Jay Cutler, on the losing end one more time. Jay Cutler, drowning in a sea of excuses.
Or maybe that's the rest of us.
These are the facts: Cutler came to Chicago in 2009 and promptly announced his arrival with 26 interceptions. Since then, the team's made the playoffs once in four years, and Cutler has only thrown for more than 20 touchdowns once. The one time the Bears did make the playoffs, it was Bears-Packers at Solider Field with the Super Bowl on the line. And Cutler on the sideline.
He wouldn't play hurt that day in January, so he watched his teammates take their lumps without him. (A striking contrast to Rodgers playing hurt for the Pack Attack on Sunday.)
The loss to the Packers this week wasn't necessarily Cutler's fault, sure, OK. But what about the week before, when the Bears got blown out against the Eagles? Where was the star quarterback to help Chicago keep pace with Chip Kelly?
Maybe I'm old-fashioned, but at some point a star quarterback's supposed to win. The writing's been on the wall for a few years now.
Does anyone in Chicago know how to read?
It's not just about the Bears, either. In so many ways, what has happened to Cutler is a microcosm of the way we make excuses for everyone these days. Sports are just a game, sure, but they're also a mirror that reflects our society's attitudes in general.
This was all on my mind Monday while watching the NFL's annual Black Monday tradition whip everyone into a frenzy. Every year when that final whistle sounds, a mountain of coaching contracts turns into an avalanche of pink slips. Nothing epitomizes the soul of the National Football League quite like Black Monday.
If you're not first, you won't last long.
If you come up short, you go down hard.
You know, unless you play quarterback. Star players in this league play by a different set of rules. While watching guys like Iron Mike Shanahan and Greg Schiano get scapegoated for their team's failures, I thought about the quarterbacks they were stuck coaching.
While Schiano hits the unemployment line, his superstar quarterback Josh Freeman is off making millions in Minnesota. While Shanahan heads into an early retirement, Robert Griffin is just getting started pulling the strings in Washington. (If RG3 says, "Jump!" Dan Snyder will say, "Where's the bridge?!")
The common refrain when those guys failed was all about how young they were, how they needed time to develop, how there were other issues holding the team back.
It's the same things we say about many of the young millenials these days who can't find a foothold in this economy. Sometimes it feels like all America produces anymore is excuses for these selfie-obsessed twits on the sidelines. It's not their fault … give them time … we should all look at the environment they're in and be more understanding.
My question: When does it end?
Cutler's not so young anymore, but disappointment remains. To me, he's a case study for someone who's been given the benefit of the doubt for way too long. As we stand on the doorstep of another new year, maybe Jay Cutler is the face of that millennial generation. If we keep making excuses for today's youth, maybe mediocrity lasts forever.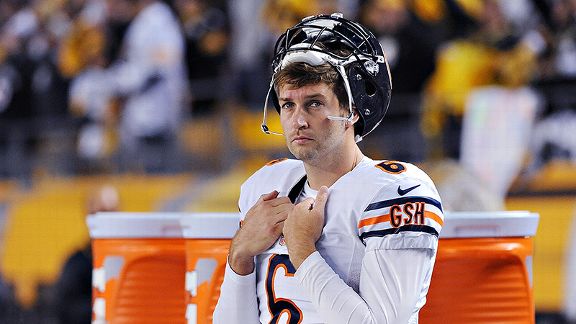 Only time will tell if our young people can ever get it together, but the results on the football field speak for themselves.
The more things change, the more they stay the same in Chicago. The Bears are hibernating in January again. The lights are off in Halas Hall. It started in 2009, and now it's almost 2014.
Back when pride still mattered, someone asked Steve Sabol of NFL Films about Dick Butkus and he said, "He was like Moby Dick in a fishbowl." That's the kind of superstar the city of Chicago deserves.
An animal who never stops being hungry. That's a Bear.
But that was then. Now? When the media found out Rodgers was playing Sunday, a reporter asked Cutler about it, and the inspiring leader shrugged and said, "I play offense."
Not well enough, apparently. Not on Sunday. Not in the biggest game of the season.
Instead of Butkus, Chicago got bubkes.
Cutler's contract is up this offseason, and a lot of folks think he deserves another chance. It was the defense's fault, they say. It was a good season overall. The team's headed in the right direction; everybody be more understanding. This young roster just needs a little more time. Yep, here we go again with Cutler and the new-generation Bears.
It's December 31 now. Time for another New Year's party.
But all I hear are the same old excuses.
Filed Under: Jay Cutler