Rankonia: The Triangle Power Rankings
1. LeBron James: FEEL THE HEAT
LeBron James! Champion of the NBA! Champion of the late-night talk show circuit! And now — champion of Rankonia! Congratulations, LeBron. I know this means a lot to you. Rankonia Pal Chris Ryan has this week's top nomination:
Here's LeBron James doing the ceremonial David Letterman victory lap that comes with winning a major sports trophy. I love everything about this: Paul Shaffer throwing down some Power Station for the intro music; the genuine, beaming smile on LeBron's face when he walks, like he is genuinely chuffed to be getting a standing ovation; and of course his showing self-restraint by not going HULK SMASH when Letterman opens the interview by asking him if he's going to go back Cleveland. That, LeBron, is what we in the karma business call MARIO CHALMERS'S REVENGE.


2. THE TERRIFYING IDENTICAL TWIN BALLBOYS I SAW ON COURT 18: SERIOUSLY.
You guys, this thing happened at Wimbledon, and Brian Phillips is here to tell you about it. Brian, this is a safe space:
There were identical-twin ballboys on Court 18 at Wimbledon on Tuesday. Can you imagine how frightening that was? I mean, sure, they were cute little guys, but on the other hand, world, meet your next great future supervillains. If these kids aren't plotting to take down Scotland Yard by 2026, I don't know a backstory when I see one. Welcome your new overlords in their sweet matching navy polo shorts.
3. Anthony Davis: }:-|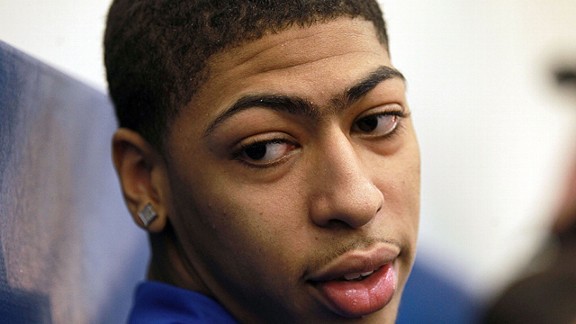 How did those creeper twins beat Anthony Davis in Rankonia? Hard to say. (Not really. It's because they were little kids. Deal with it, Kentucky basketball.) Davis makes this week's list not just for his likely no. 1 overall selection in the NBA draft tonight, but also because of his very impressive business skills.
Normally, I'm not really one to be all, "Yo, look at that dude's unibrow," but now Anthony Davis is like, "Yo, look at my unibrow," so I guess it's cool? This week, we learned that Davis is apparently is trademarking unibrow phrases. Anthony Davis is a financial mastermind!
"It clicked for us: This could be a great opportunity for Anthony to cash in when he leaves Kentucky," Davis's dad reportedly said. "It's been real crazy, just for people to take one part of someone's body and blow it up like this is amazing. But we're having a lot of fun with it."
Yes. Amazing. I hope you make a zillion dollars off unibrow phrases alone, Anthony Davis. Get paid!
4. Marco Scutaro: Shake It Off, Bro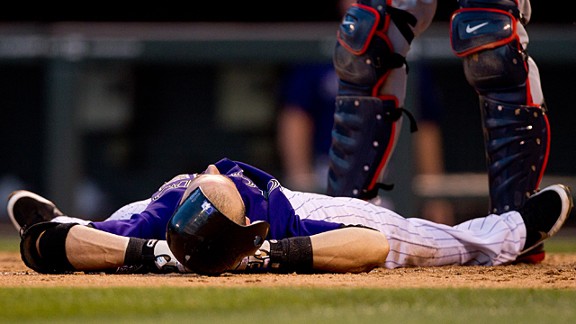 See that picture up there? Looks totally fine, right? Just put a Band-Aid on it, as my Dad would say. (My Dad is not a doctor.) Sean Fennessey agrees:
Shout out to Marco Scutaro, who caught a Strasberg-ian heater in the dome. Sure, he looked dazed. He could have looked DEAD. Scutaro is reportedly OK after withstanding the fastball, which came immediately after a Dexter Fowler triple, leading some to quietly speculate that the Washington Department of Baseball ace [NICKNAME H/T: This guy.] was exacting some sort of revenge. As a shameless Strassy supporter, let me say: It totally slipped, you guys!
5. Tim Tebow: Tip Your Waitresses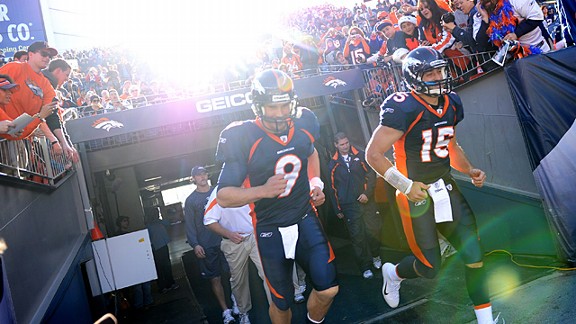 Michael Weinreb nominates our old friend, who recently yucked it up at the expense of Notre Dame alumni association president (Kansas City chapter) Brady Quinn. Writes Weinreb:
"I mean, even Methuselah ran a 4.8. And he was 960 years old!" #tebowtrashtalk
6. Andrea Pirlo: Like He Just Stepped Out of the Salon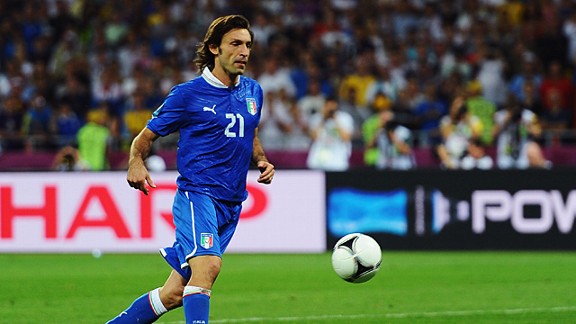 Did you watch England-Italy on Sunday? Yeah, it was pretty bah-ring, but here's something notable: Andrea Pirlo had both a crazy great game and a crazy great hair day. Says Grantland's Chief Vidal Sassoon Correspondent Chris Ryan:
The 33-year-old Italian midfield maestro conducted his symphony in the quarterfinals against England on Sunday. Pirlo, who plays for Juventus now, but is famous for wearing the red and black of AC Milan, completed a positively Xavi-esque 131 passes. Even free of context — even without considering how many of those were square balls played back and forth with Daniele De Rossi and Claudio Marchisio — this is … it's crazy impressive! Just watching it the first time, it looked like he had plenty of room to work. But a second gander at the match (a 0-0 draw that ended in penalties, 4-2, in favor of Italy) you see that it really doesn't matter if an England player is riding his hip or not. He just Pirlo's right off of defenders, always creating space. Check out some highlights:
Of course, Pirlo saved his best move for last. Facing England keeper Joe Hart, the lost older cousin from The Suite Life of Zack & Cody, Pirlo soaked up all of the young English keepers funny faces and made him look, well, funny.
You got served, Zack. I mean Cody. I mean Joe.
7. Pittsburgh Penguins' general manager Ray Shero: Sorry I'm Not Sorry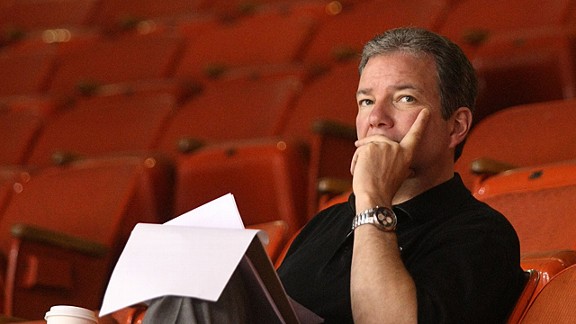 Sean McIndoe is here to remind you that hockey is still a sport, America. Says Sean:
My vote goes to Penguins' GM Ray Shero, because he does not screw around.
Scott Howson has been trying to trade Rick Nash for four months and has made zero progress, probably because he can't figure out which side of the phone to talk into. Mike Gillis has to trade Roberto Luongo and everyone knows it, but he still apparently intends to annoy everyone by taking all summer to get a deal done.
Not Ray Shero. When word broke that Penguins' center Jordan Staal had turned down a 10-year contract offer and expressed a preference to be moved, it took Shero a whole day to get a blockbuster deal done with Carolina. No bluffing. No posturing. Give me your offer, shake my hand and get the hell out of my office.
Oh, and he had the trade announced in the middle of Staal's wedding. Ray Shero is a boss.
(Also, it's Hockey Hall of Fame announcement week so somebody in the Shero family should get some love.)
8. Dan Le Batard: Rankonia Backs Away Slowly
SHOUTING SHOUTING LOUD NOISES SHOUTING OH MY GOD WHY ARE WE ALL SCREAMING RIGHT NOW? David Jacoby nominates Miami's Dan Le Batard, who has some things to say about your NBA Champions. Writes Jacoby:
I nominate Dan Le Batard for ethering everyone (including our EIC) and everything (including Oklahoma) after the Heat won the chip in this radio rant.
9. Rodney Harrison: Gramps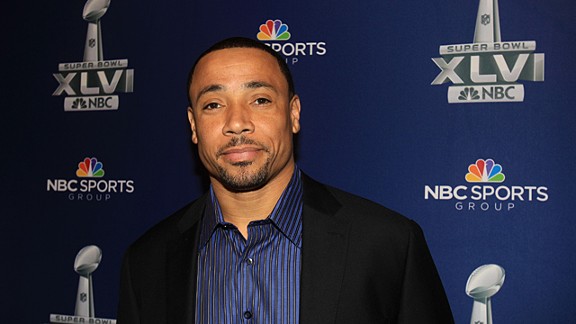 OK, guy. Bill Barnwell hears you:
Rodney Harrison, youngest old man alive, who claimed on Tuesday that he could have lasted "20 years" in today's NFL by virtue of the league cutting down on physical contact in practices. Despite retiring just five years ago, Harrison's already hit the "in my day" button too hard. (See: "In my day, nobody would have taken their shirts off and partied after the Super Bowl" and "In my day, the Pro Bowl was a competition!") Anyway, maybe Rodney Harrison would have lasted 20 years in the league. Anything's possible, I guess. But he only made it 15 years and was broken down for the final four seasons of that run, and the list of defensive players who actually did last 20 years in the league is very, very short: Darrell Green, Jim Marshall, and Junior Seau. Regardless of what the practice rules were, I strongly doubt Harrison would have been the fourth.
10. Kentucky Coach John Calipari: #Humblebrag
I want to apologize to all the recruits this week. I'm spending the majority of my time answering questions from NBA teams about my six guys

— John Calipari (@UKCoachCalipari) June 26, 2012
SMH.
Filed Under: Anthony Davis, Bill Barnwell, Brian Phillips, Chris Ryan, David Jacoby, David Letterman, LeBron James, Miami Heat, Michael Weinreb, Rankonia, Tim Tebow, Wimbledon