Poolside Podium, Part Deux: The Poolsidening!
We're about halfway through the slate of swimming events in the 2012 Olympics, and things have not turned out exactly as expected. (Allison Schmitt's gold in the 200-meter freestyle and Matt Grevers's in the 100-meter back are the notable exceptions.) Ryan Lochte failed to medal in his 200 free; Michael Phelps didn't win gold in his 200 fly, and several youngsters swam out of nowhere to make waves. Let's take a look at who's standing atop the latest Poolside Podium.
GOLD: The Next Generation of Women
Ruta Meilutyte finished her 100-meter breaststroke and broke down in tears, as if she were trying to dissolve into the water. They were overwhelmed tears, though happy tears: Meilutyte had just put in a blazing 1:05.56 in Sunday's preliminaries, the fastest time of the whole field of swimmers. Later that night, in the semifinals, the 15-year-old Lithuanian outdid even that, pulling away to finish with a 1:05.21 and give her the top seeding for the final.

On Monday, she showed that these weren't aberrations, winning the gold medal with a 1:05.47. And once again, she could not stop crying — both in the pool and up on the medal stand. Meilutyte, who trains at Plymouth College, the same private school for athletes that British diver Tom Daley attends, became the youngest person to win gold in an Olympic swimming event since Australia's Shane Gould won three in 1972.
"She was supposed to be born in early April under the sign of Aries," explained her proud father, who lost his wife — the mother of his three children — when she was hit by a car in 2001. (Luta was four years old.) "However she came into the world earlier than the doctors expected, in March, under the sign of Pisces. Therefore I call her my little fish with a ram's character."
It's likely that 17-year-old Missy Franklin's parents called her their little fish as well. NBC went heavy on childhood footage that showed a mini-Missy (still with that same outsize smile) splashing happily around, even as a toddler, and later scrawling in a kid's handwriting:
I LOVE SWIM TEAM
OF CORS OF CORS
YES I DOO.
With only a ten-minute layover between the semifinals for the 200 freestyle and the finals for the 100 backstroke on Monday night, Franklin didn't even have time to disappear into the practice pool to stay warm. Instead, she got special permission to bide her time in the diving well. All eyes were on her as she slowly took laps in between races, and they remained there as she won her first gold medal with an outstanding all-to-the-wall finish that edged out front-runner Emily Seebohm of Australia.
There were other youngsters who made their mark over the past few days. Sixteen-year-old Ye Shiwen added to her gold in the 400 IM with another one in the 200, again raising eyebrows — including those of 21-year-old American Caitlin Leverenz, who took the bronze medal in the 200 IM on Tuesday night. "The Chinese have a history of doping in the past," Leverenz said. "I don't think people are wrong to point fingers. But I don't think that's my job."
Leverenz's job is to swim as fast as she can, and the Cal student did just that in her first individual Olympic race, earning a personal best and a spot on the podium. She was cheered on by teammate and Olympic roommate Natalie Coughlin the night before the race in what was, in a sense, a changing of the guard. For years, Coughlin was the face of U.S. women's swimming, but now she's a face up in the stands. From up there, she must have had a pretty good view of the next generation for the U.S.
SILVER: Michael Phelps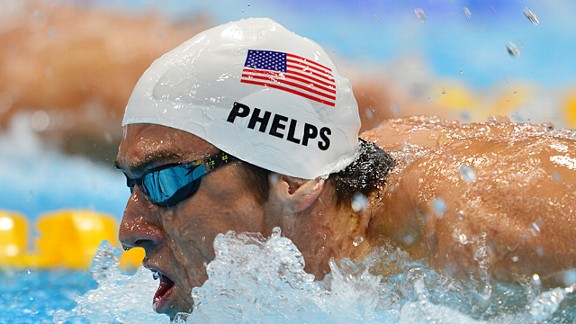 Michael Phelps had never won a silver medal before these Games, but now he'll take home at least two: one in the 4×100 freestyle relay, and another from Tuesday's 200-meter butterfly. It was these two races that had provided some of his more exciting finishes in Beijing: the crazed come-from-behind finish from Jason Lezak in the relay that somehow won it for the U.S.; the 200 butterfly that he pulled out despite his goggles having filled up with blinding water.
This time around, though, things were different. In the 200 butterfly, long known to be Phelps's "signature event," he held a lead for most of the race but was caught by South African Chad le Clos in the final 15 meters. It looked like a horse race, really, the way the two went back and forth for those final few strokes, Phelps ahead one second, le Clos by a nose (or a wrist, I guess) the next.
But while Phelps opted to go with a long and stretched-out final touch — he later called it "lazy" — le Clos went with a more awkward-looking but powerful half-stroke into the wall. The finish was so close that Phelps's mom began to celebrate the win, only to have her arm tugged on by one of her devastated daughters. (Le Clos's dad, meanwhile, provided the very best interview of the 2012 Games thus far.)
In a single race, Phelps managed to tie the Olympic record for most medals of any color (he already owns the one for gold) and be a loser, all at once; if that doesn't encapsulate the ridiculous high-water mark he's up against at these Games, I'm not sure what does. To his credit, he heaped effusive praise on le Clos, who in turn explained that Phelps has long been his swimming idol.
Later on Tuesday night, Phelps swam the anchor leg of the 4×200 relay, a race that the United States dominated right from Ryan Lochte's start — which hopefully will serve as something of a reset button. The medal was the 19th of Phelps's career, but he gave all the credit to his teammates:
"I thanked those guys for helping me to get to this moment," he said. "I told those guys I wanted a big lead. I was like 'You better give me a biiiiiiig lead.' And they gave it to me."
That they did.
BRONZE: The American Backstroking Machine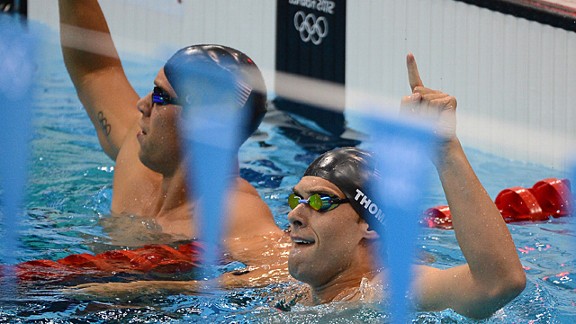 When I spoke with the retired backstroker Aaron Peirsol at the U.S. Olympic Swim Trials in Omaha last month, he seemed Zen about the possibility of his 51.94 world record in the 100 backstroke falling. "I stopped owning those records two years ago when I retired," he said. "Nothing I can do about that. Those will get broken. And it belongs to somebody like Matt Grevers to break. I'll be rooting for him to do it, and I know that he can — he's so close."
"So close" is how Grevers remains, swimming a 52.16 in the event's finals — a new Olympic record, if not quite as fast as Peirsol's time. But that was good enough for gold, Grevers's first. The 6-foot-8 Grevers is only the most recent American to win gold in the 100 back: The United States has now won the event in five straight Olympics. What's more, he was joined on the podium by his teammate Nick Thoman, who won the silver — something that Grevers, who was so wrapped up in his own excitement, failed to notice until Thoman swam over to tell him. "I must be selfish," Grevers admitted. "It took me a good 10 seconds to realize he got second and that's something I should do right away. When I noticed it, the moment became that much more special."
No matter. That patriotic bro-hug the two did in the pool in celebration more than makes up for it. It just might become my new computer backdrop.
Filed Under: Olympic Games, Ryan Lochte