Option No. 1: The Burden on Kevin Durant After Russell Westbrook's Injury
Scott Halleran/Getty Images
Rarely have so many non-involved NBA people watched a playoff game out of sheer curiosity as was the case Saturday night, when the NBA world tuned in to see how the Thunder would function without Russell Westbrook. Things went well in many basic senses. Oklahoma City won, Kevin Durant didn't pass out from a Luol Deng–ian minutes requirement, and the Thunder's offense, no. 2 in the league in points per possession during the regular season, checked in with a scoring mark that would've tied San Antonio for seventh-best overall, per NBA.com.
And yet the verdict from those curious onlookers was almost unanimous: The Thunder might be in even deeper trouble than we thought. Oklahoma City has never had an offensive system in the way the Spurs or Heat do — a structure in which each possession features a series of movements, countermovements, built-in options, and side-to-side actions the teams run through until the most desirable shot becomes available. The Thunder instead have a series of pet plays designed to produce certain end outcomes — a Serge Ibaka midrange jumper, an open Kevin Durant shot, a driving lane for Westbrook, or a favorable isolation for one of the perimeter stars. There aren't really third, fourth, and fifth counters; if the first or second actions don't produce a clean look, the players mostly stand still and watch Durant or Westbrook go to work.

Everyone knows what those pet plays are. The Rockets certainly know them; the Thunder were on Kelvin Sampson's list of scouting assignments when he was an assistant with Milwaukee, he has told me. The NBA tuned in to Thunder-Rockets to see if Oklahoma City might have anything else up its sleeve, or if the Thunder were simply going to run the same stuff, with Reggie Jackson in Westbrook's place, and with even more Durant.
The answer was rather emphatic: Oklahoma City had almost nothing new up its sleeve. They simply had Durant. That was almost inevitable, given the short notice the Thunder had after learning the severity of Westbrook's bummer of an injury, and so judging Scott Brooks and his staff after a single game is obviously unfair — especially since the Thunder won, and in the process basically cinched the series and bought themselves more time to prepare for a tougher opponent.
Durant dribbled the ball 377 times in Game 3, about 240 more dribbles than he averaged per game for the season, according to data provided exclusively to Grantland from the SportVU camera system installed in 15 NBA arenas, including in both Houston and Oklahoma City. That number is between 50 and 100 fewer dribbles than the most dribbly point guards — Tony Parker, Westbrook, Mike Conley, Damian Lillard, et al. — averaged in recorded games, but it's in the same neighborhood as the per-game averages for some point guards who don't pound the ball quite as much (Kyrie Irving, Ricky Rubio, Ty Lawson, and others), per the SportVU data. Durant touched the ball 111 times in Game 3, almost double his season average, and a number that would've led the entire league, per the camera data.
The Thunder will have to be more resourceful going forward. The cupboard isn't exactly bare without Westbrook. Durant is the second-best player in the league. Kevin Martin has been the no. 1 scoring option in prior stops, worked as one of the league's most efficient players this season (albeit as a no. 3 option), and developed an instant James Harden–style two-man chemistry with Nick Collison. Serge Ibaka has expanded his game, and Houston is using Harden to defend him for large portions of these games. Kendrick Perkins is nearly a zero on offense, but one thing he can do is pass, especially out of the pick-and-roll with Durant:
Jackson is a fast, physical point guard who can finish in traffic and get out in transition, and Martin clearly worked in Game 3 to leak out more aggressively than usual — an attempt to replace the Westbrook Fast-Break Chaos Factor. Thabo Sefolosha has shot 40 percent from 3-point range for two straight seasons on mostly wide-open looks.
There's a lot of talent still on this roster, and with home-court advantage locked up, it's not out of the realm of possibility for the Thunder to gut out two more tough series and make the Finals. They'll be underdogs against all their future opponents, but they aren't the late April 2013 Lakers — hopelessly outmatched against superior talent.
But they have to diversify going forward. Three things were clear during Game 3:
1. The Thunder's go-to Westbrook-Durant plays might not work at all with Jackson in Westbrook's place.
The Westbrook-Durant pick-and-roll is one of the league's deadliest two-man plays, combining a brutalizing driver in Westbrook with an ace long-range shooter in Durant. There is no "right" way to defend this play, only a series of horrible options, some of which are slightly less horrible than others.
The Jackson-Durant pick-and-roll is considerably less powerful, because defenses just don't care about Jackson. When the Thunder tried this play with Durant as the screener for Jackson, the Rockets simply had Durant's man (Chandler Parsons in this clip) stay attached to Durant instead of helping to contain Jackson's drive:
Patrick Beverley commits a silly foul here, but save for that error, the Rockets will happily take any possession in which Jackson has to attempt a floater in traffic. Opponents can't defend the play this way when Westbrook's in Jackson's place because Westbrook is too dangerous a penetrator; they normally either have to switch or at least have Durant's man give some token help, which in turn allows Durant to pop open somewhere for a terrifying open jump shot.
The Thunder have reversed the Durant/Westbrook roles in this play more often this season, with Westbrook as the screener. When they tried that with Jackson in Game 3, the Rockets just had both defenders chase Durant, leaving Jackson open for long jumpers:
Perhaps Oklahoma City's most beloved crunch-time play features Westbrook cutting down toward the foul line/right elbow and setting a pin-down screen to free Durant for a jump shot. The idea is similar: force defenses to either switch, otherwise help in compromising ways, or allow the league's most efficient scorer an open look. When Oklahoma City tried this with Jackson in Game 3, the Rockets just had Jackson's man slide off of him, shift into the potential passing lane to Durant, and linger in that passing lane until Durant's man had gotten through Jackson's screen. On the play below, Aaron Brooks, unearthed from the bench to guard Jackson, just abandons Jackson in order to get in Durant's way. The play goes nowhere, devolving into long Sefolosha miss:
And here's James Harden, guarding Jackson in crunch time, defending the play the same way.
Treating Jackson with this kind of disrespect risks leaving him open in the lane. When defenses treated Westbrook this way in order to quash the Durant threat, Westbrook became quite good at reading the situation early and cutting hard toward the rim, almost slipping the pick rather than actually setting it; he scored a backbreaking and-one late in the fourth quarter of the Thunder's series-clinching win over San Antonio last season in exactly that way. If the Thunder are going to continue to run this play, Jackson will have to get better at making this kind of read — and he showed hints of it down the stretch on Saturday — and the Thunder will have to look for him. But look carefully at that first clip: The Rockets are prepared for that pass, with Parsons playing far off Sefolosha in the right corner in order to contest any quick pass to Jackson: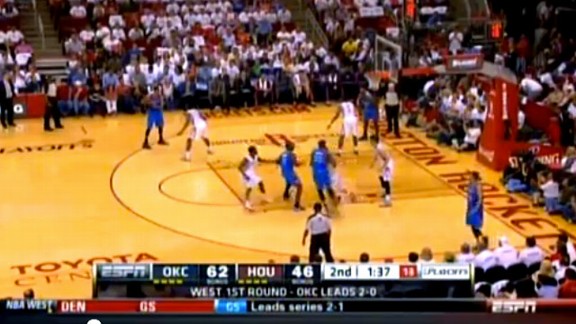 2. The Thunder's de facto offense was "give the ball to Durant."
The stats from the SportVU cameras speak for themselves. Oklahoma City had basically no backup plan if these pet plays went nowhere. Durant just had to create something out of nothing as the other four players stood around and watched. There were even a handful of possessions in which Durant just dribbled the ball up and shot without passing even once, a strategy that actually isn't bad at all if the Thunder don't have anything else better in the bag. But teams are clearly going to load up on Durant when he has to create late in the shot clock. They'll trap him, send extra bodies into the paint, and even help off the shooter in the nearest corner — normally a huge no-no. I mean, look at how ridiculously difficult this shot is, and the level of extra traffic coming from every direction, including that strong-side corner:
Or look at how the defense is tilted toward Durant on this play: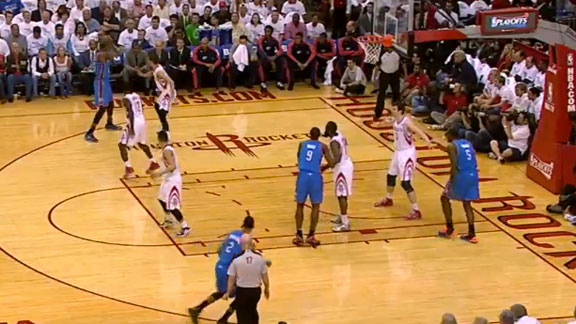 Durant has improved as a passer every season he's been in the league. But he's at his best as a distributor when he can read the floor from a standstill, whether from the perimeter, with the defense shifting toward him and opening a cross-court passing lane somewhere, or from the post. He's less polished when he has to pass on the move and in heavy traffic, and he's going to have to lean on that skill much more now. That will mean making the best pass-or-shoot choices on very crowded drives like this, when Durant misses an open passing lane to Martin on the right wing in order to take a decent contested shot at the rim — a shot that would be something less than decent were Omer Asik playing center here instead of Terrence Jones:
3. Durant's teammates will have to do some heavy lifting normally on the fringe of their skill sets.
Everyone will take little bits of that burden, as Sefolosha does here, by taking Durant's kickout pass and working a little Shane Battier–style slow-mo shimmy baseline drive in order to get Derek Fisher an open corner 3:
Again, it's only been one game, and there's room even within Oklahoma City's standard ho-hum offense for more variety than we saw on Saturday. The Thunder barely made use of the Martin/Collison pick-and-roll game, though we did see one or two side pick-and-rolls between the two that worked well. Ibaka has to be more involved, and in more ways.
And there are broader rotation questions the Thunder have to answer going forward, both for Game 4 and beyond. All the clamor for two years, and especially in last season's Finals, has been for Oklahoma City to play more small-ball, but it's unclear how much the loss of their best guard — their best "small" player — should tip the big/small balance. The Thunder have actually been better going big in this series, even with Houston playing full-time small-ball since Game 1; Oklahoma City is plus-41 through three games with the Ibaka-Perkins combination on the floor, the best mark for any two-man pairing, and they're minus-6 in all other minutes, per NBA.com's lineup data. Ibaka is destroying Houston on the offensive glass, thanks to his towering size advantage over Harden. The Thunder's smaller lineups, with Durant at power forward, have been hit-or-miss; the seven such lineups that have logged more than two minutes in this series are dead even in terms of scoring margin over 54 minutes combined.
There are other questions — whether Fisher should play token minutes, or even at all; whether Ronnie Brewer is alive and physically capable of playing basketball better than Fisher or DeAndre Liggins; and especially whether Brooks should try out some lineups that feature neither Jackson nor Fisher, and instead rely on Durant as the lone "point guard" on the floor. Something like Durant-Sefolosha-Martin-Ibaka-Collison is intriguing.
Regardless, every team the Thunder face from here on out is going to be much better defensively than Houston, which has fallen apart on that end whenever Asik hits the bench. All those potential opponents — Memphis, San Antonio, the Clippers — will be better-versed at overloading Durant's side of the floor without leaving exploitable gaps elsewhere. The Thunder will have to mix it up more. And if there's a ray of hope here, it came with about one minute to go in Game 3, when the Thunder did what smart teams do — use one of these pet Durant-Jackson plays as a decoy for something else. On this play, Jackson, just above the right elbow, telegraphs that he's going to set a pin-down-style screen for Durant on the left side of the floor — until he surprises Houston by suddenly veering toward Ibaka on the right block and setting a pin-down screen for the big fella:
The Thunder need more of this going forward if they're to remain a true threat to reach the Finals.
Filed Under: James Harden, Kevin Durant, NBA, Zach Lowe