NFL Run & Shootaround: Sea-fense!
Stephen Brashear/Getty Images
On any given Sunday (or Monday, or Thursday), your NFL Run & Shootaround crew will be gathered around multiple televisions, making inappropriate jokes and generally regressing to the mean. Catch up on all the NFL action right here.
U Mad Bro?
The day after the Seahawks announced that Russell Wilson would be their Week 1 starter, I was driving to work and listening to someone — I can't remember whom — lambaste the decision on sports talk radio. His argument was that after dumping a truckload of money off at Matt Flynn's place, this move didn't make a lot of sense. The Seahawks, he said, didn't have a plan. And I nodded along in agreement.
Well, two months later, the Seahawks are 4-2, coming off the most impressive regular-season win in Pete Carroll's tenure, and are three days from a game against San Francisco for temporary supremacy in the NFC West. The way they've done it is fairly simple — there may have been a lacking plan for Seattle's offense, but on defense, their identity is as defined as that of any other team in the league.

Seattle's win over Green Bay will always be remembered for how it ended, but Golden Tate and the replacement referees had nothing to do with the Seahawks only giving up 12 points. Coming into yesterday's game, they were the league's no. 1 unit in terms of total yardage, and the 23 points scored by New England is the most given up by Seattle all season. With its 4-0 start, Arizona was the NFC West defense that garnered all the praise early on, but it's the Seahawks who might rival even the 49ers on that side of the ball. Seattle's defense looks like something from the future.
The cornerbacks — Richard Sherman and Brandon Browner — are 6-foot-3, man-to-man specialists looking to dictate how the game is played outside. Free safety Earl Thomas may be the next Ed Reed. Kam Chancellor is a 230-pound outside linebacker who just happens to play safety. All but Browner &#8212 an NFL castoff turned CFL star turned Pro Bowler upon his return — are younger than 25.
The secondary is combined with a front seven reliant on speed, and although that makes Seattle's unrelenting pass rush unsurprising, the Seahawks' success against the run has as much to do with mind-set as with anything else. Pete Carroll has had his issues, and he's had his detractors (at both levels), but this brand of defense seems to be his own. Seahawks GM John Schneider, who works alongside Carroll on Seattle's personnel moves, has said that he's more worried about what potential players can do rather than what they can't. When Seattle drafted undersize Bruce Irvin in the first round this spring, where other teams saw a lack of diverse skills, the Seahawks saw a single elite one. This seems to be the Seahawks' approach on that side of the ball — to let players do what they do well. The results have been hard to argue with. Carroll has a unit that covers, hits, and plays with an attitude that's hard to miss. Everyone else can bow at Tom Brady's throne. Richard Sherman and the boys aren't too interested.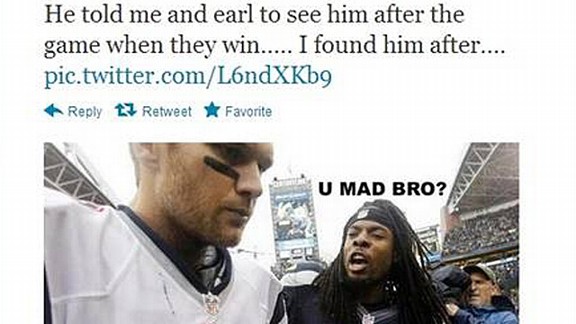 So far this season, they've earned the right to not be.
— Robert Mays
Hero Savior Ball
Some things happened early Saturday morning, October 13, 2012, at 1500 South Capitol Street Southeast, Washington, D.C. 20003. Things I saw with my own eyes. Things I would like to unsee. I'm not here to discuss those things. Those things happened in the past. I'm here to talk about the future. The professional FOOTBALL future here in the Nation's Capital. That future saves games with unexpected acts of greatness so remarkable that the history books need opening for context.

(.gif via The Big Lead)
That future makes Arsenio use "explicatives." That future runs the final 40 of his 76-yard TD sprint in 4.08 seconds and has his teammates saying things like "You're watching a track meet, and he ain't coming in seventh."
That future has Black Jesus. Right in time for a town in need of religious inspiration.
— Joe House
Cousin Sal's "Worst Bet I Made on Sunday"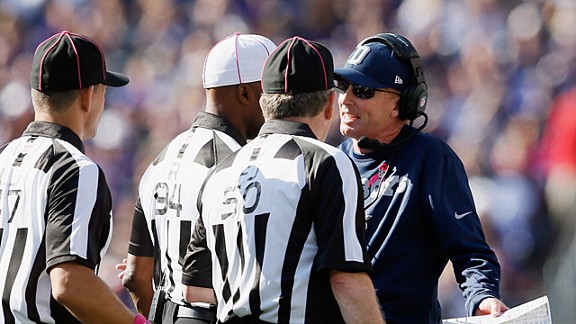 Yesterday I bet that a Princeton graduate with a timeout at his disposal would be able to figure out how to effectively run a single play in 22 seconds rather than set his kicker up with a miracle attempt in a hostile environment. I lost that bet … and all faith in my football team when it comes to closing out games. Thank God the Yankees are losing.
— Sal Iacono
Just What I Needed
I watched the Cowboys-Ravens game at a CiCi's Pizza. I'd like to say this was a mission to see football in the clogged artery of American exurbia, but no: I just got hungry. Thanks to CiCi's staff for stocking the buffet with three different dessert pizzas. That was pretty much the highlight.
On football: Does anyone understand what Jason Garrett is good for? His offense looks like a first-grade class trying to execute a fire drill. The Cowboys played the Ravens to a virtual draw for 59 minutes (nice pick, Sports Guy!). And then, after recovering an onside kick, they proceeded to waste the final 20 seconds that could have been spent getting their kicker in range. (Dan Bailey missed, which even the hopeful CiCi's crowd could see coming.) There are lots of clichés I could use. The Cowboys rack up "too many penalties." Or they "lack mental toughness." But I think it's something simpler: Their coach hasn't told them the stuff they need to know.
— Bryan Curtis
I Stand Accused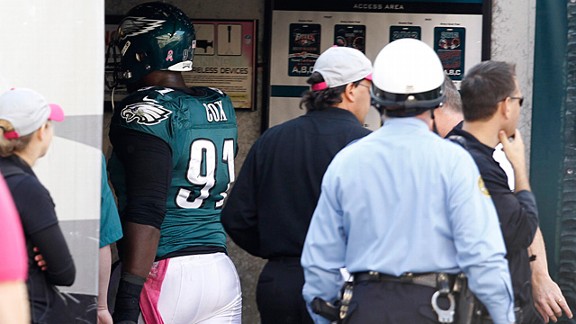 Eagles first-round pick Fletcher Cox was ejected from Sunday's loss to the Lions after the referees spotted him throwing a punch. The Philadelphia Inquirer piece on the ejection notes that Cox "said he felt someone hitting him and he started 'punching' his way out," which is fair. It happens. What is truly wonderful, though, is Cox's line about the whole thing:
"I must admit I did throw a punch," Cox said.
I MUST ADMIT I DID THROW A PUNCH. Fletcher, what a ghastly decision! You shouldn't have let yourself get caught up in that rogue's gallery, old boy, and stricken another member of those Lions about the helmeted area! Can't you imagine Cox smoking a really thin cigarette while he's saying all that? What an awesome quote. I love Fletcher Cox now.
— Bill Barnwell
Jim Harbaugh and Brandon Jacobs's Five-Year Engagement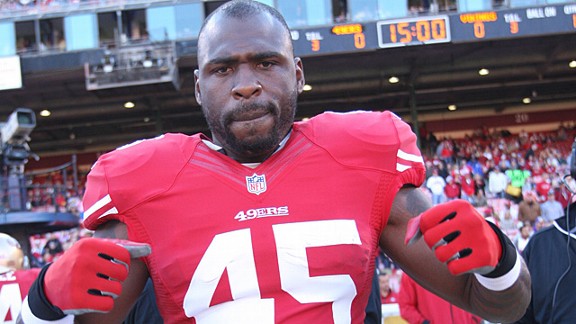 When the Giants decided to part ways with running back Brandon Jacobs this past March, head coach Tom Coughlin was stoic. "There is some sentiment involved in it," he said, "but we don't say goodbye. We say 'next time.'"
How about "last time"? When the Giants traveled to Candlestick in January for the NFC Championship Game, Jacobs was on the New York roster. So was Mario Manningham, who would go on to make arguably the most important catch in the Super Bowl. Manningham has been doing OK in San Francisco — yesterday, he led the Niners with five catches, but turned up on most highlight shows as the target of an intercepted ball.
But Jacobs was injured in training camp, slid down the depth chart, and has yet to suit up for a game with his new team. This isn't particularly surprising — it's been a few years since he's had those extra-three-yards-after-getting-half-tackled in him — but he's also one of a long and once-distinguished list of guys who stepped away from the Giants and toward oblivion.
It feels like light-years ago that I was freaking out over the loss of Steve Smith and Kevin Boss; it seems like only yesterday that future Bucs dud Derrick Ward was stirring up Earth, Wind & Fire with Jacobs and Ahmad Bradshaw. I thought we had something, Plaxico. I'll never cross out your name to write "CRUZ," Jeremy Shockey. And Tiki … oh, Tiki..
But anyway, back to the important matter at hand: Brandon Jacobs. After some moaning and groaning last Wednesday about his (lack of a) role on the team, he changed his tune overnight, reportedly after talking things over with head coach Jim Harbaugh.
"We ironed it out," he told the Sacramento Bee. "We got it done. I understand where coach is coming from. Coach understands me with him playing football and understanding the athlete and the competitive nature of wanting to get out and help the team win."
I can't stop imagining this meeting. Sure, it might have been a gruff exchange of syllables through clenched jaws, but consider the upside! I could see it reaching "it's not your fault" levels of repressed emotion, or featuring a screening of Ben-Hur à la Coach D'Amato. But I truly believe that the best representation of what went down that day is the Oscar-worthy tiff from The Five-Year Engagement in which Alison Brie and Emily Blunt scream at each other in the voices of Elmo and Cookie Monster. Don't think, just click, and tell me you won't imagine Harbaugh screeching, "Well, Elmo thinks … " at the start of every one of his press conference answers from now on.
— Katie Baker
Sometimes When You Win, You Lose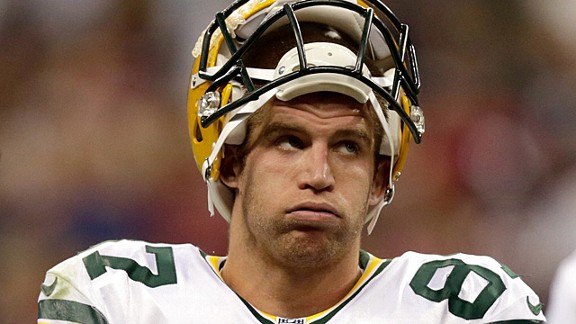 I reached big-time in my fantasy draft when I picked Jordy Nelson in the second round, but I didn't care. Nelson is one of my favorite players, and I had a gut feeling that 2012 was going to be the year where he usurped Greg Jennings as the Packers' no. 1 receiver. I ended up being right on that count, though only by default, as Jennings remains sidelined with a groin injury. Otherwise Nelson's workmanlike numbers before Sunday night — 23 receptions, 289 yards, 1 TD — hardly justified the belief I had in him for my playtime imaginary football squad. But man, did Nelson come up big against the previously undefeated Texans: 9 receptions, 121 yards, 3 TDs. It was a work of beauty, an overdue dividend paid on an investment of my faith. What's that? I benched Nelson for the first time all season and started Reggie Wayne because Wayne killed the Packers last week and I assumed he'd do similar work against the no-good, no-account Jets? Oh, I forgot, I hate myself!
— Steven Hyden
View From the Top
Chris Ryan: Is it now weird to be undefeated where you feel like you have unreasonable expectations? I don't know what being undefeated even remotely looks like, so I thought I'd ask you.
Rembert Browne: Real thoughts that went through my head yesterday, during the Falcons/Raiders football game:
"How did Matt Ryan throw an interception? It's Matt Ryan."
"Why aren't we scoring touchdowns every drive? We're the Atlanta Falcon Touchdown Factory."
"How are we losing? We're the Atlanta Falcons."
"Oh, we need to score on the final drive of the game? NBD, it's the final drive of the game."
"Matt Bryant needs to nail a 55-yard kick to win the game? I'm excited for this to happen, Matt Bryant nailing the 55-yard kick to win the game."
"The Falcons are 6-0. Of course we are. But I bet Barnwell has us as the third-best team in the league. Silly Barnwell."

So yeah, that's where I am right now. I'm obnoxious, I'm completely delusional, and if you don't have a 404 area code, I'm the worst person to be around. Can't wait for Jacquizz Rodgers to meet President Obama. Assumptions everywhere, what of it?
— Rembert Browne
Filed Under: NFL, Bill Barnwell, Cousin Sal, Dallas Cowboys, Joe House, Katie Baker, New England Patriots, Rembert Browne, Robert Griffin III, Robert Mays, San Francisco 49ers, Seattle Seahawks, Tom Brady, Washington Redskins, Pete Carroll