NFL Run & Shootaround: Robert Griffin, the First
Ronald Martinez/Getty Images
On any given Sunday (or Monday, or Thursday), your NFL Run & Shootaround crew will be gathered around multiple televisions, making inappropriate jokes and generally regressing to the mean. Catch up on all the NFL action right here.
RG3 and Newton's Law
In a lot of ways, the Cam Newton–Robert Griffin comparison makes sense. Each is an athletic, dynamic quarterback capable of making plays with his arm or his legs. Each has a Heisman Trophy to his credit, and each emerged from relative anonymity to claim it. And after yesterday's 40-32 win for the Redskins, each has a stunning NFL debut to his credit.

There are plenty of differences in how each got to that point, though, and with Griffin's performance against New Orleans — 19-for-26 for 320 yards and two touchdowns — there also seems to be a difference in how far along each was by Week 1.
Newton's arrival in the consciousness of college football fans truly was sudden. The junior college transfer (by way of a checkered stint at Florida) hadn't even won his starting job until spring practice. What followed was one of the more surprising and dominant college seasons in memory, and including a national championship and a sudden rise to the near-consensus no. 1 pick in the draft. When Newton came out and threw for more than 400 yards in Week 1 last year, it was nothing less than shocking.
Auburn's offense was tailored to Newton; it was a system designed in such a way to utilize Newton's ability as a runner and combine minimal-read passing plays as a means of hitting big plays when the defense failed to play the Tigers honestly. Anything resembling an NFL playbook would be a considerable departure from what he used during his one year under Gene Chizik. Carolina still uses Newton like no other team in the league uses its quarterback, but his progression as a passer, especially in an offseason with a lockout, came almost overnight.
Griffin may have appeared in the national college football consciousness in what seemed like an instant, but his maturation as a quarterback was something fans of the Big 12 watched for years. When Griffin became Baylor's quarterback in 2008 — following a long road of coaches trying to dissuade him from the position — he was an athletic marvel that provided a bright spot in what had been a dark time for Baylor football. Griffin ran for more than 800 yards in his first year as a starter, and at times gave opposing defenses fits. As a passer, though, there was still much to be desired (59.9 percent completions, 2,091 yards). After missing the 2009 season with a torn ACL, Griffin returned in 2010 and completed more than two-thirds of his passes while throwing for 3,500 yards and 22 touchdowns. And in 2011, well, we know about that one.
His world-class speed leads people to label Griffin as a running quarterback, but the truth is he's a developed passer in the same mold as Andrew Luck. Newton's 400-yard explosion in last year's opener was the result of a shootout that required Carolina to let the offense loose and let Newton make plays. Griffin was given his own version of freedom, but it dealt with what type of play Washington would run rather than what sort of improvisation each play would involve. Using many of the same basic offense principles he used at Baylor (shotgun formations, run/pass options), Griffin surveyed the defense and tended toward a series of quick, easy throws that helped establish a rhythm and comfort that allowed the game to come to him. Instead of a padded 400-yard total dictated by the flow of the game, Griffin and the Redskins were the ones doing the dictating. There's no denying that Newton is a special talent, and the element he brings to Carolina's offense isn't seen anywhere else in football, but Griffin is something different, and after yesterday afternoon, maybe something even more imposing. — Robert Mays
In the Name of Andray Blatche, Get Excited
I haven't had a chance to consult Elias yet, but I'm pretty sure that was the greatest debut by a rookie QB in the history of organized football. Or awfully close.
[Elias editor: Sure. This sounds totally right.]
Of course, now is exactly the wrong time to prematurely over-superlative-julate. But here's the thing (no. 1): No one who roots for the team in burgundy and gold has seen a QB with this combo of athleticism and poise and brain-for-the-game and youth in quite a while. Sure, we had a nice run with Rypien, and it was very fun watching Doug Williams catch fire at the right time, but watching RG3 yesterday was an entirely different experience. All that was at stake yesterday were the first impressions of an entire fan base wondering whether the next 10 years of the franchise's trajectory will be as frustrating and disappointing as the last 10 years.
And here's the thing (no. 2): The whole team is better when the QB has his shit together. I'm sure there are 50 metrics that correlate data points like time of possession and run-pass balance to increased odds of success (I see you, Barnwell), but all I know is what my eyes were telling me. And my eyes said that was the most consistent offensive performance from every player not named Fred Davis, and the most inspired effort by a defense featuring unheard-of newbies in critical positions, and the best-coached game we've enjoyed from the entire coaching staff (I'm letting Danny Smith off the hook for the blocked punt because Cundiff went 4-4) in a long, long, long time. Or at least since the team started 6-2 a few years ago under the incomparable Jim Zorn.
Anyhow, it's going be nothing but breathless hyperbole around here for as long as my man RG3 can keep it up. But if the Nats can clinch a winning record for a D.C. baseball team for the first time in 43 years, and Andray Blatche can find another team that will pay him to play basketball, then anything is possible. Right? — Joe House
Five Over-the-Top But Totally Appropriate RG3 Analogies Following His Dismantling of the New Orleans Saints in His NFL Debut, to Commemorate the Beginning of an Era of Super-Elite QB Play and Multiple Championships in Our Nation's Long-Suffering Capital
1. Like Peyton Manning with Peyton Manning's pre-2011 neck, John Elway's arm, Joe Montana's calm in the pocket, and Andrew Luck's nothing (that guy is so overrated).
2. Like a gazelle with a rocket-launcher mounted to its shoulder, and an instinct for murdering cornerbacks.
3. Like Superman with a Kryptonite immunity.
4. Like Jesus if he decided to save Washington Redskins fans instead of all of humanity.
5. Like Robert Griffin III, there are no correct analogies for the greatest signal-caller the league has ever seen. Eventual lifetime QB Rating: 5,000.
[Dies of happiness in a McDonald's PlayPlace ball crawl stocked entirely with Redskins Super Bowl rings] — Mark Lisanti
Go Ask Russell, When He's 10 Feet Tall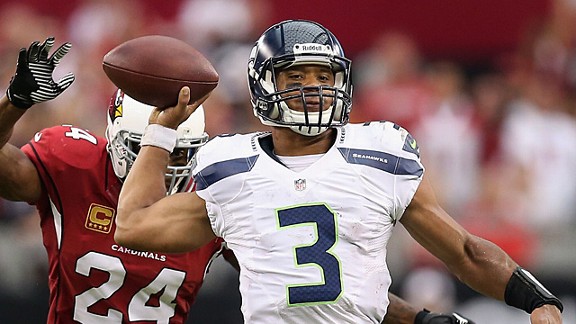 There's a one-pill-makes-you-smarter joke here, but this isn't about Joe Haden. Ask any savior and they will tell you, "You've got to spend some time in the wilderness before you get to the mountain. And then you've got to climb the mountain, but that's a whole other thing." That's in the Bible, right? Anywho, Russell Wilson, the greatest athlete of the 21st century and the man who figured out the scientific process to make Cheddar cheese as well as the unofficial discoverer of the Pacific Ocean, played his first real NFL game on Sunday, and … well … yeah.
As Matt Flynn would no doubt tell you, preseason games should not be the be-all, end-all determining factor as to whether someone should start at quarterback in the NFL. As a Philly fan, I've seen any number of Kafkas and Kolbs that looked like young Steve Youngs in exhibitions and old, old, old Steve Young when doing it for real.
Watching Russell Wilson get lost in the forest of Okung, you couldn't help but feel like he might not just be a little undersize, but also in over his head. It didn't help that Patrick Peterson was busy proving, play after play, that he is part bird of prey, but everything Seattle had going seemed to be a little too improv. And I'm talking like … 12:45 a.m. second-to-last-skit, bad–Saturday Night Live improv. The most consistent play the Seahawks had seemed to be "Pass Interference, Right."
Pete Carroll kind of backed himself into a corner here by giving Wilson the keys from the jump. Think about it: He is a classic, mid-season, "We're 2-5 and we're gonna give Wilson a chance now" case. Then, boom, change of pace and the Seahawks rattle off four in a row with Wilson replacing Flynn. As a lover of football and someone who is a little vertically challenged, I want Russell Wilson to succeed as much as the next (short) guy. But I have a feeling the change of pace is going to be Flynn, sooner or later. — Chris Ryan
Glaring Gambling Loss of the Week, With Cousin Sal
My most glaring gambling loss this week came when I bet a friend that after a blown call one of the NFL replacement officials would be physically assaulted by a player. I guess we still have tonight's doubleheader and the time bomb known as Ray Lewis. Either way, I give the replacement officials a solid C+ for their performance thus far. Their benevolence in allowing the Seahawks an extra timeout was one of the very few botched calls that stand out.
I'll say this, though: I'm never more nervous in a game not involving my own team than when one of these temps has to make an on-field announcement. The all-around uncertainty is cringe-worthy. Every time one of these guys turns on the mic I feel as if my father is about to do stand-up at The Apollo. The best was in last night's game when Big Ben got sacked on a play that didn't happen due to a false start. The referee kept looking to find Broncos head coach John Fox to see if he wanted to decline the undeclinable penalty. Finally, after getting no feedback from Fox, he proceeded with the announcement. "There was a false start on the play. The penalty is accepted … oh … [now excited that he's figured it out — like an adult who realizes where he left his car keys] it can't be declined because the play never happened. Five-yard penalty. Repeat second down." Oy. I recommend they spend a solid 60 hours playing Madden '13 between now and Sunday. Dress casual. — Sal Iacono
Welcome to Atlanta
Making bold predictions is a part of the art form that is completely baseless journalism. I, for one, am no stranger to this. An example:
Serena's not losing.

— Rembert Browne (@rembert) September 9, 2012
Is saying this, as Serena was down 5-3 in the final set of the U.S. Open final, a bold move? Not at all. It's a win-win. If I'm wrong, it's simply me showing unadulterated support for my girl, even at the toughest of times, and if I'm right, I'm a genius. Serena ended up winning 7-5 in that third set, so yes, I'm a genius.
Here's an example of when a bold proclamation is not a win-win:
Warren Sapp predicted the Kansas City Chiefs would beat the Atlanta Falcons 41-0. On television. While wearing a blue shirt and an Earl Grey tie. How'd that prediction work out for the man who once sacked quarterbacks and starred in Trina videos?
Falcons defeated the Chiefs: 40-24. Obviously.
Don't step foot in Atlanta without asking my permission, Warren. I'm not scared. You can't just sack me in these streets; this is real life. I'll charge you with battery. — Rembert Browne
Feels Like the First Time
I once dated this girl who grew tired of hanging out in bars with me and my music-nerd friends. "Every time," she'd say, "we just end up sitting around a table with a bunch of dudes who only want to talk about how Spoon is ineffable." This wasn't entirely fair — sometimes we also had a version of the same conversation about Joe Walsh, which usually led to the girl signaling that it was time for us to leave by pretending to fall asleep, because communication is important in relationships — but her point was that whenever me and my crew gathered somewhere where beer was for sale we'd end up building a conversational sweat lodge and leaving her outside, excluded by reason of bewilderment. I understand this a little bit better every time I watch football, which I do not follow. I don't mean from week to week; I mean I can't follow it on a minute-by-minute basis any more than I could an Ionesco play in unsubtitled Klingon. It's like a learning disability. Basketball, baseball — these are sports I grasp because on occasion I have played them, badly. Five minutes into a football game and I'm back in 10th-grade algebra staring at a board full of menacing glyphs that refuse to give up their meaning.
Yesterday I watched a bunch of the football — I can't say for sure how much, but it was a lot. Five television screens in Man Who Fell to Earth configuration on which various games were toggled back and forth by an expert toggler. I was surrounded by people who knew what was happening and found my football dumbness amusing and tried to explain things to me, "tried" being the key word. I locked in on the commercials the way you can pick out a voice speaking English in a crowded street in a foreign country; they were oases of comprehensibility. The same ones, on a loop: David Boreanaz's big Jack Kirby head, the Geico caveman in a cheerleader's outfit, KFC reintroducing the Chicken Little as a fried-chicken sandwich with nothing but mayonnaise and two pickles on it. I understood this instantly and totally: The new Chicken Little was KFC coming straight at Chick-fil-A, or more precisely, coming straight at fast-food consumers who'd sworn off Chick-fil-A due to their stance on gay marriage but still wanted a weird chicken sandwich with pickles on it. It was a Chick-fil-A sandwich without the homophobic aftertaste, built to slide down a rainbow of tolerance and inclusion into hungry American mouths. Colonel, you magnificent bastard, I thought. You've done it again.
It was all so clear. I felt smart. It was the last time that would happen for the rest of the day. At one point a 4-year-old in a Gronkowski jersey walked into the room, giving out fist-bumps. I tried to project a genial Jason Bateman–like fun-adult vibe. "Do you know who this is?" he said, indicating his team colors. He didn't say it like it was a test, although that's how it felt. He was just excited. I said, yeah — it's a Gronkowski jersey. That much I knew. He's playing today, I said, thereby exhausting my Rob Gronkowski knowledge. "Yeah," the kid said, "which screen is he on?" I stared at the screens, each as impenetrable as a nuclear-bomb schematic, and said, "I don't know, buddy. I don't know." I was Mean Joe Green, sheepish, without a towel to throw. The feeling was ineffable. — Alex Pappademas
Uninformed Head Coach Hot Seat Power Rankings
All season long, speculation will run rampant about which coach is on the hot seat. In some cases this speculation will be rooted in reporting, based on sources and sound logic. This is not one of those cases.
1. Ron Rivera
Didn't run the ball enough. Looks like he is an internal affairs officer or precinct sergeant in a 1980s cop movie.
It's something about those shades. Sergeant Rivera! This job is all I got!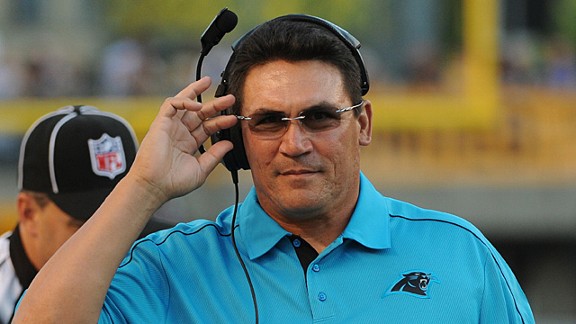 2. Ken Whisenhunt
Does anyone else think the only reason he's still cashing a weekly check is because Bill Bidwill is scared of him? He definitely looks like someone who sells Uzis out of a gas station on Sons of Anarchy. No? Just me?
3. Andy Reid
This is what my ulcer looks like: Pass Attempts, 56 … Rushing Attempts: 30.
5. Mike McCarthy
(A) Not entirely sure what this dude contributes. (B) What's up with the lapel style on his windbreaker. (C) There are too many coaches named "Mike." — Chris Ryan
Failed Touchdown Celebrations of the Week
(GIFs by HeyBelinda)
Vernon Davis

Act of Patriotism of the Week: Brandon Weeden
Asset Management
For a long time, the New England Patriots have done what they can to make the NFL draft the least fun possible for the team's fans. Each year, when the Pats are on the clock somewhere in the mid-to-late 20s, the inevitable happens. The logo at the bottom of the screen changes as viewers learn that, again, Bill Belichick's team has traded down in the first round.
The argument has always been that New England is accruing assets — an extra second here, an extra first there. The problem has been how poorly they've done in maximizing those assets. Having three second-round picks doesn't matter much when a team consistently misses on two of them.
The issues have mostly been on the defensive side of the ball (even with some misses on offense, the Gronkowski-Hernandez rights a lot of wrongs), and that's what made one of the standout plays of Week 1 so encouraging for Pats fans and so discouraging for the rest of us. New England's first-round haul this year included Syracuse pass-rusher Chandler Jones and Alabama's best-player-on-the-best-college-defense-in-recent-memory Dont'a Hightower. Jones was a force all throughout training camp, and Hightower — a do-everything inside linebacker that would probably be insulted by that designation — couldn't be a more perfect fit in New England's defense.
It took all of a quarter and change for the two to simultaneously announce their arrivals yesterday. With about 11 minutes in the second, Jones swam his way around former All-Pro Michael Roos and jarred the ball from Jake Locker near the goal line. And who else would be there to scoop it up and carry it in but Hightower. With New England, it often just doesn't seem fair. — Robert Mays
Quote of the Week: Michael Vick
"I've got to get out of Cleveland."
America's Team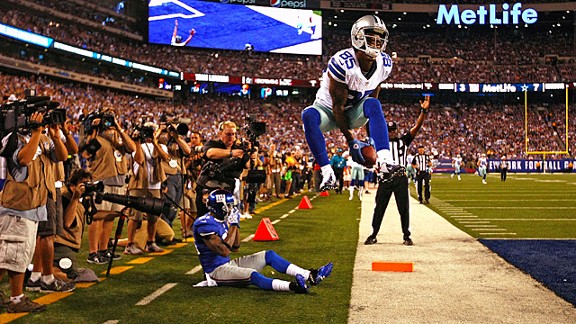 I was there. Section 232A, Row 9, Seat 8. I was the quiet, respectful Cowboys fan, unlike the dude two rows behind me, who was singing "DeMARco MUR-ray!" throughout the fourth quarter. The last time I saw him, the Jersey cops were taking him somewhere. He's my new hero.
Philbrick was all over the scenery, but let me add a few things. One, Giants fans are awfully easy to shut up. I'd always thought of them as Jets fans without the hard hats — wealthier, slightly older, and more demure — but Wednesday's game took that juxtaposition to another level. At the beginning of the game, you couldn't hear anything — and by "you," I mean Cowboys tackle Tyron Smith, who had three false starts. By the second half, the crowd was pretty dead. The Giants fan in front of me — LT throwback jersey, fake Super Bowl ring — was hugging his pals instead of watching the game. That's a bad sign.
When Kevin Ogletree caught the game-sealer right before the two-minute warning, MetLife emptied quickly and the only ones remaining were us Cowboys fans. You may have experienced this joyful sensation: empty road stadium, garbage time, just you and your friends hanging around and high-fiving. As I was walking back to the bus, I heard someone say, "Cowboys fans are the worst." Not true — but on that night, sure, what the hell. — Bryan Curtis
Filed Under: Bryan Curtis, Cam Newton, Carolina Panthers, Chris Ryan, Cousin Sal, Joe House, Mark Lisanti, New England Patriots, NFL, Rembert Browne, Robert Griffin III, Robert Mays, Russell Wilson, Seattle Seahawks, Washington Redskins