NFL Run & Shootaround: Stop Dragging My Heart Around
Frederick Breedon/Getty Images
On any given Sunday (or Monday, or Thursday), your NFL Run & Shootaround crew will be gathered around multiple televisions, making inappropriate jokes and generally regressing to the mean. Catch up on all the NFL action right here.
The Consequences of Free Football
Within a span of eight minutes, three games — Dolphins-Jets, Titans-Lions, and Saints-Chiefs — featuring six middling contenders briefly turned bad football into balletic anarchy. And in one of those special, even DirecTV's–Sunday Ticket–package–is–useless moments, three games that seemed, on their faces, to be less than important quickly unraveled a rare combination of overtime results. To convey what happened in the fourth quarter in Tennessee would require a dry-erase board, a fully loaded Sharpie, and a mastery of the dark arts. It was a ludicrous game, one of the most exciting you'll ever see while also trying to watch seven other games. In the end, the Titans got a win-win: a victory in the standings; an encouraging performance in OT after Detroit stormed back behind Shaun "LOL" Hill; and a brief affirmation that Jake "The Quake" Locker is their quarterback of the present and future. Until next week.
In New Orleans, the Saints completed some sort competence inversion master class. They lost after the no-good, very-bad Chiefs sloooowly overcame an 11-point fourth-quarter deficit. Jamaal Charles ran all the way to Vaughan's Lounge and back, Ryan Succop kicked all of the field goals, and the Saints felt a true pain. Theirs was a loss-loss. It's clear that they are weak and 0-3 and officially praying for a secret package from Sean Payton this week. It will contain either a redesigned playbook and in-depth tape analysis, or 53 cyanide capsules.

In Miami, well, jeez, the Jets were terrible. Just the worst kind of football team, lacking discipline, grace, excitement, intelligence, intensity, good posture, joy, interesting hairdos, and the rest of it. They just threw the ball at each other's heads all day. Their "showdown" with hated rivals the Dolphins played like an unreleased Saw sequel: gruesome, lacking moral code, and excruciatingly long. And yet, a fun fact: They're 2-1, in first place in the AFC East. They walked away with a win-loss. A strike in the right column, but also a once-and-final We Are Done With Mark Sanchez exhalation from fans. He is dreadful and his core of receivers are mostly sad humans. Also, Darrelle Revis's left ACL might be dead. In the words of Gloria Clemente, "Sometimes when you win, you really lose."
In a week in which we can already feel the fire and demon-breath on our necks over the replacement-officials debacle — and the subsequent stream of bellowing from the commentariat — it was nice to revel in a little simultaneous madness, some unconquerable and unabashed fun that only the NFL can provide. For eight minutes or so, the league was perfect. Then someone blew a call and another guy almost had his skull dented.
— Sean Fennessey
Hang on to Your Hat
(All GIFs by HeyBelinda)
Not Bad Meaning Good
It's early yet, but I can't remember the last time an NFL season got off to such a bad and boring start. All anyone wants to talk about are replacement refs, jokes about replacement refs, conspiracy theories about replacement refs, and compulsive Zapruder-worthy recaps of just how badly the replacement refs are ruining the "integrity of the game." At the same time, the actual game has been about as replacement-level as the refs — the rookie quarterbacks look like rookie quarterbacks, the defenses can't cover anyone, and none of the bankable stars of the league — save RG3 — has gotten off to a particularly good start. The Manning Broncos look flat. The Steelers look beatable. The Eagles are barely watchable.
Consider yesterday's Jets-Dolphins game: Reggie Bush, the most compelling offensive player in the game (a problem), got hurt early (a bigger problem). Darrelle Revis also went down (cue the sound of thousands of Jets fans punching themselves in the crotch). There is no more joy in watching Mark Sanchez fail. There is even less joy in watching Tim Tebow hop around on the sideline like a tomcat in heat.
What's worse, the Jets had the perfect situation to actually, you know, use Tebow in what's known in the biz as a "football-related football situation in the National Football League." On their first possession in overtime, the Jets had a fourth-and-short on the Dolphins 45-yard line. Outside of his leadership qualities and God-shining love, Tebow's biggest asset is his ability to pick up one- and two-yard gains for first down. Why not go for it there?
At the same time, the Cowboys and Buccaneers played in a game that featured the following yard totals:
Total Penalty Yards (both teams): 174
Total Yards (TB): 166
Total Rushing Yards (both teams): 117
Passing Yards (TB): 91
Yes, both were close games, but the league has reached a point where parity almost feels like collective failure. Teams aren't about as good as one another as much as they are as bad as one another. When you scan the scores and see low ones, you assume, "Man, the offenses must be playing terrible." When you see two scores in the 40s, you assume, "Man, the defenses must be playing terrible."
— Jay Caspian Kang
In Other Words …
Always Look on the Brighter Side of Revis Island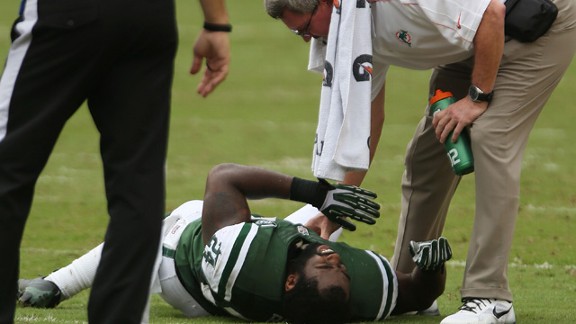 So, Darrelle Revis has a torn ACL. It sucks to be a Jets fan today. No getting past that. We here at the Run & Shootaround are committed to positivity, though! For you, Jets fans, we have three reasons to actually believe that the Revis injury isn't quite as bad as you might think.
1. The Jets are actually sorta deep at cornerback.
Obviously, they have nobody to replace Revis. But Antonio Cromartie and Kyle Wilson, as much as they get knocked, are still probably the best pair of starting cornerbacks in the AFC East. They don't give out prizes for that, but just keep it in perspective. Finding good cornerbacks is tough. There were times last year where the Rams and Jaguars were plucking guys off other teams' practice squads and starting them in tandems. The Giants won a Super Bowl with Aaron Ross — their third-stringer before the year — starting all season. This isn't quite as bad. (And since the trade deadline hasn't occurred yet, the Jets could delve into the market and go after somebody like Mike Jenkins or Rashean Mathis.)
2. Rex Ryan is pretty good at transforming his defense overnight.
The Jets will have to essentially rebuild their defensive playbook from scratch, since so much of it heavily relied upon Revis covering half of the field by himself. That's not easy, but Ryan's shown that he could do it before. When the Jets beat the Patriots in the 2010 playoffs, Ryan dramatically shifted his playbook over the course of a playoff week to incorporate more zone coverage and give Tom Brady looks he'd never seen before. It worked. Brady was flustered all day, took five sacks, and the Jets won in New England. Of course, that was also with Revis around, so it might be harder this time, but … positivity!
3. At least Revis will be back in time for next season.
OK, so the chances that the Jets will suddenly bounce back and seriously contend this season are slim. But what about next year? If this injury was going to happen, it's far better that it occurred in Week 3 as opposed to, say, Week 8. Revis should have almost a full year to rehab the knee and get it ready for next season, which means that he should be at something close to 100 percent for Week 1 of the 2013 season.
So, Jets fans, look on the bri— the less-dull side! It could always be worse. You could have to play an angry juggernaut like the 49ers next we— oh, you actually are playing the 49ers next week? Oh dear.
— Bill Barnwell
Shine Sweet Freedom (and NFL RedZone)
On November 4, 2003, as Ben Roethlisberger threw for 230 yards in Miami (Ohio)'s win over Bowling Green, the National Football League took the bold step of launching its own television network. And I assume the past nine years — even the Joe Theismann parts — have been pretty good, because football is football, and more football is never something to complain about unless it involves Brady Quinn. But I don't really have any idea what it's been like, because for the past nine years, I have resided in a (virtual) dead zone.
Until last night, thanks to a ridiculously protracted dispute between a monolithic (and widely reviled) cable television provider and a monolithic (and widely beloved) sports conglomerate, virtually no one in the core areas of Manhattan and Brooklyn had ever watched the NFL Network in their own homes. I had caught bits and pieces in sports bars, and in hotel rooms after my wife had fallen asleep. I had watched late-night reruns of midsummer paeans to Cortland Finnegan in a quiet vacation house, and I had followed along to Thursday Night Football by refreshing an iPhone app. But I did not know what the daily meanderings of the NFL Network looked like; it was one of the great cultural voids in my life, which sounds far more pathetic when I say it out loud.
Last week, the monolithic cable television provider and the monolithic sports conglomerate came to terms, and today, the NFL Network shows up on Channel 462 of my sports tier. I don't know how much I will watch the NFL Network beyond the actual games, now that it is here; it is a tribute to the late Steve Sabol that I am most excited (other than the RedZone channel, which is a Schedule II controlled substance) to watch the late-night replays of those NFL Films documentaries on Hank Stram. I don't know if the NFL Network even shows those things anymore, or if they've been displaced by the rantings of Warren Sapp. I don't really know anything, and now I guess I'll know anything I want to know about American professional football, at any time I like, ad nauseam. And I'm coming to realize that I sort of relished the void.
— Michael Weinreb
You've Got a Friend
Run, Forrest Jamaal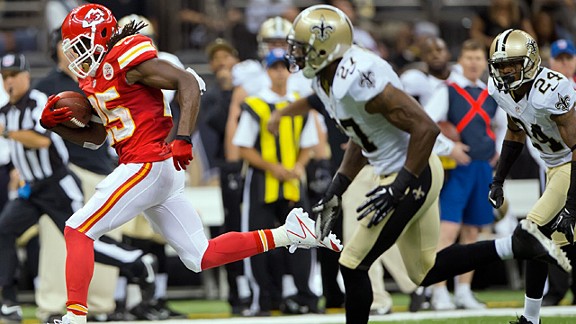 The New Orleans Saints were up on the Kansas City Chiefs 24-6 deep in the third quarter. And then the New Orleans Saints lost to the Kansas City Chiefs 27-24 in overtime. For those of us non-Saints fans out there, this was a beautiful thing to watch, especially by way of the 233 yards on the ground from Chiefs running back Jamaal Charles. His most impressive run was the 91-yard run from scrimmage, the longest in Kansas City football history.
Watching it, I was very surprised that he stopped once he reached the end zone, seeing as he was in full Forrest Gump mode for the last 50 yards of his upright-back, head-down dead sprint:
Thrilled to find out that Jamaal trains in the offseason by running across Greenbow County, and then Alabama, and then across the country. Can't wait.
— Rembert Browne
Birds of Prey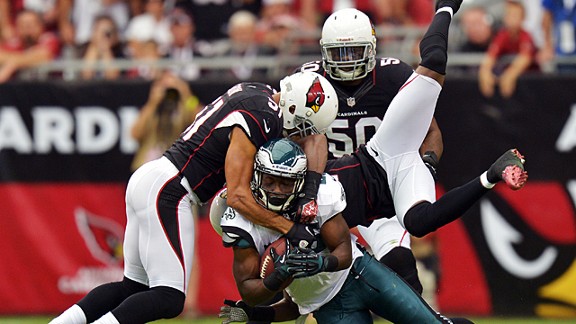 For anyone who doubted that the NFL is a quarterback's league — I'm not sure who those people would be, but yeah — the first three weeks of 2012 have about wrapped it up. The last few Super Bowls were probably enough, but the proof from Weeks 1 through 3 isn't in New England or New York or Green Bay. The NFL's quarterback-as-king thinking is most on display in the least likely of places: Arizona.
Now, before the screaming starts, let's be clear that this doesn't have to do with the play of Kevin Kolb. The reason the Cardinals are the best example of modern NFL thinking is that despite their deficiencies under center, the Kolb-Skelton dilemma is all anyone talked about before the season began. Meanwhile, Arizona was busy readying a defense that has looked downright dominant through its first three games.
At every level of Ray Horton's defense, Arizona has guys that have made a major impact. The versatility of 6-foot-8, 300-pound Calais Campbell and the criminally underrated Darnell Dockett have allowed the Cardinals to hide a lack of depth on the defensive line. Daryl Washington is inciting "Who the hell is Daryl Washington?" conversations all over America. Patrick Peterson is what the Cardinals hoped he was.
The question about the Cards was whether last Sunday's performance in New England was the Pats laying an egg or Arizona announcing its arrival. Every team is due a big outing here or there, especially on defense, but yesterday afternoon helped in figuring some things out. The Eagles have plenty of problems &#8212 mostly along their offensive line — but the Cardinals' thrashing of Michael Vick and the boys was no less impressive. All day, Horton kept Vick off-balance, leaving him with too much time or not enough. The lasting image from the dismantling is of Kerry Rhodes, with his helmet in Vick's chest, the ball flying loose. Arizona out-schemed the Eagles yesterday, but the jarring part was just how much they out-hit them as well. It was that arresting physicality that led to the thought no one would have considered a few weeks ago: "Man, I can't wait for Cardinals-49ers."
— Robert Mays
Filed Under: Bill Barnwell, Detroit Lions, Jay Caspian Kang, Kansas City Chiefs, Mark Sanchez, Michael Vick, Michael Weinreb, New York Jets, NFL, Rembert Browne, Robert Mays, Sean Fennessey, Tim Tebow