NFL Run & Shootaround: Love Will Tear Us Apart
Patrick McDermott/Getty Images
On any given Sunday (or Monday, or Thursday), your NFL Run & Shootaround crew will be gathered around multiple televisions, making inappropriate jokes and generally regressing to the mean. Catch up on all the NFL action right here.
Field of Dreams
We are barely 12 hours from the end of the Washington Redskins' season. At the moment, I have no idea of the extent of additional injury (if any? *wishful*) to the knee of The Most Important Professional D.C. Athlete Since Gheorghe Muresan. The range of possibilities seems to begin with something like, "the already-existing sprain was more sprained and The Robert will be back in time for summer OTAs," and ends with, "a ligament was damaged and Black Jesus will be performing divine rehab all the way up to the start of the 2013 season, which means Kirk Cousins will be taking starter-snaps for at least the first couple games of the 2013-14 season." And the nagging, annoying hindsight-enhanced read of the situation is that it never should've come to that crappy, gut-turning moment in the fourth quarter, not after RG3 had shown through a full two-and-a-half quarters of ineffective play that he was so impaired as to be a hindrance to the team's best chances at a win.

And, of course, the "who to blame" debate is already at full roar. Either Shanny committed coaching malpractice and simultaneously undermined the team's best chances at winning the game while unnecessarily compromising the future of the franchise by refusing to make the "hard" decision to bench His RG3-ness much earlier in the game, or the franchise-savior, team-captain QB earned the right — via a seven-game win streak (conceding that one of those was on the sidelines) and gutsy delivery of a W in last week's most important regular-season game in over a decade — to make the call himself as to whether he should be under center with the outcome still in doubt. As the game's taillights fade a little, and without knowing the extent of the re-injury, there is a certain appeal to the "Cousins should've been in there earlier" position, if for no other reason than imagining how the Seahawks' defensive dominance might have been altered. It's easy to speculate now that a different look and pace at QB introduced sometime in the third quarter might have disrupted the Hawks at least a little and perhaps even re-established Alfred Morris as a weapon, because that defense sure did look awfully comfortable loading the box and daring the Skins to throw. Anyhow, when it comes to the Washington Redskins of this year and the past dozen, there is, was, and ever shall be only one villain: the shortsighted (or is it nearsighted?) owner. Because for the 986th straight week, the playing surface at "FedEx Field" was in AAA shape. It was atrocious, it was an abomination, and it was abhorrent. Why? I have no earthly idea. But I do know that RG3's knee buckled twice last night, and neither time was it due to any hit from the opposition. Instead, we all got to see in HD what it looks like to subject an unstable knee to an uneven and unpredictable surface. I know it's not exactly grass-growing season in the Mid-Atlantic region right now, but don't we have the means to temporarily install a world-class surface, even for just a couple of games? I don't believe it's a science problem, but rather a fiscal one (so D.C., so gross). And since it's money, that means it's management, which means it's the owner. Hey, Danny, since you won't be spending as much on players this offseason due to the whole salary-cap penalty we're still paying off, maybe you can spring for a field that lasts a whole eight games next year?? How about that idea?!?? Can't go out on that hate-note, so instead we'll do this: Over the last eight months, three of the four D.C. sports franchises (the ones that I follow; sorry, D.C. United) lost in the playoffs in various ways with varying degrees of heartbreak. Here's to hoping 2013 is as great as 2012 was.
— Joe House
Curb Your Enthusiasm

(GIFs by @HeyBelinda)
True Inspiration
I'm going to ignore last night's Redskins loss and the painful debate about Shanahan and RG3 and instead remind everyone that this happened:
Good luck to my man @raylewis today True inspiration. True Legend

— Kobe Bryant (@kobebryant) January 6, 2013
And then this happened:
— Patricia Lee
Are You Not Entertained?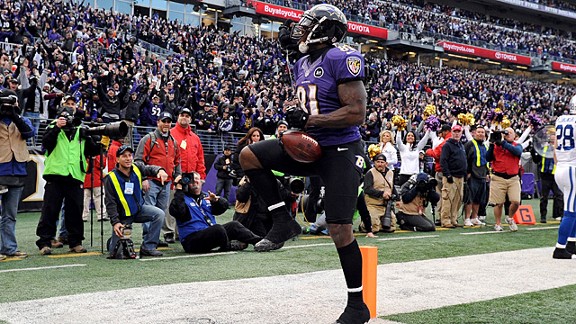 Eight hours and 15 minutes. That's how much playoff football I had to watch this weekend before a player jumped out at me as outstanding. Don't get me wrong — with the possible exception of that dirtbag in the Bud Light commercial who breaks into his old apartment to root for the 49ers from his favorite spot — no one loves football as much as I do. I'm going to watch the games, no matter what. It just struck me as odd that after day one of playoff action — with perennial all-pros like Arian Foster, Aaron Rodgers, should-be MVP (or else this league is a fraud) Adrian Peterson, as well as newly dominant stars such as J.J. Watt, A.J. Green, and Clay Matthews all suiting up — I still wasn't impressed with anyone.
In fact, it wasn't until well into the third game of the weekend that my thirst for superstar-caliber play was quenched. That's when perhaps the most underrated wide receiver in the league, Anquan Boldin, reminded us what it was like to dominate a game. The Ravens wide receiver grabbed five passes for 145 yards, including a 41- and 46-yarder early in the second half followed by a back-breaking 18-yard TD reception. Congratulations, Anquan Boldin, for kicking this weekend into a much needed second gear. Oh, and good luck sleeping knowing you single-handedly ruined the day of a coach who has been plagued with a potentially debilitating disease.
— Sal Iacono
You Should Be As Scared of Him As I Am
A Tribute to Beast Mode
Going to submit this and quietly back out of the room …
— Jay Caspian Kang
What's in a Name?
My wife, who claims to be a Redskins fan even though she never watches football, spent the entire game referring to RG3 as "RDJ." I'm told that's actually Robert Downey Jr.'s nickname, which, based on Sunday's debacle, will probably make this the last time in his career that Robert Griffin is ever mistaken for Iron Man.
By the way, the RDJ incident of 2013 still isn't as bad as 2004, when my wife spent the entire season excitedly thinking the Redskins' new starting running back was named Kitten Porpoise.
— Sean McIndoe
Shut Up and Play the Hits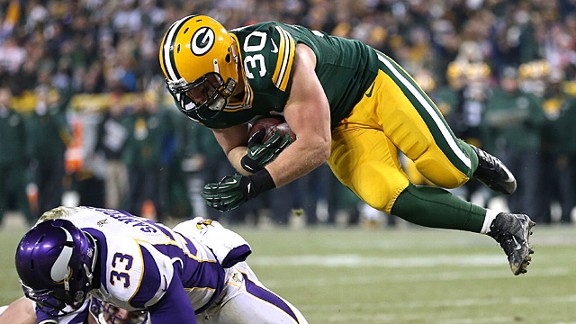 I have no problem philosophically with fans at Lambeau chanting "Kuhn" whenever the Pack gets close to paydirt. It's like going to a Radiohead concert and sitting next to the guy who screams for "Creep" all night long. My problem is that Mike McCarthy, unlike Radiohead, actually listens to this guy, and on a fairly regular basis even. When the Packers were parked a few yards from the goal line in the second quarter of Saturday's playoff game against the Vikings, the fans chanted Kuhn, and McCarthy obliged by handing the ball to fullback John Kuhn on two occasions. There are better (though less popular) Radiohead songs than "Creep," and better (though less popular) Packers backs than Kuhn, including cresting ex-car salesman DuJuan Harris. And yet Kuhn gets the call way too often when it counts, and unsurprisingly, he was stuffed on both attempts.
Instantly, my BlackBerry blew up with texts from buddies cursing Kuhn and McCarthy, and I responded in kind. In retrospect, we were obviously over-reacting; Saturday's game was NBC's least compelling prime-time programming since The Cape, and this series (which ended with a successful Mason Crosby field goal attempt) was hardly pivotal to the game's final result. More importantly, Kuhn ended up being one of the heroes of the night, running for a TD at the end of the first half and catching a TD (with an Elway spin!) at the start of the second, sealing the win. Kuhn is now only the fifth player — joining Earnest Byner, Emmitt Smith, Ricky Watters, and Thurman Thomas — to score receiving and rushing touchdowns in two postseason games. So, yeah, sorry for typing unprintable things about you in my phone, John Kuhn. And, sure, let's hear some goddamn "Creep," Thom Yorke!
— Steven Hyden
The End Is the Beginning Is the End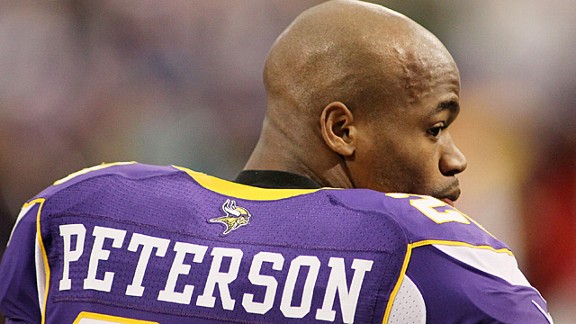 Forgetting talk of MVPs and records, of revived cities and cursed franchises, two men stood apart in defining the excitement of this year's NFL, and that connection is what made last night's scene so unfortunately familiar. Robert Griffin's historic season ended in the same place, and in the same way, that Adrian Peterson's began — on the cold FedEx Field turf, clutching his knee as an entire fan base collectively inhaled. There are tons of players whose seasons ended last night, but I don't think we'll miss watching any of them as much as we'll miss watching those two.
It didn't start that way — at least not for both of them. Griffin's debut in New Orleans was more than anyone could have hoped, with the Shanahans wasting no time showing off their new offense, tailored to their new star. Peterson's arrival was much slower. He scored twice in that first game, but there was a bit of hesitancy in those first dozen snaps. In Minnesota's first six games this season, Peterson averaged only 83 yards. That's the most incredible part of those 2,096 — how much better Peterson got. The most incredible part of Griffin's year is that he never had to. There was never a drop-off from those first few weeks, never a lull as the league caught on to an offense that turned out to be more than a gimmick.
Eventually, it was Peterson's team that let him down. Even if Christian Ponder had been healthy, Green Bay's scheme was almost entirely designed to slow down Minnesota's running game while disregarding its passing one. Facing a defense with enough elite players and an excellent coordinator for the third time in six weeks, willpower will get you only so far. Only so much mattered for Griffin, as well. Whether we think Mike Shanahan was right or wrong, Griffin's willingness to see it through was admirable, but at some point, there's only so much the human body can take, even one that often doesn't seem very human.
Griffin said yesterday that if his ACL is torn, he still isn't worried — he'll come back stronger. That's a notion that even a few years ago would seem delusional. Now, after watching what Peterson did over the past 12 months, there's nothing delusional about it. For 17 games, each made us rethink what was possible at their position, and there's no reason to think that Griffin wouldn't do it again. That's what I'll remember when this season is done and gone. They gave us reason to believe anything.
— Robert Mays
The Rookie
Matt Hasselbeck at his best was a very good NFL quarterback. His skill set and timing, combined with a flair for improvisation, made him a deserved Pro Bowler for the duration of his peak. Hasselbeck, though, suffered from questionable decision making. And as the stakes got higher, he took bigger and bigger gambles. So frequently with Hasselbeck, even at his best, a single moment of less than excellent decision making would needlessly cost the Seahawks a chance for a victory.
The point of rehashing this isn't to harp on the failings of Matt Hasselbeck. Again, he was very good for a long window of time. But Matt Hasselbeck is the best quarterback the Seahawks have had by a wide margin. Who else is there? Before Hasselbeck there was Dave Krieg, a good Warren Moon year, some not-quite-terrible Trent Dilfer or Jon Kitna years, and a bunch of garbage. Letting a worn-down Hasselbeck go, seasons past his prime, was met with a measure of controversy. It wasn't that Seahawks fans didn't think the quarterback situation could improve; we watch the NFL, we see what great quarterback play looks like. There was just a sense that the guys who improve it never wind up on the Seahawks.
Enter Russell Wilson. (Well, enter Russell Wilson, Matt Flynn, Tarvaris Jackson, Charlie Whitehurst, Josh Portis, and J.P. Losman, a selection of flawed quarterbacks each of whom was given a chance to compete for a job.) Wilson's poise and presence aren't surprising at this point. Yesterday, after going down 14-0 on the road in his first playoff game before taking his fourth snap, Wilson closed the half with three straight scoring drives that cut Washington's lead to 14-13. He avoided turnovers, he dealt with the Redskins' array of blitzes (something that had been a trouble spot for him), he made a series of phenomenal downfield blocks for Marshawn Lynch, and he forced exactly one throw while leading the Seahawks back from the brink of elimination. Most importantly, Wilson didn't let an early deficit change his decision making, and that stability allowed the Seahawks to mount their comeback. Wilson was not perfect on the day: The aforementioned forced throw that could've been intercepted in the end zone on his second drive, a botched hand-off that somehow led to a 20-yard gain thanks to the sure hands of Lynch, and a pair of unnecessary sacks when he threw the ball away moments after being brought down all come to mind. But to steal some soccer jargon, Wilson exuded class.
What's surprising is how unsurprising all of this is. Of course it's Wilson who's the last rookie quarterback standing in the year of the rookie quarterback. Of course the Seahawks are favored on the road next week at Atlanta. Of course the Seahawks have a quarterback who isn't just Matt Hasselbeck good, but is starting to look genuinely great. Of course I'm talking about the Seahawks' quarterback with the sort of praise usually reserved for Edgar Martinez and my dog Edgar (Martinez) Friedman. Of course. Wilson has so quickly changed the narrative and expectations for the franchise that I've already forgotten what it was like not to have him.
— Spike Friedman
Filed Under: Aaron Rodgers, Adrian Peterson, Minnesota Vikings, NFL, Robert Griffin III, Robert Mays, Russell Wilson, Seattle Seahawks, Washington Redskins