NFL Run & Shootaround: Gods of Carnage
Harry How/Getty Images
On any given Sunday (or Monday, or Thursday), your NFL Run & Shootaround crew will be gathered around multiple televisions, making inappropriate jokes and generally regressing to the mean. Catch up on all the NFL action right here.
What Will Really Is
Chris Ryan: This weekend kind of reminded me of that scene in The Usual Suspects where some Hungarian thugs try to intimidate Keyser Söze by holding his family hostage, and Söze responds by killing his own loved ones rather than letting the Hungarians win. I'm not saying that Ahmad Brooks is Keyser Söze. But I'm not not saying it.
We all loved Riverboat Ron, Killa Cam, Luke Kuechly a.k.a. Uncle Luke, Chuck Strong, Andre the Giant, Touchdown T.Y., PHILIP RIVERS, the Chargers' trio of backs that sounded like a great prog-rock band (Woodhead, Mathews, and Brown play their concept album, in full, tonight!), Rob Ryan and New Orleans's Mos Eisley spaceport defense. These were the feel-good stories of the winter. The stories that unattached NFL fans could really get behind. These teams were the disrupters, the underdogs.
Here's the thing, though: A disruptive underdog can only get so far before Ahmad Brooks jumps over the entire offensive line and tries to eat their face.
The Colts, Saints, Chargers, and Panthers all got fed to the wood chipper. Some games were closer than others. But in a league that preaches parity, and a game that boasts about what can happen on any given Sunday, what happened was pretty much what was going to happen. The stronger, faster, harder-hitting, dirtier, meaner, more violent teams won. You saw that when the Seahawks totally psyched Jimmy Graham out …
Or when the 49ers pummeled Cam Newton at the end of the San Francisco–Carolina game, or when the Pats' O-line blew up the Colts' defensive front.
This weekend wasn't about feeling good. It was about finding out who was better.
The 49ers Are a Death Machine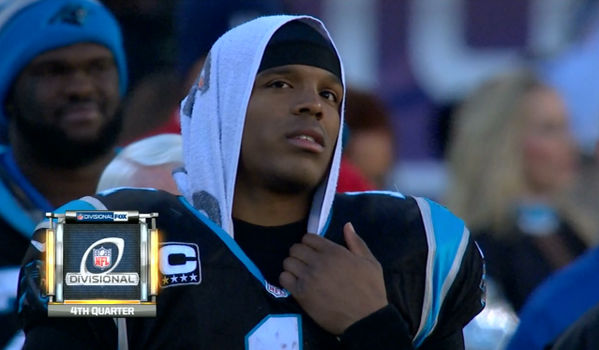 Andrew Sharp: The game ended in the third quarter. First the 49ers offense went 77 yards down the field to go up 10. Then the defense sacked the Panthers out of field goal range. Right then, it was pretty much over. The Niners got the ball back, kept it for eight minutes, and Cam Newton was on the sideline tugging at his collar while the life got squeezed out of his season.
By the time the Niners kicked a field goal, half of the fourth quarter was gone.
This is how the death machine works. Frank Gore chips off four or five yards at a time. Anquan Boldin and Vernon Davis slice through the secondary for 15- and 20-yard chunks. And then Colin Kaepernick will scramble around for as much as he needs, just to make the defense a little more helpless. Then the other team gets the ball back, and you remember the Niners defense has NaVorro Bowman and Ahmad Brooks and Patrick Willis and Aldon Smith and Donte Whitner/Hitner. Then you watch them wreak havoc on poor, miserable offenses and grind them down to nothing one hit at a time. The 49ers don't have the best offense or the best defense, but no team in the NFL has a better combination of the two.
When everything's clicking, it's clinical on both sides of the ball. When everything's clicking, there's no more methodical, ruthless machine in football. And … [Googles past two months of the 49ers' schedule] … Well, shit. They seem to be clicking pretty well right now.
The Hammer
Chris B. Brown: New England Patriots running back LeGarrette Blount's football journey has been as topsy-turvy as any player's I can remember. Since being a lightly recruited Florida prep running back, he has been a junior college standout, a 1,000-yard rusher at Oregon, suspended for almost his entire senior season for punching an opponent, an undrafted free agent who was cut by his first NFL team, a 1,000-yard rusher as a rookie for Tampa Bay, and, after falling out of favor, traded to the Patriots for peanuts. Football is littered with talented players who suddenly vanish for failings both off and on the field, but what's remarkable about Blount is that as soon as you think he might be done, there he is again — all 6 feet and 250 pounds — bowling over defenders.
Blount's latest transformation has been from special teamer and change-of-pace back to game breaker: He followed up his 189-yard, two-touchdown performance in Week 17 with a 166-yard, four-touchdown day against the Colts on Saturday. Blount is a perfect symbol not only of the Patriots' approach — a sterling example of the kind of afterthought Bill Belichick acquired on the cheap that nevertheless suddenly plays a prime role in playoff crunch time — but of New England's willingness to evolve. Previously built around the Randy Moss/Wes Welker spread-to-pass attack of the late 2000s and later the multiple–tight end offense of Rob Gronkowski and Aaron Hernandez, this is now a physical, power running team that mixes in play-action.
On Saturday, the entire Patriots' running game physically beat on the Colts, simply wearing them down throughout, but Blount was the hammer. As the game went on, the Colts started bouncing off of him, and he always seemed to get a few extra yards. It was Blount who broke the game wide-open on a simple one-back counter running play as he took a jab step to his left before following guard Logan Mankins pulling to the right.
Blount patiently cut off the block of tight end Michael Hoomanawanui. Once he'd broken through, the only man who could tackle Blount was safety LaRon Landry, who took a terrible angle and whiffed.
Bad angles and whiffed tackles happen, however, when defenders get tired of tackling LeGarrette Blount. And with Blount, Stevan Ridley, and Shane Vereen behind New England's offensive line, the Patriots suddenly look like just the kind of physical team that could go toe-to-toe with the Seahawks or 49ers and beat them at their own game — something that seemed far-fetched just a few months ago. Yet we probably should have seen it coming. When LeGarrette Blount is involved, expect the unexpected.
Peyton's Future Is Ice-Cold and Refreshing
Sharp: This is a funny quote until you realize it's definitely gonna lead to 10,000 commercials when Peyton retires. Nothing goes with Papa John's and DirecTV and Gatorade and Oreos like an ice-cold Bud Light.
Marshawn Lynch Looks Like …
Sean Fennessey: The climactic scene in Fast & Furious 6 features a massive aircraft attempting takeoff. The pewter-colored plane carries Shaw, the movie's big bad, who is in possession of an invaluable, region-conquering computer chip. As the movie's stars — the titular 6 — chase after the plane rumbling down the tarmac, each in specifically chosen automobiles, they fire vehicle-bound tensile harpoon-wires from a blaster gun into vulnerable areas of the plane. As the plane accelerates and slowly lifts off, the cars begin to dangle, twisting like wind chimes blown by a stiff breeze. This is how the Saints defenders looked on Saturday afternoon, hanging from Marshawn Lynch as he dragged them into the end zone, flying like an oversize warplane.
Here are some other overdrawn metaphors for Lynch's performance this weekend. He looked like a Fraggle who'd swallowed a chalice full of creatine. He looked like a circa 19th century freight train, but instead of coal, he was powered by Skittles. He looked like Shaun Alexander's moodier little brother after Shaun had told him he couldn't play with the other neighborhood boys. He looked like a bog troll who'd just earned his freedom. He looked like a Kurosawa vigilante. He looked like one of the gargoyles from the television program Gargoyles.
Almost exactly three years ago, the Seahawks beat the Saints in a wild-card matchup in Seattle. Lynch dominated the second half after Matt Hasselbeck staked Seattle to a big lead. Lynch broke New Orleans's back in that game with a 67-yard touchdown run that made it a two-score game with three minutes to play. Saturday afternoon was an almost exact replica — a barreling, TD-scoring run late in the game by the train/plane/samurai/Fraggle/gargoyle that crushed the hope of the Saints. And while LeGarrette Blount scored four times Saturday night and Frank Gore's body is made of the stuff they use to build skyscrapers, Lynch remains the best running back in the playoffs, the most implacable force on any field. Forget Beast Mode. He is the Beastmaster.
Taste the Rainbow
(GIFs by @HeyBelinda, unless otherwise noted)
What Has Been
Robert Mays: Keenan Allen is slow — at least relatively so. Last April, when Cal held its pre-draft pro day, Allen clocked in at 4.71 seconds in the 40-yard dash, the same time as eventual Saints offensive tackle Terron Armstead. The time was hampered by Allen's bum knee, but even healthy, the best Allen could have hoped for was something in the mid 4.5s. How much that mattered depended on whom you asked. Slower receivers had found success in the NFL before, and they will again. "Three months ago, I said — if you watch this kid on tape — if you like him, he's Anquan Boldin," Mike Mayock said at the time. Nine months later, Allen finished the best rookie season by a wide receiver since — you see where we're goin' — Anquan Boldin. And yesterday, in the divisional round of the playoffs, it was Allen and — yep, one more time — Anquan Boldin who were the best receivers on their respective fields.
Some of this is coincidence, but much of it is not. The reason for the comparison is the reason that a decade later, Boldin is still capable of catching eight passes for 136 yards in a playoff game. Fit with a game built around hands, spacing, and savvy, the 33-year-old Boldin resembles the 22-year-old version in a way most players could never pull off. It would be easy to attribute another masterful playoff outing as just a continuation of the knack Boldin has for showing up when it matters most, but that would discount his entire season, which stands as one of the best of his career.
Allen followed Boldin's game with an even better one: six catches, 142 yards, and two touchdowns. Following a season filled with great games, this may have been his best one. Allen's first touchdown was a perfect example of why he's been able to accomplish what he has so early. Manned up on the outside, Allen ran a slant-and-go sure to end up on an instructional video somewhere. It took two steps, each no more and no less pronounced than it had to be, and Allen was by the cornerback and searching for the ball as it headed toward the end zone.
There will always be a fascination with phenomenal athletic talent. The only rookie season since Boldin's that could rival Allen's is the one from A.J. Green, and the best one preceding Boldin belonged to Randy Moss. Watching players like that outrun and outjump everyone and everything certainly has its appeal. But give me Allen, the guy whose 35-year-old hairline matches his 35-year-old game, and Boldin every time. Watching one follow the other yesterday wasn't at all surprising. It was proof — that guys who can play will never go away.
Text Messages to Andrew Luck
Shea Serrano: Andrew Luck is a human with a cell phone, so I sent him some text messages.
Me: :(
Andrew: same
Me: sry, man
Me: what happened out there?
Me: it was pretty rough
Andrew: I was there
Me: :/ right. my bad.
Me: so but what happened?
Andrew: I don't know
Me: if I had to guess it would be because you didn't spit enough. Like, I mean, you threw the touchdown and then you spit all over the earth, but then that was the end of the spitting and that was that. You guys mostly got beat up after that.
Andrew: that's probably not it
(via @GIFULMINATION)
Me: what was that even about? Do you just store extra spittle up in your jowls all the time like a weirdo squirrel?
Andrew: no
Me: so it's instantaneous?
Andrew: come on
Me: well, I'm no expert, but I'm almost certain that that's what it was. Spittle and you guys won. No spittle and you guys lost. That's a little thing called an irreflexive relationship, Andrew.
Andrew: You're not using that correctly.
Me: I'm sure I am.
Andrew: http://lmgtfy.com/?q=andrew+luck+went+to+stanford
Me: you win
Me: I was watching the game waiting for the Andrew Luck comeback. You guys went down by two touchdowns and I was like, "Ah yeah. Right where we want them." But then, nope, nothing, nothing but hate in my heart.
Me: I HATE TOM BRADY SO MUCH
Andrew: really?
Me: well, not really, I guess. he's OK. I probably like him most of the time. But when he plays against you I'm like MAN, FUCK YOU AND YOUR PERFECT FACE AND PERFECT STUBBLE, TOM BRADY.
Andrew: right
Me: he's just so beautiful. Like, how can you deny God exists when you can look at Tom Brady's perfect jawline and smile
Andrew: what's happening right now
Me: I don't know.
Me: to recap: I like Tom Brady when he's not playing you and I hate him when he is.
Andrew: got it
Me: That's a little thing called an irreflexive relationship.
Andrew: strike two
Me: dang
Andrew: you'll get there
Me: what are you gonna do this offseason?
Andrew: I don't know. I wasn't anticipating being off until February.
Me: true, true. Are you gonna watch the rest of the playoffs? I am. But I'll be sad the whole time because you're out.
Andrew: thanks
Me: do you think Tom Brady is the greatest quarterback of all time??
Andrew: what I think is that I don't want to talk about Tom Brady anymore
Me: oh
Andrew: and I don't think I want to talk to you anymore
Me: hey now. I have feelings, Andrew
Me: I forgive you
Me: I could never stay mad at you, andrew
Andrew: dude
Me: look at us
[No response.]
Me: andrw&shea4evr
[No response.]
Me: hello?
[No response.]
Me: all right. Cool. Well, have a good offseason, man. tell Indianapolis I said what's up oh and also please tell Leslie Knope I said what's up. You're in Indianapolis and so is she so that's a thing you can do. That's a little thing called an irreflexive relationship.
Andrew: 0/3
Me: ohgoddamnit
Force of Nature
Louisa Thomas: Someday, the Seattle Fault, which runs right below the Seahawks' stadium, will rupture and a massive earthquake will cause widespread destruction. It's more of a question of when, not if. In the meantime, the most notable seismic activity in the Seattle area has been because of the phenomenon called Marshawn Lynch. On January 8, 2011, a geologist at the Pacific Northwest Seismic Network at the University of Washington noticed that a seismograph about a block away from CenturyLink Field picked up seismic activity at the exact moment Lynch sprang for that instantly famous 67-yard touchdown run.
You've probably heard about the "Beast Quake" produced by the 12th Man. The legend of Seattle's fans, and their own self-congratulatory attitude, can become pretty annoying. It's as if the shrimp with the plastic poncho over his no. 12 jersey thinks he deserves more credit than Richard Sherman for the team's success. Still, producing seismic activity is pretty intense.
To see if it could happen again Saturday, the PNSN installed two seismographs at the stadium — one at field level under the east stands, the other on the second level of the west stands; a third seismic station was in a building west of the stadium. They did it to test the equipment that will measure aftershocks following an earthquake (when, not if!), and to study how the vibrations affected the stadium's structure and surrounding ground. And they did it for kicks, to add to the lore of Seattle's 12th Man. I watched the signal from the three seismographs near the stadium on my computer during the game on Saturday. And I have to admit, it was incredible to see how the signal measuring the actual energy affecting the stadium's structure tracked the emotional energy of the crowd. It was like watching an echocardiogram. It was like measuring the beating of the 12th Man's heart.
When Lynch ripped into the end zone in the first half, the signal's band grew thick and then thinned out. A near-interception caused it to briefly rise. Then Lynch scored with 2:40 left in the game and the seismographs went nuts and became a spiky blot. I could see it on my screen: The stadium was shaking.
Sean Payton's attempt to replicate the environment inside Seattle's stadium by having the Seahawks' logo painted on the Superdome's field for the Saints' practices last week was so ridiculous and futile that it made me feel bad for the guy. What was he supposed to do? Trigger what felt like a tiny earthquake? He was leading a group of humans — uncommonly athletic, talented humans, but humans — against Marshawn Lynch. Against a force that was almost tectonic.
Now You See Me
Charles Barkley Has Opinions About Spoiled Patriots Fans
The Future Is Now
Matt Borcas: I don't know if Jamie Collins is the future of defensive football as we know it, but he sure looked like it on Saturday night. Pressed into duty by Brandon Spikes's curious relegation to IR, Collins recorded six tackles (two for a loss), one sack, three quarterback hits, and an interception in New England's 43-22 thrashing of Indy. While the 6-foot-3, 250-pound rookie out of Southern Miss is nominally an outside linebacker, I imagine he could line up at any position on the field and perform adequately. That became abundantly clear on a third-and-goal from the 1-yard line when Andrew Luck audibled like a madman, ultimately tossing a fade to Coby Fleener. One problem: Instead of the 5-foot-10 Alfonzo Dennard or the 5-foot-11 Logan Ryan split out wide against Fleener, the relatively gigantic Collins was tasked with covering him, minimizing the mismatch that's essential to the fade route's success. Luck's pass fell incomplete, forcing the Colts to settle for a field goal and maintaining the Patriots' one-touchdown lead.
When Collins picked off Luck in the fourth quarter, Dan Dierdorf chided Luck for not respecting Collins's "hip movement." Of course, Luck's ignorance was understandable enough, seeing as Collins barely played in the regular season, but I have a feeling Peyton Manning will be VERY respectful of Collins's nimble hips in the AFC championship game, at which point we'll have a better idea if Collins is truly the future of defensive football as we know it or just a more athletic version of Mike Vrabel. Regardless, he's the best second-round defender the Patriots have drafted in ages, and that's a group that includes the immortal Ras-I Dowling! WE ARE ALL WITNESSES.
Advanced Panic
Spike Friedman: Here is (via NFL Advanced Stats) the win expectancy chart for the Seahawks/Saints divisional matchup.
Here is the same win expectancy chart with my emotion-driven win expectancy chart for the Seahawks laid over it in red:
I'm not exactly sure what happened, but it appears that after a strong first three quarters, things quickly got out of hand for the Seahawks. First, the Saints got back into the game with a touchdown. Then time started surging backward, and looped around on itself, creating a paradoxical rift in the space-time continuum during which the Saints won the game twice, before foolishly returning to a point in time when they were losing. Then the game pulled itself out of what I can best describe as a terrorwormhole and moved into a sudden-death scenario, during which the teams agreed to settle the game with an old-school pass-punt-and-kick competition. Did the Seahawks win it? Apparently. I frankly don't remember anything that happened, except for a confused feverish flash during which forward passing was suddenly outlawed. My mind was far too overwhelmed with emotions to process the specifics.
With hindsight there was absolutely no reason for this. The Seahawks had at least eight points to work with for the entire second half. The Saints' win expectancy never ticked above 20 percent at any point during the final three quarters. Though the Seahawks squandered a number of opportunities to end the game on both sides of the ball, the outcome was never actually in peril. Even when things appeared dire, the math, which I'll grudgingly admit provides a fair representation of reality, said that everything was fine. The Auburn-Georgia redux catch, which, in the moment I decided not to throw my remote through my television, made me retroactively understand how hard it is to be a UGA fan, is a mere blip on this chart, and the Saints' late onside-kick recovery only increased their win expectancy to 3 percent.
So what was going on in my brain and the brains of the audibly nervous fans at CenturyLink Field? This Seahawks team and its fan base had everything to lose in this game. We were playing with house money, and by that I mean we had psychologically mortgaged our houses on at least seeing a conference title game with this Seahawks team this year. A Seattle sports team hasn't lived up to massive preseason hype like this since Shawn Kemp and Gary Payton were on some professional basketball team together. A loss in the divisional round would have been devastating. The downside was everything on Saturday.
Good Night, Sweet Prince
Sharp: "This is the reality of losing in the playoffs," Steve Smith said. "One team goes home and packs their stuff up, which is us. The other team moves on to go play Seattle, which is not us."
[/Sniffs.]
The playoffs are horrible.
On the other hand, now Smith is free to go hunt down Janoris Jenkins for the next three weeks and ruin his entire life by Super Bowl Sunday. Maybe the playoffs aren't so bad.
Eight Is Enough!
Cousin Sal: Christmas morning came 348 days early in the Iacono (that's my last name) household this year. As I've done every day for as long as I can remember, I woke up Saturday morning, rubbed my eyes, stumbled over to my laptop, pulled up the day's gambling lines, and rubbed my eyes over and over again until I finally accepted what was staring back at me on my monitor: The bettors had pushed the Seahawks from -7 to -9.5. I was especially tickled by this information because earlier in the week I placed a hefty wager on the Seahawks -7.5. This, as far as I'm concerned, was already a win. Believe me, when you gamble and lose as much as I do, you consider a line movement of this magnitude — in your favor — to be a tremendous victory.
Being on the right side of a line that shifts two and a half points is like owning a stock that splits twice … except for some reason your broker has told you you're not allowed to cash it in.
The cashing-it-in part obviously happens after the game is played, but this line movement completely changes the psychology behind how I root for the team I bet on. Normally I would sit back and hope for a Seahawks blowout: three Drew Brees picks, a shanked punt or two, Seattle special teams touchdowns … the works. Never close. Never in doubt. But this time, I had a nice middle in my favor, so late in the fourth quarter, after Marshawn Lynch stiff-armed the entire Saints organization to give Seattle a 15-point lead, I was actually rooting for the Saints to score. It sounds sick, but I would've rather taken a chance at blowing the whole game (which was potentially one Marques Colston forward lateral away from happening) to have the final score fall right in the wise-guy zone (between 7.5 and 9.5).
So you can imagine my delight when the Saints scored that garbage-time touchdown to cut the deficit to eight — right on the sweet spot. Degenerate gambler's ecstasy! I win … everyone who took Seattle on Saturday morning loses.
I know it sounds preposterous, but speaking as a gambler, I'd rather be smart than rich. You'll never hear that from another degenerate, but trust me — all the others are lying. Or maybe I'm just an idiot. On second thought, that's gotta be it.
Seattle–San Francisco Preview:
Filed Under: NFL, Carolina Panthers, Chris Brown, Cousin Sal, Denver Broncos, New England Patriots, Robert Mays, San Diego Chargers, San Francisco 49ers, Sean Fennessey, Seattle Seahawks