NFL Run & Shootaround: Deserve's Got Nothing to Do With It
Ron Jenkins/Fort Worth Star-Telegram/MCT via Getty Images
On any given Sunday (or Monday, or Thursday), your NFL Run & Shootaround crew will be gathered around multiple televisions, making inappropriate jokes and generally regressing to the mean. Catch up on all the NFL action right here.
Glory Days, They'll Pass You By
Dez Bryant's great-catch-too-bad-about-the-landing play was the most viewed piece of Dallas-set footage since the Zapruder Film. Sunday afternoon, most of America watched over and over to see if the Cowboys wide receiver had gotten his fingertips inbounds as he fell from the sky. It was great drama, to be sure, and it pretty much defined this Cowboys season, if not the Jason Garrett–Tony Romo era.
A more fascinating moment, for me, however, happened just seconds later, when Bryant, clearly dazed and confused from his free fall onto the Cowboys Stadium turfcrete, tried to escape the watchful gaze of his trainers and check himself back into the game. There was something "I'm not having a heart attack, you're having a heart attack" about it all.

I found this intriguing because (a) Romo had to tell Bryant to get the hell out of his huddle …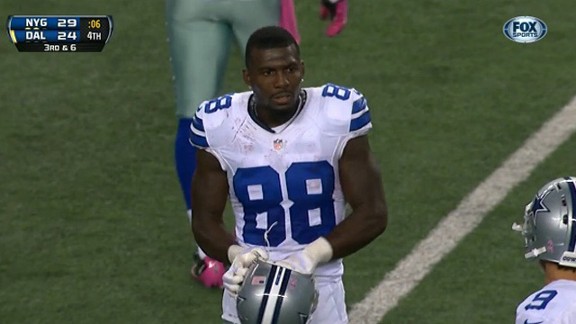 … and (b) Bryant was trying to be a warrior and it was surprising the hell out of me. This has nothing to do with what I expect from Bryant, the player, but what I expect from the Cowboys, the team. They just aren't that good. Romo isn't that good at quarterback, Garrett isn't that good of a coach, Felix Jones isn't that good of a running back, and Jerry Jones isn't that good of a personnel guy. As Bryant limped back on the field I just found myself thinking, How hard did Dez have to hit the ground to think the Cowboys are going to win this? Maybe he was playing for the star on his helmet? Maybe he thought, This is what Cowboys do? (Given how hard he crashed to earth he was probably thinking, I am Jim Lovell! I am the commander of Apollo 13!). But if he was thinking This is what Cowboys do, he was pretty much the only one. That's not what Cowboys do anymore. Hasn't been the case for a minute.
The same goes for the Eagles. For more than a decade, Eagles fans and the NFL pundit class have taken it for granted that Philly will be competitive, if not competing for Super Bowls. Watching Matty Ice perform a waking autopsy on the Eagles yesterday, I found myself trying to remember the last time the Eagles looked good. Like really good. Super Bowl good. My memory doesn't seem to go back that far. We just expect that certain franchises are meant to be competitive. If those franchises succeed it feels like the league is succeeding, like everything is in its right place. But didn't people feel the same way about the Raiders at some point? Or the Dolphins? Or the Chiefs? Or the godforsaken Bills? Everything ends, but some things take a bit longer to exit the stage. On Sunday, it felt like we were watching the Eagles and Cowboys take a curtain call, seasons in the making.
— Chris Ryan
Or, to Put It Another Way …
1. There's no way the Cowboys score here.
2. Wait, is Dez open?
3. Did he catch that?
4. !!!!!!!!!!!!!!!!!!!!!!!!!!!!!!
5. Did Dez just faint? Was he overcome by doing something so brilliantly?
6. [Before network replay.] The catch won't hold up. The Cowboys always tease us like this. It's a lock. Of course, if the catch were to hold up, that would be the start of an even bigger tease, to be repaid with a nut kick during a road game in December. I'm legitimately torn here.
7. [During network replay.] OK, my instincts were right. It was the first kind of Cowboys tease. The one that provides an immediate nut kick.
8. [During official review.] What if his wrist touched down before his fingers? No, no — this is stupid. Don't go into this.
9. "After further review … "
10. To wife: "No, really, I'm fine. They always do this. I was going to watch the World Series if that's OK."
— Bryan Curtis
There's Always Rob Ryan
(All GIFs by HeyBelinda)
Bad, Bad Stevie Brown
The first time Stevie Brown caught an interception, against the Carolina Panthers in Week 3, I was so distracted by the momentary confusion of seeing a guy wearing no. 27 for the Giants going for over 40 yards that I didn't really pay attention to who he actually was, other than "not Brandon Jacobs." But when he did it again against Cleveland in Week 5, returning a pick 46 yards, and then last week against the Redskins (41), Stevie Brown began to take on an identity of his own.
In yesterday's bizarre-as-usual Giants-Cowboys game, Brown hauled down two Tony Romo passes — one in the first quarter that he returned 37 yards, and another late in the fourth that ought to have wrapped up the game if not for the offensively hapless Giants. (We won't get into that excruciating final minute, which featured everything except NBA players taking 9,000 free throws.) Brown also recovered a fumble, although I did want to run onto the field and berate him, Ahmad Bradshaw–style, for not just falling on the expletive ball.
Brown has now caught five interceptions for 168 yards; only Chicago's Tim Jennings has more. It's a minor miracle that he was on the field at all. After being drafted out of Michigan in the seventh round in 2010, Brown was waived by Oakland and Carolina and had a stint with the Colts before signing with the Giants this summer to provide depth. But when Kenny Phillips sprained his knee and Tyler Sash and Will Hill got suspended for Adderall (how millennial of them!), Brown found himself in the starting position, where he's made a case to remain — to the surprise of just about everyone, Michigan fans included.
"I'd say I've done my job. I haven't caused the team any harm or put us in any positions to lose," he said before the Dallas game. After the game, he remained just as low-key about his contributions.
"I'm just trying to play," he said, "do what I can do and give them a reason to keep me on the field."
— Katie Baker
The Universe According to Jason Babin
"To me, I have intrinsic motivation … External environmental activity is not going to affect my drive, my desire, my effort, how I go about my business. It's not going to make me play harder. I'm giving you everything I've got already."
What?
— Chris Ryan
Cousin Sal's "Bet I Wish I Made"
Without having seen the replay — $7,000 to win $1 that the Dez Bryant touchdown would be overturned. In retrospect, it was a no-brainer and easy money. Stupidest player on the most unfortunate team. I tweeted yesterday that if this were the Middle Ages Dez's alleged extra-long fingers would've been allegedly chopped off for allegedly slapping his alleged mother — which would've meant the touchdown stands! Sorry, fellow Cowboys fans. For some reason this squad is not supposed to succeed.
— Sal Iacono
Who's the Boss? No … Seriously. Who?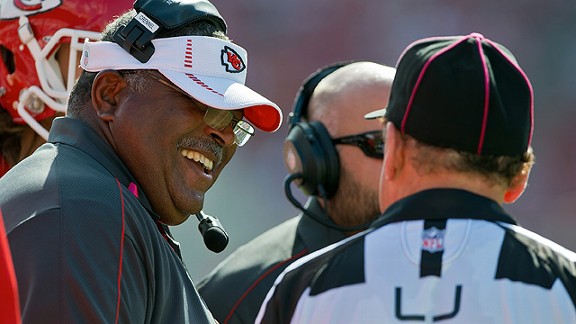 If things in Kansas City weren't already bizarre, well … wow. The Chiefs' fall to 1-6 was followed by some news that might explain a lot about what's happening in Arrowhead these days. Asked about Jamaal Charles only getting five carries in the Chiefs' 26-16 loss, Romeo Crennel responded, "Now, that, I'm not exactly sure." The Charles mess comes on the same day that Brady Quinn started for the benched Matt Cassel before leaving after four attempts because of a head injury. That meant a return to Cassel, who attempted 30 passes in a game in which K.C.'s deficit was no more than 10 points for much of the first three quarters.
This isn't to say that it's Crennel's job to do something about Charles's lack of work. The autonomy of an offensive coordinator working with a defense-first head coach isn't rare in the NFL. It's to say that by the time the game ended, it might've made sense for Crennel to at least inquire as to why his best player was being bypassed for an option the team had scrapped earlier in the week. Crennel got his newest head-coaching job by virtue of being Not Todd Haley. That's no longer enough. When reports came out two weeks ago that GM Scott Pioli had received a contract extension, the organization was quick to rebut, and rightfully so. It's no longer bold to say that New England East has busted in Kansas City, but yesterday may have been the most glaring example of just how bad it has.
— Robert Mays
Gronk?
Gronk!
Michael Vick vs. Atlanta
At this point, all of my allegiances toward Michael Vick should be long gone. Not only has it been years since he electrified the Georgia Dome and riled up Atlanta fans in a way I've never seen in my lifetime, but he plays for the rival Eagles, and his replacement for us, Matt Ryan, has more than proven himself.
And on top of that, there is nothing I like more than continuing this undefeated tear (which is getting zero respect), even if it means beating down once-hero Vick in the process. For the first eight weeks of the NFL season, I've been nothing but smiles, but after hearing Vick's postgame interview, it became clear that I still wasn't (and perhaps never will be) fully over Mike. His words:
The thing I do know, and I'll go watch the film and evaluate myself, is that I'm giving us every opportunity to win. I'm trying my hardest. Some things don't go right, when I want them to, some things do. So if that's a decision that coach wants to make, then I support it.
Watching the Golden Boy turned Public Enemy No. 1 turned Comeback Kid say "I'm trying my hardest" felt extremely genuine and shot sadness through my body, and then following that up by stating his support of Coach Reid if he decided to bench him felt weirdly mature for the once-immature, borderline-bratty Vick.
While 7-0 feels incredible, I still have a hard time accepting the fact that Vick isn't a premier quarterback or the most exciting in the league, some accurately describing him and his tendency to lose the football as a "liability." In my perfect world, he plays amazingly, the Eagles still lose by way of other players' faults, and the Falcons are still 7-0. That's what I want, but that's not the case anymore.
But just as my Vick pout was beginning to solidify, I remembered that the Falcons were clearly the best team in football, that you football-loving oddsmakers had the Eagles as favorites in the matchup, and that I have players like Asante Samuel on my team, mirroring my weekly obnoxiousness in his postgame interviews. And it was good.
ASANTE, TAKE IT AWAY:
TALK TO ME, BABY, WHAT'S UP?
— Rembert Browne
This Is What They Do
Among all the standbys of televised sports production, I've always found the series record to be the most useless. It never seemed particularly important to know that the Colts have had issues with the Chargers, or that a team from a different conference hasn't beaten another in 15 or so years. When we're rooting for laundry, what bearing is there in the results of older laundry? That's why the feeling I had yesterday around 11 a.m. Pacific was hard for me to reconcile.
The strangest part of yesterday's Bears-Panthers game wasn't that the 1-5 Panthers were pushing around the 5-1 Bears. It's that I wasn't the least bit surprised. The 2005 Chicago Bears are one of the strangest teams I can remember. On defense, it was probably (this year's team is making its case) the best unit the Lovie Smith era has seen and also the best unit in football. On offense, they were led by rookie Kyle Orton, who put together one of the worst seasons a starting quarterback has ever had. Still, they managed to scrape together 11 wins, and it was off to the playoffs. Then Steve Smith came and burned down Soldier Field. Smith had 12 catches for 218 yards and two touchdowns that afternoon in the biggest performance I can remember one player having in Chicago. So when I saw Smith yesterday, in that black visor and that same old no. 89, I had the same thought I've had whenever the Panthers have played the Bears and Jimmy Clausen hasn't been involved: This is not going to be fun.
Turns out I was right, and as Robbie Gould missed a chip-shot third-quarter field goal, it felt like this was actually going to happen. The Bears were going to lose to the Panthers at home, and whatever excitement the first six games might've brought would be dampened. Then something funny happened — maybe something funnier than fearing a decal on a helmet. The Bears scored a touchdown, and as the defense trotted back onto the field, I wasn't worried anymore. This is when they score, I thought, and when they did, when Tim Jennings returned the Bears' sixth defensive touchdown in seven games, I wasn't surprised. This is what they do. The only problem being that, of course, it's not. Chicago's six interception returns is already a franchise record, and what seems like a propensity for late-game defensive magic is actually a few chance plays spread over completely different eras.
The whole game was again indicative that, in the moment, logic often doesn't have much place in fandom. And despite how silly it feels as I consider it now, I'm not so sure it should.
— Robert Mays
Filed Under: Atlanta Falcons, Bryan Curtis, Carolina Panthers, Chicago Bears, Chris Ryan, Dallas Cowboys, Katie Baker, Michael Vick, NFL, Philadelphia Eagles, Rembert Browne, Robert Mays, Sal Iacono