NFL Run & Shootaround: Quarterbacks 'R' Us
Jim Rogash/Getty Images
On any given Sunday (or Monday, or Thursday), your NFL Run & Shootaround crew will be gathered around multiple televisions, making inappropriate jokes and generally regressing to the mean. Catch up on all the NFL action right here.
Questions But No Answers in Foxborough
This is getting tiresome. Almost every week, I get in this space and spew whiny reverse homerisms about The Death March of Mark Sanchez. It may look easy from afar, and it is — Mark Sanchez is the vampire tween fiction of quarterbacks: There is so much of it and it is all hot garbage.
But then a game like yesterday's happens. A game that, barring the 47 Jaguars and Raiders fans left in America, was essentially a Monday Night Football game happening in the middle of a Sunday afternoon. A game for everyone to see. All Eyez on Mark. Here are some of the fun things Sanchez did in Foxborough against the Patriots: failed to identify wide-open receivers. Underthrew an open receiver late, leading to an interception. Botched a handoff, then, during the ensuing fumble, aggressively kicked the ball out of the end zone for a safety. Took repeated needless sacks in close and late situations. Misunderstood the game clock and unnecessarily burned timeouts. Depended on checkdowns over the middle and forced near-decapitation and certain head injuries for his running back.

Here's the thing: This was Sanchez's best performance in weeks. He completed 68 percent of his passes and threw for 328 yards. "It felt good to sling it around like that," he said after the game, because he lacks self-awareness. He did help push a longtime menace to the brink of defeat, even grabbing a late lead (on a fortunate fumble recovery) with less than two minutes to play. He made some strong throws. He turned Jeremy Kerley into a force. He resurrected Dustin Keller. He almost made Stephen Hill A Boy With Real Hands. Except that Sanchez wilted in the big spots, as he does. Sanchez isn't only not the answer; he isn't even the question anymore. From all across the greater New York area, thousands howl: Tebow? McElroy? Pennington?
Rex Ryan refused to take the bait on Sanchez-bashing at his postgame press conference, despite the assembled New York Jets beat corp hoisting opportunities like so many bags of Cheetos at the Jets head coach. "Rex, what did you think of Mark's performance today … " "Rex, about that interception … " "Rex, tell me about that slant on third-and-1 … " No bites. I wish Rex had spent less time filming a dipshit role in Adam Sandler's That's My Boy this winter and more time planning for Gronkowski and Hernandez. I wish Bart Scott wasn't 57 years old. I wish Darrelle Revis was alive. But the Jets held the dynamic Patriots offense to two offensive touchdowns all day. It was close, but it wasn't.
And the problem with a game like this — hard-fought, but deceptive — is it provides blinders for management insistent that their team can hang even with a diminished contender like the Patriots (and make no mistake, this is not an intimidating New England team, save those golems lined up at tight end). This convinces Rex they were thisclose. It convinces Sanchez he almost did it. It convinces Mike Tannenbaum he's a good personnel man. It convinces Woody Johnson he's got the right guys in the right spot. This has been a team in need of a makeover for 59 weeks. What's 59 more?
— Sean Fennessey
Matt Schaub's Great Decision of the Week
(All GIFs by HeyBelinda. All decisions not to get turned into polenta by Terrell Suggs by Matt Schaub.)
Cousin Sal's "Sunday Wager I'm Most Upset I Didn't Make"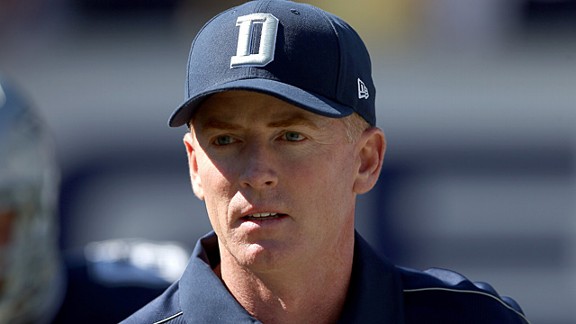 Are you familiar with the show House, in which Dr. House outdoes himself every week by calling a brilliant audible that ends up saving one, if not several lives? You know, the one where his cohorts foolishly argue with him for a good portion of the hour even though he's been 100 percent right in every previous episode? That's Cowboys coach Jason Garrett, except each week the brilliant audible is a ridiculously asinine call unfitting of a Princeton grad, let alone a dumpster diver.
But like Dr. House, the audible is consistent with Garrett. That's why I, an adoring Cowboys fan, was foolish not to bet on his streak of ineptness to continue. In case you missed this week's imbecilic installment: With about three and a half minutes to go in the fourth quarter, the Cowboys were down a point with third-and-9 at the Panthers 15-yard line. Anyone who's caught a Dallas fourth-quarter collapse knows they should be thinking six points, not three. And what's the best way to get the six points? You guessed it … a straight hand-off to our third-string running back Phillip Tanner. Somehow the Panthers defense stopped laughing at the play call long enough to wrap and tackle Tanner after a short gain, setting up a Dan Bailey field goal. This ended up being a non-issue, as the Cowboys benefited from a couple of questionable calls by the new replacement refs and the time ran out on Cam Newton.
The point is, this week, as is often the case, the Cowboys won in spite of Jason Garrett — not because of him. The other point is he should be fired retroactively in November 2011. Thank you, Panthers, for out-Cowboying the Cowboys.
— Sal Iacono
Things That Seem Faster Than Vincent Jackson After He Failed to Score on a 95-Yard Reception
(See this video in case you need a refresher course.)
• RG3 in a wheelchair with one square wheel.
• An offensive lineman running a fumble recovery drill while wearing a backpack full of anvils.
• LeGarrette Blount, Warrick Dunn, and Mike Alstott in a three-legged race, in ski boots.
• Usain Bolt in a Jell-O wave pool.
• The muzzle velocity from Jerome Bettis sipping a chocolate In-N-Out milkshake through a crazy straw.
• A Jorge Posada inside-the-park home run.
• Those fake dinosaurs trying to escape the La Brea tar pits.
• Oprah.
• Vincent Jackson trying for a 96-yard TD.
— Mark Lisanti
Not-So-Sweet Fantasy
I watched Sunday's games out the side of my head because I was in Hour 53 of an NBA Salary Cap fantasy league draft. The rules for such nonsense are detailed here, but for those who are click-averse, you basically have to draft 11 NBA players and keep their combined salaries under the league's cap. The challenge comes from the fact that you have to play ten of these 11 players at once, meaning you can't just pick up someone like Magnum Rolle or Devin Ebanks and stash him deep on your bench. It occurred to me while agonizing over whether to blow my sixth-round pick on Greivis Vasquez or B.J. Mullens that I've long since grown bored of fantasy football. I don't mean this in a "Hey, I'm a grown-up now and all you kids with your stupid fantasy sports need to grow up and appreciate real man competition" sort of way. I play pretty much every fantasy sport out there, including reality TV. But football, weirdly, has grown stale.
Fantasy football has become the country's fourth national sport because it's easy to track, easy to auto-draft, and requires only a couple days of investment per week. The results are even easier to process and digest — if you ended up with C.J. Spiller and Reggie Bush this year, you're probably 3-3 in your league. If you built your team around Michael Vick last year, you probably became a lot more sympathetic toward the plight of tortured dogs. This is all fine for 80 percent of the population. But it's strange to me, especially given how much of the population likes to think of themselves as NFL experts, that there aren't more complicated versions of the game in anything resembling heavy rotation.
Why aren't there more leagues with five or six or even eight defensive player slots? Wouldn't it be a more fun experience for everyone if J.J. Watt could be on your fantasy team? Wouldn't it be easy to come up with a simple scoring system for tackles, interceptions, forced fumbles, sacks, and tipped balls? I'm aware that such leagues exist, but have never come across a running league that tries to incorporate defensive players on a year-to-year basis.
The answer seems to lie in the expansiveness of fantasy football as compared to baseball or basketball. Anyone can play in a standard baseball league, but there's pretty much an infinite amount of actionable research that can be done. The same can't really be said for football. To expand the parameters of fantasy football without hiring moles in locker rooms, you kind of have to expand the number of players involved. The research burden has to be spread out among more players on both sides of the ball.
Anyway, I'd like to commit myself to creating a decent fantasy football system that includes several defensive players. If you're in one right now, please contact me via Twitter at @jaycaspiankang with details.
— Jay Caspian Kang
Hi, Tampa Bay. Jerome Robbins Is Your Defensive Coordinator
The plays that Tampa Bay Buccaneers "defenders" Mark Barron and Eric Wright attempted to make on Saints receiver Joe Morgan were simultaneously piss-poor and the closest thing I've witnessed to NFL ballet in a long time.
First, there's the first missed tackle, from no. 24 Barron, who hilariously (and gracefully) dives over Morgan, flawlessly rolling over on his side twice and instantly landing on his feet, facing the comedy of errors that is his teammate. What's his teammate doing at that very moment? Oh nothing, just getting launched into the air by Morgan, almost as if it were a choreographed sequence. It's like a "the rumble" fight scene from a seventh-grade production of West Side Story.
Watch this GIF over and over again while your favorite ballet is playing in the background. It's just splendid. If I may offer a recommendation: Spandau.
— Rembert Browne
The Brees Freeze
Rem just thoroughly broke down how Eric Wright and Mark Barron skate to one song. And one song only. I don't want to pile on here, but I would feel awful if we let a play like this go by and we didn't point out that the "Drew Brees Pump Fake to Put a DB on Freeze" is one of my favorite things in football. Eric Wright bites so hard on this one that he needs a Tums afterward. I'm surprised the camera didn't jolt downfield when Brees cocked back the hammer on this one.
— Chris Ryan
Don't Be Afraid of the Dark
As a Bears fan, for the past three years, the most common feelings I've had while watching Aaron Rodgers are awe and terror. On Rodgers's second touchdown throw to Randall Cobb yesterday, it was mostly the latter. Up only a score late in the fourth quarter, the Packers faced a third-and-9 from St. Louis's 38-yard line. As he will, left tackle Marshall Newhouse was beaten inside by Robert Quinn, and Rodgers scrambled left to the numbers before turning his shoulders back perpendicular to the line of scrimmage. What followed were two short hops backward on both feet, which never were quite set, and a 42-yard strike to Cobb that couldn't have been thrown any better.
When I say that, I mean it. No quarterback in football, at any point in his career, could've thrown it better. For all of Tom Brady's and Peyton Manning's greatness, Rodgers's ability to extend the play, turn his body, and fire perfectly lofted missiles on the move is all his own.
Green Bay's run to 15-1 last year caused some people to forget the details of the Packers' title run. Fourteen games into 2010, the Packers were an 8-6 team on the brink. In Week 17 of that year, with Green Bay sitting at 9-6, the Bears had a chance to go to Lambeau and keep Rodgers out of the playoffs. The Bears lost, and we all know what happened next. All that is why I didn't need last week or yesterday's touchdown throw to remember how I feel about that team or its quarterback, and that is absolutely terrified.
— Robert Mays
A Giant Headache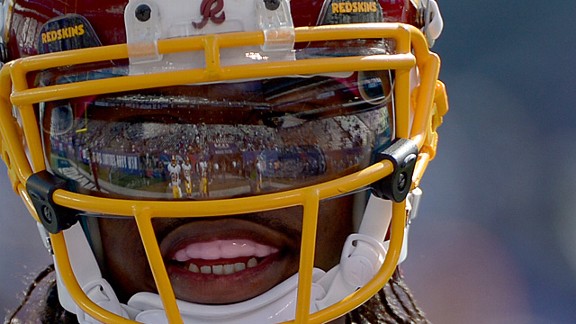 In July, Giants defensive end Osi Umenyiora went on the mid-morning show on WFAN and was asked about RG3. "Who's this RG3 guy you guys keep talking about?" he said. "You talking about Bob Griffin? You guys are giving him a cool nickname already and everything. When he does anything in the NFL we're gonna call him RG3. Right now he's Bob Griffin."
Osi may have had a point about premature nicknames — let's all pour one out for the poor Sanchize — but in less than three months' time he's already found himself on the wrong side of Griffonian history. He acknowledged as much in advance of this weekend's NFC East matchup: "His name is Sir," Umenyiora said. "His name is Sir Robert Griffin. That is what I refer to him now."
Griffin looked every bit a young prince yesterday, captivating not just Redskins fans but also undoubtedly the Giants fans packing MetLife Stadium. At one point Troy Aikman compared containing him to defending a two-on-one in basketball. He's so potentially volatile a compound that when he has the ball you can sometimes actually watch the wheels turning inside the heads of overwhelmed defensive players, who look like scientists trying not to blow something up in a lab. As a Giants fan, it was terrifying. As a football fan, it was awesome.
After the game, Giants players swooned so hard about Griffin that you were just glad no one injured their weak knees in the process. "That guy is flat-out unbelievable, man," said Osi. "That's the best QB we've played this year for sure." Justin Tuck agreed: "If they asked me to pick between Vick, Cam Newton and RG3, I'm probably taking that guy," he said. Only Jason Pierre-Paul was impervious, pointing out double-backhandedly that others in the league were slippery too. "Even Tom Brady's elusive," he said. "He's slow, but elusive."
Of course, it was easy for these guys to offer such gracious assessments of their opponent, considering he did everything except win the game. It was instead Eli Manning who made up for an otherwise thoroughly mediocre performance by connecting with Victor Cruz for a 77-yard TD that put the Giants up 27-23. It capped off a back-and-forth game with multiple lead changes that provided quite a glimpse into the future of these two NFC East rivals.
It also may have begun the transition of Manning from dopey man-child into old fuddy-duddy: Asked about Pierre-Paul's "Gangnam Style" celebration after sacking RG3 for a fumble, he spoke for my father when he admitted, "I didn't know what it was. I thought it was just a sack dance."
As Griffin matures, the opportunities for such celebrations are likely to come fewer and farther between. "I'm really mad at the football gods for putting him in the NFC East," admitted Tuck. "He's going to be a headache." That disturbance in the Force you just felt was all the Eagles, Cowboys, and Giants fans nodding gravely.
— Katie Baker
Filed Under: Aaron Rodgers, Chris Ryan, Drew Brees, Green Bay Packers, Jay Caspian Kang, Mark Sanchez, New England Patriots, New York Jets, NFL, Rembert Browne, Robert Mays, Sean Fennessey