NBA Shootaround: The Washington Monument
Ned Dishman/NBAE via Getty Images
So much amazing is happening, and the Shootaround crew is here to help you keep track of it all. You'll find takes on moments you might've missed from the previous night, along with ones you will remember forever.
Back to the Wall
(All GIFs by HeyBelinda)
The Wizards beat the Knicks last night, in Washington, deading New York's five-game win streak. Trevor Ariza wore his Chuck Person contacts, going 5-of-7 from beyond the arc, including a game-swinging four-point play early in the fourth quarter. The Knicks were up three with about 11 minutes to go and the Wizards were running their, "Hmmm … OK?" set, which is kind of like the pin-down the Thunder run, minus the movement and the hope. But here's the thing: The Wizards have John Wall. Running some kind of post play to Kevin Seraphin, who was being doubled because the world doesn't always make sense, Wall floated toward the foul line. Seraphin kicked out to the former Kentucky point guard, who leaped to catch the ball and in midair redirected the pass to a wide-open Ariza, standing in the near corner.

Despite giving up six turnovers, including a really bad one in the fourth, Wall put up a +21, 21-point, nine-assist night, leading the Wizards to what basically amounted to their second-best offensive performance of the season (118.9 points per 100 possessions). According to Randy Wittman, Wall is still playing himself into shape, which should terrify any player planning on guarding him in the next couple weeks. Wall played 39 minutes, ruined Jason Kidd's Wednesday night, and had a couple of those halfcourt-to-rim-in-two-seconds drives. He was simply breathtaking.
I hate to be a downer here, but he also almost had his hip shattered by J.R. Smith. In the fourth, with the Wiz up five with about 10 to go, Ariza jumped into a passing lane, stole the ball, and hit Wall on the break. Such is his speed that everything is a little different with Wall; he simply gets from point A to point B faster than everyone else. This didn't occur to Smith, who arrived late to Wall's breakaway and compensated by throwing out his hip, putting Wall horizontal in midair. It was a nasty fall, and you could hear the air escape the Verizon Center when he hit the ground. As someone who watched a lot of prime Allen Iverson (I know, pretty big deal), I know what that — air leaving a room — feels like. I hope John Wall figures out a sustainable way to play basketball. But while he's playing the reckless and thrilling way he is now, we should all enjoy it. Even if it means watching a lot of "Hmmm … OK?" basketball.
— Chris Ryan
CourtVision: Random NBA Shooting Stats
[Click for a larger version.]
— Kirk Goldsberry
Everything Designer
Play of the Night: "Elbow 5"
"Elbow 5" is one of the plays in the new and improved Thunder playbook, but it's hardly unique to the NBA landscape. It comes from a horns alignment — a pyramid formation with two wings in the corners, a big man at each elbow, and a ball handler (typically the point guard) up top — and is set up with the simplest of actions.
The ball handler dumps off to a big stepping out from the elbow, cuts through the center of the paint, opposite the ball, and looks to set a flex screen for his teammate in the corner. From there the wing player looks to either come off the guard low on the block or the big without the ball at the weakside elbow. Countless teams across the league run this exact same play, but only one team has Russell Westbrook, Kevin Martin, Serge Ibaka, and Kevin Durant.
It's tricky at first glance to come up with a way to stop this play without giving up a really good look should Durant choose to make a deep curl cut, like he does here. If you want to have a brief preview of what a nightmare it is to defend Oklahoma City these days, put on your coaching hat and see if you can figure out a way to stop Durant from assaulting the rim every possession.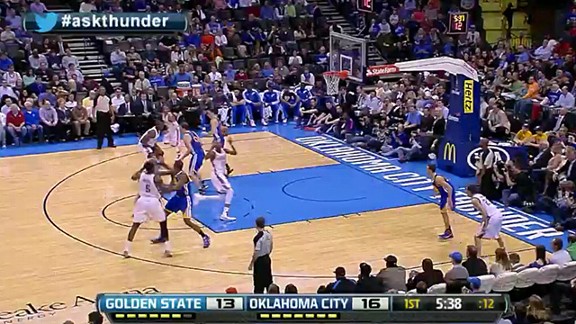 You can either:
A. Help off 3-point ace Martin in the strongside corner, opening up an easy kick-out option to Durant (who may just dunk over your guard anyway).
B. Have David Lee jam Durant's cut and concede a wide-open jumper at the elbow to Ibaka.
C. Allow Westbrook's defender (Klay Thompson) to help low on Durant and then try to recover — through a screen, no less — to get back in front of Westbrook as the dynamic point guard cuts toward the left wing.
D. Drop Festus Ezeli off Kendrick Perkins and force the lumbering center to move into a dribble handoff with Martin in the corner. But keep in mind, with Ezeli sagging into the paint, he will be out of position to slow or show on Martin — a foul-drawing machine — should he drive middle after the handoff.
If a helpless feeling is coming over you right now, fear not. It's the same reaction coaches have felt all season when preparing to face the Thunder.
— Brett Koremenos
This Can't Be Life
Spread Offense
Here's something you don't see on, well, any coaches in the NBA: a spread collar. But there's Lindsey Hunter, beleaguered interim coach of the Phoenix Suns, doing unlikely things with his attire last night. That collar, a semi-chic look that literally spreads — cinching and flattening the collar to create a kind of dinner napkin quality nearer to the neck — has grown in popularity in the past 12 to 18 months. J.Crew, for example, now offers a spread in their shirting. What's more, Hunter has quietly staked his claim on all of the NBA's gingham, an unusually aggressive pattern for a league that employs Gregg "Do I really need to wear a fucking tie?" Popovich at the highest level. Also: Hunter's wearing a soft silk knit tie, perfectly knotted. That's the strand of a refined man and highly unusual for an NBA coach. (It should be noted that while Hunter is strong from the waist up, his suit pants are almost always tailored to resemble two parachutes belted to his legs. Embrace a straight slim fit, Lindsey.) Hunter's hiring after the dismissal of Alvin Gentry was controversial for some. Longtime assistant coaches Elston Turner and Dan Majerle had more experience and credibility in the locker room. But did they have this kind of sartorial grace?
— Sean Fennessey
Half Old Man, Half Amazing
The Kent Bazemore Experience
I greeted the entrance of Kent Bazemore, filling in for an injured Jarrett Jack, into last night's Warriors-Thunder game — as a point guard no less — with an immediate eye roll and braced myself for all kinds of disastrous outcomes. It's pretty clear the dude can handle himself celebrating the successes of others, but playing the point against one of the league's best teams seemed like a recipe for some seriously bad basketball. But then the weirdest thing happened: I kind of enjoyed it.
Bazemore just has a funky, attacking game that's hard not to like. There's a good chance he may never play another meaningful minute of basketball again this year (or ever) but for a young player thrown into the fire, he certainly did some good things last night, including this crafty drive to the rim late in third quarter.
To be clear, I am by no means suggesting that the undrafted rookie is some secret weapon Golden State is waiting to unleash upon the world when we least expect it. Bazemore is still far from being a player who can consistently help a contender. But I have no shame in admitting that he certainly made my night watching his team's blowout loss far more fun than I could have possibly expected.
— Koremenos
His Empire of Dirt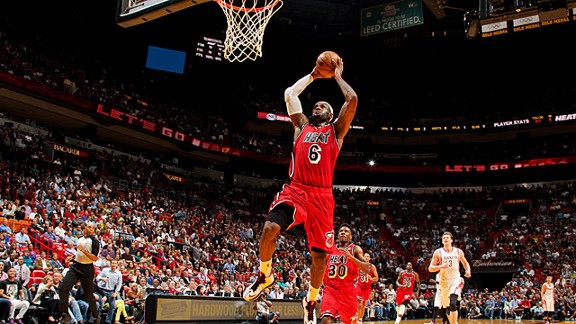 Last night, I watched the Heat-Rockets game at the bar nearest the USC campus. The place is mostly a sticky-floored hole made for those who didn't think to get football tickets, and at 5 p.m. on a Wednesday, I was the only guy in the place. The whole thing would've been a little grim if the music hadn't been so to my liking. Omer Asik's first-quarter tip-in parade came with a soundtrack of Radiohead, Rage Against the Machine, and Pearl Jam. And I was pleased.
Even if it seemed like Asik was going to pour in 40 without ever catching the ball, it looked like LeBron was going to go for however many he pleased. James's whole thing this season has been his reliance on getting to the rim and scrapping the jump shot, but two of his first three hoops last night were 20-footers that couldn't have touched less of the net as they slid through. Being used to 2013 LeBron, and knowing what he did against Charlotte on Tuesday, I just figured this was it. This was the night that James didn't miss.
It wasn't that those two shots went in. It was how. The nonchalance with which James took and made the worst shot on the floor — twice — was sort of terrifying. The second put Miami up 10 against a team that was on a back-to-back and had put up 140 points the night before. This was it.
I was so entranced by the game that I hadn't noticed the piano intro of "Hurt" come over the speakers. That was when I got worried.
Don't get me wrong. This was probably the proof I needed that the dude who put together this playlist and I are cosmically connected, but it wasn't exactly the sort of omen I wanted. Not with perfection on the table.
After another Asik bucket, LeBron again stood with the ball near the top of the key. Everyone in that building and at that bar (again, just me) knew it was going up. Moments like this one are rare; they are tests of our own mortality, and this was LeBron's chance to have a staring contest with God. As Trent Reznor banged at the keys, the ball arced toward the rim. And you could have it all … I held my breath.
The ball careened off the rim and into Asik's arms. My head dropped. My hand reached for the glass. I guess even he will let us down.
— Robert Mays
Fantasy Basketball
The Fork in the Road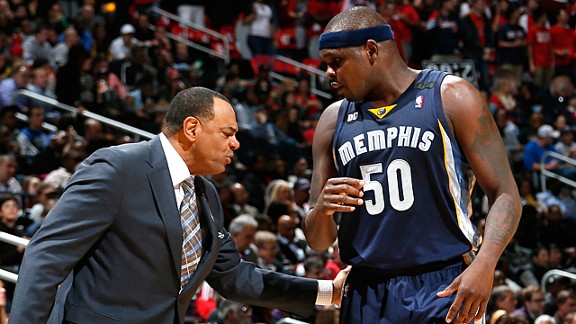 The Grizzlies are going through what would be a challenging time for any team, but they need to get their house in order soon if they want to snag a top-four seed in the Western Conference. Denver just moved past Memphis by a half-game, and the Nuggets have a 2-1 head-to-head advantage — with the last game between the teams in Denver. Golden State is just one game behind them in the loss column heading into Friday's meaningful Warriors-Grizz matchup. (Memphis has already clinched the head-to-head with Golden State.) Fortunately for the Grizz, six of their next eight come against probable lottery teams.
Now is the time to get well. The integration of Tayshaun Prince has been predictably "blah," with the former Piston providing no more floor spacing at this point than Rudy Gay. More than that, it just seems like the Grizz's situation is a bit of a powder keg. Lionel Hollins has complained about advanced analytics, dropped hints he may not want this job long-term, made cracks about the luxury tax motivating Memphis's trades, and ranted a bit about how Ed Davis, the other new guy, isn't a real center. He then proceeded to play Davis fewer minutes in a depressing loss to Atlanta than Austin Daye, who probably shouldn't be in any team's rotation right now. Daye will vanish when Quincy Pondexter comes back, but there's no excuse for treating Davis as if he's some fringe guy. He's smaller and thinner than Marreese Speights and Hamed Haddadi, sure, but he's also much better than each of them, and it's not as if, last night, the Grizz were facing an Atlanta team loaded with 7-footers who crash the offensive glass. Hollins could easily find 15-20 minutes for Davis, and he could also give Daye's time at small forward to some combination of Tony Allen, Chris Johnson, and Darrell Arthur.
Hollins is a good coach who has done really well in Memphis. But treating Davis like this after a breakout half-season in Toronto feels like a tantrum. Toss in how easily Atlanta ran the grit-and-grind Grizz off the floor in transition, and it was easy to be a little depressed about Memphis, even if they were on the second end of a back-to-back. (So were the Hawks, and they had to travel. Heck, the Pacers just swept the season's only back-to-back-to-back, winning all three by double figures.) I haven't seen a team just outwork and outsmart the Grizz in transition like that since Nick Young went crazy in Game 1 of the Clippers-Grizz first-round series last season — an outburst fueled in part by Gay's shoddy transition defense.
We've got to see the Grizz get right. We want them feisty and mad when April comes around.
— Zach Lowe
Filed Under: Brett Koremenos, Chris Ryan, Golden State Warriors, Houston Rockets, John Wall, Kirk Goldsberry, LeBron James, Memphis Grizzlies, Miami Heat, NBA, New York Knicks, Oklahoma City Thunder, Robert Mays, Washington Wizards