NBA Shootaround: The Jackson Five
Ezra Shaw/Getty Images
So much amazing is happening, and the Shootaround crew is here to help you keep track of it all. You'll find takes on moments you might've missed from the previous night, along with ones you'll remember forever.
Fantasy Basketball
How does one describe watching the Warriors shoot out the lights on the Clippers last night? What appropriately captures the basketball joy it elicited? What words should I use? Ah, screw it. Take it away, Steph:

When the game started last night, with the Warriors fans in white-out mode, I was seriously wondering whether I had Rip Van Winkled myself into the playoffs. This was not an early-January atmosphere. Hell, it seemed louder in the Oracle than it did in the Sugar Bowl. The game had a playoff intensity on the court, too, with Steph Curry putting up a serious making-the-leap kind of 31-point performance (albeit one entirely made possible by the benevolence of Chris Paul, who said after the game, "I let Stephen have 25 in the first half … then in the second half, didn't let him breathe"). Klay Thompson (19 points) and Harrison Barnes (13 points, nine boards) ably acted as his wingmen, David Lee going all Philip Rivers on the boards (he grabbed 13 of them). They were aided by Blake Griffin having a classic, mid-2011-12 season Blake Griffin kind of night, complete with sulking, staring at the officials like Scatman Crothers in The Shining, throwing up the worst corner 3 of 2013, and getting dropped on his head by a guy named Festus, only for Mark Jackson to mock his acting chops afterward ("He's a great actor. I've seen those Kia commercials.")
The Warriors were really feeling themselves. Look at the way they clowned Griffin's miss, in the video above. That's what surprised me. The amount of confidence from such a young team; the way they were playing off the crowd, the this-just-feels-very-right-ness of Steph, Klay, Barnes, Jarrett Jack, and David Lee. Jeremy Tyler even got some trash talk in. Jackson has himself a really tight, wildly entertaining family of long-range bombers and relentless rebounders. It was very Thunder-like. Yes, the Clippers were without Caron Butler, who was absent for personal reasons, and they were mourning the loss of owner Donald Sterling's son. Maybe they ran into a wall, like Griffin suggested after the game. After riding the emotional high of their franchise-record winning streak, there was bound to be a comedown somewhere. They came down hard in Oakland.
— Chris Ryan
The DeMarcus Assist
Don't worry, guys. We're getting Goldsberry to work on this one right away.
— Ryan
The Underachiever
For much of his career, Josh McRoberts has been something of a good-time Charlie. The underachieving journeyman is now with his fourth team in six seasons because of a comical aversion to understanding his limitations.
Last night against Chicago, the Orlando forward was his usual self. Amid a flurry of assists that highlight how athletic the big man is, McRoberts had a typical "McBob" moment. With eight seconds left on the shot clock, he catches a kick-out pass from teammate J.J. Redick in the left corner. A normally dicey situation seems far less daunting when McRoberts realizes he's up against the impenetrable defensive force (where's the sarcasm font when you need it?) that is Carlos Boozer. McRob — a 32.8 percent career 3-point shooter — takes one dribble with his right hand, steps back behind the arc, and launches a jumper that predictably clangs off the rim.
Whether he's been a victim of circumstance or reaping the return of a questionable approach to his craft, McRoberts has consistently frustrated those enamored of his potential. Despite plenty of time remaining on the shot clock to make something productive happen, McRoberts, without hesitation, attempted a shot that even Ray Allen would find hard to make.
In a single moment, the underachieving forward perhaps defined his entire career. Much to the delight of us all.
— Brett Koremenos
Mad Kid, Good City

(All GIFs by HeyBelinda)
I want to live in a world where Kevin Durant tells that kid, "This is my muh-fuckin' house." If KD keeps on this way, we may very well get there.
— Ryan
Something Out of Nothing
Philly's long, strange road trip could really stand to come to a close. These guys really need to get back to their families, go see The Hobbit, take crappy Christmas sweaters back to be exchanged. The Sixers are 3-7 in their last 10 and lost to lowly Phoenix last night, even if Jrue Holiday did uncork one of the best passes of the season.
— Ryan
They Are the Disappeared Ones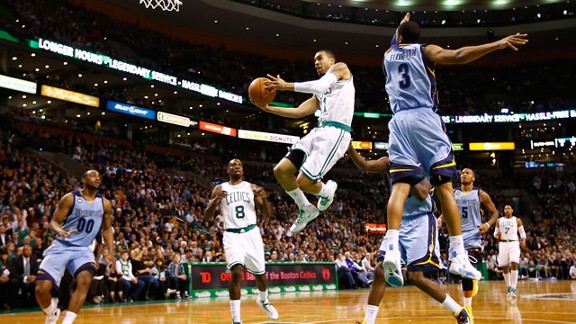 Wayne Ellington. Darrell Arthur. Quincy Pondexter. Jerryd Bayless. Marreese Speights. These are not characters in Thomas Pynchon's next novel. They are the heart of the Memphis Grizzlies' bench. Or perhaps more accurately, the tonsils. More specifically: these are not famous basketball players. But now is probably a good time to familiarize yourself with them. Because while watching last night's 93-83 Grizz win over the despairing Celtics, their fates began to appear increasingly important. That may contradict the box score — all five Boston players off the bench played at least 12 minutes; only Rajon Rondo logged at least 40 for the C's. Theirs is a team without rotation identity right now — Doc Rivers is throwing dry pasta at the wall and hoping it'll stick. Memphis' problem is quite the opposite — their starting five is as steady and ferocious as any in the league. The Zoo Crew — Marc Gasol, Z-Bo, Rudy Gay, Mike Conley, and Trick-or-Treat Tony — have been mauling opponents defensively all season, and playing a kind of regressive, back-to-the-basket, grind-it-out game that recalls '80s and '90s Eastern Conference banger squads like Ewing and Oakley's Knicks, Barkley's Sixers, and the Bad Boy Pistons. It's worked so far, leading the team to a 20-9 record. Here's the problem: That can't last for 100 games. Four members of their core are among the top 45 in the league in minutes per game. Only the shambolic Lakers can match that usage. This is as much a testament to the solidity of their unit as it is a slight against the Grizz's wafer-thin bench.
The wondrously named Pondexter has been the team's best 3-point shooter at 43 percent during a breakout season, but he went down just before the new year with a sprained MCL. The delightful Ellington, about whom longtime Celtics' color man Tommy Heinsohn squawked "He's the new Ray Allen!" after a gorgeous long 3 last night, is the next best option to spell Tony Allen and Gay. But he's still raw — Ellington has played more than 30 minutes just 12 times in 217 career games. The perpetually injured Arthur has done that just eight times in 204 games. The hyperkinetic Speights has never been reliable as a primary scoring option off the bench. The shifty Bayless also went down with an injury last night. Hamed Haddadi is Hamed Haddadi. The one guy who might provide some offensive fire, untested Summer League co-MVP (!) Josh Selby, has been buried on Lionel Hollins's bench for the last two seasons. (The less said about Tony Wroten, the better.) So there could be a reckoning. If even one member of that elite squad goes down, the Grizz are screwed.
— Sean Fennessey
Filed Under: Brett Koremenos, Chris Ryan, Golden State Warriors, Memphis Grizzlies, NBA, Oklahoma City Thunder, Orlando Magic, Sean Fennessey