NBA Shootaround: The Dwight Howard Blockbuster
Jacob Langston/Orlando Sentinel/MCT via Getty Images
The Shootaround crew returns to give their quick takes on the Dwight Howard blockbuster.
The Age of Empire
As I slowly progress toward the end of my life, I find myself more and more impressed by the (seemingly limitless) tenacity of the Lakers franchise. They are the only team in the NBA who is continually like this; they are the only team who flat-out refuses to have an average, uninteresting roster. In 35 years, they've been under .500 just three times. They never rebuild. They always go for it. I'm not sure if Dwight Howard will ultimately prove to be a massive upgrade from Andrew Bynum (and I can even imagine a scenario where it makes things worse), but there's no way you can argue over the intention behind this move.
It feel weird saying this, but it's true: As it turns out, The Decision was great for the culture of the NBA. It shoved the idea of building a super-team directly in everyone's collective face, and now there's no other way to be ultra-competitive. If you want to run with Miami, you have to mortgage practicality and simply acquire three of the league's best 25 guys by any means necessary. There are now two incredible teams in the West and one and a half incredible teams in the East (until Derrick Rose plays again, Chicago is on the fence). The NBA has instantly evolved from a sport that wasn't even that interesting in February to a sport that is totally worth following in August. I suspect L.A. may still lose to Oklahoma City in the playoffs, but at least there's something to daydream about until that happens. I'm ecstatic this trade happened. — Chuck Klosterman

Wrapped in Purple and Gold
My quick reaction? I don't care. Don't care that we (season-ticket holder for 15 years here. Damn right I'm using "we") just replaced the Heat as the NBA's most hated team. Don't care that there's no way to justify how little that Orlando got back for Dwight Howard. Don't care that Kobe critics will have yet another weapon in their arsenal to argue against him, talking about all the great big men he's gotten to play with over his career. Don't care that Howard could potentially leave the Lakers after this season. Don't care about anything.
Because we're back. In a big way. Where's my Lakers flag? I want to sleep in it. Having to go seven games in the first round of the playoffs last year with Denver, only to then get embarrassed by the Thunder, this team was in shambles. Shambles for the Lakers, at least, because us Laker fans are incredibly spoiled. But whatever, that's our reality and we always have high expectations.
The giddiness is not just at who we got, but who we got rid of. Andrew Bynum is a very good player. But he's also a health risk, and while he is good at basketball, he doesn't LOVE basketball. Just don't get the sense he does. That's a big difference. He took too many nights off, had too many continuing signs of immaturity, so the fact we just turned him into Howard? Dancing in the streets.
Say it with me: "We got Dwight." Howard being on the team gives the Lakers a defensive toughness they've never had. It allows Kobe and Steve Nash to freelance and be more aggressive on defense because they've got backup behind them. And it allows both to break upon a shot being launched because chances are Dwight is coming up with the board. Expect a lot of cherry-picking fast-break buckets for Kobe this year.
The trade energizes the Lakers, the fans, and Howard himself, who is not only playing for a new contract but has his most legit shot at a title in his career. The trade helps Pau. I can't believe we got Howard without giving up Pau! Howard manning the middle helps Gasol by taking pressure off him (no more worries about "Pau is soft" during the postseason; Howard will be the one banging) and it allows Gasol to play away, facing the basket, a much more comfortable position for him offensively. He did that last year, but too often had to bail out Bynum for one reason or another. That won't be the case this coming season.
It helps Kobe in many ways. Adding Howard (and Nash) not only helps his defense, it helps his age. I got why Kobe decided to play in the Olympics because of who he is, but I hated it. The last thing those knees need are more miles. But this will allow him to take a good amount of rest, both on and off the court, during the regular season, especially because it will also take the load off his offense. Did you see this stat from our ESPN Stats & Info team?
Most Pts Per Play Last Season As P&R Roll Man (Min. 50 Plays)
Pts per play
Dwight Howard:1.38
Tiago Splitter: 1.35
Nikola Pekovic: 1.33
Dwight Howard led the NBA in points per play off of pick-and-rolls last year. And NOW he's gonna run that with Steve Nash. While the defense has to worry about Bryant on the wing. And Gasol from 12 feet on the other side. Yeah. — Matthew Berry
The Orlando Verdict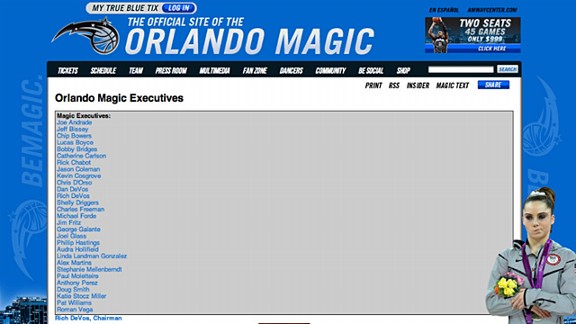 — Jay Caspian Kang
This Is L.A., We Do What We Want
Nothing has changed since I said this for the 482nd time, but I guess it bears mentioning again: If at any point the Lakers had a chance to land Dwight Howard, they had an obligation to give up whatever it took to get him. Way back when, that figured to mean Pau Gasol and Andrew Bynum. As Orlando lost more and more leverage, the fee fell to just Bynum. Still, when I first heard that the trade had gone through yesterday, I only assumed it was a form of the first reported deal — one that had both Gasol and Bynum leaving town. I didn't blink. It wasn't until a few hours later that I heard Gasol had been left out. And the Chris Paul trade was unfair?
There was always a sense of inevitably with this whole thing. Lakers fans (and I) just assumed that one way or another Howard would end up in L.A. I just never figured it would be alongside Steve Nash. There's only one player in the league more impactful than a healthy Howard (and his health, not whether he re-signs, is the only question mark here) — and rather than blowing up anything at all, the Lakers will slot him in with three of the best players of the generation. Watching a lineup like that is what being a Lakers fan is all about, and playing in a lineup like that is what being a Laker is all about, and that's why I have no doubt that a season in L.A. will be enough pull to keep Howard around. No franchise not wearing pinstripes gets what it wants as often as L.A., and this time, they got what they should have been wanting all along. — Robert Mays
Some Dwight Howard Tweets, Presented Without Comment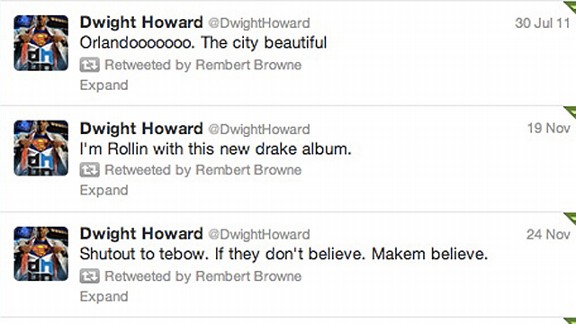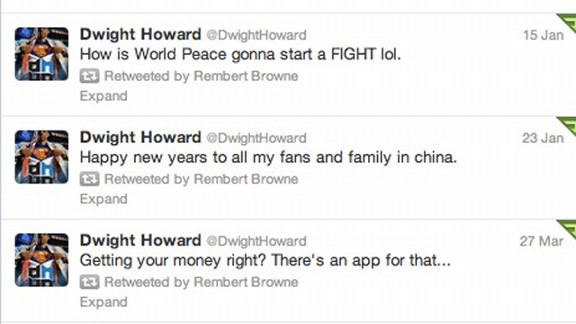 — Rembert Browne
Heart-Shaped Box
You probably shouldn't judge someone on their leadership skills while they are getting dressed, just as a rule of thumb. That being said, after spending a little bit of time in the Sixers locker room during their Eastern Conference semifinals series with the Celtics, I can say that the most mature, focused, calm, collected, and professional presences on the team were Andre Iguodala and Elton Brand. And they are both gone — Brand amnestied and now a Maverick, Iguodala the latest in a tradition of Philly ballers with the initials A.I. who get traded to Denver. And they have been replaced by Nick Young, Kwame Brown, and Andrew Bynum. Coach Doug Collins fostered a very fraternal, familial atmosphere, but the big brothers have been replaced by the cousins from out of town. I'll take Iguodala for Bynum and Jason Richardson all day. Jrue Holiday, Evan Turner, and Thad Young are all seemingly nice guys, snappy dressers, and solid citizens. And they're adults, so it's not like being around Kwame Stonehands or Swaggy P is going to corrupt them. But with Iguodala as the Sixers' leader, they made up for what they lacked on the floor with an off-court band-of-brothers feel. They had an identity. They just didn't play like it. Now they have a decided on-court persona: assuming Collins doesn't stop talking to him three days into camp, they now, in Bynum, have the best center in the Eastern Conference. Everything should run through him. Getting Bynum in exchange for Iguodala is a no-brainer in every sense except the one that's hardest to quantify. You can guess how it will affect the Sixers as a team. How will it affect the team as a family? — Chris Ryan
A New Hope
Thanks to their anonymous faces, relative youth, and superficially promising playoff performances, the Sixers are regarded as one of the NBA's rising teams. Yet, if we exclude the abysmal 2009 season, their winning percentages over the last five seasons have been .488, .500, .500, and .530. As a rap analogue, that's not a 2 Chainz trajectory — that's a Red Café plateau. But the acquisition of Andrew Bynum represents the first legitimate opportunity for Philly to escape this dull orbit since they ejected Allen Iverson from the airlock in a screaming tangle of sinewy limbs and cornrows.
For the sake of argument, let's say Bynum signs an extension with the Sixers. It's not a stretch: Philly is one of the NBA's biggest media markets, so the team can pay him significantly more than other suitors. And next season will be the first time the fragile Goliath is given free reign to earth-stomp. Maybe his blurs of insanity — like trying to steal the ball from his own point guard in order to fling up a meaningless 3-pointer — were the twisting roots of a pot-bound monstera, straining to escape a Kobe-sized ceramic urn. Given space and sunlight in Philly, he should become the best two-way center in the NBA (if he isn't already).
After years of rearranging overachievers, the Sixers suddenly have a pillar to build around. Overnight, everyone else on the roster becomes an afterthought. Oh, Jrue, you want a max contract? Have fun re-living those glorious .488 seasons with Lou Williams in Atlanta! With only Thad Young, Jason Richardson, and rookie Arnett Moultrie signed for more than two seasons, the possibilities for revamping the roster rapidly are exhilarating. How about adding Chris Paul and then pummeling the dog-snot out of the Knicks, Nets, and Celtics? These are the perfect daydreams for Sixers fans to enjoy before Bynum twists his knee, gets Doug Collins fired, and signs with the Mavs. — Ben Detrick
Things to Do in Denver When You're Traded
So, the Nuggets! In Andre Iguodala — sorry, U.S. Olympic Competitor Andre Iguodala — they get the least flashy of the big pieces in this deal. They also get one of the most valuable concepts: flexibility. That's been general manager Masai Ujiri's game: Destroy and rebuild through athleticism, toughness, meme-worthy players, and more athleticism. (Remember Carmelo Anthony? Neither does Ujiri.) And so now, after shedding the next fours years and $30.4 million on Arron Afflalo's deal (substantive, good for you; worth it) and the next three years and $21.5 million of Al Harrington (empty calories, aging; not worth it), in favor of Iguodala's bloated but brief two years ($30.5 million total), the Nuggets are going to have room to grow by 2014 while being hilariously good on the defensive end immediately. With Ty Lawson buzzing around like an agitated wasp, Kenneth Faried smashing dudes in the solar plexus, JaVale "The $50 Million Man" McGee swatting all round things from the sky, and Iggy doing his rabid dog thing on every mid-size scorer (Danilo Gallinari will continue to olé his way through defensive rotations), this young team has a chance to devastate. They will have off nights, no question. There are too many emotionally complex variables in play. Will Lawson be able to chill out? Will 36-year-old Andre Miller remain a rock of poor-shooting, slick-passing integrity? Will JaVale remember to wear socks every night? No matter, every game is going to a magical hipster dream. Oh, and did we mention they signed NBA unicorn Anthony Randolph a few weeks back? This team doesn't need a good training camp to work out their chemistry; it needs a development deal with Bravo. — Sean Fennessey
Filed Under: Andre Iguodala, Ben Detrick, Chris Ryan, Chuck Klosterman, Denver Nuggets, Dwight Howard, Los Angeles Lakers, NBA, Orlando Magic, Philadelphia 76ers, Rembert Browne, Robert Mays, Sean Fennessey, The Shootaround