NBA Shootaround: Revenge of the Beard
Scott Halleran/Getty Images
So much amazing is happening, and the Shootaround crew is here to help you keep track of it all. You'll find takes on moments you might've missed from the previous night, along with ones you will remember forever.
Man on Fire
(All GIFs by @HeyBelinda)
When James Harden returned to Oklahoma for the first time, the basketball reception from his former teammates was in line with the Thunder's newfound edge. Harden didn't just go 3-for-16; he had six of those attempts sent back, and for as much love as Kevin Durant and Russell Westbrook have for their friend, it was clear they wanted to show him what he would miss.
Last night, Harden returned the favor. His 46 points were a career high, and he did it on 19 shots. Sixteen of those points came during a fourth quarter in which his team trailed by 11 with eight minutes left. In many ways, it was just another great James Harden game, only with the volume turned up. But that final 3, the one playing on a loop above, is all anyone needs to get that last night was about something more. Harden probably didn't need to try to make Ibaka fall over twice, and he probably didn't need to stare down the Thunder bench after burying the game-tying 3. But he did. If it seems a little vindictive, that's because it is. And I love every bit of it.

Careers have been built on slights, real and imagined. If Kevin Durant's season has been in part a product of the pain he felt last June, then last night showed that Harden's, in part, is a product of Oklahoma City showing him the door. The practicality of that choice matters very little. This is a league full of players who think they're the best player in the world, and when you're one of the best 12, that isn't a wholly unhealthy way of thinking. There's likely a part of James Harden (there's definitely a part of me) that thinks the Thunder may have chosen wrong in locking up its backcourt. There are some of us who will watch what happened last night and lament what could have been for Oklahoma City — this season and beyond — but at this point, Harden seems over lamenting what could have been. He just plans on making them pay for it.
— Robert Mays
YOU ARE KIDDING ME
Michael Kidd-Gilchrist summoned a full on, 100 percent USDA-certified Ric "Nature Boy" Flair "Woo!" from the Charlotte Bobcats announcer (Del Curry? Pretty sure it's Del Curry!). Also, I think Jose Calderon dies a little bit, right as this goes down. No man should have to witness his teammate get turned into a haunted shell of a man. Sorry, Greg Monroe. Now you are full of sand and pain. All this, plus the fact that he actually dunked it, might make this hammer … dareIsayitIsaidit … better than Griffin-Perkins? The only thing holding it back is the absence of Jennifer Lawrence. But it's Charlotte; what do you want from this world?
Come to Butt-head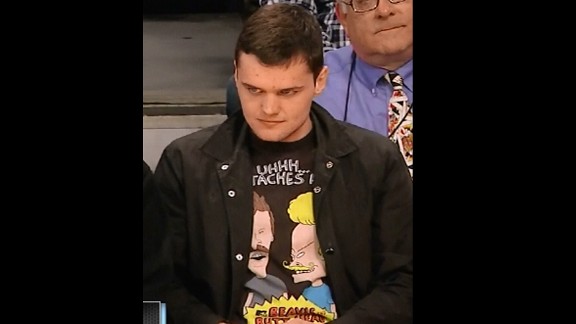 This kid was sitting next to Jack Nicholson tonight. I would normally figure out whether or not this kid was related to Jack Nicholson or if he was Mitch Kupchak's son or if he won the Chumash Indian Bingo contest, but I'm just going to let myself believe that MTV is filming a live-action version of Beavis and Butt-head and for some weird meta reason Butt-head is wearing a T-shirt of himself in cartoon form.
— Jay Caspian Kang
The Evening of Lin and Felton
The tables never stop turning. In July, when the Rockets revised their contract offer to Jeremy Lin to include a poison pill proviso ultimately worth $25 million across three years (and an eye-opening $14.8 million in the third year), allegiances were split. The Knicks (and more specifically, owner James Dolan) felt burned by Lin's perceived lack of loyalty, which is perhaps the dumbest thing that has happened in sports in the last year. The Knicks quickly responded to the Lin offer sheet by signing Ray Felton, the previously exiled point guard who would attempt to revive his career after a nightmare year in Portland. Knicks fans felt another burn, from the fire of rooting for a team shepherded by a buffoonish legacy owner. Lin was the more exciting prospect and the heartbeat of the most exciting Knicks season in a decade. But Felton did have his best season in New York two years earlier. Sentimentally, Lin was preferred. Intellectually, there was a case for Felton on a modest deal.
Then the season started: the Knicks raced out to an 18-5 start and the Rockets, though buoyed by the acquisition of James Harden, only hung around the fringes of playoff contention. New York was lead by Felton, energized, slimmed down, and maybe a little burned himself by Lin allegiants. Lin struggled, at times mightily. People started writing things like this. And Linsanity was resigned to the dustbin of NBA memes. Then in late December, Felton injured his pinky, the Knicks began a modest tailspin, and the Rockets stayed steady, essentially playing .500 basketball behind Harden, Lin, Chandler Parsons, and Omer Asik. But while Harden cooled a bit, Lin began to surge. He's raised his shooting percentage, his 3-point percentage, his scoring average, his assist total, and nearly every advanced metric, from true shooting percentage to Win Shares per 48 minutes in the past three months. By the time Felton came back — too soon, it seemed — a gentle evening began, a kind of reconciling of overblown feelings about players as flawed as Felton and Lin.
After last night's heart-stopping Rocket win against the Thunder — lost in Harden's 46-point bonanza was Lin's huge 29-6-8 line — Felton's and Lin's stats have come square in almost every category. Just look at these two. What does this all mean? Not much at this point. Lin and Felton aren't franchise-changing players, but they aren't exactly team-killers either. Lin will always be the better story, and probably the better highlight — Felton's jerky stutter-drive and bulldog presence has its charm, but Lin is a lighbulb on the court, able to flick and shine in a way few can. So, if they're worth the same to either franchise, who would you rather have?
— Sean Fennessey
Deep Thoughts by Mike Woodson
The Furious Case of C.J. Miles
I don't get C.J. Miles. This is an odd occurrence for me. Most players around the league, I can watch a few times, ask a few questions to those in the know about, and get a pretty good handle on why they are who they are as basketball players. C.J., however, keeps me guessing.
Friends who have interacted with Miles say he's highly intelligent. His length, athleticism, and handle show the physical ability of a star. Even though it's against Ryan Anderson, he's capable of doing things like this:
Miles is one of those players who someone without any preconceived notions of the NBA, if they caught him for the right stretch of time, might think was one of the best players in the league. But those stretches, like last night against the Hornets, where Miles was 5-of-7 from the field with 11 points in just 18 minutes, come along far too infrequently.
Every year, we're supposed to believe he might be on the verge of breaking out, only to have his allergy to rebounding and love of jacking long 2-point jump shots keep him painfully below average.
At 25, it seems like it's now or never for Miles to finally figure out who he is. I hope for my own sanity's sake he does, just so I can stop guessing.
— Brett Koremenos
Back to the Future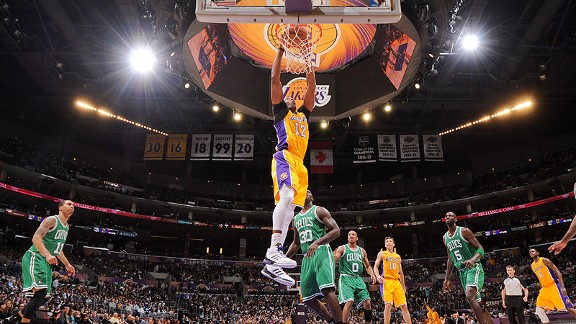 Eight hours before Dwight Howard put together one of the five best games he's had as a Laker, Mitch Kupchak reminded everyone of something. "It's hard to get talent in this league, and to have a talent like Dwight Howard, we have no intention of trading Dwight Howard," Kupchak told Colin Cowherd yesterday morning. For his standards, Howard's first season in Los Angeles has been a disappointment. His effort has been typically inconsistent, but while in previous years, otherworldly athleticism was a cover-all, Howard's back surgery has (temporarily?) robbed him of the ability to be casually great. That said, Howard has still been one of the best centers in basketball, and last night was a reminder of why Kupchak remains so ready to stake his future on what Howard can still be.
Howard was dominant last night, not just with his 24 points, but in the other facets of the game, as well. He threw his body around, both on screens and in the paint, like a man built like that should. He jumped out to defend screen-and-rolls. Seven of his 12 rebounds came on the offensive end. He cared, and when Dwight Howard cares, he's often very good.
When Kupchak said yesterday that one day, Howard would have a statue outside of Staples Center, people guffawed, mostly because this season, there's been a Dwight Howard statue inside Staples Center. Again, part of that is injury (Howard still isn't close to 100 percent; a pick-and-roll feed from Nash that would've ended with him tearing the rim off two years ago ended with a tentative lefty lay-in preceded by a travel), but part of it is effort.
Two seasons ago, when healthy and engaged, Dwight Howard was the second-best player in basketball. If that form is still a possibility (as last night would seem to indicate), he remains one of the five or six players in the league who instantly makes a team a winner. The currency in the NBA is stars; the teams with them win, and the teams without one do whatever they can to get them. The Lakers' future is tied up in Dwight Howard because it has to be; all they can hope is that last night becomes the norm instead of the aberration.
— Mays
It's So Easy
In the End, It's Right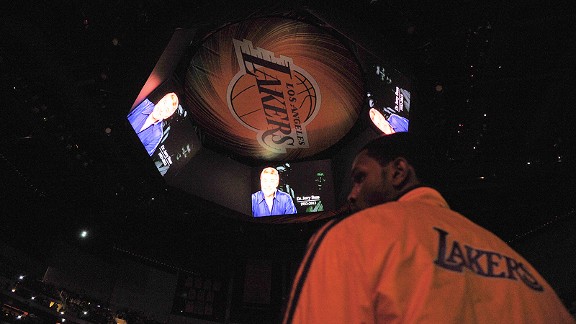 To any Lakers fan (or any Jerry Buss fan for that matter), last night's game was more than a game. It was a memorial, a celebration of life, a tribute to the greatest NBA owner there ever was. It started with a video shown on the big screen at Staples. The photos were of Dr. Buss during the happiest moments of his life — with Magic Johnson, with the Larry O'Brien Trophy, with Jeanie and Jim — all while Green Day played in the background. Could there be a more fitting couplet than, "It's something unpredictable, but in the end it's right / I hope you had the time of your life" to describe what Dr. Buss had done for the Lakers and for the city of Los Angeles?
He bought the Lakers franchise (among other things) in 1979, when I was exactly negative-12 years old. At the time, the franchise boasted quite a few championships and had amassed its own collection of marquee players, but it was a very distant cousin to the Lakers we know today. The experiment all started with Dr. Buss and his very first draft pick — a remarkable guard who was aptly nicknamed Magic Johnson. Things were unpredictable then. Who was to say the Lakers wouldn't crash and burn like some of Dr. Buss's other ventures? Who was to say that the youngster from Michigan State would usher in an era of Lakers dominance? Who was to say that Angelenos would embrace this revamped basketball team that would compete with their beloved Dodgers?
Jerry Buss did, and he did it with style. He made Los Angeles one of the biggest basketball markets in America, and he made the Lakers a must-see team that played with style and pizzazz, all while delivering trophies.
Another historic gamble came in 1996, when Buss's Lakers negotiated a trade with the Charlotte Hornets for a high school kid named Kobe Bryant. In his pregame tribute, Kobe said, "His vision transcended the game, and we are all, all spoiled by his vision." I couldn't agree more. When I was old enough to understand moving pictures and jumping athletes, I started becoming emotionally attached to the Lakers. I lived for those games against the detested Celtics, those last-second Derek Fisher shots, and those always-timely Robert Horry 3's. I crumbled with every missed Shaq free throw, and I wasn't able to smile in the days following those 2004 NBA Finals. I was spoiled; I knew it, and I embraced it.
In last night's victory over the Celtics, I saw these Lakers finally play as if something was on the line. They wore their JB patches with pride, and they looked like a team of which the great Jerry Buss would have approved. It was a perfect end to a remarkable life. After all, it was Dr. Jerry Buss who said, "One of the biggest reasons I bought the Lakers was to beat the Celtics."
And last night, Dr. Buss, your team did it — in your honor.
— Patricia Lee
Filed Under: Dwight Howard, James Harden, Jay Caspian Kang, Kevin Durant, Kobe Bryant, Los Angeles Lakers, NBA, Patricia Lee, Paul George, Robert Mays