NBA Shootaround: New Year's Resolutions
Stephen Dunn/Getty Images
For the first Shootaround of 2014, the gang decided to do some New Year's resolutions. Some are for specific NBA players, coaches, or mascots. Some are for us. They are all, in the end, for you. We'll be back next week with your regularly scheduled dunk GIFs.
The Bucks Coaching Staff: Free Giannis and Miroslav
Sean Fennessey: Little more than 100 years ago, Greece and Serbia joined together to declare war on the Ottoman Empire, sparking the first Balkan War, eventually setting the stage for independence in the region. I am calling for a new union of Serbia and Greece, in Milwaukee. That's where the Bucks' pair of promising rookies in the frontcourt, much-lauded Giannis Antetokounmpo and his Serbian counterpart Miroslav Raduljica, come in. (Watch your back, Turkish-born Ersan Ilyasova.) Antetokounmpo has already earned a starting spot in the rotation, and Raduljica has seen an uptick in play lately. One long, lean, and incomprehensibly athletic, the other a burly, bulky block of dense cheese, these two should be playing even more minutes and playing together, and high-fiving a lot. This is your modern NBA, comprising foreign-born players who begin as memes and then quickly become foundational players. Watch this clip at the 0:47 mark, when Giannis finds Miroslav in the paint, bending around his defender like Mr. Fantastic, before his partner double-tomahawks the ball straight to hell. These guys make beautiful music together. Let them jam.
Chandler Parsons: Get Better Endorsement Deals
Chris Ryan: Look, I understand that a yearly salary of $926,500 means you have to do whatever you can to make ends meet. While Jeremy Lin is out there buying a bed frame made of Swiss Pearwood with "Poison Pill" etched into the headboard, Chandler Parsons is living just enough for the city. But that doesn't mean he should be abandoning good brand management. As our own Juliet Litman points out, Parsons's portfolio could use a little work. Behold:
• Buffalo David Bitton — No one has cared about this brand since 1998. Note: Video has way fewer than 15,000 views. Also, it sponsored his birthday, which no one attended.
• Sneakers — Reportedly dropped Nike to sign with Chinese sneaker brand Anta.
• Watches — Dwight Howard is giving out Rolexes while Parsons is stuck shilling for Express.
Here's to a 2014 in which Parsons reps for Gap. I think that's why Ben Franklin, David Stern, and George Washington wrote the Constitution.
Blake Griffin: Play the Next Five Months Like the Last Three Weeks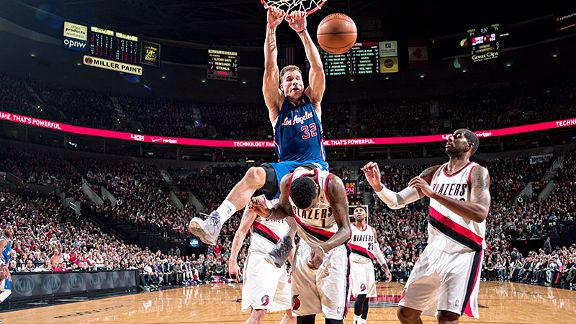 Andrew Sharp: On opening night against the Lakers this year, Blake Griffin scored 19 points, grabbed seven rebounds, and went 3-of-10 from the free throw line. Instead of dominating a Lakers front line that should've been helpless, Griffin was invisible. I was at the game, and seeing it up close brought back all the same eye-rolling that has become an integral part of the Blake experience the past few years.
So I accepted it opening night. This would be another year of grumbling during every Kia commercial, every Clippers game, and every time someone calls Griffin one of the best big men in the NBA.
But the past few weeks: 35 and 11 against the Blazers, 40 and 10 against the Jazz, 32 and 10 against the Wolves, and 31 and 12 against the Bobcats last night. He's one of the best big men in the NBA.
There's a longer conversation we could have here — how Griffin went from most exciting player on earth to one of the most annoying, whether it's fair, etc. — but whatever, I just want him to keep playing like this.
He hit 77 percent of his free throws last month, he's dominating for real now, and a killer Griffin could change everything. For the Clippers, for the West, for Blake. He's only 24 years old, but after the past few years I was ready to roll my eyes for most of his prime. Watching him struggle and flop and whine his way through games made Lob City a lot less fun. Now? Let's see what happens next. If Griffin keeps this up, Lob City will be scarier than ever come playoff time. Wouldn't that be fun?
Josh Smith: Just Be Yourself
Kirk Goldsberry [In the voice of Josh Smith]: I'm so sick of everybody saying I "can't shoot." I mean, technically speaking I can shoot — I've done so thousands and thousands of times. They know that! I think what they mean to say is I don't make a lot of my shots, but nobody makes all their shots. Seriously, nobody has ever done that — not even Rudy Gay, and tons of teams have paid him.
Well, there I go rationalizing again. Sorry, I said I would stop that. For me, 2014 is going to be all about self-realization. I'm going to Santa Fe for a retreat, a bit of Bhakti, and some light meditation. I am not Dirk Nowitzki. I am not LaMarcus Aldridge. I am not Rasheed Wallace. I am Josh Smith of the Detroit Pistons. I am the least-efficient jump-shooter in the NBA … again! My resolution is simple: I pledge to start making all these jumpers I'm missing — effective immediately. You're welcome, Detroit!
Russell Westbrook: Only Come Back When You're Ready
Jared Dubin: Gilbert Arenas. Brandon Roy. Penny Hardaway. Chris Webber. Tracy McGrady.
You see where I'm going with this, right, Russell? I know you do, but I'll spell it out anyway: Please don't come back before you're really ready.
You've had three surgeries in the last seven months. That's a whole lot of trauma to put your knee through. I know from experience; my left knee was operated on twice inside of a year and a half.
I know you want to get back out on the court as soon as humanly possible. I know you want to get back to going coast-to-coast and dunking all over folks. I know you want to help KD, and Serge, and Thabo, and the rest. I know you want to be that spark. I want that for you too. Nobody wants to see Westbrook be Westbrook more than me.
But please, please just make sure you're fully 100 percent healthy before you step on the court. Too many careers have been cut short by knee injuries, and it would just hurt too much if yours suffered the same fate.
It might be tough, but you'll be better off in the long run if you wait.
Give Up on the Magic
Brett Koremenos: At the start of the season, I was convinced that Orlando was going to defy expectations and be in the hunt for the last Eastern Conference playoff spot. Nikola Vucevic, Moe Harkless, Andrew Nicholson, Victor Oladipo, and the rest of the team's young'uns seemed poised to take the league by storm under the savvy guidance of veteran stalwarts Jameer Nelson and Arron Afflalo. The Magic were going to shock the world, relatively speaking.
To further intensify my unfounded optimism, Orlando won three straight at home, including a shocking upset of the Clippers, after opening the season with a couple of hard-fought losses on the road. After that massive (possible hyperbole there and probably a few more times to come) victory, I was firmly entrenched behind the wheel of the Magic's playoff bandwagon. Then everything went to hell.
Despite the good fortune of having their conference implode all around them, the Magic have, well, sucked. The team has gone 7-19 since that promising start, crushing my dreams of an improbable playoff run that would allow me to tell anyone who would listen that I totally called it. Yet, even though Orlando has hovered somewhere between adorably competitive and bad this year, I've let every close loss and those two totally rad winning streaks they've had convince me the team was finally ready to turn the corner and fulfill my prophecy.
The start of a new year is the perfect time for me to stop sprinting toward the oasis of false basketball hope. No more getting excited over dominant Vucevic performances or those times when E'Twaun Moore looks like a genuine NBA player. The title of "surprise playoff contender" has already been seized by Phoenix. Orlando is destined to occupy the bottom of a horrendous Eastern Conference. No amount of positive thought is changing that.
Appreciate Gunners While We Still Have Them
netw3rk: For 2014, I resolve to appreciate a dying breed: the remorseless gunner. The league used to be awash in them, the chuckers and high-volume shooters who trace their mitochondrial DNA back to the big bang days of Michael Jordan's cultural hegemony. But, ever so slowly, the growth of analytics has created a climate in which the status of the gunner has morphed from once-revered testicle-dancing avatar of fearless hero-balling to the target of 45-minute Sloan etherings complete with color-coded SportVU graphs and roughly several hundred "LOL Rudy Gay" tweets a night.
The big-name gunners are either gone, almost gone, or marginalized. The flame of high-usage gunning smolders but dimly in the hearts of sidemen and bench riders, the J.R. Smiths, the Nick Youngs. Kobe is in the midst of an extremely lucrative injury-wracked swan song. Melo is hunting what will likely be his last big contract and will turn 30 in May. Gay has been exiled to the Sacramento hinterlands. Joe Johnson is trapped in steerage on the foundering wreck that is the HMS Nets. Monta Ball, against all odds and reason, has been revealed to be Monta Ellis's embrace of efficiency.
One day, they'll be gone. And you can say you were there.
Make the Dunk Contest Fun Again
Steve McPherson: At its best — and by this I mean Dominique vs. Jordan in '85 or '88 or Vince Carter vs. Sir Isaac Newton in '00 — the slam dunk contest is a Luther burger of pure basketball hype. It takes a thing that was quite literally ILLEGAL at the college level for nearly a decade and bedazzles it in spangles and baubles before cramming it in your hungry maw. It should, by all rights, exist on the same plane as the samizdat in Infinite Jest, leaving us gap-faced and drooling to behold it.
But a lot of the time, it's like your dad catching you with cigarettes and making you smoke the whole pack, until you're so lightheaded, nauseated, and ash-mouthed you wish you were dead. It's all too often a lesson in how to take a beautiful, evanescent expression of a complex and multilayered thing and kill it dead. In the hands of Chris Andersen, Larry Hughes — even Paul George, really — the purest moment of grace and aggression in the game becomes a stinky dish towel.
Like most guilty pleasures, the slam dunk contest works best when we know it's pure confection but forget that we even care. I beg you, dunk contest, resolve to get your shit together and let us slip once more into that sweet oblivion.
Pierre the Pelican: Go Easier on the Lifeblood Extraction of Human Souls
(via @Nick_Pants)
Jason Gallagher [In the voice of Pierre the Pelican]: OK. I know it's a little cliché or whatever, but my New Year's resolution is to lose at least 10 pounds by exercising more, meditating on a daily basis, and having a healthier consumption of human souls. I'll be real with you guys. It's tough for the modern-day demon pelican trying to make it in the superficial world of show business. One the one hand, I've sworn a blood oath to give a certain amount of human sacrifice (whether it be souls or blood or hearts or whatever) to the King of the Nine Hells, Asmodeus. On the other hand, the entertainment industry is just so demanding. The New Orleans Pelicans organization is, like, really, really strict with their weight requirements for mascots. Their definition of "fit" is ridiculous and, quite frankly, unrealistic. I mean, the beak alone weighs 45 pounds!
I'm going to give it my best shot, though. I've already begun the lifeblood-extraction ritual on a nice young couple leaving their local Jamba Juice. Their souls aren't as tasty, but their vacant and lifeless bodies will make solid vessels for the upcoming demon pelican invasion. #INVASION2014! #GoPellies!
Filed Under: Andrew Sharp, Blake Griffin, Chris Ryan, Houston Rockets, Jeremy Lin, NBA, Orlando Magic, Russell Westbrook