NBA Shootaround: Just Another Game
Issac Baldizon/NBAE via Getty Images
So much amazing is happening, and the Shootaround crew is here to help you keep track of it all. You'll find takes on moments you might've missed from the previous night, along with ones you will remember forever.
The King Stay the King
Andrew Sharp: Seven thoughts on Heat-Pacers last night.
1. Halfway through the third quarter, Paul George hit one of the gigantic 3s that he has turned into a trademark. A few more lifeless minutes and Doug Collins was saying, "The Heat are gonna have to figure out what lineup can work against these Pacers." The Heat were down 14 halfway through the third. When the Pacers stay out of foul trouble, there might not be a correct answer to Collins's concern.
2. Whatever happens in the Eastern Conference finals, there is a 1,000 percent chance that either David West or Lance Stephenson starts a brawl at some point during the series. Or maybe once every game. It's gonna be great.
3. Ever since LeBron got to Miami, people have been wondering when it all stops working. The first year we did it every week, the second year we did it against the Pacers and then again in the Finals, last year we did it every other day for the final month of the playoffs. And except for the series against the Mavericks, the Heat have always made everyone look stupid for this.
4. After getting outplayed for most of the first half and going down double digits after halftime, LeBron went into holy shit mode toward the end of the third quarter.
In addition to turning Luis Scola into an inanimate object and incinerating West, LeBron scored 10 of 12 points for the Heat in a stretch when they cut the lead to three early in the fourth quarter. Then Dwyane Wade (32 points) went to work to carry the offense for a few minutes and keep them within striking distance.
5. The comeback happened with Roy Hibbert on the bench — he picked up his fourth foul with eight minutes left in the third quarter and didn't come back until there were six minutes left in the fourth quarter — and I'm still convinced Indiana's the better team when Hibbert's in the lineup.
6. When Hibbert came back last night, the Pacers went up by eight points, and it looked like game over. But it's never over against Miami. LeBron is still LeBron, Wade will never die, and the supporting cast always comes up huge. Whether it was LeBron drawing a double-team in the corner and calmly hitting Chris Bosh for a 3 to tie it or LeBron grabbing a huge defensive rebound, sprinting the other way, and finding Ray Allen for a 3 to take the lead for good — they have a gear no one else can touch.
7. But with LeBron and all the firepower, it's easy to lose sight of the most impressive thing about the Heat the past few years. They have always been beatable, but they almost never actually lose.
Inside Mario Chalmers
netw3rk: I used to think the Heat's three-headed King Ghidorah of vets was picking on poor Rio. Rio missed this rotation; Rio didn't make the skip pass; Rio didn't do this; Rio didn't do that. A typical case would be Rio making a bad pass or being late giving help or something I couldn't even discern from normal Heat attack-dog basketball. That would lead to LeBron and Wade cornering him at the next dead ball and, in the animated fashion of people arguing with a waiter who brought them an ice-cold steak two hours late, explaining to him just how, where, and to what degree he had disappointed them, as Mario, hands on hips, soaked it up. When Mario was a rookie, it was whatever. By his second year, OK, he's still the young guy. Third year, this is kinda funny. Fourth, fifth year, I guess they just hate him.
Along the way, Mario Chalmers became an elite instigator: the guy who, as we've documented before, would throw that high elbow accidentally on purpose at Dirk, or mad-dog Blake, or get annoyingly up into KG's jersey, doing all the little irritating things that might cause someone to snap and swing and maybe get a tech. Last night it was Chalmers fake-breaking the fall of a stumbling Stephenson with a double-barreled forearm blast to his breadbasket, causing Stephenson to swing a get-off-me arm in Rio's general direction. Pretty smart, when you think about, to target the most volatile member of the Pacers and see if you can goad him into something. A Pat Riley trademark, really.
Later in the game came the inevitable Everybody Hates Mario moment. A blown rotation (but whose???) led to a wide-open 3 by George. During the timeout that followed, Mario said something to James's royal person to which James took umbrage, leading to James shooting out of his seat like "Am I gonna have to slap a Mario?"
But Rio never backed down. I began to think, Maybe Chalmers is just that dude, that universally irritating dude who has that indefatigable energy about him that makes people just want to yell "DUDE, SHUT UP!" And, you know what? Far from being the victim, I think Mario likes it.
Later on, LeBron would apologize for blowing the coverage leading to the George 3. Mario wins again.
The GOAT That Keeps on Giving
Jason Gallagher: If you're a fan of J.R. Smith then you're probably not a fan of the New York Knicks. It seems a little backward, but I don't know a rational Knicks fan who's happy to have Smith's barbarous game on their team. His incoherent confidence, mixed with his high-volume shooting, is why most New Yorkers can't stand to see Smith in a Knicks uniform. As for the rest of us, we COULD NOT love J.R. Smith any more. Like, it couldn't be possible. Dude is all entertainment. He truly is the gift that keeps on giving, and below is his most recent gift to us.
That's 17 3-point attempts Smith took last night, which broke a Knicks record. SEVENTEEN! That shit doesn't happen very often these days, but when it does, guess who's responsible?
And if you thought Smith was finished, he took to Twitter to spoil us even more! First, he went ahead and admitted that even HE was surprised by the amount of 3-point shots he took.
Lol 17 threes tho! Had to say damn my self!

— JR Smith (@TheRealJRSmith) December 19, 2013
Whoa. Has Smith changed? Maybe this is a real breakthrough for him. Could he finally see the errors in his completely unconscionable way of living (and shooting)?
But trust me give me that chance again I'll shoot it again!

— JR Smith (@TheRealJRSmith) December 19, 2013
Oh, thank god. Never change, J.R. Also, acknowledge your haters.
We lose an I take 1 shit y'all mad we win I take 23 shots y'all mad! Lol #OHWELL

— JR Smith (@TheRealJRSmith) December 19, 2013
#OHWELL
I PROMISE ANDREA BARGNANI WILL NEVER STOP GOING IN
Chris Ryan: This is Andrea Bargnani, Triangle All-Star, taking a 3-pointer with the Knicks up two, with 14 seconds left on the game clock, and the shot clock? The shot clock was off. So … he did not need to take that shot. How did the Knicks feel about that?
(via Seth Rosenthal)
Note the elbow patches on Raymond Felton's jacket. He wore those on purpose. I don't know what the purpose is, but you know he did. The cargo pants? I have no explanation for that.
CourtVision: Andrea Bargnani
Kirk Goldsberry:
Starting Giannis
Sharp: Giannis Antetokounmpo made his first career start last night. It wasn't perfect, and he got in foul trouble early, but he played 42 minutes, scored 10 points, and grabbed seven rebounds. The best part was probably his postgame interview. When a reporter asked about him playing with an extra edge Wednesday, he says: "The reason was Carmelo. I don't know … [shaking his head] … I respect him as one of the best players, but he can like come out and start bullying, you know. Bully my teammates, me, talk to me all the time. … If he do it all night, you can't focus on your game. So you have to respond and tell him something, to stop. When you go out there, I don't care who you are. For me it's just a jersey."
Talking trash now? Going to war with Melo? "I don't care who you are"?
He's growing up so fast.
We All Need This Poster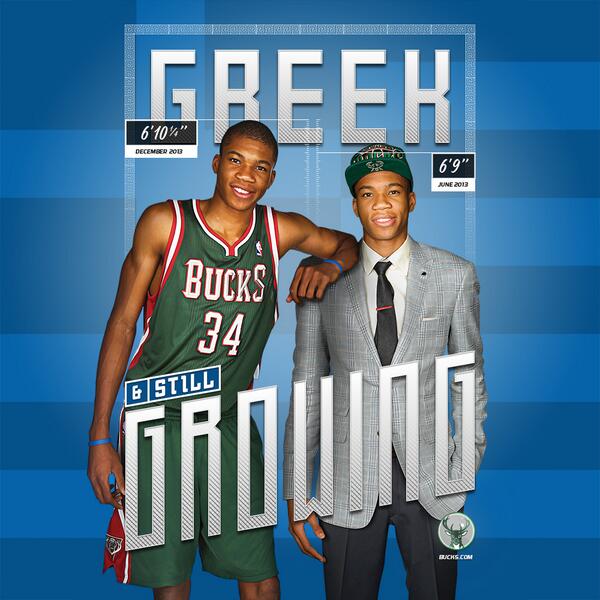 Sharp: The Bucks are giving this away at a game in January, so … Who wants to go to Milwaukee on January 25?
Sit Back and Enjoy the Ride
Danny Chau: Here's a trick I've picked up after 28 games: Think of the regular season as an extended reading of Candide, and think of yourself as the titular character. Sure, this season hasn't been great. Sure, only three games separate the Knicks and the Bucks, the proud owner of the league's worst record. Sure, Gordon Hayward probably killed your fantasy team in mid-November. But you know what? It's all for the best. This is the best of all possible seasons. The basketball gods have established a precarious balance of good and bad, and we mustn't question it. The season may appear overwhelmingly bad, but the optimist in me believes that we will be rewarded with an overwhelming good in due time.
Maybe you're already numb and disillusioned after 28 games — a perfectly reasonable threshold for suffering. Stick with those bad basketball games a little while longer, though, and the mind adapts and reconfigures itself. Delightful absurdities become more apparent, as do small, fulfilling victories that have no real impact on the macro level. There's comedy in finding out that of the four players who took 20 or more shots in last night's Knicks-Bucks game, one of them was Khris Middleton. There's hope in witnessing Antetokounmpo's first career start, and realizing just how much of a gamer he is.
And there's a joy watching the Jazz make a turn toward respectability with the arrival of Trey Burke. The Jazz were 1-13 before they handed Burke the keys. They're 6-8 since his insertion in the starting lineup, the same record over the last 14 games as the Warriors and the Wolves. As crazy as it sounds, the Jazz might be my second-favorite team to watch this season. What started out as a joke became a love affair. There is some serious development going on in Utah, and it's been rewarding to watch, in spite of everything. Burke's 30 points, seven rebounds, and eight assists last night led the Jazz to a victory over an equally doomed Orlando Magic. It wasn't that impressive of a game, but Burke's Rondo-esque coast-to-coast, ball-faking reverse layup to close the third quarter made it all worthwhile.
It's natural to want to take this season and bury it alive in a ditch. That shovel you have in your hand, the one you're digging the ditch with — there's a better use for it. Watching bad basketball isn't ideal, but it's what we've got. And there's so much of it, we might as well find ways to enjoy it. Let's not bury the season yet. Instead, let's cultivate our garden.
OLADIPO
The Incredible Spurs Machine
Brett Koremenos: Facing off against one the league's most dynamic backcourts, Pop gave Marco Belinelli and Cory Joseph their second starts of the year. Danny Green came off the bench for the first time all season. For normal teams, these types of changes — especially when you factor in the massive talent gap between Tony Parker and Joseph — don't typically produce good results.
The Spurs, as we've learned, aren't normal. They are the T-1000 of basketball teams, shifting forms and shapes and playing with a lethal efficiency. The weird thing about how San Antonio goes about winning is there is nothing extraordinary about how it does it. Last night was a great example.
The Suns are driven by their backcourt of Goran Dragic and Eric Bledsoe. The scouting report on these two is to make Bledsoe shoot jumpers and that Dragic will try to finish everything with his left hand. The latter is as much of a certainty as death and taxes. Yet despite this being such common knowledge, Dragic has shot over 50 percent from the field in seven of his last nine games. Last night, he went 6-for-18. Every Spurs defender Dragic went up against sat on his left hand and turned every shot he attempted into a difficult proposition. Bledsoe also felt the Spurs' Kryptonite, going 6-for-15 after being forced into a steady diet of long jumpers.
Everyone knows this is what you need to force Dragic and Bledsoe to do, yet the Spurs are annoyingly consistent in how well they prepare and execute their game plans. Even though thousands of words have been written on the simple brilliance of the Spurs, it's hard not to be eternally amazed at what a well-oiled machine that organization is. Sans Parker and playing its third consecutive road game, this one against a red-hot Phoenix team, San Antonio should have been in trouble. But instead of losing their second consecutive game, the Spurs went about business as usual. And their business is winning.
Kemba Step-Back Game Winners Forever
Don't ever forget this guy.
Protect This House
Steve McPherson: One of basketball's greatest promises to the casual fan is in its indelible, enduring moments: Jordan's shot over Ehlo, Magic's skyhook, Iverson's practice rant, Chris Duhon's travel dance, a Chuck Hayes free throw. These things are majestic, eternal. But the NBA also promises transience, impermanence. It helps foster non-attachment to any given possession. You know what you have time to do in 24 seconds? Sing "Happy Birthday" to one person, so long as they don't have more than a two-syllable name. In the NBA, a guy has to bring a ball all the way up the court and organize a multi-tiered offense that generates an open look. Or whatever it is the Knicks do.
The point is this: Possessions end. Unless they don't. Take this sequence from the fourth quarter of the Blazers-Wolves game:
I was at this game, and after the second offensive rebound, I started to feel hungry. After the third, I began to wonder who was going to take my daughter to day care the next morning. By the fourth, I had resigned myself to building a house inside the possession and living there for the rest of my life, bringing up my daughter and presumably the second child my wife and I want, who would, naturally, be born inside the possession. Our children would have to be homeschooled, of course, and raised on a diet of Klondike bars and lukewarm hot dogs, eventually growing up and renting space in a cramped Gregg Popovich answer or a pull-up jumper in transition before saving up for their own home in a rambling shot clock violation, with plenty of space for our grandchildren to play in.
When Nicolas Batum's 13-foot fadeaway finally dropped and moved us to an assisted-living facility, it was a relief, really. With the kids grown, it was too much upkeep anyways.
Vintage Truth
The Brow vs. The Clippers
Jared Dubin: The first possession of Clips-Pellies started with Blake Griffin catching the ball at the right elbow. Playing to the stereotype, Ryan Anderson backed way the hell off, daring Griffin to shoot the jumper. And Blake was all "NOPE. Just gonna use that space to hit a cutting Jared Dudley with this one-handed pass for a layup. Thanks, Ry." 2-0 Clips.
Anthony Davis — returning from a broken hand — checked in about six minutes later, and it was effing ON.
Blake nailed a corner 3 (!) off a feed from CP3 and then tossed a lob to DeAndre Jordan for a monster jam. Davis finished a pseudo-lob of his own while nearly facing backward. Griffin ooped DAJ again. Davis literally flew through the air, hovered over Paul, and tapped one into the basket for an and-1. Blake soared in for a lefty smash. Davis got a tip-slam off a missed layup. Blake blocked a Davis floater in the lane and then assisted a Jamal Crawford jumper.
The final tally:
Blake: six points, four rebounds, three assists
Davis: six points, five rebounds
AND THIS ALL HAPPENED IN SIX MINUTES AND 13 SECONDS!
With about four minutes to go in the first half, The Brow decided he was going to war with Chris Paul, Cliff Paul, Little Chris, Little Penny, Joffrey Baratheon, and your mom. There was a quick layup, a post-shot dustup with CP3 under the rim, and about 496 consecutive deflected passes (all numbers approximate). In between, CP3 snatched a rebound from Davis's monstrous hands, looked him off, and dished the niceness to Dudley under the rim, then lofted a floater over AD's Gumby-style right arm, off the glass and through the net. A couple of possessions later, Davis knocked Paul clean out of the air and sent him crashing to the floor. He was not messing around.
The Clips led by seven at halftime, but they stretched the lead to 13 before Davis even checked in midway through the third quarter. The Pellies never got closer than 11 the rest of the way.
There were some moments, sure. Blake wrapped Davis in a bear hug as the latter streaked down the court tracking an outlet pass; Davis bumped home a lob from Jrue Holiday to cut into the lead; CP3 went all cold-blooded killer and drained a 15-footer to close the third; Jordan (from CP3) and Davis finished consecutive lobs to open the fourth. But it wasn't nearly as intense. Given the score, it couldn't be. For those 15 glorious first-half minutes, though, The Brow went mano a Clipper, and it was awesome.
So welcome back, Anthony Davis. We missed you.
Filed Under: Andrew Sharp, Anthony Davis, Brett Koremenos, Danny Chau, Indiana Pacers, LeBron James, NBA