12 Takeaways From Miami-Indiana, Round 2
Issac Baldizon/NBAE/Getty Images
First of all, these games are the best. I was chatting earlier in the day with an official from one of these teams, and he was jokingly lamenting the insane degree of media coverage for a mid-December game. Come on! The Eastern Conference has nothing going for it aside from these two teams. Flipping from this game to Bucks-Knicks — with J.R. Smith vomiting up every shot in sight, Mike Woodson crossing his fingers that Tyson Chandler's leg wouldn't fall off, and a vacant Andrea Bargnani failing to understand basic laws of time and space — was like flipping from The Godfather: Part II to Adam Sandler's Jack and Jill.
It's hard to believe the Pacers and Heat participate in the same sporting league as the rest of the Eastern Conference. The basketball gods have punished us with lots of sad injuries to star players over the last two years. They owe us a healthy Eastern Conference finals between these two. THEY OWE US.
Seriously, these teams are so good, and so well-coached. They legitimately dislike each other, which makes for tremendous viewing. Lance Stephenson is going to murder someone in one of these games. He snared one third-quarter rebound in a bit of a crowd and swung his elbows so violently he almost knocked Paul George square across the face. Easy, Lance! The quality of play isn't always pretty, especially since Indiana cannot take care of the ball against Miami's pressure defense. The Pacers have coughed it up on nearly 20 percent of their possessions over the last nine games between these two, a "cover your eyes"–ugly rate that would be the worst in the league by a long shot.
But the unprettiness, when it crops up on either end, is more the product of the dialed-in defense these two play in diametrically opposed styles — Miami using its speed to blitz everything, Indiana holding to its conservative principles and trying to funnel Heat ball handlers toward the monster lurking in the middle. The contrast in styles, the lineup machinations, the feeling a confrontation could break out at any minute — it's the best matchup in the NBA right now. Here's what we've learned from these teams so far:
• The teams have split two rounds, but it feels as if Indiana has a tiny edge. The Pacers nearly won this game on the road despite Roy Hibbert's foul trouble, a vintage Dwyane Wade performance (the kind Wade just couldn't provide in the playoffs last season), and the teensiest bit of uncalled contact from LeBron on George's potential game-tying triple. It was probably a foul, and if LeBron had duplicated that level of contact on George's shooting elbow, as Iman Shumpert did on a game-breaking play when Indy visited New York last month, George would have gotten an honest chance to tie the game.
• Indy is in Miami's head in the most obvious sense: The Heat revealed they actually cared about this game, a rare thing for a group that sometimes struggles to summon adequate motivation during the regular season and is choosy in giving out true respect to opponents. How do we know they cared? LeBron yelled at Mario Chalmers again! This is the among the best ongoing sitcoms in the NBA. I almost want Chalmers to sign with another team this summer, just to see if any of this carries over. Would DeMar DeRozan just start screaming at him in Toronto? Or would the opposite happen — would Chalmers join a new team, assume (in his mind) the role of alpha dog LeBron Lite, and begin screaming at everyone else all the time?
I mean, did you see the reactions of everyone else on the Heat bench? Only Udonis Haslem, the team's cranky old man, even moved. Juwan Howard was laughing. A few assistants and security guys just kind of stood there, watching in horror and/or amusement. Chris Bosh said something, but didn't shift an inch in his seat. "Oh, hey, they're doing it again, hopefully LeBron doesn't kill the guy. Does everyone else hate the 'Seven Nation Army' chant our fans do? It's the worst!"
• But Indy is in Miami's head in much more meaningful ways that play out on the court. The Heat are doing stuff against Indiana they don't do against any other team, and it's a testament to Miami's versatility, smarts, and overall talent level that it can make on-the-fly stylistic changes so smoothly.
Take the 3-pointer George hit to set off the James-Chalmers tiff:
It begins with a Stephenson-Hibbert pick-and-roll on the right side of the floor. Watch Hibbert: He doesn't really even set a pick for Stephenson. He just gets into position for the pick, and then cuts hard into open space — slipping the screen.
Then watch Bosh: He sticks to Hibbert like glue. The Heat's scheme would normally call for Bosh to trap Stephenson hard here, but Bosh doesn't do that, which is why Stephenson is able to drive into the teeth of the defense and kick to George.
This was an ongoing theme in this game: Miami often abandoned its core pick-and-roll strategy, the very thing that has made it great, while trying to deal with a generally mediocre Indiana offense that has come to an understanding of how it wants to attack Miami.
I mean, look at Bosh and Chris Andersen defending these pick-and-rolls. Instead of trapping Indiana's ball handlers, they're dropping back, like faster versions of Joakim Noah or Tim Duncan: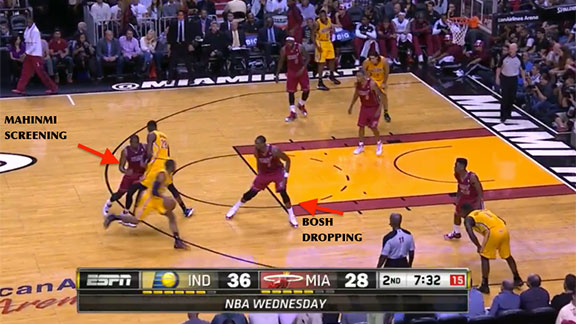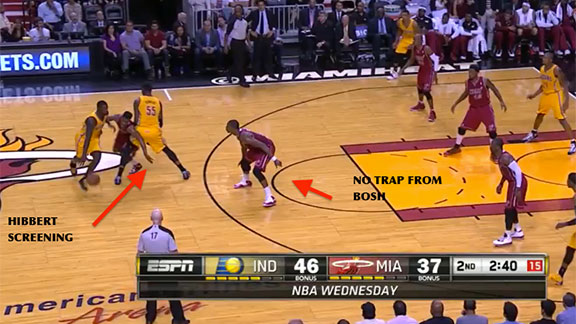 George Hill hit a 3-pointer on this play precisely because Bosh dropped down below the pick: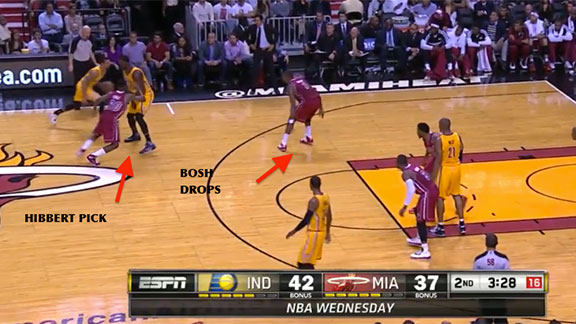 Here's another instance that worked for Miami, from a Stephenson–David West crunch-time pick-and-roll: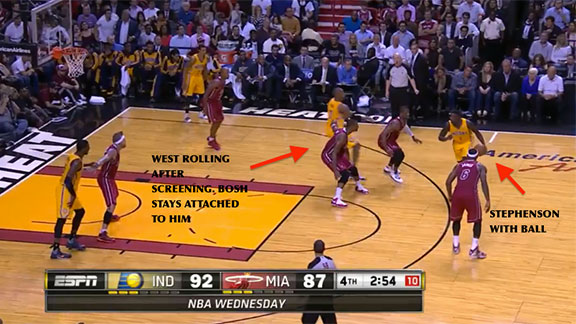 This does not look like Miami at all! It is Miami doing its version of the staid pick-and-roll style that Indiana, San Antonio, Chicago, Portland, and other "drop" teams play. It was jarring to see.
And it was not an accident. The Pacers understand they don't have the ball handlers to attack Miami's defense by having a guard prod around like Chris Paul might. They also get that Miami will trap almost all pick-and-rolls. So they get penetration another way: by having their big men, West and Hibbert, roll hard into space, catch the ball, and turn to face a four-on-three situation as Miami's trappers try to recover.
The Pacers have gradually developed more variations on this theme. Sometimes it's just a vehicle to get Hibbert moving from a pick-and-roll right into a post-up situation against a smaller help defender, often Shane Battier, who has to slide over to contain Hibbert:
Sometimes the Pacers will have their big man roll down one side of the floor just to bend Miami's defense in that direction before swinging the ball to the other side for a post-up — as illustrated in this recap of Game 4 of last season's conference finals.
And they've leaned more on some other related tactics, including this beauty from last night:
The Heat trap George as West rolls hard down the left side, but rather than have George risk a dribble drive or a pass over the top, the Pacers have stationed Hibbert on the opposite side of the floor as a middleman. He has an easier passing lane to West, and if Hibbert's out there, that means West has no big man to worry about at the rim.
This is almost like Indy's version of "shorting" the pick-and-roll — a tactic Mike D'Antoni made popular in Phoenix, and one Indy has toyed with now and then against the Heat and other teams. In the common form, the screener will roll down one side of the lane, sucking in a help defender on that side, while the other big man will simultaneously pop up to the foul line on the opposite side of the lane. The ball handler hits that guy, who then immediately kicks the ball to the shooter whose man has drifted into the paint to contain the rolling big. Here's Indy pulling the trick in the teams' first meeting this season:
• Long story short: At this point, Indy is comfortable using Miami's traps against them, and the Pacers have scrounged up enough points this way to play the Heat even. And so Miami last night, for the first time, stopped trapping for large segments of the game. It was a way of playing Indiana "honest," of forcing the Pacers to manufacture points without the temporary advantage of a four-on-three. And the Pacers mostly failed, or relied on bailout shots at the end of the shot clock, including some toughies in the post from the always game West.
This is a "back pocket" kind of thing. These teams are measuring each other, trying stuff out, seeing what works, and showing only what they want to show for now. Maybe Miami has found something here, something it will try again in the playoffs. Maybe not. But it worked for the Heat last night.
• And that's the other fun thing about these games — the tricky dance of trying to win while saving some wild cards for the postseason. There aren't as many wild cards left after 13 combined playoff games over the last two seasons, but there are degrees of emphasis. We haven't seen a ton of LeBron post-ups in either game this season. We haven't seen many LeBron/Wade pick-and-rolls, in part because the Pacers are comfortable switching assignments and having Stephenson battle LeBron in the post.
We haven't seen Bosh try to work off the dribble against Hibbert and West, though we also didn't see that much in the playoffs last season. That's an advantage I'd like to see Bosh exploit more often, even if it does run counter to Miami's general spacing rules. We've seen Indy use George as the screener in pick-and-rolls just a few precious times, but no more. Last night we saw Indiana run some side pick-and-rolls in which Hibbert would start along the baseline on one side of the floor, and then sprint diagonally up to the other side to set a fast-moving (for him, anyway) pick — a tweak we hadn't seen much in prior games.
It's just stuff to monitor, a search for tiny advantages that could swing a very competitive postseason series.
• There's another way in which the Heat are scrambling: They are searching, rather frantically, for lineups that can work against Indiana. For one, they have played two traditional big men together far more often against the Pacers than against the league in general. Bosh and Andersen have played 30 minutes together this season; 16 of them have come in two games against Indiana, per NBA.com.
The Heat played the last 6:11 last night with a hybrid lineup that had played about one minute combined over Miami's first 24 games: Wade, Bosh, LeBron, Andersen, and Ray Allen. That lineup has two big men and zero point guards, and as a result Hill got stuck guarding Wade in the post on one possession. They also dusted off Haslem, including in a Norris Cole–Chalmers-Haslem-LeBron-Bosh grouping that had played only a few seconds before last night.
The Heat's defense and rebounding did look more threatening with two big men on the floor, even though going this route defangs their pace-and-space attack a bit. There are just more arms in more places, and when Miami combined this kind of size with a more conservative pack-the-paint style (outlined above), the Pacers had trouble finding space to attack.
• The Heat last night ditched a lineup tactic they used copiously in the first matchup between the teams: slotting LeBron as the "true" power forward in ultra-small lineups featuring three guards, LeBron, and only one big man. Even when they're small, the Heat normally like to protect LeBron by having another hybrid guy on the floor to guard power forwards — Battier, Rashard Lewis, or Michael Beasley, who has not played in either Indiana game this season.
But going super-small makes Miami very difficult to guard, and the Heat went this way for extended minutes in the first game whenever Indiana had either Luis Scola or Ian Mahinmi on the floor. Neither is a threatening low-post scorer who can hurt LeBron on the block, making it safe for Erik Spoelstra to try this out.
It didn't work — Indy outscored those Miami groups — but Miami surely saw ways to profit down the road. Indy stayed big against those lineups, meaning it had to hide Scola somewhere. It chose Allen as the hiding place, and that presents obvious problems. The Heat in the first game saw this matchup, smiled with delight, and had Allen run poor Scola around all kinds of off-ball screens. Scola couldn't keep up, the Pacers had to switch or over-help in a panic, and the Heat got buckets.
We didn't see this for a single second last night, even with Mahinmi playing extended minutes because of Hibbert's foul trouble.
• Even with all the turnovers, the Heat have not been able to play at their desired pace against Indiana. These two games have featured about 92 possessions per team, about equivalent to Memphis's league-low pace factor, per NBA.com. The Heat want to run, in part to sprint Hibbert out of relevancy, but they haven't managed to do it.
• Another little thing to keep an eye on is Miami putting Hibbert in a lot of pick-and-rolls in the second half of the first meeting between the teams, and again in the early part of last night's game. The Heat spent much of the conference finals last season explicitly avoiding this. They would run pick-and-rolls along one sideline and station Bosh all the way in the other corner, so that Hibbert was as far from the action as possible — and had a ton of ground to cover to reach the rim.
The Heat are still doing a lot of that. But they're also experimenting with having Hibbert's guy set the main pick, possibly as a means of fatiguing Hibbert or getting him into foul trouble.
• Early in the game, Andersen, standing near the foul line, began pointing at Hibbert's feet in the paint and screaming at an official to pay attention. He was almost certainly alerting the ref to the possibility of a defensive three-second violation. Coaches and players openly say referees don't call this nearly as often as it happens, allowing guys like Hibbert to camp out longer than allowed. The league is investigating that possibility, and looking at why the defensive three-second calls drop as games go on.
In any case, between this stuff and Hibbert's "verticality," expect some lobbying of the refs whenever these two meet.
• Chess match alert! Indiana likes to run a funky little weave play out of timeouts, especially at the end of quarters, and it caught Miami off guard in the first game; Stephenson broke free for a layup at the end of the first half.
Indy tried it again last night out of a timeout, even using West in the play (which is unusual), but the Heat were ready for it:
And down by one with 25 seconds left, Frank Vogel dusted off an old favorite — having West sprint up as if he's going to set a screen for Hill and then veer away from him at the last second:
Vogel got Hill a buzzer-beater against the Lakers with this play last season, and the Hornets (now Pelicans) under Monty Williams used to run this in crunch time often with West and Paul. Williams has told me he took the play from his days as an assistant in Portland, which ran it often for Brandon Roy and LaMarcus Aldridge. Fun times.
• I like to think Indiana's unbelievably sloppy turnovers cancel out Miami's puzzling lapses in concentration and effort — a problem that dogs them even in high-leverage playoff games. Wade lazily failed to block out Hill on one possession last night, and the Heat will still have two or three possessions per game in which they irresponsibly lollygag in transition defense. Every team has hiccups in this area, especially when a point guard drives to the rim, misses, and falls to the ground. It's hard to scramble at a five-on-four deficit.
But the Heat's lapses are different. Wade still whines, constantly, leaving his teammates in the lurch. The Pacers got three baskets, by my count, because of lazy Miami transition defense in a five-minute span bridging the first and second quarters. News flash to the Heat: Indiana is an average offensive team, and you are gifting easy shots because of poor effort.
Even the Chalmers-LeBron mishap that led to their argument is just a classic Heat thing. They sometimes take little care in who guards whom, so that if two perimeter players on the other team just switch places behind the 3-point arc, the Miami defenders on them will casually switch — even if doing so creates a bad matchup. That's what they attempted to do last night on this play, only they botched it in a stunningly amateurish way during a game they cared about winning.
It's clear after all these years that Miami just won't clean this stuff up. The Pacers don't make mistakes like this nearly as often, and almost never in transition defense. This is part of what makes a playoff series between the two so compelling. Let's just hope everyone is healthy and raring to go if and when we get there.
Filed Under: NBA, Indiana Pacers, Miami Heat, Zach Lowe, LeBron James