NBA Shootaround: Brooklyn's Finest
Nathaniel S. Butler/NBAE via Getty Images
So much amazing is happening, and the Shootaround crew is here to help you keep track of it all. You'll find takes on moments you might've missed from the previous night, along with ones you will remember forever.
Savvy
The Heat rolled in Brooklyn last night, thanks mostly to a 36-14 third quarter and another 24-9-7 night from the best player in the league. It was during that third quarter, though, that Miami's other superstar got me thinking, and he did it with something he's done so many times before:


With Brook Lopez switched on him in the corner, Dwyane Wade threw up a hard shot fake, let the jumping big man drift by, and rose up for a short jumper. This move has been part of Wade's arsenal for years, to the point that among the basketball Twittersphere, it's become something of a running joke. When Wade goads a defender into biting on a shot fake 25 feet from the rim — something he does regularly — it's hard to imagine someone looking any sillier on a basketball court. His teammate may be one of the two or three most talented players to ever play the game, but Wade is certainly one of the savviest:
That shot fake move comes from an understanding about what other people are going to do on a basketball court, and when. Its mirror on the defensive end is actually blocking shots, and it just so happens that no guard has ever done it like Wade. When the notion of small-ball became chic after the Heat's run last year, I remember thinking it would be funny watching the rest of the league try to replicate it. Miami didn't win a championship last year because it didn't have a center. It won because in the absence of a rim-defending big man, it had the two best rim-defending perimeter players in basketball. Given James's physical skill set, it's a talent that makes sense. Given Wade's, we're left with a better understanding of what shot-blocking actually is. It's born of understanding intention, something Wade knows better than almost anyone.
There's a narrative about the later years in the careers of great players where games are changed to match declining athleticism. With Jordan and Kobe, it meant getting stronger, developing a post game, overpowering players that they used to blow by. For Wade, the beats of that narrative haven't been as strong because the shift didn't happen so drastically. The basketball nuances were always mixed with the crazy lift. Even as the latter has declined, the former doesn't feel new. Wade's name will stand along LeBron's and Kobe's as the best players of his generation, but my love for his game has always been more in line with my love for Manu Ginobili's. It's greatness born of skills entirely their own, rather than familiar skills with the volume turned up. There may not be another LeBron, but for reasons altogether different, there probably won't be another Dwyane Wade either.
— Robert Mays
The Kobe Assist
(All .GIFs by HeyBelinda)
The Secret of My Success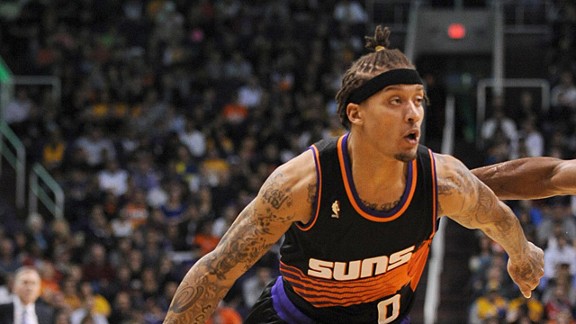 Let's take a minute to talk about Michael Beasley's hair.
I'm convinced that his up-do — and his up-do alone — was the reason for his 27-point, off-the-bench performance. No, it wasn't the open looks he got or the lack of Lakers defense in the fourth quarter. Heck, it wasn't even just a great shooting day. It was the hair, and just the hair. Here are my theories for how his hair helped spin the game:
1) Hidden inside the hair is an extra eye that's constantly scanning for prime shooting positions … hence the 12-for-20 shooting.
2) The hair is so frightening to Metta World Peace and so damaging to his chi that Metta was too afraid to get close. Need proof? Beasley himself said, "No more nonchalant Beas. I'm back to the Beast." And by Beast, he means his latest hairstyle, of course.
3) After hearing about SWATS, he sprayed his hair with deer-antler extract infused with pulverized Stegosaurus fossil fumes. (It's only weird if it doesn't work, right?)
OK, I admit, these theories aren't foolproof. But if it isn't the hair, then you tell me how he did so well yesterday when his win share per 48 games is significantly below the league-average (0.100).
— Patricia Lee
Goodnight, Sweet Prince
Don't Break Up the Nuggets
We're deep in Unrealistic Trade Blog Post Mode right now, and so I spent a few hours yesterday pondering ways to get the Denver Nuggets more shooting. J.J. Redick for Wilson Chandler? No, of course not. Wes Matthews and Meyers Leonard for Andre Iguodala? No, you fool. But I thought about it. That was a waste of my time. The Nuggets should not trade anyone; that much was clear last night — they won their fifth straight game, rallying against the Houston Rockets to move into a tie for the fifth seed in the West. With a weakened Grizzlies team, and an iffy Stephen Curry, the Nuggets are a legit contender for homecourt advantage in the playoffs. They have one of the easiest schedules in the NBA the rest of the way; the most home games, one of the lowest opponents' winning percentages, and a deep, healthy roster. And what a roster. It's easy to see what isn't there — that melt-your-face long-range shooter; consistency from the center position — but what is there is why we watch basketball. Speed-of-sound slashing from Ty Lawson, Iggy locking down on defense, Kenneth Faried exploding in the paint like Nightcrawler and Beast's lovechild. (He bumped his head on the backboard during an Andre Miller alley-oop last night — the guy's legs contain the real deer antler spray.) At the center of the Nuggets' astonishing January — they're 12-3 — is the brash Italian, Danilo Gallinari. He scored 27 for the second straight game last night thanks to dumb, glorious, We got this plays like this:
Before the season, I predicted Gallo would be an All-Star. That was too much. But this month he's certainly played like one, averaging 19 points and nearly five rebounds a game while shooting 43 percent from downtown. He also does things like this:
BELLISSIMA
Point being, how could we break these guys up? JaVale McGee, George Karl's black sheep and the greatest basketball player in the known universe who has no idea how to play basketball, knows this is home.
Hold strong, Masai Ujiri. Clutch those expiring contracts, and those cap-friendly deals. Keep your draft picks. Don't blow this on Josh Smith's suspect shooting and broken brain. You've got all the crazy you need right here.
— Sean Fennessey
Assist of the Night
Ricky Rubio …
vs.
Lance Stephenson …
Incidentally, anyone else notice that Lance Stephenson dribbles like Zach Lowe writes Larry Sanders's name? DRIBBLING!
— Chris Ryan
Little Big Man

The Nate Robinson experience is unlike pretty much anything else you can find in the NBA. Equal parts exciting and infuriating, Robinson moves to a team, quickly establishes a cult following, only to have fans and the team eventually grow tired of his attitude and feast-or-famine ways.
His time with the Bulls has been no different. Despite a productive season, statistically, there were rumors that the team considered waiving the diminutive point guard — possibly because Robinson is the antithesis of the player head coach Tom Thibodeau wants to work with — before the January 10 deadline. They did not, and Robinson's contract is now guaranteed for the rest of the season.
Last night against the Bucks, NateRob made the Chicago front office look good, scoring 24 points in 26 minutes on shots ranging from non-traditional to ridiculous, all while making sure Brandon Jennings knew about it. The point guard lead the Bulls to a blowout road victory over their divisional rivals in a game that makes fans wonder why the team would ever want to let Robinson go … for now.
— Brett Koremenos
"No, See, Me and Josh … It's an Inside Joke"
A Family That Prays Chokes Out Greg Stiemsma Together, Stays Together
Man, Greg Stiemsma had one of those nights. In the second quarter, Matt Barnes — shocking for someone as well-tempered as him — lost his cool on the Minnesota big man:
A minute later, Stiemsma was again the object of the Clippers' ire, when he undercut Grant Hill. Caron Butler reacted like Stiemsma had stepped on the origami swan he'd been working on for two days:
Los Angeles, losers of four out of its last five going into the Timberwolves game, proceeded to go on a 25-10 run after the second incident, ultimately winning the game, 96-90. In the absence of Chris Paul, this was a game won on the back of a fine 26-point, 13-board Blake Griffin performance. It was also largely the result of Butler's and Barnes's abstract motivational techniques.
Despite their success last season, I still associate the 2011-12 Clippers with master thespian Reggie Evans and an often annoyed-looking Kenyon Martin. Even with Chris Paul's steady hands on the wheel, they seemed to be always about to spin off the road. Griffin was often petulant, mentally taking himself out of games, nobody listened to Vinny Del Negro, and the team generally played like flat-track bullies: When it was a Lob City night, everything was great. If it was a tough road game, they seemed to check out and fall apart.
Last night was an example of how far this Clippers team has come. I don't get paid nearly enough money to psychoanalyze Matt Barnes (and it should be noted that him freaking out on Greg Stiemsma is not the most surprising thing that I've ever seen), but I can't help but think his freakout was part of a larger plan to amp up his teammates. It was almost like a pitcher buzzing a batter to get a reaction, or a manager intentionally getting tossed by an umpire to inject some passion into the proceedings. Without Chris Paul, the Clippers are a decidedly less functional team; it's almost necessary that they play edgy, physical basketball. Butler and Barnes brought that last night, and the Clippers held off some T-Wolves runs, basically willing themselves to a road win. After the game, Butler said, "It's a good thing when you get emotionally involved like that … I saw one of my brothers go down and it was just a natural reaction." The Clippers had plenty of hot-headed incidents last season. This season, though, L.A. is, for the most part, controlling their chaos.
— Chris Ryan
Filed Under: Brett Koremenos, Brooklyn Nets, Chris Ryan, Denver Nuggets, Dwyane Wade, Indiana Pacers, Kobe Bryant, LeBron James, Los Angeles Clippers, Los Angeles Lakers, Miami Heat, NBA, Patricia Lee, Robert Mays, Sean Fennessey