NBA Shootaround: And You May Ask Yourself, How Did I Get Here?
Layne Murdoch/NBAE via Getty Images
So much amazing is happening, and the Shootaround crew is here to help you keep track of it all. You'll find takes on moments you might've missed from the previous night, along with ones you will remember forever.
Tower of Power
Chris Ryan: Yesterday a couple of us were sitting around when Brian Schmitz's Orlando Sentinel piece on the cooking-in-its-own-juices ex–Orlando Magic players beef came across the Telex machine. Doing my best to capture the gravitas of the situation, I read out Rashard Lewis's quote: "We made a good run. Hell, look at those (conference and division) banners hanging in the stands. They don't say Dwight Howard on them."
To which Mays responded, "They should."

Just another day in the life of Dwight "Who Farted?" Howard, just another few people alienated, just another example of not getting it. And you start to wonder, maybe he's just not worth it. There were rumors that the Lakers were wondering exactly that around the trade deadline. Maybe all these headaches, all the sulking, all the boneheaded quotes that cause unrest … do you get enough of a return on your investment?
Yeah, you kind of do. Twenty points and 15 boards is a great night for most big men. It's another day at the office for Dwight Howard. There is nobody like him in the league. Roy Hibbert's career nights are a sneeze in the wind to this guy. And for as impressive as Kobe Bryant was during the Lakers' 20-0 comeback run last night, it was Howard who made the difference, with eight boards and three blocks in the fourth quarter. Watch the soul-smothering snuff on Robin Lopez up there. Who does that? That's just as big of a play as a Kobe dagger. To get that kind of interior presence, you deal with all the rest of it. That's why Lakers GM Mitch Kupchak was so emphatic at the trade deadline: Dwight's not going anywhere. And that play up there is why.
Besides, Pau Seems to Like Him
(All GIFs by HeyBelinda)
Purple-and-Gold Exceptionalism
Patricia Lee: I don't really understand what happened last night. The Lakers were down by 25 and looked horrible for most of the game. Then boom, boom, boom, the fourth quarter came by, Kobe stepped up his game, Dwight Howard started looking like the guy the Lakers thought they were getting when they traded for him, MWP made a few poor shots and then made up for it with stellar defense, and well … bad day for Nash, but you can't win 'em all, right? The comeback was nothing short of amazing; after all, holding the opponents scoreless in a 20-point run is certainly impressive. But the catch?
The Lakers were playing the Hornets. The Hornets!!!!!! The Bees!!!! (Or the Pelicans, whatever.)
New Orleans was 21-40 coming into the game and the Lakers were just a shade below the .500 mark. This game (like all the others … ) was a must-win for the purple and gold. But they didn't play like it (not at first at least). They let the Hornets get away from them, allowing seven (seven!) New Orleans players to get into double digits. In the fourth quarter they managed to pull it together, but this kind of win should not have been this hard to get. The Lakers inched one step closer to making the playoffs, but I couldn't get past the feeling that this game did a lot more to lower my expectations than lift them up. How did the Lakers get in that spot to begin with? Why does their potential rarely translate into actual on-the-court results? Considering how bad they looked against the Hornets for most of the game and how badly they got whupped by the Thunder the night before, do they even deserve to make the playoffs? These are all questions that bounced around in my head with each made Kobe shot and Dwight Howard block. Lakers nation has come to embrace mediocrity for this team (like applauding earlier this week after finally hitting the .500 mark), but we are better than that. A win is great, and it does pull the Lakers closer to the postseason. But we should expect more. These are the Los Angeles Lakers that we support, and we need to hold them to higher standards, even if that means being unimpressed with a 25-point comeback win.
The All-Time Alley-Oop Power Rankings
Robert Mays: I think I have to give ESPN.com's Kevin Arnovitz the nod for best instant reaction to the Jamal Crawford–Blake Griffin craziness last night:
Only thing better than one guy doing the best version of himself on a play? Two guys doing the best version of themselves on a play.

— Kevin Arnovitz (@kevinarnovitz) March 7, 2013
Everything about the play was perfect: the two guys involved, the crowd's triple cheer, Blake's reaction. This was the Platonic ideal of the alley-oop. So much so that I wondered where this might fall among the best ever.
What follows is the remainder of the all-time alley-oop power rankings' top five. The metric used to make these final cuts is one I spent the past 11 hours devising. AOx+ is a combination of five factors that result in one final measurement of each oop: authority, pass creativity, size of moment, crowd reaction, and dunker showmanship. How each of those figures is determined is a bit too complicated to explain here, but just know that it involves a lot of science and is very difficult.
As a reference point, the Jamal-to-Blake dunk finished with an AOx+ of 8.3, which is good for third on this list. Its pass creativity gets the best mark ever, according to our records. The three individual cheers from the crowd — Jamal through the legs, ball in the air, ball through the rim — gives it a huge boost. So does the Blake smile and the post-dunk bump, considering Blake's normal reaction to these things is pretty much this. Where it falters a tiny bit is that it came in an early-March game against the Bucks, but that damage is relatively unimportant. In short, it's pretty damn good.
1. Kobe to Shaq, Game 7, 2000 Western Conference finals

AOx+: 9.2
Mostly here because it scores a 17 out of 10 on the "size of moment" scale, but Shaq's point and the crowd reaction also score historically high. There have been cooler alley-oops, but never more important ones. A fitting no. 1.
2. Vinsanity, March 2000, vs. the Clippers

AOx+: 8.7
The first year of this millennium seems the clear winner for Year of the Dunk. It ends with Kobe to Shaq, starts with Vince ruining the dunk contest for all time, and has this dunk somewhere in between. The pass here is absolutely awful, and that's pretty much what makes the rest so great. How far he has to reach back for this ball is not a thing that should happen.
3. Jamal to Blake (see above)
4. Payton to Kemp, over Zo

AOx+: 7.9
There are plenty of Reign Man lobs to choose from, mostly because they all come in at about a 20 on the "authority" scale. This one (which happens at about the :24 mark of the video above) gets a lift from Kemp both bumping into Mourning afterward and from the amazing arm swing. I apologize to my bosses for the Shawn Kemp YouTube hole I'm about to climb into for the rest of the day.
5. Tracy McGrady to Tracy McGrady, 2002 All-Star Game

AOx+: 7.1
Props to David Jacoby for his "Don't sleep on guys throwing it to themselves" recommendation. McGrady should get the credit for starting this trend, and for still having the best one ever recorded in (sort of) game play. Obviously, the moment here isn't all that big, but the creativity is off the charts.
Because I probably forgot a few mentionable others, feel free to yell at me on Twitter and/or leave your own recommendations down in the comments. Just know that whatever method you're using is wrong.
Buddy Comedy
The Midrange Artistry of John Wall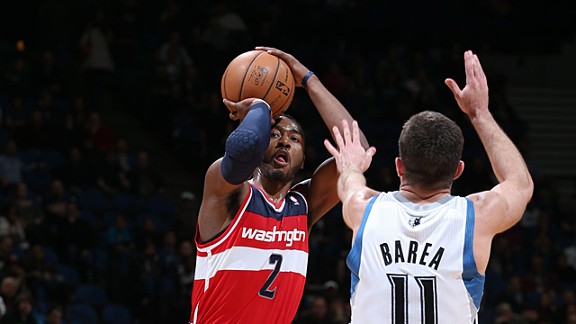 Danny Chau: John Wall, in the first 22 minutes of last night's game against the Wolves, did not miss a shot. Furthermore, he made shots — five of them, all from beyond 15 feet. It was an anomaly. This wasn't John Wall, notoriously bad shooter, we were watching. Wall was showing the influence of his coach and mentor Sam Cassell, flexing his mastery of an antiquated art form. Four of Wall's first five shots came from a small plot of hardwood just above the right elbow, a statistical dead zone for most. The thing is, his proficiency from this area of the court wasn't a fluke. Wall is just (inexplicably) good there:
Of course, 42 shots is a small sample size given how many he's attempted and games he's played, but it's still baffling. What are we supposed to make of this extremely niche ability? It doesn't indicate improvement as much as it highlights how dreadful his shooting numbers have been. It's a life raft just waiting to capsize in the sea of red.
Wall went 2-for-10 in the final 26 minutes because good things never last. But hey, he'll always have that right elbow jumper, maybe.
(Side note: These nifty shot production charts courtesy of NBA.com/stats show real potential as minimalist art. At one point in the night, when Wall was 7-of-10 from the field, his chart resembled the cover of one of the greatest children's books of all time.)
This Is Probably the More Pertinent Stat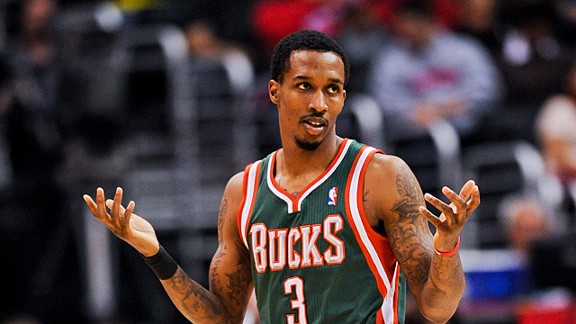 Chau: Brandon Jennings has 48 assists over his last three games.
That'll Be All, Randy Foye
Three Random Clippers-Bucks Thoughts From Zach Lowe
• Chris Paul's mastery of the two-for-one is high basketball art. I was lucky enough to be on a panel at the MIT Sloan Sports Analytics Conference with (among others) Stan Van Gundy, and it surprised me that Van Gundy wasn't gung-ho about going for the two-for-one at all costs. His argument was interesting: If a coach allows a player to take a reckless shot on the first possession of a two-for-one to ensure the team gets the ball back in time for a real second possession, that permitted recklessness could seep into the team's broader shot selection and erode a healthy culture. I wanted to ask Van Gundy what he'd suggest when his team got the ball with something like 48 seconds left — more than enough time to run a decent possession and ensure you get the ball back with something like 10 seconds left in the quarter.
That's exactly what happened at the end of the third quarter last night. The Clips got the ball back with 54.2 seconds left after a missed Milwaukee free throw, and Paul essentially had the team dick around for 12 seconds or so before suddenly exploding to the hoop on a pick-and-roll and laying the ball in with 37.3 seconds left. Almost perfect timing. The Bucks might have been able to arrange their own two-for-one, but doing so would have involved a huge rush up court and the bad shot Van Gundy justifiably dreads — and probably another bad shot on the back end. The Bucks ran a normal possession resulting in a miss, and the Clips got the ball back with 16 seconds left. You'll never guess what CP3 did. He ran the clock all the way down to about three seconds, ran a high-speed pick-and-roll with Lamar Odom, and drew a foul with less than a second left.
Seriously: high basketball art. The only thing missing was Paul walking the dog on the first possession to manipulate the clock at an even deeper level. The guy is a hoops genius.
• Blake Griffin had a triple-double, and his value as a player is generally obvious. But here's something subtle about having a great post player: The other team will likely have to use its best interior defender on him, even if that's not the ideal matchup in terms of size and strength. The Bucks had LARRY SANDERS! guard Griffin last night, which left 6-foot-9 Ersan Ilyasova checking 6-foot-11 DeAndre Jordan (with giant wingspan and huge hops) since Milwaukee could not trust Ilyasova's post defense on Griffin. Related: Jordan had five offensive rebounds.
• Umm … so this pass from Chris Paul, aided in part by Monta Ellis watching the ball during Paul's cut, is pretty ridiculous.
Your NBA Doppelgänger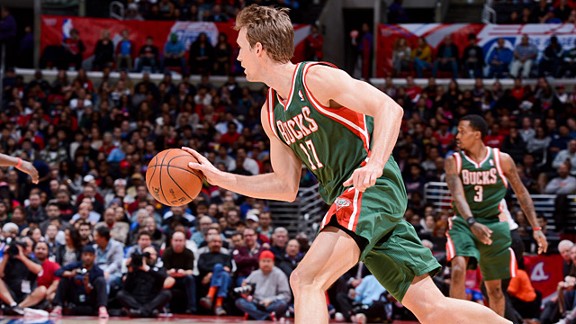 Bill Simmons: I took Jacoby to last night's Clippers-Bucks game and gave him the crucial note, "Watch Mike Dunleavy Jr. At this point of his career, he plays exactly like a 6-foot-9 me."
In other words, Dunleavy doesn't do anything he can't do; he's unselfish and throws nice entry passes, making him the proverbial fun-to-play-with guy; he can't guard anyone anymore, but hides it well enough that you don't totally know this unless someone is blowing by him off the dribble; and he's only good at running to his four or five spots on the floor and launching outside shots. He's also not nearly as good of a shooter as he thinks he is. And at least once a game, he's going to forget he's not 10 years younger and try something athletically that's almost definitely going to end up being embarrassing.
Now, I didn't have to explain any of these things to Jacoby because we play basketball all the time. So when Dunleavy came in and started doing Dunleavy things, Jacoby had one of those "voilà!" moments. There was Dunleavy refusing to fill the lane on fast breaks, choosing to dart to his 3-point spots just in case someone wanted to set him up for a 3. There was Dunleavy repeatedly forgetting to stay close to Matt Barnes, who made multiple uncontested 3s on Dunleavy's watch. There was Dunleavy forgetting more than once that he should only be shooting 3s (and deciding to post someone up, with ugly results). There was Dunleavy getting down on himself after a couple of bad plays. There was Dunleavy just trying to get through the game without anyone noticing that he's gotten a little long in the tooth.
"It's like watching a 6-foot-9 you!" Jacoby exclaimed.
"I know! I told you!"
That's when I gave Jacoby my theory: Everyone who plays pickup basketball has an NBA doppelgänger … no matter how absurd this might seem. Who was Jacoby's doppelgänger though? The 6-foot-3 Jacoby loves posting up on the block, where he relies on a sneaky drop step and a reliable jump hook. He's a good passer from there, especially on double teams. He's an above-average defender. His biggest weakness: He's one of those "big guys" in pickup hoops who loves running fast breaks and making crazy passes, at least half of which sail out of bounds at 50 miles an hour. When we play hoops with the USC kids, I'm the Jacoby Tax — you have to take us both if you want Jacoby on your team. And if I'm hitting my shots, it's actually not a bad deal. Like Dunleavy, I don't do anything I can't do … even if I can't do that much anymore.
Poor Dunleavy didn't have it last night. He missed five of eight shots and got badly outplayed by Barnes (20 points, six 3s). I know the feeling. He's the E.T. to my Elliott. He probably left that Clippers game thinking, If only I had a couple more 3s, things would have been TOTALLY different. That's why he's my NBA doppelgänger. But what about Jacoby? When I confessed that I couldn't figure out the identity of his NBA doppelgänger, Jacoby said without missing a beat, "Rebecca Lobo." He was 100 percent dead serious.
And we laughed and laughed and laughed … because it was totally true.
Play of the Night: San Antonio's "Milwaukee" Set
Brett Koremenos: The Spurs are without their linchpin, Tony Parker, for the next month, but having Gregg Popovich at the helm makes that loss a lot less problematic. Pop is a true master of his craft, especially when it comes to X's and O's. This isn't to say that Pop wanders around San Antonio like Will Hunting, scrawling out sets to counteract specific schemes by opposing defenses on random whiteboards at local community colleges. The Spurs coach, like everyone else in his profession, often acquires certain concepts to round out his playbook the old-fashioned way — by stealing them.
OK, it's not technically stealing, more "borrowing," but coaches across all levels often show their respect for a difficult-to-defend set by making it their own. Most will give credit by naming the play after the source in some form or fashion. That is how this sideline-out-of-bounds (SOB) play the Spurs ran last night likely came to be named "Milwaukee."
"Milwaukee" is a misdirection play off an SOB used to get either a quick layup or post-up off-ball reversal for a designated big man. It starts with new point guard Cory Joseph inbounding to Tim Duncan on the right wing, then quickly stepping onto the court and receiving a handoff while Duncan moves off a double baseline screen lower on the floor.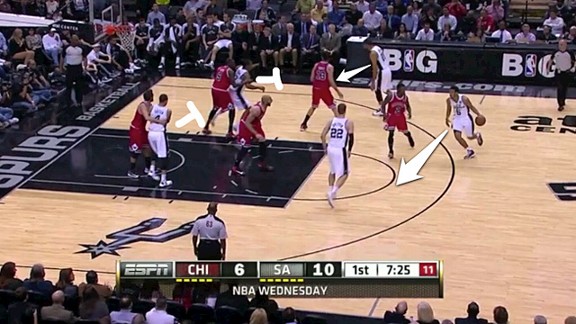 What makes this play difficult to defend on a regular basis isn't that the false action (the original handoff followed by the high pick-and-roll from Tiago Splitter) catches teams by surprise, but that Duncan receives two consecutive screens from smaller wings, Danny Green and Kawhi Leonard, one of whom (Green) immediately comes off a down screen from Splitter.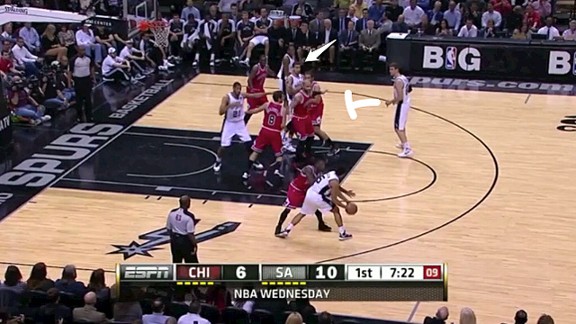 So if you're looking for the reason why Duncan was left so wide open, it's because the Bulls likely had this play scouted well and Marco Belinelli — the player tasked with tracking Green — was instructed to jam Duncan quickly and then rush to defeat the screen from Splitter and disrupt a possible catch-and-shoot jumper at the top of the key. But therein lies the difficulty in defending this play. If Belinelli stays too long to jam Duncan, Green — one the league's most accurate catch-and-shoot players — cuts hard to the top of the key off a screen for an open jumper. If the Bulls guard doesn't, Duncan either gets a layup or really deep post catch.
Now Green and Splitter fail to actually engage in the screening action this time (possibly because Splitter saw Duncan wide open and gave up on the play), but that subtlety is why the Spurs can continue to use it on a nightly basis after teams have it well scouted. It's also why Popovich likely borrowed it from, well, you can probably guess where.
Alternative Play of the Night: San Antonio's "We're Awesome" Set
Celebrity Encounters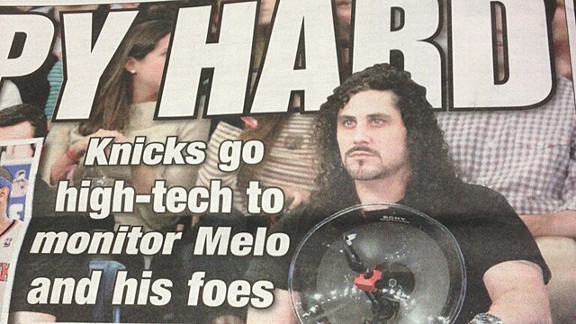 netw3rk: It's a curious thing to run across a celebrity. A person whose image you know from some projection or manifestation of mass media, all of a sudden very corporeal, right freaking there in the drab and drizzling real world. That's what I was thinking last night, across the street from Madison Square Garden, as I had my own Purple Rose of Cairo moment with James Dolan's Microphone Guy. Some backstory: On January 7, as the Celtics strode imperiously to victory over the Knicks in New York City, Kevin Garnett and Carmelo Anthony engaged in a lively debate allegedly pertaining to the similarity in flavor and texture of Melo's wife to a popular morning cereal. Anthony, apparently feeling that regulation time left no room for resolution, decided to take up the issue with Garnett in front of the Celtics team bus, garnering Melo a one-game suspension. Knicks owner Dolan responded to the suspension of his star as sanely as can be expected from a lifelong Allman Brothers fan: Hey, dude, lets get some tapers and start taping these shindigs.
So it was that a Garden employee, who appeared as if he could be the love child of Chris Cornell and every member of Queensrÿche, was photographed sitting crisscross applesauce on the baseline, holding a totally low-key looking salad-bowl size microphone like a heavy-metal Virgil from Homeland.
And now, months later, as I made my way to the train, there he was — standing on the sidewalk in a light drizzle, smoking a cigarette. Looking up from my phone and seeing him, I had to muffle the jolt of instant recognition that nearly had me yelling "Hey, wow! Microphone Guy!" like an amateur instead of a jaded New Yorker who's seen celebrities peeing between parked cars. I strolled nonchalantly past him, turned, and pretended to take a picture of the Fuse TV building lights. You know, like a tourist. A young lady was asking him for a cigarette; he gave it to her. I snapped two pictures of slightly-better-than-Bigfoot quality and went on my way. I present those to you here.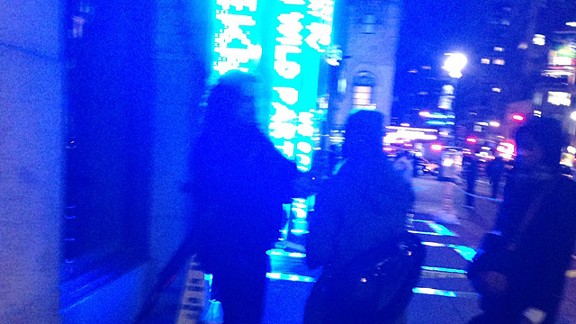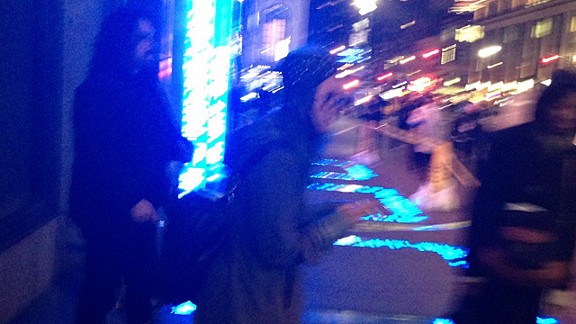 Of near equally curious quality was the Knicks-Pistons game that awaited me on the other side of a train ride.
A few things:
• James White started and continued his human embodiment of philosopher George Berkeley's metaphorical trees with no one to see them — minus-four in 7:49 played, three assists, zero-everything-else, and a general air of confusion.
• The Pistons arena staff continuously shelled the fans with T-shirt cannons, even during play, a thing Mike Breen says he has never seen before. And he's a big Jethro Tull fan.
• Jonas Jerebko, who is from a Scandinavian country that experiences whole days swathed in darkness during the heart of winter, looks practically Jersey Shore–ian next to Kyle Singler, who is paler than Death's horse.
Filed Under: Bill Simmons, Blake Griffin, Brett Koremenos, Chris Paul, Chris Ryan, Danny Chau, Dwight Howard, Gregg Popovich, Los Angeles Clippers, Los Angeles Lakers, NBA, New York Knicks, Patricia Lee, Robert Mays, San Antonio Spurs, Tim Duncan, Zach Lowe