NBA Playoffs Short-Attention-Span Power Rankings: Too Close for Comfort
Stephen Dunn/Getty Images
A survey of the players and teams making moves in last night's NBA action.
1. Tim Duncan
Brett Koremenos: Of all the great narratives basketball gives us, the most exciting is when an all-time great, probably one a little past his prime, turns back the clock for a vintage performance when his team needs it the most. Tim Duncan gave us the pleasure of such a moment last night. After being forced to battle a feisty Memphis for an extra five minutes, the Spurs needed someone, anyone, to step up big. Enter Duncan. He played like he was 10 years younger than his actual age of 37 — delivering crucial buckets, making great defensive plays (including a huge block on Zach Randolph early in OT), and snaring tough rebounds.
Duncan's urgency was almost palpable, as if he realized that a loss in Game 2 might close the window on his last run to the NBA Finals.
2. Athleticism
(All GIFs by @HeyBelinda)
Chris Ryan: This is exactly what the ancient Greeks had in mind when they created the Olympics.

3. Offense
Robert Mays: Tony Allen has spent most of his career playing like someone who just got a vitamin shot at SCDPCGC, but because Allen is mostly known for being a defender, this hasn't been a problem. It became an issue at various points last night, though, when the Grizzlies offense was so void of flow and a plan that Allen was left to his own devices while holding the ball on one side of the floor.
At one point in the third quarter, that involved leaping for a pass down near the block, flailing his legs as he caught the ball and faked a pass — all in midair — and then running over a smaller Spurs defender on his way to the rim. The result was an offensive foul, the reaction above, and the ball going back to San Antonio. It was one of several Tony Allen–off–the–bounce moments from the night, and while each is undeniably exciting, I'm not sure it's the right sort of exciting.
Even Memphis's run to get back into the game saw the Grizzlies living dangerously. This is Jerryd Bayless's shot chart from last night, which includes five made shots from 18 to 21 feet in the second half. Now, when it comes to this Memphis team (and especially when it comes to a Memphis team down double digits), points are points, and on a game-by-game basis, it will take them however they come. The worry here is that while last night's comeback was nice and all, on offense, it wasn't built on the sort of thing the Grizzlies can replicate.
There's one exception here, and it's more Quincy Pondexter. As Jeff Van Gundy noted last night, even the presence of Pondexter in the corner allows the Grizzlies more space to work, and that's saying nothing of the corner 3 and the drive and finish he had after being run off the line last night. Memphis needs to find more offense, but it also needs to be looking for it in the right places.
4. The Level of Restraint I Showed in Not Tweeting "Rudy Sinks That" Every Time Pondexter Missed
Chris Ryan: It was pretty high.
5. Styles
netw3rk: In boxing, the saying goes "styles make fights." Two different approaches meeting at cross-purposes, a philosophical debate in the form of a sporting contest. Spurs-Grizzlies is a debate over who controls what space, an on-court territorial dispute colored between the team's polar-opposite cultures. Game 2 saw the Grizzlies finally start to inject some griminess into the well-honed Spurs machinery.
The Spurs want to spread it out and create scoring opportunities all over the floor. The rallying cry for San Antonio fan-base victimhood is that people consider the Spurs boring, that they never get their due plaudits. They ain't boring basketballwise. Shooters all over the floor; Tony Parker weaving through bodies like a Dickensian pickpocket; Tim Duncan exuding the powers of a Lvl 57 Mage with the Enchanted Ring of Soft Rims; Manu's evergreen bag of zigzag Euro moves. But basketball is entertainment, ergo athletes are celebrities, and as celebrities go, the Spurs are sitcom dads. These dudes all do their taxes early, drive sensible cars, and film chocolate milk commercials. Dungeons & Dragons and searching for the perfect sandwich just don't have the buzz with the kids that they used to. Even when one of them manages to get involved in a fracas in a club, it's as a bystander to a fight between two former child stars, one of whom is Canadian. WORLD STARRRRRRRR.
The Grizzlies don't have the outside threats that the Spurs do. They want to control the inside, work it through to Z-Bo and Gasol, the Gritter Twins. On any other team, in any other setting or realm of reality, Zach Randolph's conscious mind wouldn't even register the presence of Matt Bonner banging with him under the rim, smelling like a roast beef sandwich and looking like a writer for Slate. But when Bonner is, like, the third of four large human bodies Z-Bo has to grapple with on any given play because the realm of reality we exist in is one in which Matt Bonner plays for the Spurs, the result is copious amounts of Z-Bo struggle face. And while the Spurs' cultural motto is the absence of a motto, like some Zen saying about the malleability of water, the Grizzlies' cultural motto is "grit and grind." The Grizz are the guys who have been through stuff. Scraps with teammates over that gambling scrilla; strip-club beatings; cops pointing Sig Sauer 9 mm's at you while in flagrante delicto with a lady friend.
Grit and grind vs. well-oiled; styles make fights.
6. This Week on Grey's Anatomy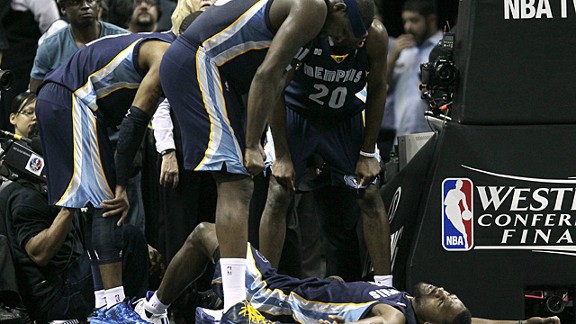 Filed Under: Brett Koremenos, Chris Ryan, Memphis Grizzlies, NBA, Patricia Lee, Robert Mays, San Antonio Spurs