NBA Playoffs Short-Attention-Span Power Rankings: Stephen Curry and the Upsetters
Rocky Widner/NBAE via Getty Images
A survey of the players and teams making moves in last night's NBA action.
1. Stephen Curry
Brett Koremenos: Though he has made a number of incredible, acrobatic shots over the course of this series, the first 3-pointer Steph Curry made in the third quarter last night particularly stood out. As far as degree of difficulty was concerned, it was a relatively easy look for Curry. What made it stand out to me was the rush I felt when it went down. At any point during a Warriors game, one made jumper from Curry can sometimes seem like the precursor to a brilliant stretch of basketball that's so damn fun you might want to strap yourself to the couch out of safety.


I'll call it the "seatbelt factor" because when the game is getting tense and Curry snaps a string of misses with a silky smooth jumper, I get a feeling like literally anything could happen in the next few minutes — from Curry draining a half-court bank shot to throwing alley-oops to the team's mascot. It's a feeling that's completely unlike anything in basketball right now. I, for one, couldn't be happier to see him and the Warriors for another round this postseason.
1a. This Is Insane
Steph Curry shot 68% from the field in the 3rd quarter in this series

— Nate Kreckman (@NateKreckman) May 3, 2013
1b. This and This
2. The End of Andre Miller, Old Man Game Revivalist
3. Mortality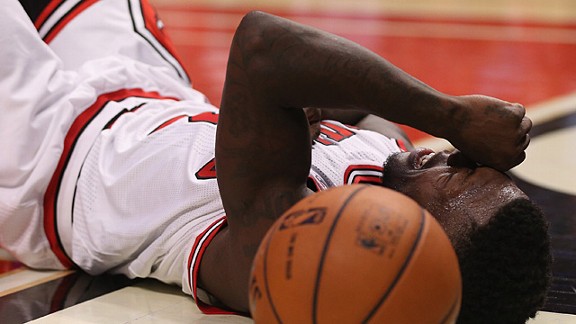 Robert Mays: Watching the Bulls last night, I was reminded of Will Smith's line from the trailer for the soon-to-be classic film After Earth. When Will and son Jaden crash-land on a faraway planet, Papa Smith explains to the Karate Kid that in this place, everything has evolved to kill humans. That planet is our planet. And as the Bulls alternately limped up and down the floor, covered their faces in towels, and puked in buckets, it was a reminder that the world is indeed full of peril.
Chicago's injury plague began last April, but when this season began, it never really slowed down. Joakim Noah has essentially added plantar fasciitis to his name, Taj Gibson's bum knee seems to be a permanent condition, and they've actually invented new joints just so Kirk Hinrich can tweak them. This Bulls season was always supposed to be one with lowered expectations, but one of those was never Marquis Teague getting minutes during Game 6 of a playoff series. The last thing this team needed was a run of flu intent on wiping out everyone who hadn't started getting his mail in the training room. Alas, it's what they got. So in a closeout game on its home court, Chicago trotted out a starting lineup that featured a bucket-needy Nate Robinson — and almost won.
The question is how badly Bulls fans should've wanted them to. Plenty was admirable about the collective spirit Tom Thibodeau's guys trotted out with last night, and Thibs's own stance — "We have enough to win," a mantra he sticks with no matter the casualties — almost turned out to be true. But it won't be remotely true for much longer. The Bulls could've won last night, and they could win Game 7 on Saturday, but that's likely where it ends. This is a team that has struggled with Miami at fuller strength than is currently possible. Any series against the Heat, with this Bulls lineup, would likely be a sweep of the ugliest sort. Just like it was last night, there would be plenty of nobility at the end, but the way Ned Stark lived didn't make it any easier to watch the way he died. There's part of me that would rather remember these seven games as a stretch of valiant effort where, in the end, there just wasn't enough, rather than watch a proud group limp toward the slaughter. Something tells me I'll be getting that wish, and my guess is that as soon as I do, I'll be regretting it.
4. Andre Iguodala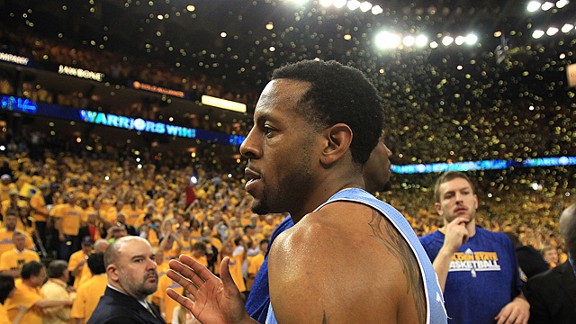 Danny Chau: With 23.5 seconds left in Game 6, Klay Thompson is on the sideline looking for Steph Curry on the inbound. The Warriors were clinging to a 90-88 lead. Thompson tosses the ball toward Curry, but its path is short and low. By the time the ball is in the air, Iguodala is already back in position, and from the TV angle we get, Curry isn't even visible. Iguodala eclipses him and taps the ball over to Wilson Chandler. It was Iguodala's only steal of the game, and it couldn't have come at a better time.
Of all the labels Iguodala has adopted and shed over the years, "lockdown defender" is the only one that has had any permanence. But last night, if only for a night, he reprised a few of the roles that he was deemed unfit for in the past. And had Chandler done something with the most important defensive stop of the series, Iguodala would've been the hero. Alas.
Iguodala was magnificent after halftime. He scored a game-high 24 points, with 19 of them coming in the second act. We all gawked at Curry's four 3-pointers in the third quarter that cracked the game wide open, but Iguodala's three incredibly opportune 3-pointers in the fourth were just as impressive — the Nuggets' improbable comeback wouldn't have been possible without them. Iguodala was flanked with two other creators in Ty Lawson and Andre Miller in the fourth, but they were a combined 2-for-9 from the field in the quarter. So, like the good old days when Iguodala was expected to lead a post-Iverson Sixers team out of the abyss, he bore the burden of making the big plays. To his credit, he made them. But between the rest of the Nuggets shooting 33 percent in the fourth, the referees making some terrible calls down the stretch, and the enormous deficit to begin with, it was a fool's errand.
Despite it all, it's been a real pleasure watching Iguodala play in the last few games. His play in Game 5 was as LeBronian as any basketball mortal could ever hope to achieve, and had the Nuggets pulled off the upset, we'd be looking at last night's performance a little differently. There will be some serious temptation in the front office to move in a different direction, but after watching Iguodala over the last few games, I really want to see them give it another shot (hopefully with Danilo Gallinari next time). I'm not ready to give up on this no-star utopian fantasy just yet — especially when Denver has at its disposal a fallen star who might just be able to rise again under the right conditions.
5. The Warriors' Bench
See you dudes next week.
Filed Under: Andre Iguodala, Chicago Bulls, Denver Nuggets, Golden State Warriors, NBA, Stephen Curry