NBA Playoffs Shootaround: The Sixers Win the Homecoming Game
So much amazing is happening, and the Shootaround crew is here to help you keep track of it all. You'll find takes on moments you might've missed from the previous night, along with ones you will remember forever.
Hail the Conquering Hero
Sometimes noise is better than words, so I won't say too many. You heard all the rumors, the Dominican Republic, broke, uncoachable, China, the gambling, the drinking. He's not gonna make the flight to Philly. It'll be a distraction. And then there he was, wearing a Lou Williams jersey, hat to the side, smile on his face and tears in his eyes. The fan with boxing gloves, raised in glory, because even if he didn't practice, he always fought. God, I even love the Joey Crawford hug, for some reason.

For an entire generation of Philadelphians, there never was and there never will be another like him. He was us when we were young, or at least he was who we wanted to be. Just seeing that he hasn't gotten too old means we haven't gotten too old, either. That's too many words. Listen to the noise of the crowd when he walks out. That's what brotherly love sounds like.
— Chris Ryan
What's James Harden's Real Value (Cardboard-Wise)?
One of the big winners of the 2012 playoffs so far: Oklahoma City's James Harden, who parlayed a tremendous beard (which looks even more tremendous in HD), the victim card (getting concussed by Ron Artest), two killer performances (Game 4 of the Dallas series, Game 2 of the Laker series), some genuine offensive flair (he's undeniably fun to watch, especially when you throw in the southpaw thing) and a general coolness (the way he carries himself, you'd THINK he was OKC's best player) into a ton of playoff-related cache. And yet … is Harden threatening to become a little overrated? In five games against the Lakers, Harden shot 35.8 percent, made only 5 of 20 3s and got torched just enough times by Kobe Bryant that Oklahoma City switched Kevin Durant on Kobe in the biggest moments of Game 4 and 5.
More important, check this out: Harden has rookie cards on eBay right now going for $355 (14 bids already, five days remaining) and $148.50 (11 bids already, less than two days remaining). The extravagant price of the first card makes sense (just a little) because it's an "Exquisite Gold Rookie Card" from Upper Deck and only 13 of them were printed. But there were 225 made of the second one — an Exquisite Rookie Card that doesn't have the word "Gold" in it — and that's where it seems like James Harden might be becoming a little overrated.
Quick question: If you had $250 to 300 to invest in a relatively hard-to-find-but-not-impossible-to-find NBA rookie card, would you rather go with Harden (has a puncher's chance of making the Hall of Fame if he stays healthy), Julius Erving (already in the Hall of Fame), Charles Barkley (ditto) or Bird/Magic rookies ON THE SAME CARD (and yes, they're both Hall of Famers)? Call me crazy, but I'd suggest backing the guys who already made the Hall of Fame over the guy who might make the Hall of Fame if 15 different things go right.
(Then again, James Harden's beard IS awesome.)
— Bill Simmons
Iguodunka of the Night: Andre Iguodala
Andre Iguodala's Iguodunka of the Night streak is now at two. Classic Sixers set there, with Evan Turner driving the lane, running into Brandon Bass, and firing the ball off Elton Brand's hands into the path of Iguodala. Go and light your playbook on fire, Gregg Popovich.
— Ryan
Rondo Against the World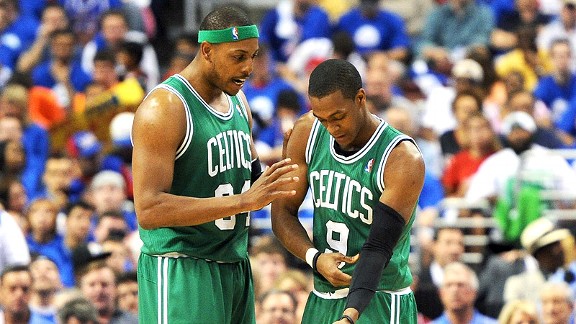 I would read a book about Rajon Rondo's strained relationship with the Big Three, and hopefully someday someone will write it. Early on, in public, for the most part, he said all the right things: about how playing with three Hall of Famers makes his life easier, about how he was just trying to get those dudes their shots and get out of their way. And then, at some point halfway through The Closing Window era, Rondo surged ahead of the oldsters and became the best player on the team, and the stories about the Big Three trying to keep him in line propagated freely and carelessly. Most recently:
"It has been well documented that Rondo struggles to coexist, at times, with his more celebrated teammates … Rondo needed a new confidant and Dooling, Rondo told me just before Game 1, had become that guy … When Rondo drew a two-game suspension for throwing the ball at Wright in February, his veteran teammates went to him demanding a public apology. Feeling cornered, Rondo balked — and that's when Dooling stepped in. 'I just told him, "You hurt your family when you do stuff like [throwing the ball at a ref]. The [money lost due to suspension] comes out of your pocket. That's taking money away from the people you love,"' Dooling said. 'He listened because I was coming from a pure place.'"
So what the hell are you supposed to think when you see a scene on the bench like Wednesday night? Rondo — who had the worst game of his postseason, with just six assists —staring, dead-eyed, into the middle distance. Pierce, yapping in his ear, being roundly ignored, and then delivering a let's-face-it-not-all-that-affectionate affectionate-older-brother-head-slap to the young man. When they win, it's easy to forget that this split even exists. When they lose, you get bench slaps. Awkward. So goddamn awkward.
— Amos Barshad
A One-Act Play About America and Field Goal Percentage
The Dutch bought Manhattan Island from the local Native Americans for a load of clothes, beads, hatchets, and other odds and ends worth 60 guilders (approximately $24).
— History
Dutch Trader: OK! We've got the clothes, beads, hatchets, and … oh, right, here's a copy of the DVD of the first half of Game 6 in the Celtics-Sixers Eastern Conference Semifinal series from 2012. [Rushing.] So, lots of good stuff here.
Native American Chief: Really? I heard there wasn't a lot of scoring in that series.
Dutch Trader: No, it's great! Really tough defense.
Native American Chief: Huh. What was the score in that first half?
Dutch Trader [Checks phone.]: Uhh … 36-33.
Native American Chief: You're shitting me.
Dutch Trader: Just watch the game! Some of the screens were like [punches fist into palm] POW.
Native American Chief: I'm prepared to sell you the island of Manhattan for a few beads and trinkets. I'm not an idiot.
Dutch Trader: OK, OK. I hear you. Look, you don't want the DVD, I can throw in season tickets to the Knicks instead.
Native American Chief: [Huge sigh.] Just give me the DVD.
— Brian Phillips
Filed Under: Amos Barshad, Andre Iguodala, Bill Simmons, Boston Celtics, Brian Phillips, Chris Ryan, James Harden, NBA Playoffs, Philadelphia 76ers, Rajon Rondo