NBA Playoffs Shootaround: Born Ready
Ron Hoskins/NBAE via Getty Images
So much amazing is happening, and the Shootaround crew is here to help you keep track of it all. You'll find takes on moments you might've missed from the previous night, along with ones you will remember forever.
Ask About Me
Danny Chau: In the NBA, every player was a star at some point in his life. Stardom, and the unshakable confidence that comes with it, is born and bred in the insulated bubbles of small-town high school basketball and the AAU circuit. But the pool widens at each level up, and most stars fizzle out and are faced with their new realities. Not everyone can be a star in the NBA, but the long season offers even the most marginalized player at least a few chances at capturing some of his former glory.
I wouldn't lump Lance Stephenson anywhere near that "most marginalized" category; his season has been a great success, though quiet. But the high school phenom he once was might've scoffed at his modest averages as a show of triumph. There was nothing understated about New York City Legend Lance Stephenson. He was brash, he had a comically presumptuous nickname, and he bullied his way into the all-time record for most points scored in the city.
That outsize caricature of Stephenson still shows its face. In the second quarter of Game 5, Stephenson inexplicably jumped from the dotted semicircle in the lane while attempting to posterize Tyson Chandler. It was a foolhardy attempt, and probably wouldn't have worked once in 100 computerized simulations — he just isn't that kind of athlete. He dared to dream, and was given a lesson in pragmatism as he crumpled to the floor. It was the perfect play to illustrate the kind of humbling Stephenson has endured in the league.

Not to be deterred, the outsize caricature returned in Game 6 and destroyed everything in its path. All nine of his made field goals came in the paint, and he was a perfect 7-for-7 from within the restricted area. For a night, he was that high school bully once again, treating Pablo Prigioni and Raymond Felton like rag dolls. His combination of speed, power, and grace was downright LeBron-like, but let's not make that comparison. It's probably fairer to see him as Tyreke Evans, but without the pretense of being a point guard.
(All GIFs by @HeyBelinda)
If the well of Miami-Indiana story lines runs dry, we might soon be revisiting Stephenson's infamous choke sign directed at LeBron in last year's conference semifinal. Odds of the gesture resurfacing are slim. After all, Stephenson has matured quite a bit since then, and he saw firsthand the havoc he wrought.
But these playoffs have shown, for better or worse, that he'll never fully rid himself of that Lance Stephenson, so let's not count out the possibility.
Fan Favorite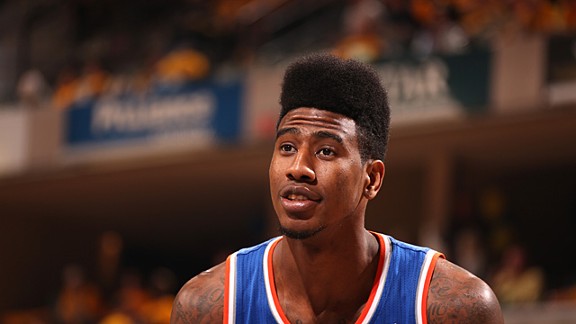 netw3rk: Mike Woodson is a good coach who probably doesn't know what his team does well or who its best players are. J.R. Smith, Sixth Man of the Year statuette winner and general man-about-town, wants to retire as a Knick but will probably test free agency (I guess Smith can, technically, do both things since he's been as good as retired for the past three weeks). Pablo Prigioni may return to Spain. Chris Copeland shot 42 percent from 3, and may have priced himself beyond the means of the Knicks despite Woodson's best efforts not to play him. Jason Kidd's ashen cadaver is under contract for another two years, as is the human heist movie Marcus Camby ($4.5 million this season, 24 games played, 250 total minutes), though at least his last year is nonguaranteed. Amar'e Stoudemire, Carmelo Anthony, and Tyson Chandler basically represent the Knicks' whole salary cap and it's not at all clear that Stoudemire can (a) stay healthy, or (b) play with the other two guys. All of which is to say, the Knicks' offseason flexibility is pretty limited.
Which makes the continuing development of Iman Shumpert so important; he's 23 years old on a team that's older than dust and he's the Knicks' best two-way player. There was a stretch of the third quarter in Game 6 during which he was the best Knicks player: 5-of-7 from the floor, 4-of-4 from 3, and he brought the Knicks back from 10 down to tied at 81 to start the fourth quarter. Heck, you could argue that Shumpert was the team's best player throughout the playoffs. Every time Shump cleaned up a teammate's defensive lapse, every time he made a shot, Knicks fans reacted with a combination of vindication and relief. Vindication that he appears to be on the way to developing into the player we (probably unreasonably) hyped him up to be; relief that the team didn't trade its youngest/best two-way player for Jared Dudley.
The Knicks Died as They Lived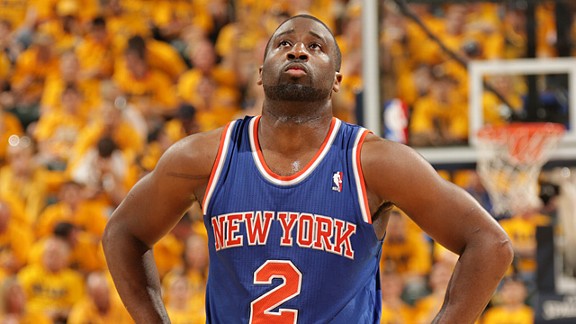 Sean Fennessey: I quit the Knicks last year, shortly after my 30th birthday. Too much pain, too much largesse, too much imperious decision-making, too much James Dolan. Not enough sense. (I also despise Carmelo Anthony's game.) I didn't take this decision lightly and I realize that it communicates a weak-willed lack of commitment; a cardinal sin of The Fan. I wasn't shy about admitting this to my family and friends, though there was a persistent residue of shame. It's hard to rationalize being a quitter. But I had taken up with another, a beautiful new model — internationally exotic, intellectually curious, full of whimsy and cunning. And, honestly, just a whole lot nicer.
But I kept my eye on the Knicks, the way one might lurk on an ex's Facebook page. Oh, they lost some weight; oh, they got a new haircut; oh, they got back together with him. And while the team experienced its greatest success in more than 15 years this season, I never yearned to return. I invented new reasons to dislike them: Not just Melo's singular but single-minded play, but their knife's-edge 3-ball style, the inane majesty of J.R. Smith, the atrophying Tyson Chandler, the goon-squad return of Kenyon Martin, and the final dissolution of Rasheed Wallace. Steve Novak, one of the team's most enjoyable players last season, was marginalized. Jason Kidd delivered "veteran leadership," that old chestnut that indicates respect and a faded game. Mike Woodson wore a T-shirt with his face emblazoned across it and even then I never considered relapsing.
I watched Saturday's game in a strange place: at a trilevel bar in Canada with a group of people I have known my entire life, Knicks diehards the lot of them. We sat close to the Sliver-esque wall of screens, luridly tracking an unholy act. They were not aware of my betrayal, and as the game unfurled, they nudged me and wondered why I wasn't cheering. I explained and then began a riff of received wisdom about the Pacers' defense and Roy Hibbert's Galactusesque rim protection. I told them about the inefficiency of Melo's game, about what a terrible matchup Indiana presented, about the emergence of Paul George, and the do-or-die nature of the Knicks' offense. All those 3s, all that remorseless gunning. "Who the fuck is Lance Stephenson?" one of them asked, half-mockingly, as Stephenson notched a three-point play late in the fourth quarter, his miraculous 21st, 22nd, and 23rd points of the game. I thought about responding, but thought better of it. James Dolan reportedly left the game early, his own indelicate form of abandonment. No lollipops on this night. When the game and the Knicks' season ended, my friends sighed a familiar sigh. One of them kicked over a trash can outside the bar. I felt nothing, save maybe some smug satisfaction. It's not that I'd justified my decision. No one really cares who you root for — it's personal. And if they do, they probably need to calm down. It's that I never have to sigh that sigh for the Knicks again.
GTFO
Dwyane Wade, Will You Go to Prom With Me?
Chris Ryan: What a double standard. There's nothing different between what Wade is doing here (taking a Miami fan to her prom) and what J.R. Smith does on any given night. OK, Smith is usually headed to Mohegan Sun at 3 a.m., riding backward on a Kawasaki motorcycle driven by a chimpanzee, screaming 2 Chainz lyrics while getting Rihanna's name tattooed on his throat in hieroglyphics by a recently released bank robber who took a course in Egyptology in Sing Sing, and texting George Hill the Knicks' game plan. But the basic principle is the same, right? The media, man.
Training Day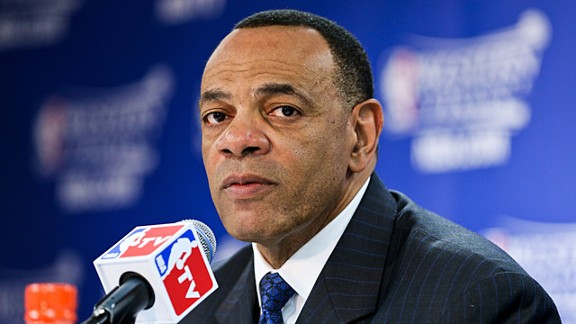 Brett Koremenos: The impact luck and circumstance can have on perception is pretty amazing. Someone can find himself in the right place, at the right time and look like a genius (or a fraud) even though the objective truth may be the exact opposite. I'm not sure there's another coach who has built a better reputation thanks to some fortuitous timing more than Lionel Hollins.
The general consensus is that Hollins is a good, or at the very least, underrated coach. It's not hard to see how this opinion can be formed given everything that Memphis has accomplished with him at the helm. The Grizzlies have gone from an also-ran to perennial winner, made a few deep playoff runs, and now are in the Western Conference finals. But looking closer at some of the events that coincided with Hollins's tenure paints a much murkier picture of whether he was integral to their success or simply a beneficiary of it.
For example, the Grizzlies' big playoff upset of the Spurs in the 2011 postseason was shaped by events — like Rudy Gay getting hurt during the regular season and San Antonio star Manu Ginobili playing with a fractured elbow in the playoffs — that were out of his control yet benefited his team.
In this year's playoffs, Hollins benefited again.
First, there were the sideline implosions by his first-round counterpart, Vinny Del Negro, whose performance was like a comedy of coaching errors. Then Hollins faced a Russell Westbrook–less Thunder and their head coach, Scott Brooks, who actually thought Hasheem Thabeet and Kendrick Perkins could make an impact on a game. Seriously.
Now matching wits with Pop, Hollins went from playing on the "semipro" level to "world class," and his Game 1 performance showed some of the flaws — inability to adjust rotations, a lack of a refined defensive game plan — that were overlooked during the Grizzlies' rise to power. This matchup between two teams of about equal talent will be what defines Hollins, a coaching free agent, moving forward. The thing is, when it comes to taking down a healthy, Gregg Popovich–led San Antonio squad, luck won't save you.
Spurs Appreciation Night
Andrew Sharp: This is a shirt I ordered from someone on eBay during the 2005 playoffs. It turned out the shirt was two sizes too big — don't buy things on eBay — but I wore it proudly anyway. At that point, hating the Spurs was a way to bond with other basketball fans suffering at the foot of their ruthless, fun-killing basketball empire. Shortly after my purchase, the Spurs won the 2005 title, because of course they did. They'd been dominant and inescapable for years by that point. This is why everyone hated the Spurs. Because they were just that good, and that boring, and that efficient, and not going anywhere. And … little did we know … eight years later, THEY'D STILL BE DOING THIS.
The nicest thing I can say about the Spurs is that they've been driving me crazy for a solid decade now. Eight years after Robert Horry killed the Pistons in that 2005 Finals, almost 15 years after that first title … they're still suffocating the rest of the NBA. And yes, definitely: The Grizz will bounce back, and the West finals should be a war.
But here's where we are right now: After the Warriors made them look old and overwhelmed at home in San Antonio, the Spurs spent the next four games grinding that offensive juggernaut into dust, completely shutting down the best shooting backcourt on earth, AND winning two games in Oakland, probably the most insane environment we had in these playoffs. Then, with 80 percent of the NBA picking a Grizzlies team that'd won eight of nine games and just ruined Kevin Durant's life, the Spurs came out and made Memphis miserable for four quarters, making the rest of us rethink everything.
Think about the past 10 days of the Spurs; think about the past 10 years of the Spurs. Every year we gawk at this team, how they're still this good, but it only gets more incredible as we go. I still hate them — hate them hate them hate them — and I can't totally explain why. But you have to admire them, and when they're gone, I think we might even miss them.
(Just kidding.)
(They'll never be gone.)
(Tim Duncan will play till he's 60 and Manu will be hitting backbreaking 3s from a wheelchair and Gregg Popovich will be terrifying sideline reporters until the end of time.)
Pick Your Poison
Ryan: What you're seeing there is a guy who was drafted 46th and cut by Cleveland drive to the baseline, draw the attention of three Memphis players, and pass to a guy who wasn't drafted at all and has a wide-open corner 3 look. If guys like Danny Green are going to pass like Tony Parker, and guys like Gary Neal are going to shoot like prime Manu, this is going to be an awfully short series. Truly great offenses make defenses pick their poison. The Grizzlies — with the exception of Mike Conley and Marc Gasol — looked a little heavy-footed in Game 1. But I ask you, junior Tom Thibodeaus of the world, how exactly are you supposed to defend that? If San Antonio is clicking, there is no defense that can stop them.
Don't Think, Just Shoot
Robert Mays: There are several apt adjectives for the Spurs' 3-point onslaught yesterday afternoon (including "unsustainable"), but when Danny Green drained this shot early in the first quarter, the one that seemed most fitting was "mindless."
When the ball first left Green's hands, almost instantly after hitting them, I actually reacted with a bit of snark — something along the lines of, "Boy, Danny Green sure is quick on the trigger." Then I stopped myself. Of course he is, and it's because he should be.
I can't remember where I heard it first (it was in a football context; I know that much), but one goal of great coaching is to keep players from thinking. If that sounds like an insult, it's not. At the highest level of sports, there is rarely enough time for a conscious weighing of options. If the ball had stayed in Green's hands for another half-second, Tony Allen would've recovered, the ball would've stopped, and Tony Parker's initial drive-and-kick would've been moot. On great teams, the confidence in the scheme is so implicit that the choices aren't even choices at all. That ball left Green's hands two seconds before the pass was even made.
The same is true here. Parker almost passes Kawhi Leonard out of this shot, but it doesn't matter. It's subtle, but you can see that at the very beginning of the sequence, just as Parker moves into the lane, Leonard lifts his hands just a bit. As soon as Parker starts his move, Leonard is ready to shoot. Standing in the corner, he isn't thinking about how he shot 49 percent from that spot during the regular season, or how, at this moment in the game, it's a high-percentage look that will generate the best possible outcome. He doesn't have to. The Spurs' grasp on spacing and the understanding they have about their individual roles does all that for him. If he's in that spot on the floor, it's the right spot on the floor, and if the ball comes to him, it's going up.
Matt Bonner, who might've been Gregg Popovich's best move from Game 1, has an unfair advantage in that I don't think he has any inclination to move anyway. As Manu Ginobili drives here, Bonner's right foot moves about six inches. Otherwise, he stays put — an ideal floor spacer who knows that if he's out there, it's to shoot 44 percent from 3. The ball hits him, and the shooting motion begins.
The Spurs won't shoot like this again, but that doesn't mean what happened yesterday should be considered a fluke. This is a team full of players who know exactly what they are, and when it clicks like it did in Game 1, "machine" is actually the proper word. They are one unthinking, synchronized collective, and at any given time, it can all come together exactly as it did.
Filed Under: Brett Koremenos, Chris Ryan, Danny Chau, Dwyane Wade, Indiana Pacers, Miami Heat, NBA, New York Knicks, Robert Mays, Roy Hibbert, San Antonio Spurs, Sean Fennessey, Tony Parker