NBA Finals Shootaround: Thunder Throw Some Thabos
Noah Graham /NBAE via Getty Images)
So much amazing is happening, and the Shootaround crew is here to help you keep track of it all. You'll find takes on moments you might've missed from the previous night, along with ones you will remember forever.
Isolation
The image you see here is from a play with about nine minutes remaining in the fourth quarter of Game 1. The Thunder were up four, 78-74. Dwyane Wade had switched onto Kevin Durant, who had the ball a couple of feet beyond the arc. The thing that's great about basketball is that single plays can mean nothing or everything at once, and this one, while not a highlight (it's not on YouTube, you won't see it in any recap package), seemed incredibly important.
It's unfair to Wade to put a narrative on such a simple play, but I think it's naive to think the Miami guard didn't know what he was doing. Maybe there was a basketball reason for Wade to body up to Durant 33 feet from the hoop. There was probably a good one: Durant was starting to get that missile lock feeling to his game and Wade didn't want to give him any room to find his range. But there was something else going on there.

What Wade was doing was a challenge, both to himself and to Durant. He was trying to lock down the most proficient scorer in the league at a time when his Heat needed it most. And it just didn't work. What did work was everything Durant wanted to do: a PG-rated version of his rip-through, a slow, deliberate, space-consuming, and physical spin move, with Wade still attached, ineffectively, to his hip, and a one-handed, mid-range jumper giving Durant 23 points and Wade a front-row seat to the show we've been watching for weeks.
It was an admirable idea from Wade. He tried to throw Durant in a cell. Thing is, there aren't enough guards in the world to keep Durant in there.
— Chris Ryan
Postgame Interview of the Night: Erik Spoelstra
Keywords: behind us; "behind us" hand gesture; opportunities; we had opportunities; Bill Clinton thumb move; thinking; win; they just went away; "they just went away" hand gesture; that's what they do; they beat us, beat us; regroup; gather; finger on chin move; Kevin Durant size gesture; everybody took their turn; better job; "keep on coming" hand gesture.
— Chris Ryan
Pat Riley and Alonzo Mourning's Struggle
As the camera zoomed in, this was my sequence of thoughts:
Is that Pat Riley?
Who's that black guy with Riley?
Is that Riley's bodyguard?
Why does Riley have a bodyguard?
Wait, is that Alonzo?
Yes, that's definitely Alonzo.
Is Alonzo Riley's bodyguard?
As someone that was rooting for the Thunder, this was just fantastic to watch. Sure, Riley's disgust with the situation on the court (and with people who have chosen to live in Oklahoma City) is comical, but the real beauty is in Alonzo. He's like one part Sinbad/First Kid, two parts Fruit of Islam, and 17 parts Pat Riley's bodyguard. Just the best.
Actually, this is the best.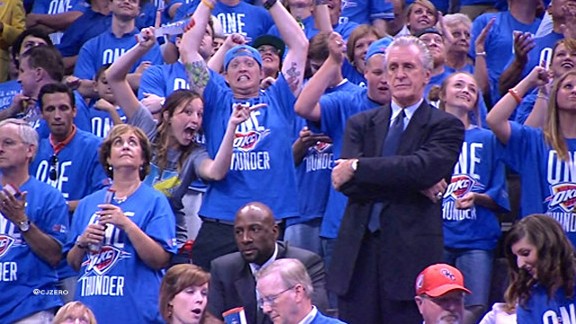 On the minds of the two men:
Pat Riley: "Ugh, poor people."
Alonzo Mourning: "Ugh, white people."
— Rembert Browne
Sally Jesse Back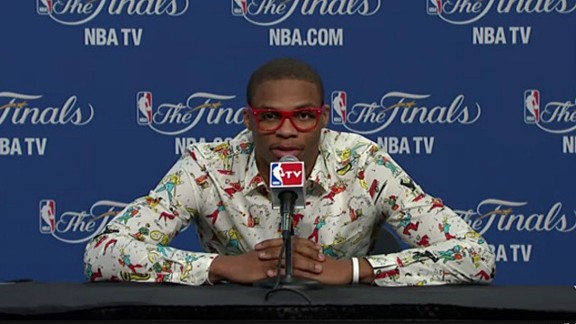 Play like that and you can wear whatever you want. Are we at the point where Russell Westbrook has gotten so good it pretty much eclipses when Russell Westbrook is bad? I wondered, before this series, if Miami were ready to see a guard who could penetrate like Rondo, but didn't pull the moody, unpredictable, "I'm gonna set something up rather than finish" move. Seriously, who does this?

— Chris Ryan
Jose 3030's GIF of the Night
There's that John Lennon line about how 2001: A Space Odyssey should be screened in temples. I wouldn't be mad just watching the above GIF, courtesy of Jose3030, in the same way.
— Chris Ryan
Iguodunka of the Night: Mike Breen
Since this Durant dunk was awarded GIF of the night, I thought we'd give a special Iguodunka Award, field of sports announcing sub-category, to Mike Breen for the emotional transition he makes from anecdote to dunk call: "SomeTHING HE'S STILL BITTER ABOUT AS DURANT THROWS IT DOWN." Seamless!
— Chris Ryan
Know Your Role
Most conversations about the Thunder this morning are likely to begin and end with Kevin Durant and Russell Westbrook. That's how it will be for the rest of these Finals (and likely for the next five or six years), and after Tuesday night's fourth quarter, it's easy to see why. There's a reason, though, that playoff history is filled with the names of role players who stepped into the big moments, and in Game 1, Thabo Sefolosha's moment seemed to last the entire game.
The play that stands out is obviously the magic dish to Westbrook as the Thunder clawed their way back into it. What preceded it was indicative of the entire second half — a fifty-fifty ball won by the Thunder that led to an easy bucket. When asked after the game what was different about the second half, Westbrook simply said, "We played harder," and with no one was it more obvious than with Sefolosha.
Thabo spent much of the third quarter tipping passes, getting into passing lanes, and generally being a pain in the ass on defense. After slowing down Dwyane Wade for much of the game, in the fourth it was Sefolosha who switched onto LeBron James and held the King to just five points in the final quarter. The series will likely be won by whatever combination of the Big 2 (or 3) put it together for more games, but Tuesday night, OKC showed that its supporting cast is the one Miami wishes it had. What Sefolosha brought on defense is what Miami was hoping for when Shane Battier came to town — a long, quick defender that gives their superstar wing breaks from guarding the other team's star. When Battier guarded Durant in the fourth, the floodgates opened for the Thunder. When Sefolosha guarded LeBron, it was just enough to get OKC the win.
— Robert Mays
Filed Under: Chris Ryan, Dwyane Wade, Kevin Durant, LeBron James, Miami Heat, NBA, NBA Finals, NBA Playoffs, Oklahoma City Thunder, Rembert Browne, Robert Mays