NBA Finals Shootaround: Blinded by Science
Noah Graham/NBAE via Getty Images
So much amazing is happening, and the Shootaround crew is here to help you keep track of it all. You'll find takes on moments you might've missed from the previous night, along with ones you will remember forever.
The Shot
Danny Chau: It might be a bit early for this, but I wonder whether Tony Parker's shot clock–beating bank shot will end up in a Finals montage 10 or 20 years down the line. Does the sheer impossibility of the moment trump its sloppiness? It was quite a lengthy scramble. Would time constraints force producers to trim a bit off the beginning of the play? Or would they decide that the folly was key to the glory? I'm getting ahead of myself, but in the moment, it sure looked like something timeless.
The shot went in and Erik Spoelstra called a timeout with 5.2 seconds remaining. Matt Bonner jumped up with the rest of the Spurs, but while everyone crowded around Parker, Bonner stood back and clasped his hands over his head, clearly overwhelmed. He looked exhausted, and he wasn't even on the floor for the play. Who could blame him, though? It was the Lord of the Rings of possessions, with at least four false endings. There is only one universe out of all universes in which that possession doesn't end in a turnover, and it just happened to be ours. LeBron James said it was the longest possession he's ever played. Spoelstra said it felt like 26 seconds. Judging from Bonner's reaction, they were probably just being modest. It took a lifetime.
Now, I'm not sure if you've heard this a thousand times before, but Parker is underrated. He has a way of hiding himself in the shadows of others, but not in a way that suggests passivity. He hides behind monolithic screens that prop up and collapse on his whim. His individual achievements get lost within a system that has always been synonymous with Tim Duncan, even as it restructured itself to match Parker's identity. He can be wily and creative, too, yet he's outdone by Manu Ginobili, a far more flamboyant and unpredictable offensive talent. But Parker can't keep everything hidden; shadows subside eventually.
(All GIFs by @HeyBelinda)
In the fourth, a poor, backpedaling Norris Cole was presented the challenge of guarding Parker, who was racing down the left side of the court at full speed. Driving right with his right hand, Parker dribbled inward, motioning the ball and his body left toward the baseline, which had Cole bumbling backward in that direction in hopes of cutting him off. But Cole never had his balance, and just as Parker pulled off his inverted dribble, he made a wide spin to the right for a completely uncontested layup. It's one of Parker's signature maneuvers. And I'm thankful that it's back — that he's back — on the grandest of stages.
Eyes Kawhi'd Shut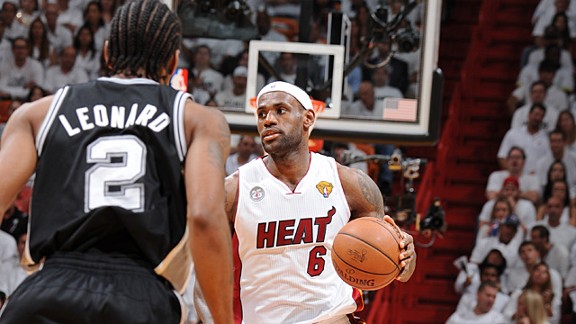 Sean Fennessey: LeBron James has never averaged fewer than 23.7 points per game over the course of a postseason. In these playoffs, he'd scored fewer than 20 points on just two occasions before last night, blowout victories over Chicago and Milwaukee. He scored 19 both times. That had happened just once in last year's postseason, when he'd scored 19 against the Knicks in a Round 1 laugher. Last night, he scored 18 points on 44 percent shooting from the field. It has been two full seasons since we've seen LeBron stymied in a playoff loss, back when Dirk and the Mavs swished away the Heat's dreams in the 2011 NBA Finals. And that was before The Evolution, before the post game, before the refined long-range jumper, and before the appropriate aggressiveness.
So 18 points last night. And yet, LeBron was incredible, flying around the floor on help defense, a golem with quick arms and a meerkat's instincts. He appeared to grab every rebound on the floor, soaring for every stray Gary Neal miss. And he found open man after open man like Buckshot Shorty getting bent on E&J. With 10 assists to seven players, he was directly involved in nearly two-fifths of every successful possession. He is the turnkey and the lock, the nexus and the plexus. There have certainly been worse games by James in this playoffs, this season, this decade, this century. He's just staggeringly good right now. So good that these two paragraphs have been dull. That triple-double last night was his second consecutive one in NBA Finals games, and the third of his career. A little context: There have been only 32 triple-doubles in NBA Finals history, and he's got three of 'em. (According to ESPN Stats & Info, the last player to record a triple-double in an NBA Finals loss and then go on to win the series was Larry Bird in 1986 against the Rockets.)
So LeBron wasn't exactly stymied. But he was clearly Kawhi'd. The Spurs' rangy, eerily calm small forward was also everywhere last night, trailing LeBron through illegal screen after illegal Chris Bosh screen, those massive bear claws pointed up and his feet pitter-pattering every which way his man cut. LeBron got past him a few times, hoisting up and making impossible shots in Tim Duncan's face, because that's what ancient gods born in volcanoes do from time to time. But for the most part, Leonard seemed to bug LeBron, sliding and slithering along with him, banging into his chest while fighting for rebounds — he had 10 of his own — and just trying to stay in front of him no matter what. Leonard is weaker and younger and dumber, which are all probably good things. A smarter, older player might think better of getting his chest caved in by Zeus. If all Leonard does in this series is act like the fly in the King's soup, then he'll have been good enough. Because you can't stop him, you can only hope to harangue him.
The Agony of Mike Miller
Father Time
Robert Mays: The Spurs are never in a hurry. That's not to say San Antonio can't play fast. We know the opposite to be true. It's that they never move faster than they want to. But with Tim Duncan, the dawdling goes beyond affectation. It's fundamental.
When Duncan made his way onto the court with 0.8 seconds left in last night's first half, he did so at his own speed — so, slowly. He paused next to Gregg Popovich for a moment, likely waiting on the name of whomever he was to replace, and after getting his instructions, strolled straight to the right block with impossibly little purpose. He'd been there barely a second when the whistle blew and the ball was live. Duncan gave a slight push off Dwyane Wade, jumped back a step, received a pass, and drilled a fall-away jumper as the buzzer sounded.
As Duncan retreated down the court, he allowed himself a tiny celebratory moment — a quick half-spin that stopped before it was even over. Then, the trudge returned, and Duncan sulked to the locker room, keeping his eyes pointed at his shoes for most of the walk. I can't say for sure, but I'd have a hard time imagining it wasn't the most casual buzzer-beater in the history of playoff basketball.
San Antonio's faith in its process, and in that process eventually, if not immediately, yielding the desired results, is evident in a few dozen ways, but none was more emblematic than how Duncan played much of last night's second quarter. When Miami pushed its lead to 38-29, it was Duncan who responded on San Antonio's next possession. When the lead got back to eight, it was Duncan putting back a Danny Green miss. Most teams, when playing Miami, sit on the edge of a cliff — a point comes during those runs that push the game toward double digits and games careen off the edge, never to return. The Spurs are not one of those teams. They're never moving so fast that they can't hit the brakes.
Saves the Best for First
Chau: Tim Duncan is now 5-0 in Finals Game 1s. Looking at the raw data, his Game 1 performances are generally his best in the series. Last night's numbers look a little pedestrian in comparison to his monster outings in 1999 and 2003, but that doesn't take into account the disparity in minutes. He played 44 minutes in those two games; he definitely did not last night. In fact, if you take the averages of his four previous Finals Game 1s and adjust the figures to reflect 36 minutes of play — which, conveniently, is the amount of time Duncan played last night — Duncan's 37-year-old self would fit right in with the pantheon of past Tim Duncans.
His per-36 averages in Finals Game 1s from 1999 to 2007: 24.1 points on 58 percent shooting, 14.1 rebounds, 2.3 assists, 1.5 steals, 3.4 blocks.
Last night: 20 points on 42 percent shooting, 14 rebounds, 4 assists, 0 steals, 3 blocks.
Tim Duncan's level of consistency is inhuman.
The Education of Danny Green
Chris Ryan: I have this vision of certain Spurs role players as these special, compartmentalized beings who live in little rooms, released only to fulfill their carefully laid-out tasks. I can even hear a HAL 9000 voice saying, "Good morning, Mr. Green. It's time for you to take nine 3-pointers in Game 1 of the NBA Finals. You will make four of them. That is a perfectly acceptable return. Do not mind the Hall of Famers guarding you, or pay heed to the magnitude of the moment. You were trained for this. Rely on your training."
Which is why I felt especially bad for Green when, with his team up five with a minute and a half left, he fouled Ray Allen behind the arc, sending the greatest free throw shooter ever to the stripe.
Green pleaded his case to Tony Parker, to the refs, and to Pop, but all I could hear was, "I OFFERED YOU A CHANCE AND YOU BLEW IT!"
Green quasi-redeemed himself half a minute later when he grabbed the rebound off Chris Bosh's missed 3-pointer. Green teetered on the baseline, almost lost possession, and almost fell out of bounds; Pop, and Parker, and every Spurs fan screaming at their television saved his ass by calling a timeout. Green was clearly feeling some feelings; he was now playing beyond his role, where little mistakes can have series-swinging consequences. He was embraced by Parker, who leaned in and said something to him.
"Good morning, Mr. Green. Welcome to the NBA Finals."
White Men Can't Jump
Amos Barshad: Some might watch Manu Ginobili, 35-year-old man, trying to dunk — on the grand stage of the NBA Finals — and failing as some kind of harrowing missive from the world of decay. "Manu used to cram those on the regs. Now he can't get up. Everyone you know and love will die," etc. But I say, salute the hubris on this dude. Much like a prematuration Billy Hoyle, latter-day Manu Ginobili will keep on missing dunks until he proves to you all that he is a fearless and courageous individual, and he will remain that way in perpetuity, and he doesn't care if he loses his share of the $5,000 prize money and his girlfriend, Rosie Perez, in the process. Because, in the end, when the chips are down, Manu will have the cojones to GO FOR IT right in the face of Eddie "The King" Farouk and Duck Johnson. But it won't bring back Rosie Perez. Oh no, it won't bring back Rosie Perez.
ZOOLLLLLLLLLLLLLLLLLL
It's a shame my dad didn't know who any of them were. #VamosHeat #España#LosMejores @ American… instagram.com/p/aPjpYoIkWF/

— ™ (@trey_mourning) June 7, 2013
Notes From a Spurs Fan (This Cannot Possibly Be Healthy)
Shea Serrano: This whole thing is as simple as it is stupid: When the Spurs are in the playoffs (OH MY GOD WHEN MY SPURS ARE IN THE PLAYOFFS), I'm a wreck. It's too much. My body and my brain simply cannot handle it. If something bad happens, even something innocuous, say, a missed free 3 in the third quarter, this SUPERFURY explodes from my bones. I start kicking couches and smashing remote controls and whatnot. And if someone does something amazing, like that time Tim Duncan hit a 3 at the end of overtime against Phoenix to tie it in the 2008 playoffs, I risk growing a boner so swiftly and enthusiastically that it explodes.
So what I do is I just don't watch the games in real time anymore. Whenever the Spurs play, I record the game, do my very best to ignore it as long as I can (I'm usually good up through the first half of the third quarter), then start checking the score on this ScoreCenter app on my phone every 10 seconds like a goddamn maniac. I just lie there on the concrete in the dark in my garage, my unlikable stubby thumb swiping down on the screen over and over again to refresh the program, throwing up all over everything. If the Spurs win, AS SOON AS THE GAME IS OVER, I turn on the recording and watch it, pretending like I don't know that they've already won it, trying to manufacture some sort of honest surprise. If they lose, I immediately delete the recording, turn my phone off, then yell at the members of my family who are unfortunate enough to be around. I didn't see last night's Danny Green foul on Ray Allen's 3-point attempt until 1:18 a.m. this morning (I might have had an aneurysm had I watched that and not already known the Spurs won), nor did I see Tony Parker's falling-down jumper at the end of the game until after I'd read I think 900 tweets about it. It is an ugly existence, to be sure. But we haven't lost a game in the last five tries, so, duh, it's obviously working.
Gregg Popovich, Nice Guy
Brian Phillips: Gregg Popovich did his first in-game interview of the NBA Finals with Doris Burke after the first quarter last night. He was … nicer than usual. In fact, he was downright … un-mean. Here's a transcript:
Burke: Coach, nine days off is an eternity by NBA standards. How did you think your guys reacted after so much downtime?
Popovich: [Blinks slowly while forming ambiguous shapes with mouth. Then, suddenly, lifts one hand into the air and declaims in a round, Shakespearean baritone.] Prithee, dear Doris! How do I hark to the delight I have felt watching the good gentlemen of San Antonio go about their appointed duties! Verily, 'twas thrilling to see our sharpness off the screen!
Burke: [Stunned to hear Pop rolling his r's.] Thanks, coach. And uh … how did you think Kawhi Leonard did guarding LeBron?
Popovich: [Grimaces like he's swallowed a live mouse, then suddenly drops to his knees and clasps his hands in front of his face.] Like the Great Library of Alexandria, burned by the ill-fated fire lo those many centures ago … like a Caesar felled by his own Praetorians … like brave Odysseus stranded on the Isle of the Cyclopes … so was LeBron brought low by his persistent harrying at the indefatigable hands of our good Mr. Leonard!
Burke: Wow. You heard it from the man himself. Thanks, Pop.
Popovich: Fuck you, Doris.
One True Wade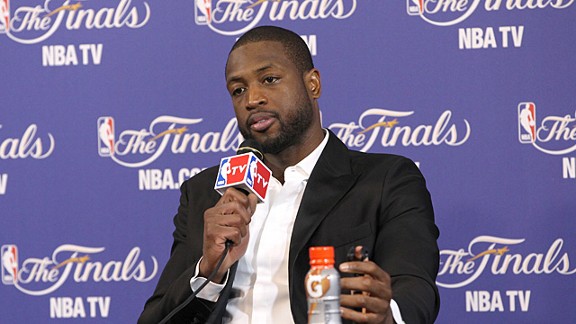 Ben Detrick: During the postseason, Dwyane Wade's reputation has vacillated between supporting superstar and creaky-kneed millstone on a nightly basis. This analysis of his performance has been less about discovering the One True Wade than pondering Which Dwyane Will Show Up This Evening? But over 16 games, there's more consistency than fluctuation: He's scored more than 20 points only twice (both 21-point efforts) and has a True Shooting Percentage of less than 50 percent (a striking plunge from his 57 percent rate during the regular season). On offense, he hasn't been good.
Lost in the discussions about Wade's rickety joints, overnight aging, or surly attitude is that he's spent the postseason tangling with defenses especially designed to coerce him into struggle-mode. The Bucks, Bulls, and Pacers are three of the NBA's most stout teams at contesting attempts at the rim, and Chicago and Indiana are among the league's top five at persuading foes to fling up flabby jumpers from 10 to 23 feet. In response, Wade's field goal percentage in the paint has withered by nearly 10 percent. Meanwhile, he's taking 36 percent of his shots from midrange and knocking down only a third of them. Wade might be gimpy, but crafty coaches and opponents like LARRY SANDERS!, Joakim Noah, and Roy Hibbert have exacerbated whatever ails him.
With Tiago Splitter and Tim Duncan looming in the paint, San Antonio is already giving Wade the same treatment that he's found so thoroughly unenjoyable all postseason. Early in the first half of last night's game, he dribbled along the left side of the arc and watched as nearby Spurs defenders retracted toward the paint as if repelled by skunk spray. Wade has taken only four 3-pointers all postseason, and they'll dare him to hurt them from the hinterlands all series. So far, he seems reluctance to take that gamble.
Despite a pair of knifing, violent finishes around the hoop early, Wade's attacks dulled as the night wore on. Nine of his 15 shots were jumpers, and he was held scoreless as San Antonio seized command in the fourth quarter. At this point, there's little to suggest his late-game stretch of impotence was an outlier. For Miami, the problem is that the True Wade is not a volatile element but a predictable one.
Analyzing the Trademark Facial Expressions of the Heat's Big Three
Shane Ryan:
LeBron James: As of now, his most extreme look is the bug-eyed protest, wherein he makes eye contact with the referee for a split second after a perceived bad call, then turns away so he doesn't get T'ed up. Tonight, he brought his hands to his mouth as though he literally had to stop himself from screaming. We saw an excellent variation against Indiana, when he tore off in a dead sprint to the other end of the court, but the ensuing technical probably ensured that it was a one-time deal. If I had to put the expression into words, those words would be, "NO NO NO YOU CAN'T MAKE THAT CALL THOUGH OH NOOOO!" Weirdly, though, it's an optimistic expression. Or perhaps naturalistic. A child who skins his knee will shout in pain, but the next minute he's back at play. Yes, LeBron treats the offending call as a dramatic setback, but in the stark surprise of the reaction, it casts the moment as a shocking anomaly in a universe that trends toward justice. It's a wave of reactive energy that courses through him and then passes. Since the Dallas loss in 2011, LeBron is a being that flies toward the light, and slight fluctuations in a lateral or reverse direction won't linger. He won't let them, and there is also instant forgiveness in his heart for the referee. The man is nothing more than an agent of nature — the headwind we endure on the way to our inevitable destination.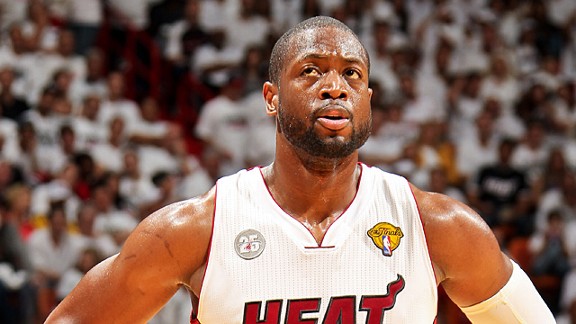 Dwyane Wade: This is a pretty trademark sulk on its surface, but it contains a spectrum of complex emotions — most notably, over people somehow hating him and loving LeBron now, and seeing him as a cumbersome third wheel. Anyone who sulks is communicating through body language that the world is engaged in a grand conspiracy against him, but Wade combines that with a wounded irony; he surveys the world and broods at the love he's lost. That subterranean anger is the only emotion illuminating a pair of eyes that have otherwise conceded defeat. Unlike LeBron, the bad call or the missed shot or the perceived snub joins a selective memory that is carefully constructing a self-centered narrative of victimhood. Somewhere along the line, the world flipped on its axis and unknown forces gathered with the sole purpose of persecuting Dwyane Wade. His is a fatalistic reaction; what can he do but purse his lips and smolder?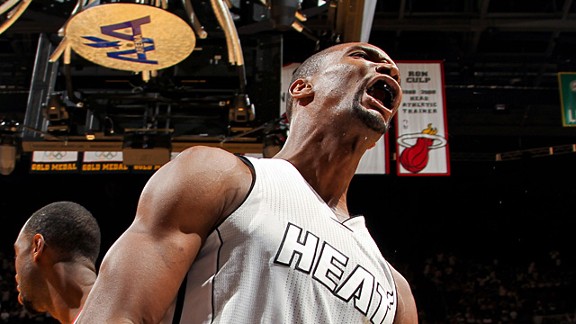 Chris Bosh: I'm terrified by how wide this man can open his mouth.
Alignment Matters
Brett Koremenos: Don't ask yourself why Chris Bosh took a shot in the waning moments of Game 1. Ask yourself where the Heat big man shot it from. Jeff Van Gundy immediately pointed out the flaw in Miami's alignment on the controversial play:
"I just don't like Chris Bosh shooting 3s except in the corner. It doesn't make sense to me that he would willingly take himself out there. To me this plays exactly into what San Antonio would want."
As usual, Van Gundy has a great grasp on the situation. During the postseason, Bosh has shot 6-of-14 on 3-pointers from the corner while shooting a much lower percentage from the wings. This basically mirrors his stats from the regular season, during which Bosh had a career-high 74 attempts. This stat no doubt found its way into San Antonio's scouting report, and caused head coach Gregg Popovich to instruct his charges to help freely off Bosh whenever the Heat center was stationed on the wing. It's why Tim Duncan put his entire body in front of a driving LeBron James and why Danny Green refused to rotate off Mike Miller in the corner.
Bosh shouldn't be at fault for shooting (and missing) the shot and James can't be held responsible for passing to him. Given the way the play was set up, both players should have done exactly what they did.
That's where the real problem lies. Along with head coach Erik Spoelstra, Bosh and James needed to make sure the alignment was correct before the team ran the play in the first place. Though the set wasn't called after a timeout, Spoelstra (or a member of his staff) could have easily shouted a reminder for Bosh to occupy one of the corners (ideally, the weakside corner — left in this case — behind where Ray Allen released after screening). James just as easily could have instructed Bosh to move to a better spot before even receiving the initial screen from Allen, while Bosh himself could have sprinted to the corner after the inbound, pushing Miller to the wing and changing the entire help dynamics of the Spurs' help defense, and maybe the game, in the process.
Fun With Finals Hindsight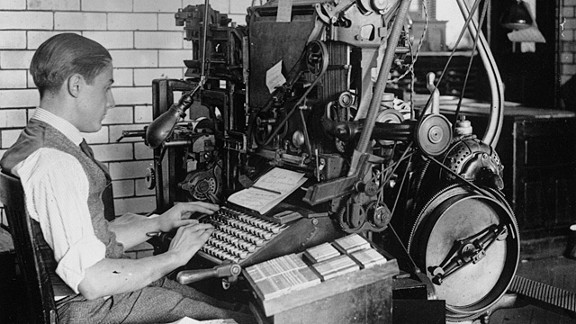 Andrew Sharp: Basketball writing has gotten smarter over the past few years, so I'm sure everyone's already firmly aboard the "It's only one game!" bandwagon after last night. This isn't so much about keeping things in perspective, but more just enjoying some old Game 1 columns in hindsight. Most everyone reacted like this, too, so it's not to pick on the writers.
It's just important to look back and remember how crazy we all were. For instance …
Remember when the Thunder were the best team and Kevin Durant proved he's better — and purer — than LeBron?
No. 1: "There's so much pressure on James, so much history, but everything is so much different for Durant, so much purer. He's 23 years old, well before his time, and one of his great gifts is the ease with which he comes to these immense moments … Give him the ball, the stage, the moment, and Kevin Durant was something to behold on Tuesday night. The stakes rise, the defenses stiffen and it doesn't matter who's standing between Durant and that championship trophy: Dirk, Kobe and now LeBron. All going down, all falling to Durant in these fourth quarters. His town, his moment and, perhaps, his time now."
No. 2: "The question — who's the best player on the floor? — was not answered with one shot, or with a single episode of star power. It was answered again and again, with wave after wave of greatness from Durant … He didn't have the same singular obsession to move to a glamour market and team up with more stars. Why look for a star to team up with when you can guard him in the fourth quarter of a Finals game and score on everybody else?"
Likewise …
Remember when the Heat were dominating the Mavericks and everyone's worst fears were being realized in real time?
No. 1: "Everything's aligning. Yes, everyone keeps probing these Miami Heat, praying for regressions, praying for something gone to resurrect itself again. Midnight came on Tuesday, the calendar turned and wouldn't you know it: June's here, and LeBron James and these Miami Heat are creeping closer to self-proclaimed and self-ordained championship destiny. All those failures have washed away, cleansing these Heat of the season's original sins. Suddenly this basketball season has become the sums of everyone's worst fears."
No. 2: "Dallas was determined to make James prove — right from the start of this Finals reunion — that he has the self-belief to keep the best jump-shooting month of his life going. Sure looks like he does. Like Boston and Chicago in the last two rounds, Dallas discovered that James trusts his stroke under pressure more than ever, which only generates more adrenaline and spring for him to wreak havoc at the other end, as a clamped-down Jason Terry (held to zero points in the second half) found out. Finals jitters? Not even one that anyone in the building could see."
LEBRON?
FINALS JITTERS IN 2011?
NOT EVEN ONE.
NOT ONE JITTER.
Filed Under: Andrew Sharp, Brett Koremenos, Chris Bosh, Chris Ryan, Danny Chau, Kirk Goldsberry, LeBron James, Manu Ginobili, Miami Heat, NBA, NBA Finals, NBA Playoffs, Robert Mays, San Antonio Spurs, Sean Fennessey, Tim Duncan, Tony Parker