NBA Finals Shootaround: A Manu-Splendored Thing
Garrett Ellwood/NBAE via Getty Images
So much amazing is happening, and the Shootaround crew is here to help you keep track of it all. You'll find takes on moments you might've missed from the previous night, along with ones you will remember forever.
GINOBBBBBBBIILLIIIIII
Robert Mays: We're likely to hear that last night's Manu Ginobili performance was a return to form, but that's not really true. What Manu did last night — at least 24 points and double-digit assists — is something he'd done only once in 155 playoff games. In fact, Ginobili's had at least 10 assists only six times in his playoff career; half of those games have come this postseason. The scoring Ginobili isn't new, but the level at which this Spurs machine runs, the array of guys capable of hammering home the Ginobili passes that few others would even try? That part is.
Of those 10 assists, I don't think any better encapsulates the Spurs' night than the one above — Green running from one corner to the other, Ginobili letting the pass go before he'd even gotten there. I don't think Ginobili's eyes ever moved that way, and as a result, neither did any of the three Heat players on that side of the floor. Ginobili was fantastic last night (and so was Tony Parker, who will still likely determine the Spurs' fate), but what we saw last night once again was San Antonio operating at its fullest offensive capacity, a level at which no other team can operate.
Of Course They're Raising Hell
The ginobili twins are raising hell pic.twitter.com/OmFy7NVEou

— Dan McCarney (@danmccarneysaen) June 17, 2013
Andrew Sharp: Three thoughts:
1. At least last night, on Father's Day, those kids had the coolest bald dad on earth. They should celebrate by rolling all over the court talking trash.
2. Wearing full-body SpongeBob sweatpants to the game is some truly advanced pimp shit. We all need to get on the Ginobili twins' level.
3. But really, let's not bury the lede here: There are MORE Ginobilis on the way to the NBA, on the way to the Spurs. R.C. Buford is a genius. R.C. Buford is the devil.
Get the Gas-Face
(GIF by @cjzero)
netw3rk: This is the face you make when you're a Hall of Fame player whose NBA Finals record for 3s just got smashed by a dude who people still have to Google. Either that, or Juwan Howard just crop-dusted you. Judging by this Google Trends graph of searches for "Danny Green," Ray Big State Jesus might've Googled Green himself.
Daniel Richard Green Jr. is a basketball player from Long Island, New York, by way of the University of North Carolina, who was drafted in the second round with the 46th pick in 2009; waived by the Cavaliers, and then the Spurs, then re-signed by the Spurs; and now he's the guy who did a [⌘-X] on Ray Allen's record and who could plausibly win the Finals MVP award even though many people respond to his name by going "Oh, yeah, Danny Green. He's, like, so good and stuff" then surreptitiously typing "Danny Green who is" into their smartphones when they leave the room.
Danny Green has an OffRtg of 110.3 in a team-leading 170 Finals minutes during which he has hit 25 3s. He has six more 3s than LeBron James has free throw attempts. He's shooting 65.8 percent from 3 in the series and his shot chart basically looks like the Incredible Hulk biting into a cheeseburger. One might ask how a dude with a 3-point percentage that looks like someone messed with the NBA 2K sliders keeps getting open against an elite defensive team known for rotating to threats like piranhas on the swarm. The answer is, simply, that the Spurs run an offense that is the physical embodiment of the oft-fetishized, old-school "play the right way" ethos shot up with post–Seven Seconds or Less–spacing steroids. It's the offense that Mike D'Antoni sees while crying himself to sleep.
The Spurs' star is the system, and when each player knows his role within the system, even the role player shines bright. In this way, Green is just a guy at the end of the assembly line who bangs in the last rivet, albeit from 25 feet away. That's how a dude who was waived twice, plied his trade in the Slovenian hinterlands, and who lay–sports fans still need to Google can become an NBA Finals record holder, Ray Allen gas-face giver, and all-around threat to South Beach destinies.
CourtVision: How Hot Is Danny Green?
Kirk Goldsberry: What else can we say about Danny Green? Well, a lot. The guy is in the midst of the greatest shooting performance in NBA Finals history. Through five games he's already broken the record for 3s in the Finals with 25, but the crazy thing is he's missed only 13 in the process. For context, Blake Griffin shot 66 percent from the free throw line this season; Green is shooting that from the 3-point line in the Finals.
During the regular season, Green made 43 percent of his 413 3-pointers. He was very efficient everywhere, but most lethal around the right wing and in the left corner, hitting more than 47 percent of his shots in both locations. If he had a "weakness" beyond the arc it was the left wing, where he made only 36 percent of his shots, only slightly above the NBA average of 35 percent.
During the Finals, Green has obviously been on fire (figuratively, not literally, thank goodness).
He's exceeded expectations by shooting very well from everywhere. However, Green's been especially lethal from the wings, where he's made 16 of his 21 attempts, which is outrageous. This includes a freakish 9-of-10 shooting performance from the left wing, the exact spot that was sort of his weakness during the regular season.
Yes, the Finals samples are very small, but two things are crystal clear: Green was one of the best shooters in the league in the regular season, and Green is absolutely killing it in the Finals — even for his high standards. He has amassed 75 points on 38 3-point shots in the Finals. However, if we filter these exact 38 shots through his regular-season shot chart, his estimated output from these shots is only 49.6 points. In other words, Green is outperforming his exquisite regular-season value by more than 50 percent from beyond the 3-point line. That's hot.
Logic and probability suggest there's no way Green can keep this up, but it's worth noting that when it comes to these Finals, logic and probability are no match for Danny Green.
It's a Shame About Ray
Danny Chau: It's a shame that Ray Allen's night will be remembered as the fulcrum to Danny Green's historic Finals performance. It's not that I don't find the Danny Green story completely riveting — I just have a problem with the reality of Allen's night being boiled down to his spot-on reenactment of the Jackie Chan meme. After all, Ray was hardly a sitting duck. He arguably had his best playoff game of the last two seasons, and it's not a particularly close debate if you factor in the degree of difficulty on a few of his shots. He may have lost the distinction of having the most 3-pointers in a Finals series, but he also became the only player in NBA history to convert two four-point plays in the same Finals game, according to the Elias factoid dropped by Mike Breen in the broadcast.
Honestly, last night was the most fun I've had watching Allen in a long while. The four-point plays have a role in that, but it was the possession that starts at 3:10 remaining in the fourth quarter that put this performance over the top.
Allen leads a break, jukes Tony Parker with a wraparound dribble, and rises for a dunk (or at least that was the hope) with the ball palmed upward. Manu Ginobili is there to contest, so in order to avoid the contact, he brings the ball down and around for a picturesque reverse layup, the kind of maneuver you'd be able to pull off on command in NBA Live 06. If he had hung in the air for just a beat longer, or if he was a few years younger, the layup would've been a success. Hell, it might've been his most exhilarating postseason play (non-3-pointer edition) since the vicious dunk on Tracy McGrady back in 2001. Instead, because of a lack of elevation and hang time, the ball hits the left side of the rim on its way up, and Allen falls down without a call. But that's the kind of play the basketball gods will reward you for. And, indeed, his justice was had on the same possession. He ends up drilling a corner 3 because of course he does.
Green was the big winner last night, but there's enough time and space to celebrate the achievements on both sides. It was a bittersweet night for Allen, but I'm choosing to embrace the remarkable things he was able to accomplish instead of fixating on what was taken from him.
Remembering Patty Mills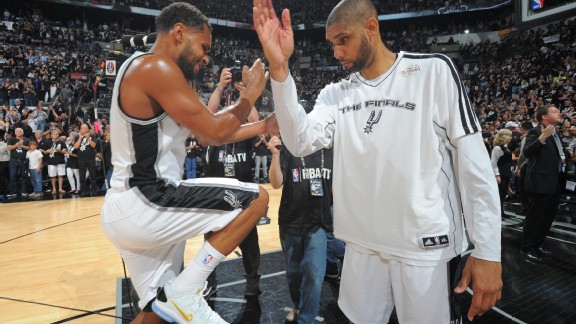 Carles: Nando de Colo randomly showed up to Game 4, making me really confused about what Coach Popovich was trying to do. Had the Spurs run out of answers for the Heat? Who would they have deactivated? At the time, I was thinking it should have been Manu Ginobili, but I was saddened to find out it was actually Patty Mills. He won't suit up again in the NBA Finals after having surgery to remove an abscess between his toes. Even though Mills would have only played during garbage time, every Spurs fan will miss his notable presence at the end of the bench, getting his #towelwave on. It was good to see him in street clothes during Game 5, still waving his towel. We'll never forget your intangible contributions, Patty Mills.
Text Messages to Pop From a Spurs Fan
Shea Serrano: I sent text messages to Gregg Popovich last night during the game.
---
Me: Yo
Pop: Yo
Me: i was talking to my tio on Saturday he thinks you all have a good chance tonight
Pop: oh that's good i'll be sure to tell the guys that your tio thinks we have a good chance tonight
Me: dude, come on
[No response.]
Me: why are you starting manu? is he even alive? what's wrong with him?
[No response.]
Me: alright, cool. Ttyl
---
Pop: you were saying about manu?
Me: :/
---
Me: pop
Pop: you know i'm coaching in the nba finals right?
Me: Yeah, sorry, real quick, super important:
Pop: go
Me: do you have season five of breaking bad on dvd?
[No response.]
Me: they didn't have it at the best buy by my house
[No response.]
Me: is it cool if i call you walter white? You can totally call me pinkman
[No response.]
Me: hello?
[No response.]
Me: alright, cool. Ttyl
---
Me: Mr. White? Are you there? There's a problem with the cook.
Pop: don't.
Me: :(
---
Me: Pop, have you ever seen that movie Junior?
Pop: no
Me: it's with Arnold Schwarzenegger
Pop: the guy from terminator?
Me: well he's made a few more movies since then. In Junior he gets pregnant
Pop: wtf. a pregnant terminator robot?
Me: IT'S TWO DIFFERENT MOVIES, GREGG.
Pop: okay
Me: but so in the movie he gets pregnant. do you think that could really happen in real life?
Pop: what? no why
Me: because danny green, is why
Pop: you want danny green to get you pregnant?
Me: he's basically shooting 70 percent from the three, so yeah, i want danny green's baby in me
---
Me: OMG THIS THIRD QUARTER IS KILLING ME WEREN'T WE JUST UP BY 50 POINTS????
[No response.]
Me: I'M THROWING UP I'M SO NERVOUS THE GAME IS ALMOST TIED OMGOMGOMGOMGOMGKILLME
[No response.]
---
Me: DAAAAAAANNNNNYYYYYY!
Pop: i know, right
Me: Junior. Let's make that shit real.
Pop: maybe
---
Me: Mr. and Mrs. Danny Green. it has such a nice ring to it. i wonder what side of the bed he'll wanna sleep on?
[No response.]
---
Me: YO! congrats
Pop: chill
Me: let's go celebrate. What type of stuff do you like to do for fun. Let's go do that. I'm down with whatever.
Pop: okay. Small celebration.
Me: yuusssss!
Pop: but we have to do what I want
Me: sure anything you got it. What is it? me, you and Tygo go to a cemetery and just stare at shit? drive by doris burke's house and throw rocks at it? send dong shots to phil Jackson? whatever. i'm all the way with you.
Pop: i wanna …
Me: yeah?
[No response.]
Me: YEAH?
[No response.]
Me: I CAN'T TAKE IT I'M TOO EXCITED WHAT ARE WE GONNA BE DOING???
[No response.]
Me: Hello?
[No response.]
Me: oh. // argh // dick. good luck Tuesday
Pop: thx
Family Business
Mays: "That's family stuff," Gregg Popovich said, in his most telling three words of this series. Pop had been asked what it was he told Manu Ginobili before the game, and his answer was both sufficient and true.
My favorite moment of last night was after Danny Green's final dagger, when he made his way back toward the bench and Tim Duncan stood waiting for him at the free throw line. What happened there wasn't a celebration, but an actual embrace — Duncan putting his hand on the back of Green's head in a moment of genuine affection. Family stuff.
I don't think members of a professional sports team have to like each other (Kobe Bryant said last week that the best teams he'd ever played on were such because they weren't that way), but I know that I love it when they do. The first words from Tony Parker's mouth at his postgame press conference were a half-joking scolding of a reporter for doubting that Manu would be Manu. Both Pop and Parker's words instantly brought me back to this. With regard to legacies, there's plenty on the line for the guys populating the Spurs' sideline in this series, but as much as this is about Pop being the best coach ever, or Duncan being the best player of his generation, or Manu and Parker again elevating their place in history, I'll remember these Spurs for the way they enjoyed playing basketball — together. That, as much as everything else, is what doesn't come around very often.
Dr. Gregg House
Brett Koremenos: It's hard not to look at Gregg Popovich's basketball persona, that caustic, demanding, detached savant roaming the sidelines, and picture another indifferent genius, Dr. Gregory House. When factoring in Pop's penchant for grumpy sideline interviews, all that's missing is the cane, really. Both the real-life basketball coach and fictional TV doctor function in a vacuum where the only thing that matters is finding the answers to the riddles they face. For House, that meant foregoing ethics, morality, and faith in his fellow man to cure some someone of lupus.
The Spurs coach may not be popping Vicodin on the bench, but he, too, refuses to let emotional attachment get in the way of winning basketball games, especially when it comes to the inevitable fallout from players whose self-worth takes a hit when they find their roles diminished, or taken away entirely at a moment's notice.
In Game 5 Pop showed us another example of that with Tiago Splitter. The Brazilian big man had started 58 regular-season games, and 15 out of 16 postseason games before last night. During Game 5, he was relegated to eighth-man status.
For Pop it was simple; the induction of Mike Miller into the Heat's starting lineup turned Splitter into a liability in his current role. So to the bench Splitter went, and in his place was Manu Ginobili. And Splitter wasn't alone in having his playing time curtailed. Cory Joseph, the backup guard who had averaged 10 minutes a game this postseason, was cut out of the rotation completely. It was clear in Games 1 through 4 that the 21-year-old just wasn't ready to contribute in such a competitive series. Joseph's lone appearance last night was in garbage time, as Pop cut his rotation to eight players for the first time this postseason.
This hasn't been the only series (remember when Duncan got benched late in Game 6 against Golden State?) Pop has pushed aside nostalgia to do something he thought needed to be done. The way Pop approaches his personnel stands in stark contrast to how Erik Spoelstra has stubbornly deployed Udonis Haslem and Shane Battier in his rotation despite the two veteran leaders being weak links. Spoelstra, to this point at least, has clung to romantic notions of past accomplishments instead of a realistic look at present production. In a series where every decision has monster implications, Pop has eschewed sentiment for pragmatism. Because of it, the Heat's hopes of winning a Finals are on life support. Maybe it's time they found a Dr. House of their own to save them.
Dwyane Wade Finally Got a Call
Chris Ryan: And this is what it felt like …
Where Art Thou, Birdman?
Ben Detrick: Before signing with Miami in late January, Chris Andersen was hunting hogs and "hanging out with the homeboys." Those are honorable and important professions, but the Birdman, magnanimously wishing to pump joy into our collective hearts, was compelled to return. While helping the Heat become one of the greatest regular-season teams in history, he reminded us that we had dearly missed a Mohawk-wearing goon with a Technicolor turtleneck of tattoos.
Although his playing time was limited, Andersen was a budget Tyson Chandler: He chipped in garbage buckets, crashed the boards, and protected the rim. Per 36 minutes, Birdman averaged 12 points on a 63 percent True Shooting percentage, 10 boards, and 2.5 blocks. And Miami thrived with him as a contributor, losing only three times in 42 regular-season games.
But against the Spurs, Birdman has been plucked from the rotation. In Games 4 and 5, he didn't step on the hardwood. Unless Miami's strategy changes, it's looking like an anticlimactic end for a postseason in which Andersen has shot an unholy 82 percent from the floor, rebounded with enthusiasm, and even shoved Tyler Hansbrough around. Despite the Heat losing two of the three games in which Andersen has played against San Antonio, his overall plus/minus for the series is plus-nine.
Like Udonis Haslem, Birdman has become a casualty of Miami's desperate need to stretch the floor against a defense that clogs the lane with anyone non-surgically attached to a 3-point shooter. It's also clear that Andersen struggles to guard Tim Duncan without plunging into foul trouble (as he did in Game 2 with five personals in only 14 minutes). But with the Heat shooting a putrid 43 percent from the field and surrendering 114 points last night, it's worth speculating that an über-efficient scorer and wiry shot-blocker might have made an impact. Miami is an adaptable team that experiments with countless rotational permutations — but for now, we know why the tracksuit-wearing Bird sings.
The Heat Were Good; the Spurs Were Perfect
Andrew Sharp: This should've been a sequel to Game 3. The Spurs got 17, 16, 26, 24, and 24 from their starters, who shot 39-of-61 (61 percent) as a group. It was a night full of "holy shit" performances, and when you step back and look at how flawless it all was on San Antonio's end, it's kind of amazing the Heat hung around as long as they did. So, there are a few reasons this loss might hurt a little less if you're a Miami fan.
For one thing, LeBron James and Dwyane Wade and Chris Bosh didn't crumble this time. There were about 10 times this looked like it was going to turn into a blowout, but they mostly withstood all the rainmaking, and the Heat were within striking distance right until the fourth quarter, when the Spurs finally ran away with it. Regardless, this loss wasn't about Miami not flipping some switch, or not showing up. The Spurs were just out of control.
The encouraging part of all that? It's hard to imagine San Antonio being that lights out in Game 6 on Tuesday. Meanwhile, Miami is still the team that hasn't lost two games in a row in like a million weeks, LeBron and Wade have remembered how to be aggressive over the past two games, and after five games in which both teams have traded outrageous performances, it feels like it's the Heat's turn now. So I guess what I'm saying is, Tuesday should be great, but after last night, I'm already kind of dreaming of Thursday.
Filed Under: Andrew Sharp, Ben Detrick, Brett Koremenos, Danny Chau, Gregg Popovich, Kirk Goldsberry, LeBron James, Manu Ginobili, Miami Heat, NBA, NBA Finals, NBA Playoffs, San Antonio Spurs, Tim Duncan