We Went There: Manu Reigns and Miami Sputters in Game 5
Kevin C. Cox/Getty Images
The Heat have talked openly about how facing three of the league's top five defenses over the last three rounds has taken the fast-paced style out of their offense. Great defenses, with weeks to scout a single opponent, don't fall for the whirring decoy actions all over the floor, or scramble themselves out of position, or forget for a second which shooters demand constant attention and which do not. Miami's high-flying motion bogs down into stasis, both because the shot clock is dying, and because the Heat simply abandon it for simpler things in the face of a defense that renders the complex ineffective. Great defenses, the Heat will tell you, just take you out of your game for long stretches.
This Finals series is reminding us that the same is true on the other end — that a great offense, a relentlessly great offense, can take a defense out of its game. It can get in a defense's head, forcing painful adjustments, lineup changes, fatal overthinking, and mental fatigue. The Spurs' offense has imposed its will on this series, and they have the Heat reeling in ways no team has managed since the 2011 Mavericks. "Our defense tonight," Shane Battier said after the game, "was unacceptable."
And he's right, in a way. Miami made mistakes we'd associate with an out-of-sorts team battling fatigue, frustration, and total bewilderment. In the second quarter, Mario Chalmers just stopped paying attention to his man, Danny Green, as Green trotted along the baseline and popped out the other side for a wide-open 3-pointer — at least the third or fourth such triple Green has hit in this series via that simple cut. About a minute later, Chris Bosh, worried about a possible pick-and-roll that hadn't actually happened yet, just abandoned Tim Duncan to double-team Tony Parker — leaving a shocked Mike Miller to foul Duncan under the basket: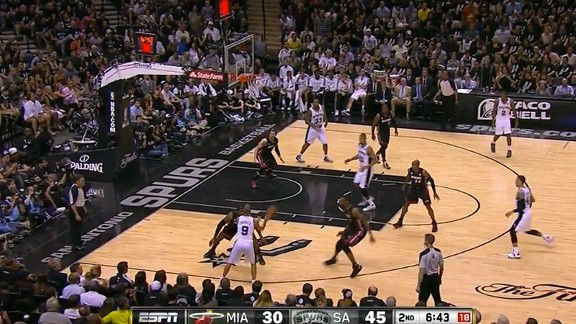 The Heat have been switching more in this series, an unwanted contortion they've made to keep things simpler against San Antonio's endless merry-go-round of screens, passes, and handoffs. The Spurs have punished those switches — by having Manu Ginobili, a reborn savant last night, attack big men off the dribble, or by taking advantage of awful miscommunications that happen when one Miami defender thinks a switch is in order, but the other does not. (The result of such mishaps is a Keystone Kops sequence of two defenders chasing one guy.)
Miller, shaky defensively all series despite a game effort, bizarrely left Ginobili to double Tim Duncan on a dribble drive; Duncan kicked to Ginobili for an open 3-pointer: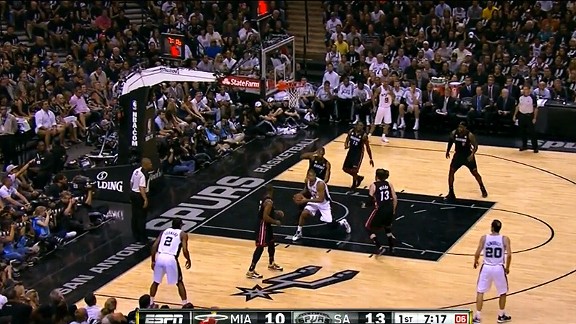 The Heat had battled back to within 75-74 when the Spurs caught Wade far off Green, head turned to the other side of the floor to watch both Ginobili and whatever Gary Neal was up to screening for Duncan under the rim. Boris Diaw, handling the ball up top, audibled right into a handoff play for Green, springing him for an open triple before Wade had any hope of recovering: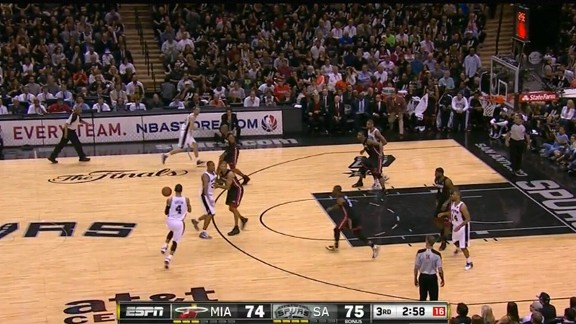 Leaving Green open, I think we know by now, is a bad idea. That triple started the cascading run of Spurs shot-making, bad Miami defense, and Diaw swallowing up James in the post — a monstrous 19-1 bloodbath that has San Antonio a win from glory.
And, most damning of all, Wade continues to cost his team points by complaining to officials behind the play as San Antonio transitions to offense. Kawhi Leonard's 3-pointer from the right corner with 10:12 left in the fourth quarter came as a direct result of Wade's bellyaching; the last Spur up court, Ginobili, sprinted far ahead of Wade, forcing Ray Allen to abandon Leonard and bump Manu in the paint. These are the NBA Finals. Maybe clean this up?
We thought the Spurs would have to pass their way over and around Miami's helter-skelter defense to win four games in this series. Turns out they haven't had to do that nearly as often as we'd anticipated, because their offense has transformed Miami's defense into a different animal.
More random thoughts from last night's game
• Here's Diaw on whether he has a plan for defending James in the low post — a strategy to, say, force LeBron toward the baseline or into help: "No. [Laughs.] Not really. If you force him one way, he's gonna go with such speed and power that it's gonna be tough to stay in front." Diaw said he didn't know he'd guard LeBron so often until he found himself guarding him almost constantly while on the floor. His ability to do that credibly, with heavy help, allows the Spurs to keep two bigs on the floor against Miami's small-ball lineups and unleash Leonard on Wade.
• The AT&T Center is the perfect arena for the media-shy Spurs. The wireless Internet works only intermittently. The distance between the home and visitor locker rooms might be the longest in the league. The little dollar slits in the vending machines weren't working for the bulk of this trip. And there is some sort of fly infestation, perhaps linked to all the rodeos the place hosts, with flies literally buzzing all over the court during media sessions after shootarounds and practices. Udonis Haslem almost had to stop one interview to flee the flies. I like to think the Spurs have genetically engineered these flies, injected them with poison, and trained them to attack only media members and personnel from opposing teams.
• The Spurs used their own version of hero ball tonight, proving that even the most selfless teams can always use some selfishness. They allowed Parker to attack both Chalmers and Norris Cole one-on-one, in isolations, a move that leverages Parker's speed and takes Miami's trapping pick-and-roll defense out of the equation. They gave Ginobili freedom to do the same on two or three possessions, including on one drive against the helpless Allen.
• Speaking of Cole and Chalmers: Spoelstra played about 15 minutes of last night's game without either of his point guards on the floor, the most minutes he's given such lineups so far in this series. Those groups were plus-nine, heady stuff in a loss that verged on "blowout" status. Chalmers and Cole were 2-of-11 combined, and Chalmers launched a hilariously bad 3-pointer in the third quarter as LeBron prepared to either attack Green in the post or set a pick for Chalmers. Does Chalmers not get by now that Green cannot guard James in the post, and that such possessions, with Leonard resting, are precious?
But it wasn't just the offense. The Spurs were playing far off both Miami point guards to send an extra help defender toward LeBron. Here's Gary Neal ignoring Chalmers to clog the foul line area: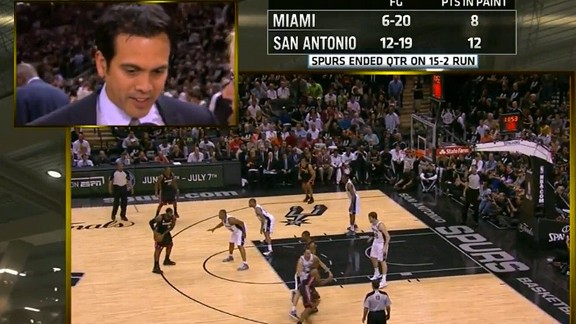 The Heat can generate more spacing by playing two of the Allen-Miller-Battier trio at once alongside their three stars, and Allen got several open looks late in the game out of very basic actions that become more dangerous with so much shooting and star power on the floor. On this play, he simply cut down off a Bosh screen, caught the ball, and went in for a wide-open layup — a shot that was so easy in part because the nearest weakside help defenders were guarding Miller in the right corner) and James up top. Leaving those guys is scary: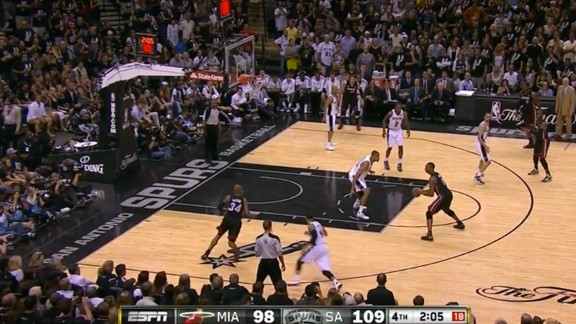 I asked Spoelstra after the game if we might see more of these groups in Game 6, but he was noncommittal.
And I'm not convinced they'd work in the long haul. Playing this way forces James to guard Parker for long stretches, and the Spurs know how to attack that matchup. They'd outright won it until tonight, and even in this game, they ran LeBron ragged off picks away from the ball. They also had their other wings/guards set high screens for Parker, normally the job of a big man, once they discovered the Heat would switch those plays. And if the Heat switch Miller and Battier onto Parker, as they often did, Parker is going to score in the paint.
• I met the Spurs' Coyote mascot before the game, and he/she promised me he/she had some good tricks ready for tonight. The cracked-out, green-eyed, often pantless animal delivered. The highlight included a JumboTron clip from the start of this scene in Rocky II:
But before the scene got to the climactic moment, when Adrian urges Rocky to "just win" for her, the clip cut out and transitioned to the Coyote standing over a puppet woman in a hospital bed. The woman finished Adrian's speech, an unidentified Spurs employee did a solid Mickey impression, and the real Coyote then ran onto the court wearing Rocky's stars-and-stripes trunks from Rocky IV and giant boxing gloves on his hands. He also rode a motorcycle out onto the court at one point, and dressed as a Spartan after a clip from 300. The Coyote rocks.
Oh, another good Coyote bit: pulling down on a rope dangling all the way from the ceiling as a bell chime goes off and a digital bell on the scoreboard moves side to side in time with the Coyote's pulls. The chimes are in tune with the opening of AC/DC's "Hells Bells," an all-time great arena psyche-up song. Good stuff.
• This man attended tonight's game, and frightened a young woman: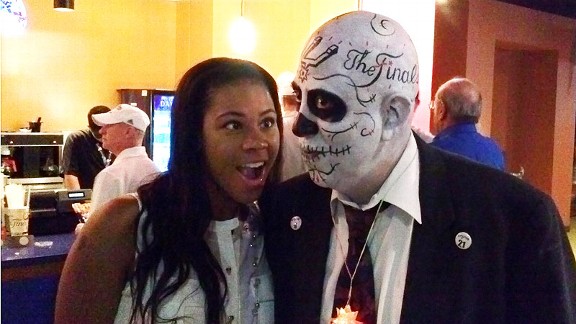 • I'm an unabashed Manu Ginobili fanboy, so you can guess how thrilling it was to hear the crowd break out repeated "Man-u! Man-u!" chants after they realized sometime in the third or fourth quarter that he was having a historically great bounceback game. Ginobili's creativity and Parker's one-on-one brilliance are good symbols for the role San Antonio has played in Miami's defensive collapse.
Two plays serve as fitting examples. With about 1:30 in the third quarter, as the Spurs were making their game-deciding push, Gary Neal and Tiago Splitter ran a high pick-and-roll as Ginobili popped out to serve as a release valve for Neal: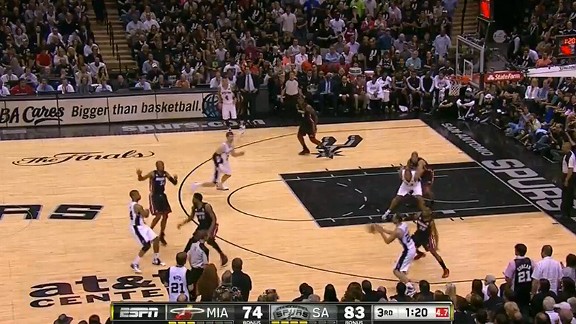 The idea here is to create a quick-hitting Neal-Ginobili-Splitter passing sequence before the defense can recover. But Ginobili saw James lurking behind Splitter, ready to pounce, and decided to take Cole off the bounce. But the drive was a ruse. Ginobili picked up his dribble almost immediately and looked at LeBron's man — Green, on the left wing — as if he were going to pass there. Once LeBron took the bait and bolted back to Green, Ginobili tossed an easy pass to Splitter for a layup that he managed to make without a single member of the Heat, or the broadcast crew, rejecting him: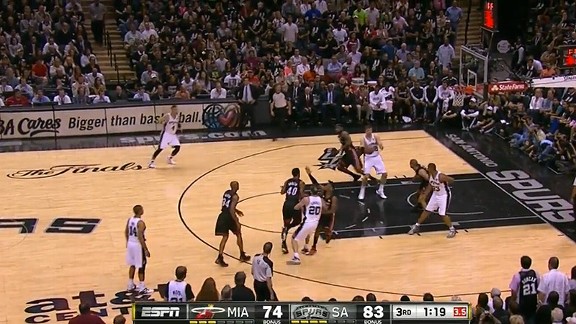 I'm telling you: Manu's a genius.
Ditto for this genius play early in the second quarter that began with Ginobili flying off a Splitter screen on the right side — standard Spurs stuff: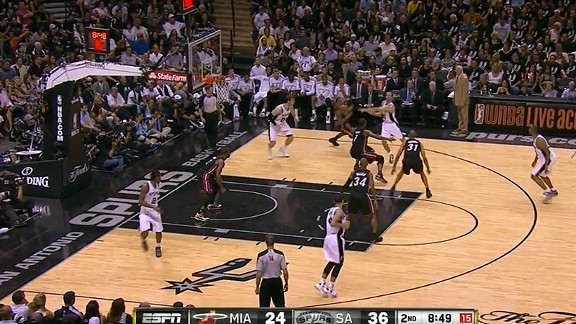 Ginobili is pretty much in the clear here — ahead of his man, Chalmers, and operating without serious pressure from Splitter's man. And he's in that position because the play didn't really begin there; it began with Ginobili and Leonard crisscrossing under the rim, and then stopping on a dime in sync, crisscrossing again, and flying off in opposite directions. All the action confused Miami's defenders, leaving Chalmers scrambling and Bosh ball-watching in the wrong place.
Ginobili then hit Splitter with the natural next pass, and the Heat did this: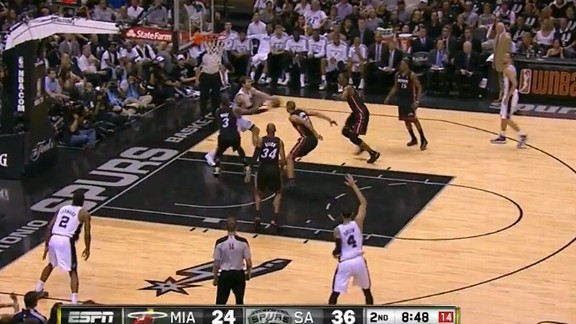 Splitter does not require this much attention; he can't make a layup or dunk over anyone right now. Battier's rotation off Diaw, at the top of the arc, is probably a bit overaggressive, and it led to a Splitter-Diaw-Green hot-potato passing sequence that ended in a Green 3. (I'm beginning to think everything, including the Bible and The Odyssey, ends in a Green 3.) It's also the kind of rotation to make when you're conditioned, after five games, to think your defense is in rotation crisis.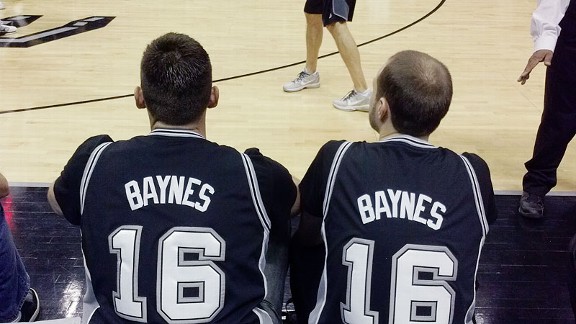 • Two guys wearing Aron Baynes jerseys? Are Aron Baynes jerseys even available? I had to ask. Turns out the jersey-wearers are Baynes's brother, Callum, and cousin, Chris, visiting from Australia.
• The Spurs introduced Duncan first, Parker third, and Ginobili last tonight. What a nice symbol of their team-first approach, where everyone supports each other, and the larger group, before worrying about themselves. Stars on other teams claim the anchor spot, and even the first one, as if it is their personal fiefdom.
• To the guy screaming "You suck, LeBron" behind press row all game: He does not suck, and he cannot hear you.
• After Game 4, I brought up how Leonard was often stuck in no-man's-land, halfway along the baseline, while Parker and Duncan ran high pick-and-rolls. His positioning there cramped the Spurs' spacing, since his defender was naturally near the basket, able to help in a pinch on Duncan rolling or Parker driving.
It's clear after talking to coaches and players that Leonard is there by design — to score on cuts and grab offensive boards. But he can't linger there aimlessly; he has to sense in the moment whether he should cut to the basket, loop to the foul line, or sprint out to the corner. He was better at making those decisions tonight, and it helped the Spurs' spacing.
• Holy crap did the Spurs emphasize pace tonight. They emphasize it all the time, and in my series preview I wrote that scoring in transition might be more important to the Spurs than the Heat. And those easy points take on an even greater importance after a game — Game 4 — in which the Miami half-court defense looked terrifying and impenetrable.
The Spurs pushed off everything — misses, makes, and even made free throws. After LeBron made his second free throw with 2:15 left in the second quarter, the Spurs inbounded and pushed so hard that they entered the ball to Duncan deep in the post with 20 seconds left on the shot clock. He scored one second later. Tim Duncan, an old man in NBA terms, made a post-up basket after just five seconds had elapsed on the shot clock, and after a made opponent free throw, in the 2013 NBA Finals.
Two things about that basket:
1. LeBron was guarding Parker, and perhaps out of respect for Parker's speed, he waited for Parker well behind midcourt as Parker brought the ball up. That allowed Parker to sprint the ball up without a defender in front of him, obscuring his path or vision. This is something to remember if Spoelstra goes back to this matchup in Game 6.
2. Duncan can score on Bosh one-on-one. The Spurs have at least two fail-safes they can go to confidently at the end of possessions that are dying — Parker isolating up top, and Duncan on the block against Bosh. They did not have the latter last season against the Thunder.
That was last season. This is 2013, and the Spurs are one win away from a title. It would be the fifth for Duncan and the franchise, and it would mark two losses in three Finals for the New Big Three in Miami. The Spurs can smell the finish. Miami can't grasp its beloved "identity" consistently. Game 6 is on Tuesday.
Filed Under: LeBron James, Manu Ginobili, Miami Heat, NBA, NBA Finals, San Antonio Spurs, Tim Duncan, We Went there, Zach Lowe