NBA Draft Story Lines Shootaround
Michael Jordan's Big Board
In their eight years of existence, the Charlotte Bobcats have drafted three players from UNC, one from Duke, and one from Boston College, a school that plays up to seven games a year in the state of North Carolina. They have drafted one player from Texas, a Naismith runner-up from Gonzaga, and two UConn greats. Outside of trading for Alexis Ajinca's draft rights in 2008, the Bobcats have found nearly every undersized or questionably athletic college star in the country. Some, like Jared Dudley, turn out to be valuable players on other teams. Others, like Sean May, quickly confirm that college post moves sometimes don't translate to the NBA. The Bobcats haven't fully developed a player since their inception in 2004. They handcuffed Raymond Felton, they didn't tell the managers of all Charlotte-area Waffle Houses to stop serving May, they turned Gerald Henderson into the worst version of Kobe Bryant in the history of versions of Kobe Bryant.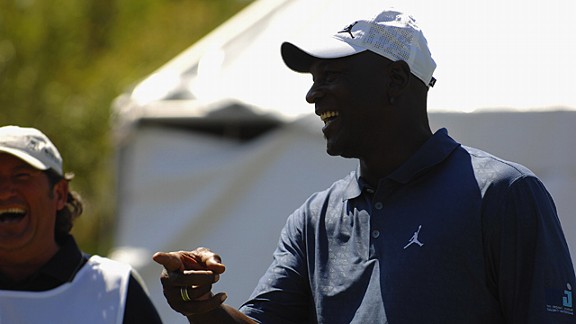 All this, of course, led to last year's historically terrible season, which netted the no. 2 pick in a draft with only one franchise-changing player. Which is pretty much what Bobcats fans must have expected. Also on the Bobcats fan's list of head-slapping expectations is Michael Jordan's draft process: Step 1: Draft someone who played at Carolina. Step 2: If the Carolina guy is not there, draft someone who went to Duke? Step 3: No Duke guys? Draft someone who played in the ACC. Step 4: Shit. Uh. If that's not an option, draft someone who played Carolina in the tournament? Step 5: If all that fails, just draft the guy who won some award the year before.
Which is why the Bobcats will take Harrison Barnes tonight. And if they trade down with Cleveland and get the fourth pick and the 24th, we might be able to see the full Jordan process in action.
Jordan: All right, we just picked Barnes. Now we wait …
General Manager Rich Cho: Wait for what?
Jordan: We got so many options at 24, man. John Henson, Tyler Zeller, Kendall Marshall … I got my Big Board right here. [Waves cocktail napkin with the words "Fuck Dook" written in Sharpie.]
Cho: [Fashions a noose out of his necktie.]
Who else could they take? How could they not take Barnes? Chapel Hill and Charlotte are a mere two and a half hours apart, and all Tar Heel fans want to pay $150 to watch their former greats lose by 30 to the Wizards. Especially a Tar Heel who ended his college career so poorly. Also because the history of converting hard-core college basketball fans into NBA fans has worked so well in Charlotte.
— Jay Caspian Kang
An Anthology of Red Flags for Big Men
On Wednesday's B.S. Report with Bill Simmons, Jay Bilas said that Andre Drummond was the player in this year's draft who was most likely to get a GM fired — either because that GM drafted Drummond and he turned into a bust or because that GM didn't draft him and he became the next Dwight Howard. Of course, every year there's a Drummond, a player with both unlimited potential and glaring red flags. And unfortunately, they often don't work out. Here's a look back at some of the more disastrous big men selected over the past 15 years, and some of the entertaining comments — positive and negative — that NBA coaches and executives and leading NBA draft publications said about them.
Hasheem Thabeet, 7-foot-3, drafted no. 2 by Memphis in 2009
"When they first brought him in, I wasn't sure. Did the game find him, or was he a kid who found the game? There's a big difference there." — Tom Vachet, Thabeet's pre-draft strength trainer
Yi Jianlian, 7 feet, drafted no. 6 by Milwaukee in 2007
"It is a common occurrence to see him crumble with the slightest contact, an anomaly for a player weighing nearly 250 lbs." — DraftExpress
Patrick O'Bryant, 7 feet, drafted no. 9 by Golden State in 2006
"He's not really the type of big man who will want to rip your heart out if you get in his way." — DraftExpress
Mouhamed Sene, 6-foot-11, drafted no. 10 by Seattle in 2006
"He might be the longest person in the world!" — A source close to the Chicago Bulls, quoted by DraftExpress
Pavel Podkolzin, 7-foot-5, drafted no. 21 by Utah in 2004
"The doubts mainly surround his physical condition, with the growth hormone problem, and also his work ethic which for now appears suspect … His biggest problem is with his basketball skills and understanding of the game." — NBADraft.net, via Mavs Moneyball
Darko Milicic, 7 feet, drafted no. 2 by Detroit in 2003
"He's too massive for the average small forward to contain and too quick to be held in check by the average power forward. Thus, it'll take an extraordinary defender to deal with him." — Sports Illustrated
Michael Sweetney, 6-foot-8, drafted no. 10 by New York in 2003
"The 6-8 Sweetney is closer in size to Othella Harrington than Patrick Ewing, Alonzo Mourning or Dikembe Mutombo." — Sports Illustrated
Nikoloz Tskitishvili, 7 feet, drafted no. 5 by Denver in 2002
"I think he'll be a devastating four in the league in a few years … He can already nail threes — NBA threes. He's 7-feet tall, how is anyone going to stop him?" — Mike D'Antoni, then Skita's coach at Benetton Treviso
Marcus Haislip, 6-foot-10, drafted no. 13 by Milwaukee in 2002
"He was suspended for the first six games of this season and that didn't help his progress." — ESPN Draft Tracker
Kwame Brown, 6-foot-11, drafted no. 1 by Washington in 2001
"This kid is going to fit the bill for us. We feel he can handle it. I think Kwame is going to be fine." — Michael Jordan, via Sports Illustrated
Frederic Weis, 7-foot-2, drafted no. 15 by New York in 1999
"He's more of a finesse center, not very physical." — Donnie Walsh
Michael Olowokandi, 7 feet, drafted no. 1 by Los Angeles Clippers in 1998
"If he can be summed up in a word, it's 'upside.'" — Sports Illustrated
— Rafe Bartholomew and Jovan Buha
Point Break
For years, a secret revolution has been amassing under foot. The standard-bearer, the driving offensive force, the old guard (get it?), has been set aside in favor of shiny new toys. In the past decade the NBA has quietly evolved from a two-centric, Jordan-defined league of slim but sturdy backcourt stars to a land of wings and horns. Call it the Durant Dilemma. It's not good enough to be 6-foot-4 with a stroke anymore. Everything's got to be long: reach, range, Rolodex. Shooting guards not named Kobe Bryant can't lead a team or decide a championship. James Harden is the only impact first-round SG in recent memory. And he comes off the bench. Before that? It's been nine years since the Heat drafted Dwyane Wade with the fifth overall pick. Now you've got to be 6-foot-9 with an ostrich's wingspan, a pentathlete's aim, and a post-Urkelian sense of style.
That could be changing. This year, as many as five shooting guards could go in the first 14 picks. It'll be a stunner if more than three point guards go by then. (Think back to the David Kahn–powered insanity of '09, when 10 PGs were taken in the first round.) Of this year's three, one's a slashing, undersized combo guard (Weber State's electric but one-dimensional Damian Lillard); one's a pure scorer with point size and pedigree (Austin Rivers); and the third, thankfully, is Andre Miller 2.0. North Carolina's eerily calm, pass-first Kendall Marshall, who in the above video even makes J. Cole songs seem more exciting than they are, is the only classically drawn point guard in the draft. He's "the best passer I've ever coached," Tar Heels coach Roy Williams said.
So is this a market correction, or a shift back to the '90s standard? In three of the previous four lotteries, PGs (Derrick Rose in 2008, John Wall in 2010, and Kyrie Irving last year) went first overall. If we redrafted the 2009 lottery, you could argue — argue! — for Ricky Rubio overall no. 1 over Blake Griffin. Whether Bradley Beal, Dion Waiters, Jeremy Lamb, or Rivers change the conversation is undecided. That floor generals will not drive the 2012-13 rookie class is almost certain.
— Sean Fennessey
Some Useful Player Comparisons
Here are some best-case-worst-case scenarios for the possible top 10 picks. Don't let all this rich man's Qyntel Woods, poor man's Andre Iguodala stuff fool you. It's much more nuanced than that.
No. 1: Anthony Davis
Best case: David Robinson
Worst case: The Richard Moll role in the inevitable Night Court reboot
No. 2: Andre Drummond
Best case: Serge Ibaka
Worst case: The guy in the background of Hilton Armstrong's Instagram photos
No. 3: Bradley Beal
Best case: Ray Allen
Worst case: Opens a youth hostel with Khalid El-Amin in Croatia
No. 4: Michael Kidd-Gilchrist
Best case: Scottie Pippen, basketball player
Worst case: Scottie Pippen, investor
No. 5: Thomas Robinson
Best case: Short Danny Manning
Worst case: Short Nick Collison
No. 6: Austin Rivers
Best case: Flip Murray, the night he scored 31 against the Heat in 2003
Worst case: Flip Murray, every other night of his career
No. 7: Jeremy Lamb
Best case: Invincible Caron Butler
Worst case: The guy in the background of Andre Drummond's Instagrams
No. 8: Dion Waiters
Best case: Hanging out with Evan Turner at an Applebee's after a Sixers win
Worst case: Bringing Evan Turner his food at an Applebee's after a Sixers loss
No. 9: Damian Lillard
Best case: Jrue Holiday
Worst case: Sorry … who are we talking about?
No. 10: Tyler Zeller
Best case: The rich man's Eric Montross
Worst case: Jeff Foster without the sparkling personality
— Chris Ryan
Why Not Being a Lottery Pick Could Be Like Winning the Lottery for Jared Sullinger
Jared Sullinger is not going to be a lottery pick. Everyone (or at least everyone on the Internet who discusses such trivialities) feels certain of this, and the NBA front office isn't even inviting Sullinger into the draft-night green room, so we'll never know what kind of suit he pretends to like. People believe Sullinger has a bad back and is something of a tweener, and that he never really improved offensively after his freshmen season at Ohio State. Had he entered the draft last year, he might have gone as high as no. 4 and probably no later than no. 7. Now he'll slip into the deep teens and maybe the 20s. In the short term, he will lose a mountain of money.
What nobody seems to be mentioning, however, is how positive this is for Sullinger.
Look at it like this: The probability that Sullinger will be an immediate star is remote (the only player of that caliber in this draft is Anthony Davis). He will either be a solid role player, a relative bust, or the type of guy who develops into a situational All-Star over an expanse of time. Within those three scenarios, the only one that rewards a high draft selection is total failure (because that would mean he'll be out of the league in four years and needs to make as much money as he can in the smallest window of time). But if he turns out to be a decent bench contributor or a slow-burn workhorse, it will be to his profound advantage to slide on Thursday night. If he ends up in someplace like Boston (which has both the 21st and 22nd picks) or Memphis (which seems to value unorthodox players and selects 25th), he might end up being viewed as an incredible steal, even with underwhelming statistics.
If Sullinger ends up being a stronger player at pick 26 than most of the guys who go 10 through 20, he will be perceived as the kind of man who overcomes adversity and proves his critics wrong. The same people hammering him today will argue that he has heart (they will compare him to Karl Malone, a perplexing talent at Louisiana Tech who slid to 13th overall because scouts questioned his jumping ability). When he eventually becomes a free agent, he will be fiscally rewarded in a more meaningful way (and he'll be mature enough not to blow it). I'm sure Sullinger is embarrassed this week, because nobody wants to be the guy everyone on NBA TV is talking about in hushed tones. But this may ultimately be good for him. It will only damage his future if he was never that good to begin with.
— Chuck Klosterman
How One Thomas Robinson Workout Could Change Everything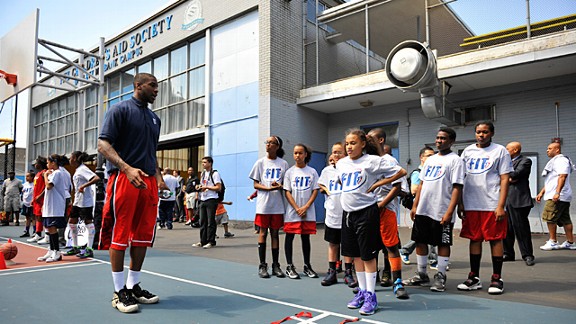 The NBA, for whatever reason, has been a welcome world for apocryphal draft workout stories. In some cases, the sport's new global reach played a big part. The far-flung expanse of the game outpaced international scouting by just enough to create blind spots. The result was players like Pavel Podkolzin, who came to the United States in the summer of 2003 with the mythical moniker of "Siberian Shaq." The 7-foot-5 Russian didn't disappoint when he worked out for all 29 NBA teams in the lead-up to that year's draft. Wrote Dan Wetzel after the workout:
This was truly something else. Watching Podkolzin go through a work out run by CBA coach Bill Bayno left mouths agape across the league. As these events are prone to be about, there was no competition and nothing was attempted that could put the big Russian in a bad light. But it was a sight to see nonetheless.
Following the workout, it was thought that Podkolzin might go as high as the top five in a draft that included freshman phenom Carmelo Anthony and Final Four standout Dwyane Wade. Instead, it was discovered that Podkolzin had a pituitary disorder that would require brain surgery, and he withdrew from the draft. Podkolzin's surgery was successful, and although he was selected 21st overall by the Mavericks the next year, he was never the same. Meanwhile, that draft's fourth (Chris Bosh) and fifth (Wade) picks lifted a championship trophy together last week in Miami.
Recent draft history is littered with similarly impactful draft workout stories. After Amar'e Stoudemire worked out for Phoenix in 2002, the Suns shut him down with a promise that Phoenix would take him ninth. He did, and they made good on their word. The next year, on the day of the NBA lottery, the Pistons were working out at a gym in New York as they prepared for an Eastern Conference finals game against New Jersey. In the same building, a 7-foot Serbian named Darko Milicic was going through a personal workout, and Joe Dumars (along with a small group of Pistons players and personnel) wandered over to watch the 17-year-old shoot around. A few hours later, Detroit was awarded the second pick in the draft, and that was that.
This year, it seems that the breakout piece of workout lore comes out of Charlotte. Last Friday, the Bobcats, who hold the no. 2 pick in tonight's draft, brought in UConn center Andre Drummond and Kansas big man Thomas Robinson for a joint workout. Both once were thought to be candidates for the runner-up slot to Anthony Davis, but the quick scouting reporting on both players couldn't be much different.
At 6-foot-10, Drummond is a physical marvel. The 18-year-old is blessed with athleticism rarely found in players his size. The concern is whether a consistency in his effort will ever catch up with his gifts. For Robinson, the intangibles overshadow the question marks. A slightly undersized power forward who plays with excellent energy and passion, the hope for a team like Charlotte is that he can be a stabilizing force who arrives with an ability to contribute right away.
The word out of Friday's workout is that Robinson was the clear winner among the two, and the talk among draft pundits has reflected it. Robinson (along with Michael Kidd-Gilchrist) is still being mentioned as an option for the Bobcats at no. 2 while Drummond seems destined for a slide out of the top five. In any case, the Bobcats seem to hold much of the power in how the top 10 shakes out. If Charlotte takes Robinson second, it means Kidd-Gilchrist might be there at five for Sacramento. If Cleveland trades up and takes Bradley Beal, Washington would be left with a decision if it couldn't manage a trade for the third pick. If the Wizards go with Kidd-Gilchrist, the "Harrison Barnes to Charlotte" rumors could be real at no. 4.
What's clear is that Robinson (whose representation reportedly wanted him to do solo workouts and avoid any major competition, a plan that was shot down by Robinson) did enough to ensure himself the top five. Drummond, despite having the most upside in the draft for a player not named "Davis," didn't. Five years from now, maybe none of it will matter. Maybe both will be solid pros who weren't picked ahead of would-be stars, thus altering the future of the league forever. Then again …
— Robert Mays
Filed Under: Charlotte Bobcats, Chuck Klosterman, Jay Caspian Kang, Michael Jordan, NBA Draft, Rafe Bartholomew, Robert Mays, Sean Fennessey