NBA Bag: The Phil Jackson–to-the-Knicks Theory
Editor's note: Every Wednesday from now until the final day of the regular season (April 16), I am cranking out an all-NBA mailbag for the Triangle with a 5,000-word limit. My only goal for this week: cranking something that doesn't just degenerate into emails about Phil Jackson; Carmelo; James Dolan; the Knicks; or Jackson, Carmelo, Dolan and the Knicks. As always, these are actual emails from actual readers.
Q: Shouldn't your "Ten steps to tanking" (in last week's mailbag) actually be steps 2 through 11? The real step one: make sure you have a first round pick in the year you're tanking. KNICKS!!!
—Tim, Pasadena
SG: Bad start. Dammit.
Q: Gotham has Bruce Wayne, who inherited billions from his father, then continued to successfully run his family's corporation, fund charities, and protect the city of Gotham as a masked vigilante who strikes fear into the hearts of those who harm the innocent.
New York has James Dolan.
—Ronn, New York, New York
SG: I swear this won't be a Knicks-only mailbag. But since we're here, allow me to unveil my theory for everything that's happening with Phil Jackson.
So, here's a 68-year-old guy with 13 rings. He's one of the greatest coaches of all time, only he doesn't want any part of the week-to-week grind of coaching. He was attached to Seattle's run at the Kings last year, and would have fetched an ownership stake and control of basketball decisions had Sacramento not fended them off. Detroit's Tom Gores has tried to rope Jackson into coming aboard multiple times. A group trying to purchase the Bucks is pushing to get him involved. It's not like he isn't talking to people.
After the Seattle gig vanished, Phil hoped to stay with the Lakers somehow. He's engaged to the daughter of the late, great Jerry Buss, only her bumbling brother is running the franchise into the ground; that same brother is irrationally threatened by his much smarter, infinitely more basketball-savvy, undeniably condescending future brother-in-law. Jackson needed to figure out how to pressure Jimmy Buss — a.k.a. Jimmy Boy — into giving him control of the Lakers and/or a lavish consulting gag.
What happens next? He starts talking to Brooklyn about becoming a high-priced consultant and/or Billy King's eventual replacement if Brooklyn bombs in Round 1. Famous music manager Irving Azoff (an A-list power broker) catches wind and alerts his embattled buddy James Dolan. You can't let Jackson go to the Nets, he tells him. Here's a good chance for you to swing New York toward your side again. More importantly, the Nets won't get him. Dolan and Jackson start talking. Initially, Phil starts asking for crazy, outlandish stuff and makes a spirited run for the coaching spot of the Keep Getting Dem Checks All-Stars.
I want $13 million a year. I want to run the team from Los Angeles. I want final say on everything. I want to pursue Steve Kerr as next year's coach.
And to his amazement … Dolan keeps saying yes. To everything.
Now, Jackson's wheels start turning. Could he turn things around in New York? What would this do for his legacy? He knows they don't have first-round picks in 2014 and 2016, but they'll have a slew of cap space once Amar'e-Bargnani-Chandler come off the books in 2015. He knows he can pull the Zen Master routine on Carmelo and talk him into staying. He knows superstar free agents like Durant, Westbrook and Love are coming down the pike. He knows there's a puncher's chance at LeBron. He knows he could manipulate these free agents just like Riley manipulated the Miami guys — play up the "mecca of basketball" thing; play up the history; play up MSG; play up the Biggest City in the World thing; play up the five generations of Knicks fans; play up the whole "if you win an NBA title here, that will mean more than anyone winning a title anywhere else" thing; go full-fledged Zen Master on them.
And as he keeps thinking about it, he's inadvertently talking himself into it. He knows Dolan is a horror show of a boss 90 percent of the time, but he also knows about Dolan's unwavering loyalty to Isiah Thomas and Donnie Walsh — when you're in with Dolan, you're in all the way. So he leverages the Knicks by using the threat of the Nets and Lakers. And Dolan just keeps saying "Yes." He even gets Bill Bradley to start lobbying Jackson, which resonates with Jackson much more than Dolan realizes. And at some point, Jackson says to himself, Wow, if they're gonna let me run the Knicks from Los Angeles, and I only have to come into New York twice a month, and I'm getting final say on everything, and I'm getting gratuitously overpaid … why wouldn't I do this?
The elephant in the room: Why would anyone think Phil Jackson — 69 in September, and not exactly known for his tireless work ethic during his last few Lakers years — is suddenly ready to outwork the Sam Prestis and Daryl Moreys and Rob Hennigans of the world? Could you see Phil hopping puddle jumpers from Kansas City to Oklahoma City in mid-January to scout lottery picks? What makes the 2014-16 Knicks situation any different from the 2008-10 Knicks situation … when they wasted two years chasing a pipe dream, came away with $100 million of Amar'e Stoudemire, then spent hundreds of millions more so they could win exactly one playoff series?
Also, doesn't it mean something that the Knicks have been a mess from the moment Dolan took over? Is he the Dan Snyder of basketball, or is Snyder the Dolan of football? Why go near it? Would YOU want to work for James Dolan? How many times does a pipe dream actually work out? And can you really run a team from 3,000 miles away?
Phil Jackson is grappling with all of these questions. There's a reason the Knicks deal hasn't been signed or announced: Either he's waiting for Mikhail Prokhorov to trump the offer because Phil ultimately doesn't want to work for Dolan, or he's waiting for his brother-in-law to be to say, "Don't go to New York, stay here, I'll give you final say over Mitch." And when the Jimmys and Mutant Russian Ted Stepien are involved in the same negotiating drama, it's probably not going seamlessly, anyway. Right?
Anyway, that's my theory. I know I'm right about the Seattle/Detroit/Milwaukee stuff and the Brooklyn/Azoff stuff, and I believe everything else is right, too. If he takes the Knicks job, I'd break down the motivation percentages like this: 50 percent shameless money grab/irresistible Godfather offer; 20 percent competitiveness/legacy grab; 20 percent affection for/appreciation of the Knicks brand; 10 percent missing the limelight/being relevant again. Personally, I am 17 times more than dubious that a 68-year-old guy with no front-office experience whatsoever can save the Knicks from 3,000 miles away … while working for James Dolan, no less. Sounds like a recipe for disaster even if you're the Zen Master. We will see.
Q: I'm already fearing what Grantland is going to become when you pass it along to your kids. After seeing the complete and total failing of legacy kids Dolan and Buss — and now we can add Josh Kroenke, too — why shouldn't I be concerned?
—Gary, Indianapolis
SG: Shots fired at Josh Kroenke! For the record, I'm not giving up on Josh yet — can one family really own the Nuggets, Avalanche, Rams AND Arsenal at the same time? Four teams in four leagues in three different cities and two different countries? That's ludicrous. I can't put Josh even close to that Buss-Dolan-Maloof level yet. But to answer Gary's question, my son definitely fits that legacy-kid profile — as I wrote last week, he's a huge pro wrestling fan with no concept of money who's on pace to live at home until he's 40. I think we have a new editor-in-chief for 2042! I can't wait until he reinvents Grantland around slideshows.
Q: Is it just me, or is this picture of Joe Dumars comical?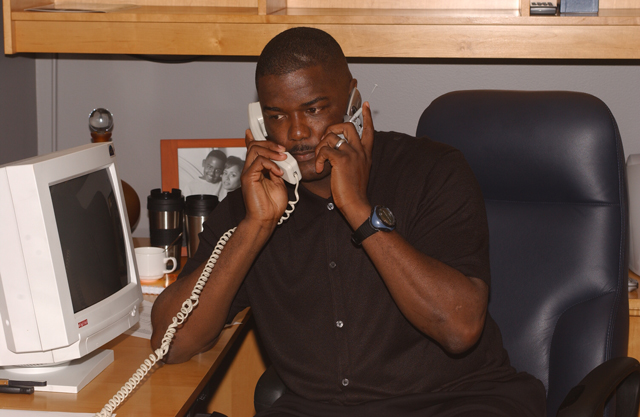 Two phones at one time must have factored into a lot of the bad decisions in recent years.
—Randy Quis, Charloitte, North Carolina
SG: I really hope that's a photo of Joe D. overpaying Charlie Villanueva and Ben Gordon at the exact same time.
Q: Stop me when I get to a person who would have evaluated Milwaukee higher than you in his pre-season rankings …
Any basketball "expert"
Any basketball fan in America
Any basketball
The guy at Decca records who passed on the Beatles
Kahn
Grady Little in the 8th
Andy Reid in the last 5 minutes before the season started
James Dolan
The guy in the Donner party who said, "I think this weather will hold"
—Mark, Baltimore
SG: First of all, words hurt. Second of all, the East was definitely going to be atrocious, so I thought one "lottery team" might swerve the other way and improbably sneak into the playoffs. The five possibilities: Milwaukee, Philly, Boston, Toronto and Charlotte. I just backed the wrong team — the Charlotte Hornbobnetcats would have been an even more ridiculous pick, and they're headed for a 7-seed. Technically, my logic was sound! My exact words from the Bill & Jalen Bucks preview (13:15 mark) …
"I think the Bucks are going to be a 7-seed with a chance to be a 6-seed if the Knicks totally self-combust."
I was halfway there! I had it! You just switch "Bobcats" with "Bucks" and I'm right there! Of course …
Q: The bucks are like that weird roommate that just wont leave, the guy on the couch in half-baked. No one knows why he lives here — we found him on Craigslist or something. He hogs the couch, makes our place reek, brings home monsters from the bar, leaves his bong on the bathroom. But we need the rent money so we don't say shit. Same with the bucks. We need a 3rd team.
—Owen, Milwaukee
SG: There's your WTF case for my Bucks/playoff pick. I backed THAT franchise. Poor Owen sounds like he needs some cheering up.
https://www.youtube.com/watch?v=IrXOEcyB-A8
Q: If DJ Augustin keeps playing at the level he's playing now, and Derrick Rose never comes back to where he used to be, do you amnesty D-Rose? Think that might be why the Bulls haven't amnestied Carlos Boozer yet?
—Sam, Oxford, Mississippi
SG: They can't amnesty Rose because the Bulls signed that deal after the new CBA went into effect. But Rose's situation reached "elephant in the room" status the moment Chicago unexpectedly resurrected its playoff hopes around Taj Gibson (making a mini leap), D.J. Augustin (super-belatedly looking like a lottery pick) and especially Joakim Noah (a first-team All-NBA candidate who suddenly turned into Bill Walton circa 1977). With multiple Ewing Theory Committee scouts attending their games, every Bulls fan suddenly feels guilty about loving this team so much. And that's before you broach Rose's sobering potential to be this generation's Penny Hardaway.
Basically, Bulls fans are in a glass case of emotion right now. Here, look. Watch what happened when I forwarded Sam's admittedly ridiculous email to Grantland's Rafe Bartholomew (our staff provocateur) and Robert Mays (our staff Bulls fan).
Simmons: Oh no, Mays! OH NO!!!! OH MY GOD NO!!!!!!!!!!!!!!!!!!!!!!Rafe: Isn't the provision only for players signed before the current CBA? Also — Amnesty Rose sounds like the name of the baby Kanye and Amber Rose should've had.
Mays: The fact that I gave this more than five seconds' worth of thought makes me want to jump off a bridge.
Q: If you're an NBA GM, how much do Joel Embiid's back issues scare you? Is he the next Dikembe Mutombo or Greg Oden?
—Mark Killian, Newton Centre, Massachusetts
SG: I don't mess around with lower-back issues, herniated discs, surgically repaired knees, legs that aren't the same size, slow-healing stress fractures or phrases like "getting a second opinion" when I'm thinking about taking a big guy first overall. History just says, "Run the other way! RUN!!!!!" We also watched Andrew Wiggins and Jabari Parker emerge as real contenders for the top spot, and everyone loves Dante Exum even if we don't know if he's Australian Penny Hardaway or Australian Larry Hughes. I bet Embiid returns to Kansas next season. That reminds me …
Q: How about a rule that restricts one-and-done players to a five year rookie deal and anyone who stays in college two years or longer to get a 4 year rookie deal?
—Charles Smith, Brooklyn
SG: I like it! That's the biggest obstacle to Adam Silver's desire for an under-20 age limit for the draft — every powerful agent despises that idea because it delays the second contract by one year. If Jabari leaves Duke this summer, he'd sign his max extension in 2018 and the contract would officially start in the 2018-19 season. If he doesn't leave until 2015, that timetable gets pushed back to 2019 (extension) and the 2019-20 season (when it kicks in). That's why you'll see Jabari Parker awkwardly putting on a Jazz/Sixers/Celtics/Lakers/Bucks cap and hugging Adam Silver on June 26, 2014. It's not about the first contract; it's about the second one.
I'd suggest this tweak: five-year rookie deals for one-and-done guys and under-20-year-olds; four-year rookie deals for two-and-done guys and 20-year-olds; and three-year rookie deals for everyone else. That would give prospects a real incentive to stay in school, right? Sadly, Silver can't discuss this idea (or any draft-related tweaks) with the National Basketball Players Association because there's nobody running it right now. Billy Hunter didn't just run that thing into the ground; he packed it with explosives and detonated 60 years of history. Nobody seems to care. By the way? I'm not sure Silver and the owners care, either — they say publicly how it's frustrating not to have anyone to negotiate with, but really, everything gets to stay the same for them as long as the players' union is fractured. Right now, it's an owner-friendly CBA. They're raking in money. I don't see the age limit thing changing any time soon.
Q: Trying to time this for next Wednesday's NBA Bag — let's say you are answering this on Tuesday night March 11. Who is the MVP right now at this very moment Simmons?
—Kent, Glendale, Arizona
SG: Durant by a hair. He's playing for a 1-seed and averaging a 32-8-6 with 51-40-87 shooting splits and a 30.3 PER. It's one of the greatest non-MJ/non-Wilt offensive seasons ever. This is NOT a 1993 Barkley/MJ or 1997 Malone/MJ situation — Durant is a better all-around player than Barkley and Malone, and LeBron isn't quite MJ (it's true). And yet, LeBron could absolutely pass him with a monster finish.
Quick aside: I love MVP races and even devoted an entire chapter to them in my basketball book. One of my dopier proposals: that the weight of the MVP trophy should vary depending on the impressiveness of the MVP season. So if Derrick Rose's 2011 MVP was a 10-pound trophy, then Shaq's 2000 MVP or MJ's 1996 MVP were 40-pounders. I mention this only because you rarely see head-to-head 40-pound trophy seasons battling for the same MVP. That's what makes this one of the best MVP seasons ever — it's right up there with 1962, 1987, 1990 and 1993. And that's why LeBron vs. Durant is better than every other 2014 regular-season story line except for "When will Patrick Beverley start the next Artest melee?"
Q: Read your tanking piece. How would you fix the lottery Simmons? You never said what you would do.
—Thomas B., Chicago
SG: It's a two-part idea …
1. Guarantee only the first seven playoff spots in each conference.
Everyone else gets thrown into a single-elimination, 16-team tournament (my old Entertaining As Hell Tournament idea) as the 14 playoff teams rest up. Your final two EAHT teams get 8-seeds, then play a "championship" game. The stakes? The winner gets the choice of which no. 1 seed to play in Round 1, as well as lottery eligibility for that year's draft.
2. Every lottery team gets the same odds for the first four picks.
We're returning to the late 1980's model — 14 lottery teams plus our EAHT winner get 1-in-15 odds for the no. 1 pick, 1-in-14 odds for no. 2, 1-in-13 odds for no. 3, and 1-in-12 odds for no. 4. After that, every subsequent pick goes by record (worst team picks fifth, etc). Would the 2014 Sixers commit self-sabotage if the end result was "You'll embarrass yourself at the EAHT, and you're only guaranteeing yourself no better than the no. 5 pick"? Maybe not.
Last point (and I've made it before): It's not the worst thing ever if a decent team wins the lottery. Was it bad when the Bulls got Derrick Rose, or the Magic teamed up Shaq and Penny Hardaway? If you're making the case "Don't we have the right to protect certain bumbling franchises from being stuck at the bottom year after year?" — I mean, isn't that their own fault?
Here's an idea: If you want to avoid the bottom, make better picks, make smarter trades and spend your cap money wisely. Minnesota had four top-six picks in three years and ended up with Jonny Flynn, Ricky Rubio, Wes Johnson and Derrick Williams. Sacramento had the no. 4, no. 5, no. 7, no. 5 and no. 7 picks in the past five drafts and has only DeMarcus Cousins and Ben McLemore left. The Wizards earned the no. 5, no. 1, no. 6, no. 3 and no. 3 picks in the last five drafts and batted 40 percent on moves. The Cavs had the no. 1, no. 4, no. 4 and no. 1 picks in the past four drafts and can't make the 2014 playoffs.
I've joked before about being an NBA Republican, but seriously, why enable these losers? If you can't produce a winning franchise, sell it to someone else. The league needs to stop protecting teams from themselves — we give them amnesties to make up for boneheaded roster moves, luxury tax money to reward them for being cheap, and better lottery odds to make up for being dumbasses. We need more of a Lord of the Flies mind-set. Sink or swim. If there's a way to steal soccer's relegation system — the top 26 teams stay in the league, the bottom four get relegated — I'm all for it. Could you "add" five European teams, beef up the D-League so it's made up of five loaded D-League teams, then create a separate 14-team league that operates like a poor man's NBA? It's not the craziest idea in the world, right?
Q: At what point does Detroit's "Pissed-On" Fans stage a Malice at the Palace Episode II: The Palace Strikes Back in an attempt to coerce Josh Smith and Brandon Jennings into getting themselves suspended for the rest of the year?
—Rick D, Vancouver
SG: Right now! Yesterday! Don't you realize that Detroit loses its lottery pick unless it can drop into the top eight? Where's John Green? PAGING JOHN GREEN!!!!!!!!
Q: You've given names like Sorry for Jabari and Riggin for Wiggins for this year's Tankapalooza. What would have been the best hypothetical tanking taglines for names of actual top historical NBA picks? My favorite historical ones are "F-ing Up Games For King James" and "Coward for Howard."
—Justin, Indianapolis
SG: Thanks for ruining the last two hours of my life — I just went down a Basketball-Reference.com rabbit hole to come up with dumb phrases like "Tragic for Magic," "Unworthy for Worthy" and "P.U.-ing for Ewing." Your historical winner: Joe Smith in 1995 … that's right, "Shitty for Smitty." Unbeatable.
Q: Eating dinner at 6:30 pm and not making yourself fall asleep by 10:00 pm is exactly what's going on with the Rockets right now. Everyone is celebrating our recent one-week takedown of the Heat, Pacers and Blazers. Couldn't I have just waited one more hour to eat dinner? I just had to takedown that pizza, indian food and grapefruit at 6:30. Couldn't the Rockets have just waited til next week, when everyone would have been immersed in March Madness, so that they could go unnoticed? Nope, they had to do it with 19 games remaining. Like my constant struggle with weight loss, they too will be setting screens in the kitchen at midnight, bouncing back and forth between warming up leftover fajitas in the microwave, and toasting Tuna cutlets in the toaster over …. WE PEAKED TOO EARLY!!!
—Aiyasawmy Dave Dorairajan, Space City, Texas
SG: And on cue … they lose to OKC last night! I still like this Rockets team. Dwight looks like 88 percent of the old Dwight. Harden nudged himself into the MVP Not Named Durant or LeBron race with his recent offensive explosion; I even saw him play defense two or three times. Chandler Parsons is gunning for a title, a new contract and the chance to redeem The Bachelor franchise after Juan Pablo nearly ruined it. Patrick "Red Bull" Beverley inspired a Grantland Appreciation Email Thread with me, Andrew Sharp and Chris Ryan just yesterday. Their supporting cast (Terrence Jones, Omer Asik, Jeremy Lin, etc.) isn't terrible. Even if Houston fans might never get over losing out on Jeremy Lamb, Steven Adams and a non-lottery pick to be determined this decade, Houston could beat any Western contender in a series. You know … unless they peaked too soon.
Let's go to a Speed Round just for the hell of it.
Q: Is there a NBA equivalent of Matthew McConaughey's Oscar win?? Maybe something like Tyreke Evans winning the MVP some day??
—Zvonimir, Split, Croatia
SG: Yes — Dirk's 2011 Finals MVP.
Q: Can we start working on a new term for Posterizing? Can we change it to Gif'ed, Youtubed, Instagrammed or something else?
—Clint Hovey, Austin, Texas
SG: I mean, even I switched to "YouTubed" at this point. And I'm the same guy with a BlackBerry and AOL.
Q: What would LeBron make per year if the NBA had no salary cap?
—Akiva W, Jerusalem
SG: $75 million per year. I wrote about this last year.
Q: So my buddy and I were just texting back and forth about Carmelo going after KD's scoring title and if he could do it. My response — 'If Ray Felton put a gun to my head, I would say yes he could.'
—Troy F, Melbourne, Australia
SG: Still a little too soon.
Q: I live three miles from where a few World Cup games will be held in a few months. The street next to the stadium is such a hot mess, Joe Dumars is trying to trade for it.
—Francisco, Porto Alegre, Brazil
SG: And he's doing it with two phones!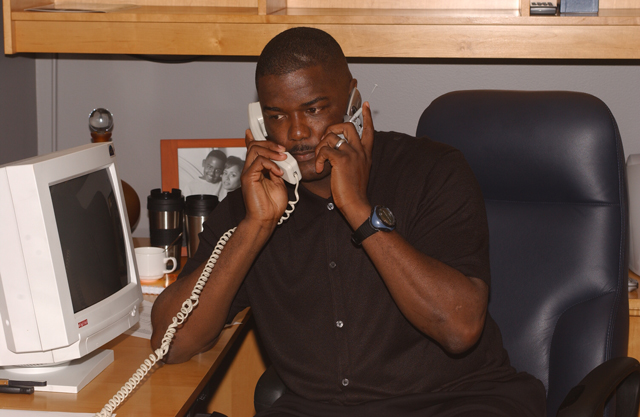 Q: I watch and read everything from Grantland and I can see we are all struggling with your Kevin Durant nicknames … may I submit "The Slendertainer?"
—Paul, Macau
SG: You cannot.
Q: It would be really great if you could, in one sentence, say a nice thing about the Nets in this mailbag. So here we go … Bill Simmons is about to say something nice about the Nets! I'll start you off: The Nets are really …
—Adam, Chappaqua, New York
SG: Lavish?
Q: What are your thoughts on the addition of a four-point line?
—Cody, San Luis Obispo
SG: Only for the first three quarters, and only for half-court shots.
Q: The NBA has to start over and you are building a team from scratch. Which power forward do you take to build this team around? Love or Griffin?
—George B, London
SG: Let's see one Kevin Love team finish over .500 before we compare him to the league's no. 3 MVP choice and breakout superstar.
Q: If Magic's era was the Showtime Lakers, what should this year's team be called?
—Nate Hoss, Appleton, Wisconsin
SG: The Blowtime Lakers. Come on, that's a layup.
Q: I was at a Hawks game at Philips Arena last night, and among the 5,000 or so other attendees were Julius Erving and Glenn Frey, both of whom were shown back to back on the Jumbotron. This led to a spirited debate (or at least as spirited as you're going to find at the mausoleum the Hawks play in) about who was the bigger star. Opinions were split 50/50. Your take?
—Chris, Atlanta
SG: Julius Erving for any NBA game or Philly sporting event; Glenn Frey anywhere else. The Eagles sold more than 150 million records and were/are one of the five best-selling concert bands ever. So you have to go with Frey. Regardless, I like any question that allows me to link to one of my favorite pieces I've written AND one of my favorite podcasts I've done! SPEED ROUND IS OVER!
Q: Do you remember Otto Porter? I'm generally concerned because he was drafted third overall. Is he still alive?!
—Danny D., Philly
SG: He's actually still alive. I Googled it and everything. He's played a whopping 254 minutes this season! Since 1990, only three top-three picks have played less than 500 minutes as rookies: Greg Oden (missed the year because of knee surgery), Darko Milicic (played 159 minutes for Detroit) and Otto Porter. To put that in perspective, Kwame Brown, Pervis Ellison and Hasheem Thabeet all passed the 800-minute mark as rookies. Even Anthony Bennett played 647 minutes before recently going down with a knee (h/t Al Michaels). On the other hand, anytime you can spend the third overall pick on a third-string small forward, you have to do it. I ask you again: Why do we insist on enabling dumb teams?
Q: How bad are the Knicks? Recently I changed the channel to NBA TV during a Spurs-Mavericks game, just as something was being described mid-sentence as, "They're hard to watch sometimes, the ball does not move, it stops," followed by "No defense, no trust." My stomach did that roller coaster drop of dread, like sighting your ex-boyfriend talking with your current boyfriend. I hoped I was wrong, that it was just me, that maybe they weren't talking about the Knicks. Then I heard, "Especially paying the prices people do in New York to watch that team…" Seriously, people watching a totally unrelated game that includes "Vince Carter, shooting more than ever" are outright pitying me?? Seriously? Ladies and Gentlemen, your 2014 New York Knicks!
—Kimberly, Brooklyn
SG: So you're saying this 2011 commercial campaign lost a little luster for you?
https://www.youtube.com/watch?v=K5g0JZ7dFT4
My four follow-up questions …
1. Could you put absolutely anything with "Coming Home" and get everyone's goose bumps going? I'm convinced that J Cole and Skylar Grey intentionally made the intro of that song 30 seconds long so commercials would use it. I'm also convinced that ABC's Resurrection did big ratings on Sunday solely because they used it. That song works. Maybe ABC's Paul Lee can save his job by using "Coming Home" to promote every ABC show — even the sitcoms.
2. Has any song with the possible exception of Eminem's "Not Afraid" landed on YouTube for more reasons? If you search for it, "Coming Home" comes up for anything and everything: LeBron, Kobe Bryant's last comeback (whoops), John Cena, Cristiano Ronaldo, a 2013 Blue Jays promotional campaign, Randy Orton, the Assassin's Creed commercial, David Beckham, Allen Iverson (gotta say, I loved this one), Derrick Rose, Michael Jordan, Tiger Woods and the 2011 Masters, Kevin Durant, Peyton Manning's first NBC game back in Indy, WrestleMania 29's commercial campaign, Kyrie Irving (???), and best of all, Paul Walker/Fast & Furious tributes (I might have gotten a little choked up, I can't lie).
3. What would be the single most inappropriate montage subject for "Coming Home"? Probably O.J. Simpson getting released from prison and returning to Brentwood, right? And why aren't there more "Coming Home" parodies? Should this Metta World Peace/Knicks parody really be the best one right now? Couldn't someone just dub the song over this clip from The Shining until we come up with a better idea?
4. Part of me wants to fake my own ESPN firing so we can make a "Coming Home" video for my eventual return. I might do that anyway. Hell, I might do that for next week's mailbag. You think that would be weird? Well …
Q: I just spent a few hours thinking of what the best title would be for your celebrity sex tape. My choice was "Yup, these Are My Testicles." Any ideas?
—Jeremy Gurstel, Washington, D.C.
SG: At least I'm not as weird as Jeremy Gurstel! Since we're here, um … "Now I Can Grind in Peace"? "Dirty for Thirty"? "Yup, These Are My Liters"? Wait, why am I helping you? More importantly, we're in range!
Q: Three of my totally straight friends and I were trying to decide who the best-looking NBA player is. The four finalists were: Chris Paul, DJ Augustin, George Hill, and Courtney Lee. Next question: "Whom would you LEAST want your wife to sleep with?" Everybody changed their answers and the new finalists were Kendrick Perkins, Reggie Evans, Nikola Pekovic, and Blake Griffin. We all agreed Ibaka could not be considered for a reason that you once mentioned a few months ago. We took the following into account: ferocity, physique, consistency of effort, and crazy factor. So my question to you is, if you could guarantee your wife stayed away from one current NBA player who could toss her like uncooked pizza dough, who would it be (besides Ibaka)?
—Joey, Ann Arbor
SG: I forwarded this email to my wife, if only to see if she'd laugh at the "uncooked pizza dough" joke. (She did.) Her response …
"Ibaka then JJ Redick then Blake. Why didn't Redick make the list?"
(Yup, that's my wife.)
Filed Under: NBA, Bill Simmons