NBA All-Star Weekend Shootaround: Houston Rock It
Andrew D. Bernstein/NBAE via Getty Images
So much amazing is happening, and the Shootaround crew is here to help you keep track of it all. You'll find takes on moments you might've missed from the previous night, along with ones you will remember forever.
RIP, King LeBron James, 1984-2013
As the minutes trickled away during last night's game, a relative non-fan of the NBA asked me the ages of LeBron James and Kobe Bryant.
"I think Kobe is 34."
"Oh, I thought he was 40!"
"And LeBron is 28, pretty sure."
"What? I thought he was much younger than that."
On cue, age evaporated. With three minutes remaining, Kobe recovered a missed James Harden layup, crossed Drunk Chris Bosh over, and scored an easy, slicing-away basket. Then he pressed LeBron in the backcourt, hounded him across half court, looked for a steal, and then recovered and blocked a 19-footer. The deflection poked ahead to a streaking Kevin Durant, who dunked. He jutted his chin in that way, and then grinned. "Forty-year-old Kobe" — at his 15th consecutive All-Star game, tied with Shaq for the second-most to Kareem's 18 — checked the Boy King and embarrassed him. Two minutes later, he did it again, stealing the ball with less than a minute to play and the game on the line. (One play later, he did it again, cleanly blocking a LeBron drive, though a foul was called erroneously. LeBron, thunderstruck, missed one of his two free throws.)

What does this mean? Nothing. All-Star games, we know, are hallucinatory theater — the highest and fastest and emptiest exercise in professional competition. But also maybe it meant everything. Steve Kerr drolly remarked that Kobe and his pathetic, narrative-strangled Lakers would have no shot at James this year in the Finals, and so maybe this was his Finals. Kobe is a maniacal competitor, but even that thought seemed a stretch. But LeBron? The guy everyone ordained after last year's postseason Next Level-ing? The greatest player since Jordan on MJ's silver anniversary? He played poorly, shooting 39 percent, which would be his lowest percentage since January 10. (That was also the only game this season in which he was below 40 percent. It happened just five times in 2011-2012.) His East squad was also -13 while he was on the floor, second only to his Heat teammate, Drunk Chris Bosh. Why did LBJ fail to rise to the occasion? Is it because he knows this game is meaningless and utterly unmemorable? Is it because he spent too much time reveling at the previous night's annual Two Kings dinner? (Picture Drake spraying the attendees with a cranberry-vodka firehose — that's my vision of this event.) Or is it because he's dead now? Yes, that's it. Joffrey is dead. Long live old-ass Robert Baratheon. For one night, anyway.
— Sean Fennessey
Mr. Fix It
(All .GIFs by @HeyBelinda)
Everyone has already batted around just about every idea possible to fix All-Star Saturday — a H-O-R-S-E contest (already done), a one-on-one tournament, a half-court shot contest, wiping away the skills challenge and the shooting stars event, and on, and on. I'll leave the solution to more creative ideas/event-planning people, but there are three universal truths here:
1. There's no buzz in the arena for All-Star Saturday anymore. It's just dead. Even Nick Cannon acknowledged it. The night is broken.
2. A one-on-one tournament would kill. Everyone knows this. Is there a way to make it happen? Would NBA players risk a mano-a-mano loss on a national stage?
3. The more mascot involvement, the better.
— Zach Lowe
Dwyane Wade Gives Up
Tray Tables Up
In an arena full of people who had been getting blasted on Bud Light, fried food, and Phillip Phillips for about three hours, James White's first attempt at Saturday's dunk contest was the best thing that happened all night. When the stewardesses walked out onto the Toyota Center floor, along with a flight-control guy, everybody gasped, stood up, and took their camera phones out. This was a legitimately awesome moment. Even the slightly sleepy NBA All-Stars who were littering the East and West benches came to life. You watch the weekend's events to see stars, but White provided a little bit of theater.
— Chris Ryan
Neighbors to the North
Based on my Twitter feed, a lot of Canadians didn't seem to enjoy the performance of "O Canada" before last night's game. But I'm willing to give the NBA a pass here. I imagine the pregame planning went something like this:
[Five minute before the game]
Intern: Um, guys, who's singing the Canadian anthem?
David Stern: Don't need one. We don't have any Canadian teams in the league.
Intern: Um … Yes we do?
Stern: No, no, remember? We moved the Grizzlies years ago.
Intern: What about Toronto?
Stern: [scans recent All-Star rosters and playoff history] Not ringing any bells.
Intern: Their guy just won the slam dunk contest. 
Stern: Even I'm not still watching that.
Intern: Maybe we should find somebody just to be safe.
Stern: [annoyed] Fine. You do it.
Intern: Me?
Stern: GET OUT THERE AND DO IT!
Intern: [tears off intern outfit to reveal stunning yellow dress, knocks anthem out of park]
— Sean McIndoe
No New Friends!
Kyrie Irving Is Dope
I'm not a fan of All-Star Weekend. Perhaps this is a bad thing to admit as a basketball writer, but the coach in me doesn't know what do with games without meaning. So on Friday, I found myself paying cursory attention to the Rising Stars Challenge, mostly bemoaning the fact that the slick passes Ricky Rubio makes during the regular season somehow seem less enjoyable in a game without defense.
Then, at the expense of poor Brandon Knight, Kyrie happened.
Aside from the fact that Irving is about to take the league by storm (he's the best young guard in the league AND just won the 3-point shootout), it's pretty clear that the kid is right up there with Jamal Crawford for the NBA title of "Most Insane Handle." His latest ankle-breaker sent me straight to YouTube so I could re-watch Irving's first Uncle Drew video for the 50,000th time:
Watching the young guard make clowns out of random dudes on a pickup court got me wondering: why isn't "Kyrie makes dudes look foolish" already being talked about as a new All-Star event unto itself? Whether it's other players or random fans from the stands, this weekend badly needs some type of contest where Kyrie just pulls the ball around on a string until someone falls down.
So, NBA, you can have your dunk contests, skills challenges, and crazy alley-oops during All-Star Weekend; just give me more Kyrie.
— Brett Koremenos
True Value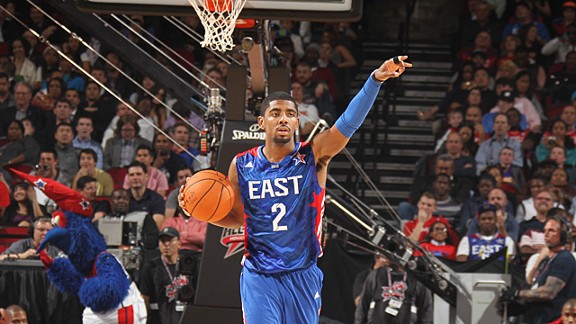 When most of the NBA's best gathered in Las Vegas last summer for Team USA's round of pre-Olympic practices, the consensus was that those sessions had one clear winner. Surrounded by Hall of Famers and MVPs, then-19-year-old Kyrie Irving made the biggest impression that week, lighting up everyone before capping the week off by challenging Kobe Bryant to a $50,000 game of one-on-one.
In the first meeting of the league's elite since that stretch in Vegas, Irving used All-Star weekend to again prove that if he's not already one of the best players in basketball, he soon will be. It started with ruining Brandon Knight's world on Friday, continued with winning the 3-point shootout on Saturday, and ended with being the de-facto fifth starter for the East. For the second straight year, in a showcase of NBA royalty, Kyrie Irving managed to walk away the winner.
The last round of Irving's display just happened to coincide with Chris Paul's All-Star Game MVP, a not-insignificant detail. Even if Irving has managed to jump Derrick Rose (something I'm not willing to concede just yet), the Best Point Guard Alive belt is clearly in Los Angeles for the foreseeable future. But even without it, Irving has ascended the NBA ladder about as fast as anyone in years. The list of players with more value right now would take about 10 seconds to tick off. After the Big Two and Paul (and probably Rose), there are conversations to be had about anyone, something that didn't even seem possible a year ago. But after this weekend, it doesn't seem so crazy.
— Robert Mays
New Friends!
Houston Fashion Week
The regular season isn't the only thing that gets a few days off during the All-Star break. Style sits at home with its feet up, too. The uniforms for last night's game bode poorly for the relatively tighter, sleeved affair Adidas has cooked up for the Bobcats Warriors to debut next week. The All-Star uniforms had color, but they had color in the way that an ice-cream truck would have color if you blew the ice-cream truck up. The only man on the court in non-leg or non-forearm sleeves was Dwight Howard. He wore a white compression shirt beneath the red of his jersey. It would've been nice to declare the shirt the saddest thing to happen all All-Star weekend (could he find nothing in a complimentary color?), but during the player introductions, Howard stood on stage with his warmup jacket tucked into his pants. He looked like the senile guy in front of you in line at the minimart, the guy who takes 10 minutes to buy scratch tickets and a pack of Winstons. It speaks volumes about Howard's current lack of endearment among his mates in the league that men like Russell Westbrook, James Harden, and Kobe Bryant allowed him to make a fool of himself. Twice.
Oddness was everywhere last night. Alicia Keys spent her halftime show in saggy black pants that left the unfortunate impression that Goodyear was her sponsor. (They were the rubbery equivalent of mom jeans.) And the inexplicable Ne-Yo kicked off the evening (kept kicking it off, really, since he performed an egregious three times) wearing a black sequined jacket that even Liza Minnelli would have tishk-tishk-ed.
Earlier in the evening, TNT court-side reporter David Aldridge asked Kevin Durant about Westbrook's taste for thick black glasses and pants with suspenders. As he did, a split-screen appeared. On the left was Steve Urkel, on the right, Westbrook. It was an apt comparison, but it wasn't fair. Durant was being asked to cast aspersions on his teammates' fearlessness. He wouldn't do it. But it was embarrassing. It's the opposite of a secret that these guys take their wardrobes seriously. And it's ridiculous that the networks covering the league continue to laugh at that seriousness. What links Urkel and Westbrook isn't risibility; it's the evolution of risk. Sending to a reporter like Aldridge to get a player to mock another player's sense of style makes TNT look as though it doesn't know what else is going on in the NBA. The fact that none of the NBA on TNT team could find a tie less wide than a dinosaur's tail underscores that.
TNT, of course, has a secret weapon for tackiness, and last night it wore a jacket made from the pelt of a Decepticon. Yes, Craig Sager held nothing back in his sideline attire. He was his characteristically confident self. Sager isn't what I mean when I wish the networks would take seriously the players' attitudes toward the way they look. But he is an institution and a pleasure to cringe at. Not everyone finds the backhanded pleasure in those patterned jackets and gaudy ties and general tackiness. Sager sat down next to Kevin Garnett, who answered Sager's question about appearing in 15 All-Star games. Then he tried to give Sager some advice: "Hey, man, stop wearing stuff like this when you do real interviews. Straight up." Garnett put one hand over his eyes and used the other to feel at the air in front of him, the implication being that Sager dresses himself as though he were blind, and that it's a problem: "You look like a Christmas ornament." Garnett's "have some respect for yourself"-ness was a blunt, if bracing slap, one that Sager took with passable cheer. You felt for him (only a man with great self-respect could devote his career to wearing these clothes). But you knew a public service had at last been performed. Someone had to say it.
— Wesley Morris
Empathy for the Devil
Just a few weeks into my six-year stint living in L.A., I found the perfect pickup run. Hermosa Beach, 9 a.m. every Saturday. It never rained, people always showed, and we always played. Also, nearly every week, I was the only white guy there.
Race aside, I was always the worst or second-worst guy on the court, which suited me just fine. When you lack skills, you have to make up for it with hustle and intensity, and these were intense games. I'd set hard picks for dead-eye shooters, crash the offensive boards knowing I was probably just going to kick the ball back out … the whole Joakim Noah playbook. Over time, I grew friendly with the regulars, who appreciated my effort, even if they knew not to toss me a kick-out pass for a windblown 20-footer.
But every once in a while, new faces would show up. And they go out of their way to destroy me. Guys who outweighed me by 40 pounds would eat me alive in the lane, then woof in my embarrassed face. If I switched onto a guard, he'd break my ankles, then laugh on his way back down the court. Whatever I'd accomplished that week professionally, it'd be blown to bits by the three-hour punking that would ensue on those rare occasions, those Saturdays.
So when Chris Bosh tossed up three airballs in the first half of the All-Star Game, then got nutmeg'd by both Chris Paul and Tony Parker in a span of a few minutes, I couldn't help but smile and nod. We've all been there, Chris. Just, you know, the rest of us don't think we're Hall of Famers.
— Jonah Keri
But … Bosh Is Still the Best
Hometown Heroes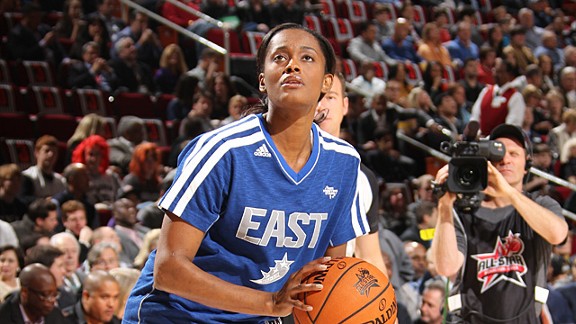 I grew up in Connecticut, where we have zero high-profile professional sports teams. I'm just barely old enough that I'd already picked a Big East team by the time the UConn men's basketball team became something like a national power, and I felt funny jumping on the UConn bandwagon when that happened. But I had paid zero attention to women's basketball before Rebecca Lobo, Jennifer Rizzotti, and their teammates went undefeated and won the 1995 national title. I had no pre-existing loyalties, and these women were awesome. I was all-in and have been since.
The only players around whom I'm star-struck are the UConn women legends, in part because I still see them from the perspective of a fan, and not as a reporter/analyst. I could barely talk to either Lobo or Rizzotti when I met them in previous years. So when the great Swin Cash walked into the Houston bar where I was having a cocktail Thursday night and lounged on a couch 10 feet behind my bar stool, I reached "teen fanboy" levels of nervousness. Cash was with Ruth Riley, an old UConn nemesis, and a woman I didn't recognize. Hall of Famer Bob Lanier and an NBA executive had walked in with them, and they sat at the bar next to us; all five had come from a day of NBA Cares events. I asked the league exec how inappropriate it would be if I introduced myself to Swin. Her response: "Pretty inappropriate." I must have looked very sad, because the exec immediately changed course and said she would walk over and ask Swin if she might indulge the awkward gentleman at the bar for a few minutes of painful conversation. A couple of minutes later, I got the news: Swin was in.
And then I chickened out. Ten minutes passed, then 20, then half an hour. I glanced over at Swin and back at my friend approximately 55 times, hoping she might break the ice and invite me over. No dice. Then Swin's meal came, and you don't interrupt an athlete during a meal. My group was planning to leave at halftime of Heat-Thunder, and halftime was approaching. This was a crisis. We finally got up to leave, and I knew this was my only chance. I veered in Swin's direction, and before I took even a half-step toward her, she had already put her plate down, turned in my direction and offered up a smile and a hand-shake. It was a grin that simultaneously said, "Nice to meet you!" and "I'm in full self-defense mode, ready with a smile and a stiff-arm, in case you're a crazy person."
I have no clue what I said. It almost certainly resembled those classic "Chris Farley Show" sketches from Saturday Night Live. I called her "great" at least twice, and I know I tried to include Riley in the conversation, that Swin called me "sweet," and that I was sweating. And then it was over. I don't even know how I got out of it. Another UConn woman, another terrible conversation she would never remember.
Two days later, as I was going down a staircase after bolting a bad All-Star Saturday party, I noticed Swin and her friends climbing up the same stairs toward me. Did I dare assume she might have some vague memory of me, and be game for a fist-bump or at least a happy "hello"? I summoned up some courage and just shouted and smiled as we approached each other: "Swin Cash!" Her immediate response: "UConn!" followed by a big hug.
Swin Cash: You're awesome. Thanks for indulging me.
— Zach Lowe
Filed Under: Brett Koremenos, Chris Bosh, Chris Paul, Drake, Jonah Keri, Kevin Durant, Kobe Bryant, LeBron James, NBA, Robert Mays, Zach Lowe