More Proof That the Atlanta Falcons Will Win on Sunday (Now With More Semiaquatic Mammals)
Getty Images
Last Friday, two days before the NFC divisional playoff game, I gave highly scientific, feelings-based reasons for why the Atlanta Falcons would defeat the Seattle Seahawks. These reasons included trusting the blind confidence of Mark Wahlberg and Big Boi, predicting that Nate "Sterling" Silver's luck had finally run out, and the fact that Seahawks fans were spending less time getting hyped up and more time discussing which franchise's bird was more ferocious.
And I was completely right.
Last week, the Falcons were favored, barely, but no one expected them to actually win. This week, these same Falcons, again playing at home, are not only expected to lose, but are actually underdogs.

The Niners are favored by more than a field goal, and after starting out as 3.5-point favorites, in some places the line has jumped as high as 5 points.
Disgusting.
This is what me and Julio Jones, down by the schoolyard, call dis-re-spect. At home, as the no. 1 seed, with the best record in football, and you still aren't favored in the game before the Super Bowl.
It's disrespect so off the charts, it's one of the two reasons why the Falcons will win this game on Sunday.
Enter: motivation. It's a real thing. You have the conch, T.I.
Verse 1:
You can look me in my eyes, see I'm ready for whatever (Julio Jones)
Anythang don't kill me, make me better (Matty Ice)
I ain't dead n—-, you can take the fame and the cheddar (John Abraham)
And the game, and the deal, I'm still a go-getter
Take my freedom for the moment (Michael Turner) but it ain't fo-ever
I got the spirit of a god (Matt Bryant), heart of a dope dealer (Dunta Robinson)
I'm a king, seen hangin' with some cold killas (Asante Samuel)
I ain't never back down or ran from no n—-
I ain't sat down yet (Mike Smith), pimp, standin' gorilla
Even if I'ma all alone (Roddy White) or standin' with four n—-z (D-BLOCCCKK)
Tell'em jump (Harry Douglas), pimpin' it don't get no realer
5'9″ with the soul of a 6'4″ n—- (Jacquizz)
I separated the fakes, paralyzed from the waist down (HOPEFULLY NO ONE)
From the real stand-up guys of the A-Town (Me and all my frienddsss)
Can't even look me in my eyes (Pat Schiller), put yo face down
I'm outta jail n—- (Clifford T.I. Harris), whachu gotta say now?
MOTIVATION.
So that's the first, obvious reason we'll win. The second?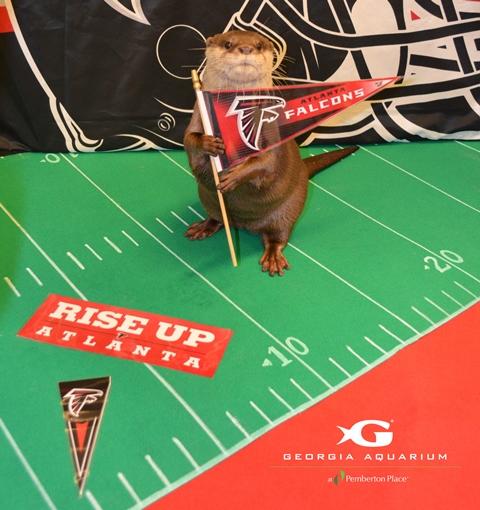 LOOK. AT. THIS. OTTER.
Courtesy of the Georgia Aquarium (once the world's largest aquarium; don't get me started on how ballin' this place is) is a photo of this gangster ass otter ("ass otter," I think, is a type of otter. Will look into it).
I've tried to contact the Aquarium to ask how this picture came to be, but they haven't returned my one tweet, so I'm forced to assume this whiskered creature snuck out of its habitat, found his Falcons pennant, and was headed to the Georgia Dome when spotted.
It's a 0.8-mile walk from the Georgia Aquarium to the Georgia Dome, which takes only 16 minutes for a human, according to Google Maps. Click on their "otter distance" button, however, and you find that it's a two-day trip. I know that, the otter knows that, everyone knows that. And that is why this otter was on the MOVE.
Or maybe he's picketing.
This is also a completely viable option. Maybe he wants to go to the game, and the Georgia Aquarium's being all "No, mister otter, you can't go to the game, you don't even have tickets. Oh, and because YOU'RE AN OTTER." This also could very well be the scenario.
Regardless of what was going on (including the least-likely scenario — that this is staged), what I do know about this otter is that he's risking his life for the Falcons. I could count the number of things I know about otters on one elbow, but I do have a sense that otters just aren't supposed to be hanging out away from water like this, taking in all of Atlanta's smog, probably stepping on old burnt-up Black & Milds with those precious little webbed feet that weren't meant to step on burnt-up Black & Milds. I tried to get to the bottom of this the only way I knew how, and unfortunately my greatest fears rang true.
There is no answer. Because we just don't know yet.
Yes, every Joe Schmo knows that otters can stay under water for "five minutes" and/or "exactly 8 minutes and usually 30 seconds," but OUT OF WATER? That's the missing-answer elephant in the Wiki Answers room. Otters out of water is such a dangerous concept, we've never even attempted to find out.
Until today. This otter, which from here on out will be named "Rotty White," is, essentially, to the Atlanta Falcons victory what Randy Quaid was to the human race in Independence Day: first a drunk, then a hero. Bless you, Rotty.
So that's all I've got.
The 49ers don't stand a chance on Sunday. Yes, Kaepernick and the gang are talented, but the Falcons are motivated, and beyond their own desires for success, they have something else to play for: the bravest otter we've ever known.
Prediction: Falcons 31, 49ers 14
New Orleans, here we come.
Filed Under: Atlanta Falcons, Feelings, Matt Ryan, Rembert Browne, San Francisco 49ers, T.I.