Kobe Bryant's Selfish Unselfishness and the Lakers' Best Hope for the Playoffs
Andrew D. Bernstein/NBAE/Getty Images
As with everything related to Kobe Bryant and the Lakers, there is the tendency to make a giant deal out of every game-to-game adjustment Bryant makes. Kobe finished with 11 assists last night, reigniting the debate over whether the Lakers are "better" when he's in "facilitator" mode, or even whether Bryant consciously toggles between "facilitator" and "scorer" as a way to draw attention to himself and all he's doing to WILL HIS TEAM to the finish line.
The reality is sometimes simpler: Kobe passed the ball so much and ran the offense against Dallas in a borderline make-or-break game because Steve Nash wasn't playing, Steve Blake can't really run a team, and not even Mike D'Antoni trusts Chris Duhon to sop up reserve minutes at this point. Kobe is a wonderful passer, and always has been. He's such a fascinating player in part because so much of his passing ability stems from his almost unique selfishness as a scorer. A large portion of his typical assists come from post-ups and wing isolations in which Kobe holds the ball for SO DAMN LONG — sometimes as many as 10 consecutive seconds — that defenses almost feel like they must send an extra defender at him at some point. And when that happens, with the shot clock dwindling, Kobe is an expert at reading multiple layers of help defense and dishing to the Lakers' very best option — the cutter, the player who comes open behind the cutter, or some other spot-up guy.
It's sort of a functional selfishness; those passes stem from his score-first, score-always mentality. They're not so different from the very smart inside-out passes Carmelo Anthony has been tossing from the post this season after drawing double-teams. There is something to be said for enabling a selfish player by putting him in a position where his selfishness can lead, almost inevitably, into forced unselfishness. The trouble with Kobe has always been when he follows those 10 seconds of holding the ball by hoisting a terrible shot against double-coverage or passing to a player in a poor position to create with very little time left on the shot clock.
We've seen a lot of selfish unselfishness from Bryant this season as D'Antoni has adapted his offense to fit whatever personnel the Lakers have available on a day-to-day basis. This has not been a good season for critics who bash D'Antoni for his inflexible loyalty to the spread pick-and-roll system — a system that forced an evolution upon the entire league. The Lakers barely run that offense, though there are certainly elements of it present. But they've mostly just cobbled together an incoherent series of possessions designed to maximize any advantage they have at any particular time, or some advantage that might present itself due to mismatches in semi-transition. If Bryant has a smaller guy on him and is bringing the ball up, he's going right into the post to run the offense from there. If not, the Lakers might run some action to free Dwight Howard or Pau Gasol in the post, or a very traditional two–big man set with both bigs at the elbows:
The elbows, as Kelvin Sampson put it to me a few weeks ago, are a "no-fly zone" for big men in a true spread pick-and-roll attack. And yet the Lakers station big men there all the time.
But when Nash is off the floor, Bryant provides evidence of how smart a player he can be when he is really facilitating — in a pass-first mode, from the top of the 3-point arc. On back-to-back possessions in the fourth quarter against Dallas, Bryant showed off his very subtle and very potent basketball intelligence. Here's the first one:
This is just a simple high pick-and-roll with Gasol. What stands out is how quickly Bryant makes his decision to pass; he's only just gotten parallel with Gasol's screen when he picks up his dribble and prepares the pass to Blake. Why so early? Because Bryant understands that most teams ask the defender guarding a shooter on the weak side to help in the paint on a pick-and-roll that involves the screener (Gasol) rolling to the hoop. That defender in this clip is Darren Collison, since Bryant is driving left-to-right, making the left side — where Blake is spotting up — the weak side.
Bryant notices Collison is sliding into the paint early, and understands that if he fires a pass right away, Collison's momentum will still be going toward the paint and away from Blake — making it hard for Collison to close out: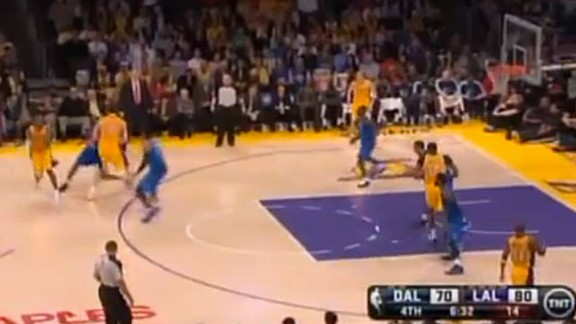 If you watch Vince Carter just below the foul line at the end of the clip, you'll see him instructing Collison to stick a bit closer to Blake for an extra beat or two.
And that's what Collison does on the very next possession, as the Lakers went back to the same set:
Collison stays right on that little Lakers logo, allowing Gasol to slip free into the paint. Bryant reads that perfectly, and hits Gasol with a pass that presents Pau with a series of options: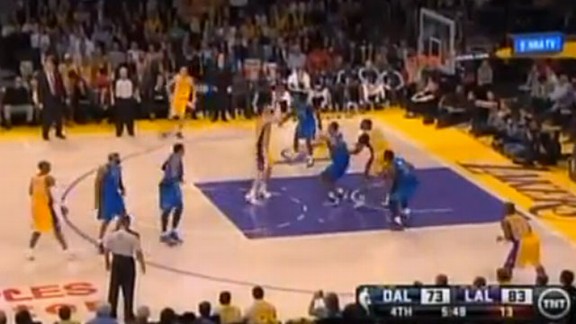 Gasol can either shoot a floater, try a little lob over the top to Howard, or skip a pass to Jodie Meeks in the right corner — all plays Gasol is more than capable of making. He probably chooses the least efficient option here, but it's still a very good option.
This isn't quite next-level basketball poetry by Bryant, but it is high-level point-guard play — especially that instant first pass to Blake. Games like this are a reminder of how fantastic an all-around offensive player Bryant is, and how devastating he can be when he adds just a hair more diversity to his game. He doesn't have to go into all-out distributor mode, passing up shots almost for show; he just needs to optimize three or four choices per game to go from "top-10 overall offensive player" to "devastating force on another level."
He was also quite good against Dallas in driving deep into the paint to suck in that extra last bit of defensive attention, executing a few little change-of-pace dribbles and half-steps by one or two defenders that open up things elsewhere on the floor:
This is a more productive version of Kobe's draw-all-the-attention-and-then-pass functional selfishness. The non-ideal version involves him holding the ball 20 feet from the basket and passing with four seconds left on the shot clock. This is the ideal version, one that gets deeper into the teeth of a defense and is basically true, honest unselfishness. This is Kobe as a drive-and-dish master doing a credible Chris Paul impression; Collison, always picking up his dribble 18 feet from the hoop despite a clear alley, would do well to watch this film.
That was all very much needed for an L.A. team now tied with Utah at 39-36, though really one game back for the no. 8 playoff spot, since the Jazz have clinched the tiebreaker over the Lakers. But the only thing that really matters for L.A., in terms of making real noise in the postseason, is getting the defense in order. Bottling up what had been a resurgent Dallas offense represents one of their two or three best defensive performances of the season, but it also comes after a half-dozen disastrous defensive performances. In six games since Gasol's return, the Lakers have allowed 105.9 points per 100 possessions, and they've been much worse than that — 112 points allowed per 100 possessions — when Gasol and Howard have shared the floor, per NBA.com. That higher number would rank dead last overall for the season, and the 105.9 figure would rank just 24th, tied with Detroit.
The Lakers are winning with offense, as has been the case all season. They're eighth in the league in points per possession, and they've been more effective in those last six games — a tiny sample size in which they've faced a mediocre slate of teams. Bryant has been the most important part of that strong season-long offense, but he's also played a role in L.A.'s struggles on the other end. The bad news for L.A. is that Bryant's irresponsible defense, toned down last night, has been just one of many ingredients in the mix that has produced a below-average overall team defense.
And that's the thing to watch as the Lakers try to rally down the stretch.
Filed Under: Kobe Bryant, Los Angeles Lakers, NBA, Pau Gasol, Steve Nash, Zach Lowe