Just in Time for Christmas! Five Surefire Gifts to Hockey Fans That Only Ended in Disappointment
Marco Campanelli/Getty Images
We're just 13 days away from Christmas Eve, and by now you've probably made your requests, dropped all your hints, and written your letter to Santa. Now it's time to sit back and dream of all the cool stuff you're hoping to find under your tree on Christmas morning.
And maybe you'll get everything you hoped for. But let's face it, the odds are against you. Chances are you'll just end up being bitterly disappointed, like always.
Luckily, you're a hockey fan, so you're used to it. History is filled with examples of hockey fans getting excited about something that seemed like a lock to bring joy and happiness, only to be let down in the end. So to help you get in the right frame of mind for the holidays, here are five examples of hockey sure things that turned out to be massive disappointments.

The 1998 Olympics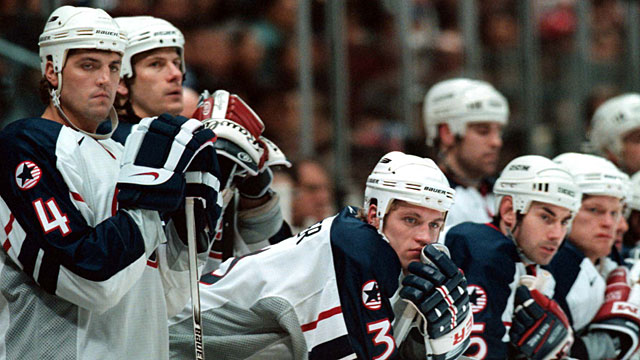 It's hard to describe the level of excitement that most hockey fans felt heading into the 1998 Winter Olympics. For the first time ever, the NHL was taking a break to allow all the best players to compete. Oh sure, we'd had other best-on-best tournaments, like the Canada Cup and World Cup. But this was the Olympics. There were gold medals on the line.
And once all the world's best players had gathered in Nagano, we were treated to a two-week tournament that featured such memorable moments as …
Um …
Give me a second, I'm sure there was something …
Or maybe not, because once you got past the novelty factor, the 1998 Olympic tournament stunk. And yes, that's probably an indefensibly North America–centric view to take, given that both Canada and the U.S. finished out of the medals. If you're from the Czech Republic, you remember Dominik Hasek leading the country to an unexpected gold medal while cementing his status as the best goaltender in the world, and maybe of all time. If you're Russian, you remember Pavel Bure's five goals in the semifinal. In you're from Finland, you may recall Ville Peltonen's third-period winner in the bronze-medal game.
But the NHL sent its players to the Olympics primarily to drive up interest in the U.S., and from that standpoint, the tournament failed miserably. Team USA, just two years removed from a World Cup win, didn't do anything memorable aside from trashing its hotel. Canada, meanwhile, lost to Hasek and the Czechs in a shootout that's best remembered for coach Marc Crawford using a defenseman instead of Wayne Gretzky.
And even those more successful European teams didn't exactly put on a show. The gold-medal game between the Russians and Czechs was painfully dull, a 1-0 snoozer in which the only goal came on a harmless-looking screened shot from the point. It was a great exclamation point to Hasek's epic games, but as a showcase for the sport of hockey it was a disaster. (For the men, at least. The women's tournament was pretty great.)
North American fans would get their gold-medal showdowns in 2002 and 2010, and even Sweden's win at the 2006 Games was plenty of fun. But the 1998 experience didn't accomplish much of anything, other than reminding hockey fans that the late '90s were incredibly dull.
The Entire Career of Alexandre Daigle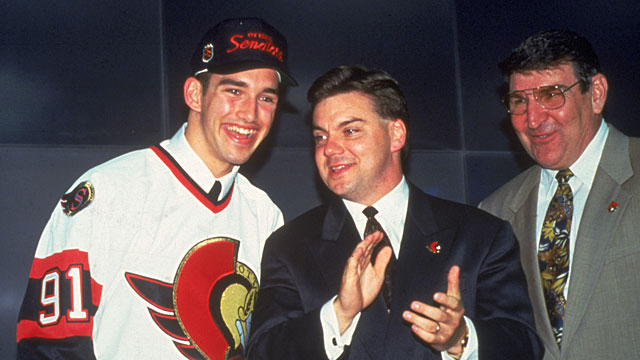 Let's get something out of the way first: Alexandre Daigle doesn't deserve to be considered the NHL's all-time greatest draft bust. He was a disappointment, sure, but he had a marginally productive career, scoring 20 goals three times and posting three 50-plus-point seasons. That's not what you expect for a no. 1 overall pick, but worse than Patrik Stefan? Or Doug Wickenheiser? Or the three top picks from the 1960s who never even played a game in the NHL? No way.
But still, his career was a disappointment, and that's a shame because the Alexandre Daigle era should have been awesome.
Hyped as the next Mario Lemieux, Daigle wasn't like other hockey players. He actually said interesting things. He dated Pamela Anderson. He dressed up in a female nurse's uniform for a hockey card ad, which everyone made fun of at the time but was actually pretty funny. In a league where Sidney Crosby has no discernible facial expressions and Alexander Ovechkin's back tattoos are considered fascinating, Daigle could have been a superstar based on personality alone.
But it wasn't to be. If anything, he may have been too interesting to ever have a shot at true stardom. Hockey is a sport that demands almost obsessive dedication, and Daigle just had too many other diversions. There were always rumors he didn't even like hockey all that much, which seemed confirmed when he took a few years off mid-career to pursue acting and set up a promotion company.
Still, we'll always have that brief moment in time when NHL fans thought they might get to enjoy a superstar with an actual personality. Maybe next decade.
The Wayne Gretzky Trade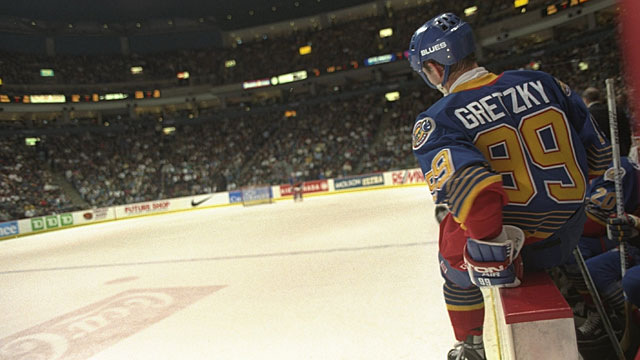 No, not that Wayne Gretzky trade. Not the one that inspired tears and documentaries and was so earth-shattering that the Canadian media practically went into round-the-clock mode just to cover its 25-year anniversary. The other one. The one with Roman Vopat.
OK, fine, the 1996 trade that sent Gretzky from Los Angeles to the St. Louis Blues wasn't exactly a blockbuster befitting the best player the game has ever known. But with the Kings floundering and Gretzky on the verge of unrestricted free agency, Los Angeles had to take what it could get. And so, after breaking off extended negotiations with the Rangers, the Kings struck a deal with the Blues instead.
It's worth remembering that while the 1996 version of Gretzky was well past his era of perpetual Hart Trophies and 200-plus-point seasons, he was far from washed up. He wasn't much of a goal-scorer anymore, but he was still one of the NHL's best playmakers (he'd actually go on to lead the league in assists twice more over his career). And in his last full month with the Kings, he'd racked up 21 assists, a number that hadn't been matched by any NHL player until just last week.
And St. Louis should have been a perfect fit. The Blues already had Brett Hull, which means you could have made a decent case that the Blues had just paired the greatest goal-scorer in NHL history with its greatest playmaker. They also had a pair of in-their-prime superstars on the blue line in Al MacInnis and Chris Pronger, and Grant Fuhr in goal. When you add in aging forwards Glenn Anderson and Dale Hawerchuk, Gretzky's arrival left the team with seven future Hall of Famers.
It only took Gretzky a few minutes to score his first goal as a Blue, and he went on to record a respectable 21 points in 18 games. But "respectable" wasn't what fans were hoping for, and Gretzky's time in St. Louis couldn't match expectations. He somehow never really clicked with Hull, and the Blues went just 6-10-5 after acquiring him, including a 1-7-4 stretch to end the season. They limped into the playoffs as a sub-.500 team, won one round, and then dropped a seven-game classic to the Wings.
The Blues never showed much interest in bringing Gretzky back, and after a tepid free-agency bidding war that included Vancouver and San Jose, he signed with the Rangers.
Roman Vopat scored six career goals, in case you were wondering.
The Office Is Open for Business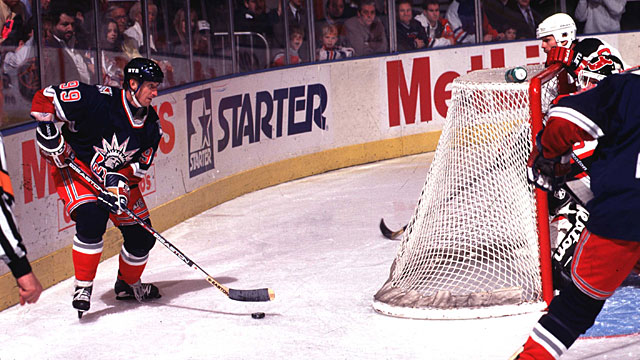 Speaking of Gretzky, every fan is familiar with his "office." It's the space directly behind the net, where Gretzky loved to set up with control of the puck. Once he was there, he could watch the entire offensive zone while waiting for his teammates to get open, then find them with a pinpoint pass. It was his trademark.
In the midst of the unwatchable dead puck era, that gave the NHL a great idea: Why not make the office bigger, so that everyone could do what Gretzky did?
So in 1998, it did exactly that. It moved the goal line (and everything else) out away from the endboards by two feet, creating a noticeably bigger area behind the net. Then it waited for the extra offense to flood in.
Funny thing. As it turns out, Gretzky could do that because he was really, really good at playing hockey. For mere mortals, it didn't help at all. No fan can recall one single goal that was ever created by this fairly significant rule change.
Instead, the main impact from all that extra space was that defensemen now had enough room to go behind the net themselves without having to worry that the forward would get position and cut back the other way. So the NHL's attempt to create more offense actually made things worse. The change was quietly scrapped after the 2005 lockout.
This year, the league introduced new, slimmer nets that create more room without moving out the goal lines. That change has even helped players score a goal or two. And it only took them 15 years.
Roy vs. Hasek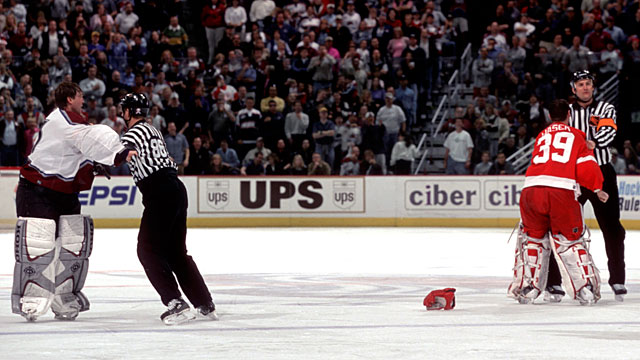 Fights featuring a Detroit Red Wings goalie and Patrick Roy are like Godfather movies. The first one was awesome, the second one may have been even better, and it's probably a good idea if we just pretend the third one never happened.
It's not a perfect comparison, in the sense that at least The Godfather: Part III actually exists, while Roy never did get to complete his trilogy. But he came agonizingly close, and it stands as perhaps the greatest missed opportunity in NHL history.
First, a quick recap. In 1997, Roy was bloodied by Mike Vernon during the memorable Claude Lemieux brawl that instantly elevated the Wings-Avs rivalry to league-best status. A year later, Vernon had been shipped out to San Jose and replaced by Chris Osgood, who got to do the honors after Roy practically begged him for a rematch. Roy earned a split decision in that one, giving him a career 1-1 record against his Detroit counterparts and setting the stage for an inevitable rubber match.
That anticipation reached new levels when the Red Wings acquired Hasek, because Hasek was certifiably nuts. This was a guy whose goaltending style involved randomly dropping his equipment and making snow angels, a guy who would occasionally get bored and do stuff like this. What would he look like if he was fighting? Would it involve the use of ninja-style smoke bombs? Would he insist on wearing a luchador mask? Would he be able to telepathically summon local animals to fight alongside him? The mind boggled.
On March 23, 2002, it looked like we would finally get out answer. Kirk Maltby plowed into Roy's crease, Roy took exception, and pretty soon everyone was throwing punches. Hasek began to make his way down the ice, shedding his gloves as he went. It was on. Dominik Hasek vs. Patrick Roy was seconds away.
And then … this happened.
So as you sit on the floor on Christmas morning holding an empty stocking and a lump of coal, take heart. At least it's not as bad as Hasek vs. Roy. Nothing ever could be.